When it comes to updates, Instagram knows no limit.
From the very first day, Instagram evolves itself to provide the best experience to its users. It continues to rapidly develop features and functionalities that help users to be in control of their accounts. These features also aim to tackle business issues and support their viability.
Instagram shopping, social eCommerce, or Instagram ads are one of those features that target to facilitate the business use of the platform and also benefit its business owner.
To stay up-to-date with the latest Instagram updates we will continually provide you with the latest updates. In turn, you can use these findings to adjust your Instagram account and learn how to benefit from those changes.  
With all that said,
What are the latest Instagram updates in March 2023
Reels play bonus on on Facebook and Instagram
Meta puts an end to paying short form video content creators on Facebook and Instagram Reels. Last year, Meta extended the time it paid content creators till February 2023.
Meta rewards content creators when they hit certain benchmarks on their reels views. The new changes will affect content creators on Facebook and US content creators on Instagram. Yet Meta will continue to finalize existing commitments over the next 30 days.  
This was one way of making money on Instagram and Facebook for many content creators. After these creators will lose their ability to organically make money on Reels.  
What are the latest Instagram updates in February 2023?
Discontinue Instagram Live Shopping
Shopping is the major feature of Instagram Live to get more audience and ultimately increase sales. Yet, Instagram decided to end Instagram Live Shopping till March 16, 2023. Instagram mentions that this only restricts shopping in Instagram Live. Users can still access shopping features in other areas of the platform.
Love shopping is one of content creators' most effective habits when monetizing their accounts.
The purpose of removing Instagram Live shopping is to focus on features and products that deliver the most value to users. Starting in 2023, Instagram updated its navigation by removing the Shop icon from the main navigation menu. Looking at the trend, we can predict that Instagram will focus on monetizing the app for users with new updates which in turn, will help content creators and businesses to communicate with their audience authentically.
We expect this will negatively impact shops that use Instagram for small business sales. The trend for Live Shopping merely switches to TikTok Live Shopping and YouTube.  
Twitter-like verification
Instagram is working on an account verification system that looks much like Twitter's blue-thick verification. After the latest Twitter updates, Instagram also plans to renew its account verification and monetize it with a new subscription model.
The influencer Alessandro Paluzzi (@alex193a) made the news on his Twitter account. He mentioned that the same patterns also appear on Facebook. We can expect Meta to change how businesses introduce and use the platform.
According to Meta, the new Meta Verified subscription aims to prevent impersonation and access to visibility.
A verified badge will be displayed on the profiles that authenticate with your government ID. This will be especially helpful for existing and upcoming creators to build and grow their communities faster.
Meta Verified badge will also increase visibility and reach in the search, comments, and recommendations.
At the moment the Meta Verified is tested in New Zealand and Australia. To be eligible for Meta Verified, users must meet certain criteria such as be at list 18 years old and having prior posting history. Applications for verification require a government ID and that matches the real name and photo of the Instagram and Facebook account they are applying.  
Once the account is verified with Meta, you can only change the name, username, and profile picture by going through Meta Verification and the application process again.
What are the latest Instagram updates in January 2023?
As we head to 2023, Instagram's CEO Adam Mosseri shared Instagram's goals for the year. The platform's mission in 2023 is to encourage people to be more creative.
Instagram dynamic profile photo
Instagram has announced that it is introducing Instagram profile photo flip features. It lets users showcase their profile pictures and profile avatars as well. Before this users could only display either their profile photos or their avators. Both can be displayed now.
People who visit your profile can flip your profile photo to view your avatar on the flip side of the profile picture.
To add avatar to your profile picture:
1. Go to your profile and click Edit Profile button
2. Add your avatar to the picture and save
After adding an avatar to your profile, your profile picture will automatically flip over to the avatar when a user visits your profile.
Instagram quite mode
Instagram quite mode turns off notifications and sends auto-reply when someone sends DM to you. Instagram's focus for 2023 was to encourage people to be more effective and creative. Features like a new navigation bar, DM labels help people to effective manage their time and focus on what is important at the moment.
According to Meta, they were receiving a lot of requests from teens on destructive notifications. This feature will be available for all age group of Instagram users. Yet, Instagram will send prompts to teens exceeding a certain amount of time late night on the platform. At the moment, Instagram quite mode is available in the US, United Kingdom, Ireland, Canada, Australia, and New Zealand, and will be launched to other countries as well.
New ways to manage recommendations
From mid-2022, Instagram started to display posts from unfollowed accounts, assuming user might also like to see them in their home. Now, Instagram lets users to select to hide multiple posts on their Instagram Explore Page.  
Additionally, when you select a seen post as Not Interest in the Explore page, Instagram will not bring similar types of posts in other places like Instagram Reels, Search, and more.
Another big update Instagram brings is to hide recommendations that contain specific words. Previously, hiding words were available in comments and DMs. Now, you can add certain words, emojis, or hashtags to hide recommended posts that contain them. You can add these words in the Hidden Words section of Privacy settings.
New navigation bar
From February, Instagram will launch its new navigation bar to make content creation the top priority. The new navigation bar will bring the create (+ plus icon) to the center of the bottom navigation bar and remove the Instagram shop feature from the main navigation menu.
As we mentioned earlier, Instagram's focus for 2023 will be encouraging creativity among its users and shift monetization features step back.
Personal pronouns in different languages
Instagram takes a step forward in the personalization of the app with personal pronouns. Now, users can add personal pronouns to their bios in more languages, Spanish, Portuguese, and French.
Instagram launched pronouns in 2021 that wants to showcase their genders in conversations in the app. While it was not a life-changing update the platform launched, it definitely changed the way users express themselves on the platform giving them more room for personalization.  
What are the latest Instagram updates in December 2022?
Candid Stories
Instagram is starting to test Candid, a multi-author story to engage more with friends on Instagram. Like TikTok Now, or originally BeReal, Candid will only be visible to friends that also share Candid.  
You can capture Candid like stories at the top of your feed or from daily notifications. If you don't want to receive daily notifications you can turn them off from your Settings. Meta announced that they are also testing a similar feature on Facebook as well.
Instagram Group Profiles
Users on Instagram are already creating group chats to make memories or share entertainment. To simplify group chatting, Instagram has also started to test Group Profiles.
Similar to Facebook groups, Instagram group profiles, will have a dedicated profile photos, the ability to share posts, and stories but for a limited community. When group members share post to a group, the posts will be visible to the group members instead of the followers.
To create an Instagram Group Profile, tap the +  and select Group Profiles.
Instagram Account Status Updates
Instagram lately updated Account Status which will reveal why your content is hidden from the audience.
You can see why your posts are banned and also whether the post is eligible to appear in Explore page or not.
To see the list of posts that are deemed to the violation of rules you can go to Settings > Account > Account Status. You can edit or delete posts that violate community rules, and also appeal if you think it is unfair to hide your posts.
The purpose of Instagram with recent updates is to make the platform more transparent. Whilist it cause drop in engagement as more comments are hidden and posts that don't appear in Explore page.    
DM Labels
Instagram is testing a new set of DM labels for Instagram Business accounts. By default, Instagram will list the following labels to a group and manage conversations.    
Flag
Booked
Ordered
Paid
Shipped
This is a great Instagram for small business feature that will assist on the CRM side. The new labels can be added to the existing DM features such as welcome messages and saved replies.
Businesses on Facebook can add similar labels which are slightly different in application.
Latest Instagram updates in November
Explore home ads
In October, we notified you about Instagram testing new Explore page ads. Well, it is live now. Recently, Instagram launched Explore home ads through Instagram Marketing API.
This enables users to explore brands and products on explore and profile tabs. Instagram mentioned that new ads can be placed in the explore home vis Instagram Marketing API.
NFT creation and selling
At the beginning of November, Meta announced that it starts making creator updates. On Instagram, Instagram Creator Accounts will soon be able to create and sell their own NFTs. Creators will have access to a toolkit to create, showcase, and sell NFTs. Meta says that the purchase will happen in-app across iOS and Android.
For NFT collaboration, Meta first partnered up with Polygon. For now, Meta is testing the NFT purchase with a small group in the US and plans to enter into other regions. Instagram is not taking a cut from NFT sales for now.
Reels product tagging
Instagram released a Product Tagging API that enables tagging products to Instagram Reels via third-party platforms.
Reels product tagging will accelerate the role of Instagram for small businesses via appearing on short-form video posts. We expect this feature will help with product discovery of products on the brand awareness social media campaigns.  
Latest Instagram updates in October
Add song to profile
Instagram is reportedly working on Add song to profile feature. This will enable users to add songs to their profile and display it on their accounts.  It will probably be displayed in the profile page, underneath the links section of Instagram bio.
It is expected that the track will not start to play while viewing the profile. Instead, it will either show a quick look or link back to the song.
Creator Portfolio
Instagram has announced the coming of Creator Portfolio option for content creators. Creator Portfolio is a media kit type of feature that allows content creators to pitch their portfolio to a brand in the app.
User can build their portfolio from the Professional Dashboard. Creator Portfolio is similar to Creator Marketplace listings where users were collectively presented to brands. But with Creator Portfolio, each content creator can build their own account and present themselves to brands.
They can add previous works and media files to prove it.
New Instagram desktop view
Instagram is also updating its desktop feed for a simpler user interface. The new feed will be a split screen between the navigation menu and the main feed. Om the left side, users access Explore, Search, Notifications, and Profile tabs. On the right side, it will display a Pinterest-like view showing more content in the feed.
The new feed will help users to maximize the wider space of the desktop to access more contention a single-screen view. It also offers more Instagram reach for content creators and brands as there is more chance of being visible.  
Instagram Live Moderators
Instagram is planning to launch Instagram Live moderator feature to help streamers. The new feature allows host to appoint a moderator for live session. Moderator will be able to report comments, turn off comments, remove viewers from stream to provide a better live experience for streamers and viewers.
Instagram Explore Ad placement
Instagram is testing out new Instagram ads on Explore page. It will help brands to optimize their ad experience by showing in multiple places. Yet Instagram is testing the size of ads on the Explore page.
Instagram is also testing Ads in profile feed where you can scroll through after viewing another account's profile or tapping on a post. Now, when you check someone's profile and tap on their content, you will be also served with their ads.
Another Instagram update that happened last week was the introduction of Multi-Advertiser Ads. Which is showing more promotions from similar brands after interacting with an ad.
Latest Instagram updates in September
Instagram removes the Shop tab on the homepage
Meta spokesperson noted to TechCrunch that they are testing removing the Instagram shop tab from the homepage. Instagram is testing different versions to replace Instagram shop on the platform. The main focus is to replace the Instagram shop with the Messages tab on the homepage and put the Instagram shop in the main menu bar under the Settings tabs.
Although it is not clear where the platform will decide to put Instagram shop, it is expected to influence small businesses whose main revenue driver is Instagram. In 2020, Instagram launched Instagram Shop to help small businesses to make money on Instagram. The last year, Instagram also launched Instagram Shopping ads to further help small businesses.
Instagram long stories
According to social media expert Matt Navarra, Instagram is testing videos longer than 60 seconds. Videos on stories under 60 seconds will no longer separate into segments.
This will help to simplify creation and view of Instagram stories creating a better experience for users.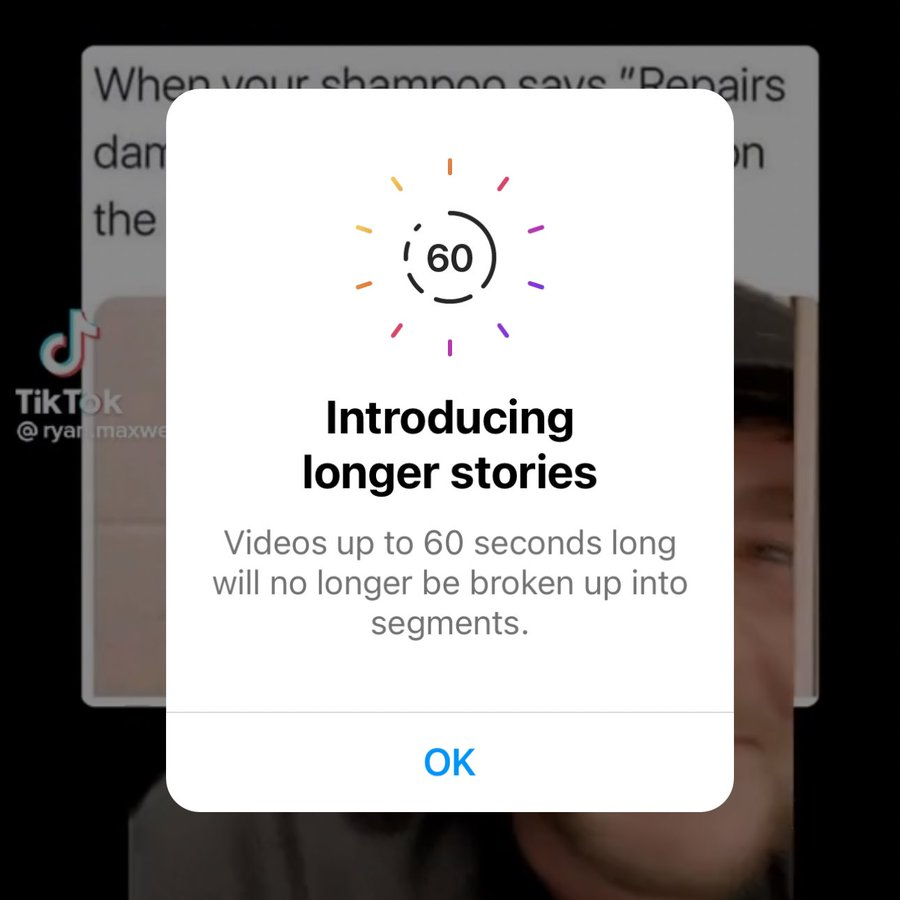 What is the latest update on Instagram on August 2022?
Reels to Facebook crossposting
Instagram is silently bringing new updates to expand Reels features and popularity among users. One of the most recent Instagram updates was allowing Instagram Reels posting cross-posting to Facebook. This way Instargam video creators increase the chance of getting more views and reaching the Facebook community.
As part of this update, users can receive the reels on Facebook insights such as views, reach, average watch time, and total view time that help users to weigh the importance of different social media platforms.  
9:16 size images
With the ongoing backlash of Instagram's TikTok style updates, the platform is trying more to stick to its origins. Instagram will begin testing super tall, 9 :16 size images in the later months.
In one of his latest Ask Me Anything (AMA) sessions, Instagram's CEO Adam Mosseri mentioned that the platform will begin testing new style image format in weeks. Currently, Instagram only supports 4:5 image format.
Compared to TikTok style reel format, which was not quite successful, Instagram wants to offer more flexibility to users to either crop or keep their images.  
---
What is the latest update on Instagram on July 2022?
Creator Marketplace
Instagram does not seem to be stopping with updates this month. In July 2022, Instagram started testing Creator Marketplace for content creators and brands.
Content Creators will receive branded opportunities by indicating their interests and likings. Also, Creator Marketplace includes a dedicated folder where Instagram influencers can receive messages and brand offers in an organized way. If those messages meet the eligibility standards they will be displayed on top of the Primary messages rather than in the Request section of DM.  
Plus to these, Instagram is working on the brand side of the new feature where they can send you partnership offers and let you browse them in the Instagram app. With upcoming  Buy Instagram payment feature, influencers can receive payments from Instagram and keep track of the payments from the Tools section.  
We can say that Creator Marketplace ended many hot startup ideas. While this will definitely help brands and influencers to easily connect with each other we don't have enough information about the revenue share of Instagram on campaigns that will be generated through Creator Marketplace.
This might replace the role of influencer marketing platforms or agencies specifically the ones that connect global brands with global influencers. Influencers that didn't capture the attention of influencer agencies or platforms before now can get branded offers very easily.
Videos less than 15 minutes as reels
Please excuse our difficulty in choosing the right header for the new update. According to the TechCrunch article shared on July 21, 2022, Instagram videos under 15 minutes now will be shared as Reels.
Videos posted before these changes will remain unchanged. The purpose of the platform going crazy with the latest Instagram updates is to provide a full-screen experience. But we can say that these all are intended to go toe-to-toe with TikTok.
Recent changes make us compare TikTok vs Instagram one more time before focusing on one. While the impact of recent changes is ambiguous on users we'll see how Instagram will react to them.
Boosting Reels
In July 19, 2022 Instagram announced a new update that allows businesses to boost their Reels to reach new audiences. The short nature of Reels make them more engaging my default.  With the new update, businesses can reach new audiences and increase engagement on Instagram.
In orderto be eligible for Reels ads, videos have to be less than 60 seconds and 9:16 size, meaningthey have to be vertical and full screen. With Instagram's heavy emphasize of on Reels, we can say that this is another attempt of Instagram to compete with TikTok. This time Instagram competes against TikTok ads over Reels ads.
Buy products through DM
Instagram is working on multiple features to provide the best experience to users and brands. Instagram's CEO Mark Zuckerberg announced on July 18, 2022, that the company is launching payments in chat feature in the US. This will allow users to buy products from small businesses and pay for them direct.  
Instagram is currently working on providing a personalized experience to its users. Some of them are directly related to Messenger while others are related to followers.
To use the new feature, users can send a direct message to qualified small businesses. Users will be able to pay, track the order, and ask follow-up questions in the same chat they messaged.  
This feature can boost the profitability of small businesses, where the biggest share of their revenue comes from Instagram shopping. The majority of customers reach out to businesses on Instagram before making sales and then pay in another app if they decide. With this feature, users will spend less time on purchasing and small businesses become more cautious of their Instagram management.  
User can finalize their payment via Meta Pay (previously Facebook Pay) in a few steps.
Notes
In June, we informed you about the Notes feature Instagram was testing. And the last week, Instagram officially launched this feature to a limited group of users. Notes will be visible to close friends and followers who also follow them back. Instagram notes are similar to sticky notes that let you write quick updates.
The Notes appear on top of the Direct where you can open it by tapping on + button.  Instagram notes feature is only visible to close friends. This is intended to boost engagement among users.  Just like stories, notes disappear after 24 hours from posting.
Users will not be notified about the notes but can reply to notes. Users can share important notes that they do not want to be lost in messages.
As expected, the reaction of users to the new feature is not the same. While some of the users find this feature unnecessary and replicate of Twitter, some seem to actually like it. But every feature has its own adoption period and journey. We'll see whether Instagram will continue the full rollout of the notes feature or not.
Subscriber-only features
In January 2022, Instagram started testing subscriber-only features to give more flexibility to creator accounts. Initially, this feature was released to 10 content creators on Instagram.
How subscription-only features work?
Subscription-only features let content creators to monetize their Instagram content via paid users. By setting up the subscription package, content creators can share exclusive content for only subscribed (paid) users.  Followers can get a notification and also see in your feed how to subscribe to creator's content. Instagram didn't take any cuts from creators until 2023.
Starting from July 2022, Instagram expanded subscriber-only content into:
- Subscriber Chats
- Subscriber Reels
- Subscriber Posts
- Subscriber Home
Now, more creators have access to these features. Subscriber chats will include only 30 people and can remain up to 24 hours. Thus creators have to be careful about the timing of their posts and community.
Instagram continues to not take any revenue share from creators. And also extended the fee-free until 2024.
---
What is the latest update on Instagram on June 2022?
Well, there are multiple Instagram updates on June 2022 that you might the interested in.  
Grid pinning
Instagram officially launched grid pinning functionality to pin feed posts or reels to the top of the feed. This gives content creators more flexibility over their accounts and lets them keep it to their terms. What that means is users can keep their favorite posts always in the attention of their followers.
If it is a brand collaboration or anything that you want to be in favor this is for those posts. Pin that evergreen content and let it shine at top of your feed.
The best thing about the grid pinning ability is that it is available for private and creator accounts. This is also important for brands. The brands that are constantly implementing Instagram marketing will benefit from this feature.
They can pin the most important product update posts, campaigns, or anything that deserves to be on top. Grid pinning will give more visibility and awareness around important causes that those posts support.
How to pin an Instagram post to the feed?
Choose the post you want to pin
Tap on the 3-dots on the top-right corner
Choose Pin to your profile
Instagram reels update on June 2022
Instagram reels gained rapid popularity from day 1 of its launch. Due to the growing interest of users, Instagram is continually working on reels. Instagram reels are also one of the major assets of Instagram's competition with TikTok.
Extending reels duration
In Instagram's latest reels update, the platform extened reels' duration from 60 seconds to 90 seconds. Now, users are able to create and post reels for up to 90 seconds. This will help content creators to gather more content in a single post without diving into small pieces.
But, it needs time to see the impact of longer reels on Instagram engagement. Although, the rationale for this update is to compete with TikTok and keep users on the platform. The Internet community is more interested in short and to-the-point videos. It might be difficult to create scroll-stopping reels in 90 minutes.  
Import your voice
Or, the update you have been waiting for. This is one of the most requested features from users. Now, you can record your voice or anything that you want to add as an audience to your reels.
It can be commentary voice or noise from other videos that you want to use in your reels. Be sure about the quality of your recording since others can also import your audio into their videos.
New Instagram Reels templates
With the recently launched Instagram reels templates, now you can create a video using another o as a template. Templates pre-load with audio and clip placeholders. All you need to do is to add the template and trim the video.
Same with Instagram Stories, reel templates have the capacity to be part of Instagram growth. Once you upload eye-catching templates they can be soon used by other creators and make your profile get noticed more.
Interactive stickers
Everyone loves Instagram stickers. No surprise that Instagram brought the majority of Stories stickers to reels. The available stickers in Reels are polls, quizzes, and emoji sliders.
By encouraging community feedback, Reels stickers will help you increase Instagram engagement.
Expanded Sensitive Content Control
The platform takes extra steps to secure the use of the app. In June 2021, Instagram introduced the Sensitive Content Control feature. This allows users to control how much or how little sensitive control users can see in Explore from the accounts they do not follow.
In June 2022, Instagram launched broader Sensitive Content Control that covers all surfaces the platform makes recommendations. Plus to Explore, you can control the amount of sensitive content or accounts you see in Search, Feed, Accounts You Might Follow, In-feed Recommendations, and Hashtag Pages.
There are three options for sensitive content: More, Standard, and Less. Standard is a default option that restricts certain content accounts. More enables you to see more sensitive content. More option is unavailable for users under the age of 18. Less will shows less sensitive content than the Standard option.  
How to select the Sensitive Content control option?
Go to your profile
Tap on the Settings menu
Tap Account
Choose the Sensitive Content Control option (More, Default, Less)
Confirm the option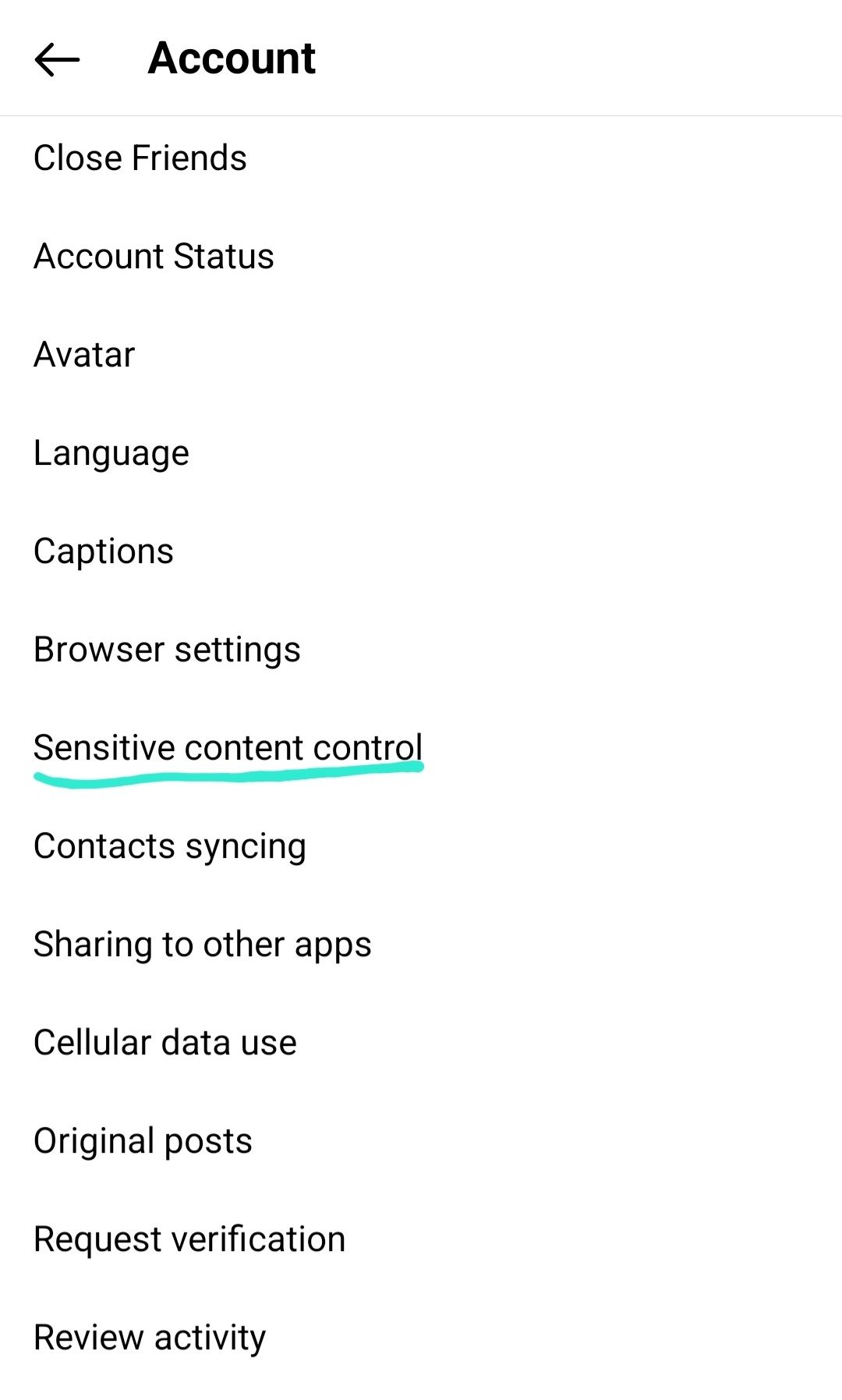 Instagram nudges to keep teens away from certain topics
Instagram launched the nudges feature to create a valuable and better experience for its teen users. Nudges encourage teens to switch to different topics when repeatedly watching the same type of content in Explore.
This is the continuation of the Take a break feature that reminds users to be aware of their social media usage. Soon, Instagram will launch reminders to teens to take a break from scrolling for a long time.
This is a good reminder to younger users and content creators to be mindful of their social media usage and its impact on their lives.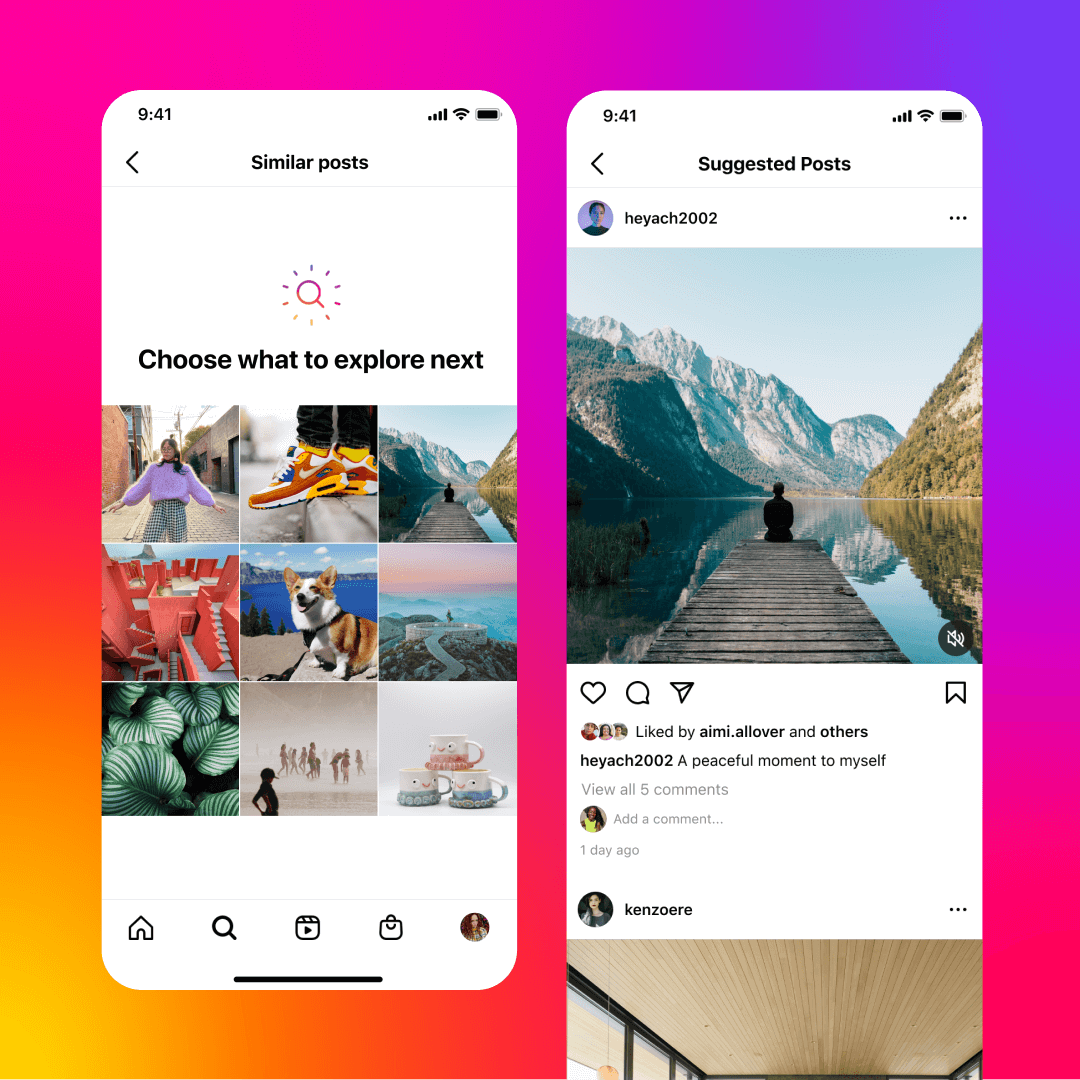 ---
Instagram updates to come | June
Restricted Instagram Live
The new updates make all internet users to compare TikTok vs Instagram in all areas including audience, marketing, shopping, and other fields. The new Live update will let users choose the broadcast audience. Now, users can set the Live audience to Public, Close friends, or Practice options. On the Practice option, you can go live by yourself or with others without notifying others.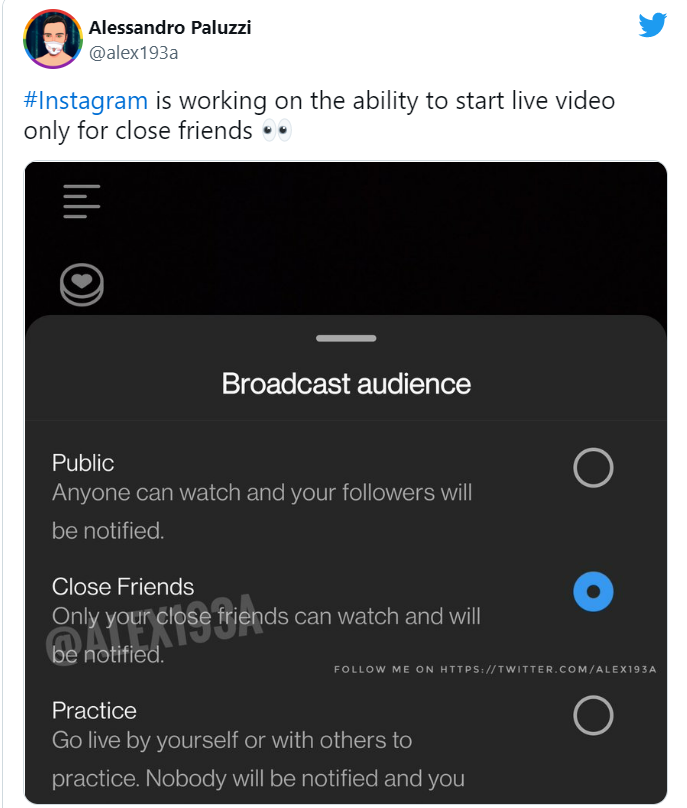 Before starting a Live Session, you will be asked to set the audience. This will give users more control over the content of Live and its audience.  
Instagram age verification
Instagram is testing age verification options starting from the US. The platform is testing two options two verify the age of users. The first one is the facial screening method. Instagram partnered with Yoti, a company that is specialized in age verification to ensure the privacy of users. Users can upload a video selfie to verify their age, and after that Yoti will estimate their age based on their facial features.
The second option is selecting three mutual followers to confirm the users' age. The person vouching must be at least 18 years old.  
The purpose behind such an update is to provide an age-appropriate user experience to teens (13-17). Instagram defaults teen accounts to private accounts, limiting options advertisers can reach out to them, and preventing unwanted users to connect with them.
The potential impact of this update can be negative for advertisers whose products directly appeal to this age group.  
Notes
Instagram is also testing the Notes feature. Notes will be visible to close friends and followers who also follow them back. Instagram notes are similar to sticky notes that let you write quick updates.
According to the screenshot shared by Ahmed Grahan, notes will be displayed on the top of direct messaging and will be disappeared after 24 hours. Users will not be notified about the notes but can reply to notes. Users can share important notes that they do not want to be lost in messages.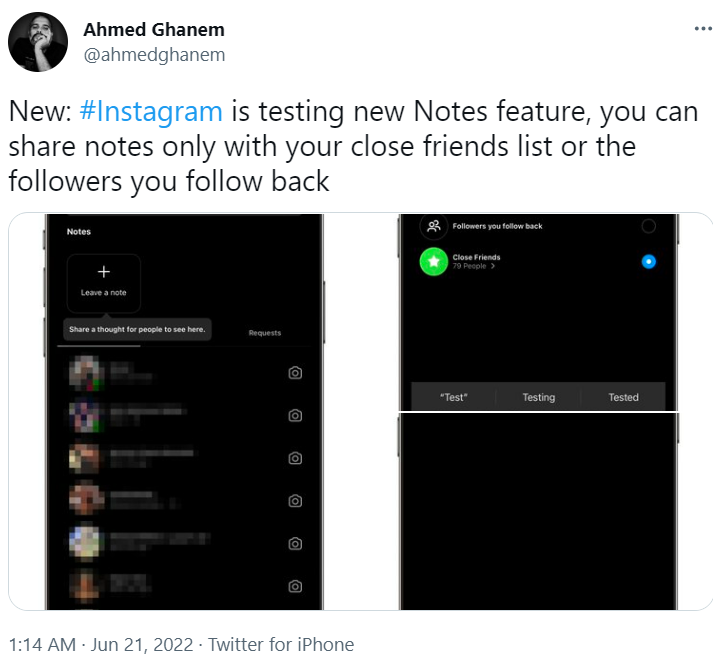 We believe this will have a positive impact on increasing Instagram engagement and drive the use of the close friends feature.
How will Instagram latest updates will impact you?
What do you think? Are you excited to bring your favorite posts to the top of your Instagram feed? Well, we are excited to see it. What type of content do you think is worth to be pinned to a business account?  Let's know in the comment below.
And if you want to optimize your Instagram experience with less time check out Planly. We let you schedule your posts, stories, and carousels right from a single place.  You do not need a push notification to repeat all you have done to schedule.