Instagram is a convenient platform for brands to sell their products and services. In addition to searching for the products they are looking for on various shopping sites, people also search for the brand of that product on Instagram.

For this, brands try to be maximally active on Instagram and constantly advertise products. Through the Instagram shop, you can buy products of various brands and get to know them for the first time.

In this blog, we will provide you with detailed information about Instagram shopping and Instagram shopping requirements. At the same time, on this blog, we present a guide for you on creating and using an Instagram shop. Let's begin.
What is the Instagram shop?
The Instagram shopping feature allows brands to place their products in the Instagram shop, create a catalog, and reach their audience.
To enter the Instagram shop, you can get acquainted with the brand's products by clicking on the View Shop button on the Instagram profile. Having this button is both profitable and more profitable for the brand. Thus, they have an Instagram shop to combine all products and services.
You may also see that a product you see on your Instagram feed is on sale. You can go to one-stop shopping by clicking on the product  Instagram shop.

Can you sell directly from Instagram?
Yes, to answer quickly. If your eCommerce business is just starting and your budget is limited, you don't need to keep aside a sizable portion for website development. If you at least want to sell items, Instagram may be used to sell to customers using compelling content and product images.
How much does Instagram shop cost?
Setting up and using Instagram shopping is completely free. it is simply the case that interest charges arise. The selling cost on Instagram is 5% for each shipment and is constant across all product categories.
A fixed fee of 40 cents applies to shipments costing $8 or less. Taxes and other processing fees related to payments are included in the selling fee.
How many followers do you need for an Instagram shop?
To use Shop on Instagram, you have no Instagram follower limit. You can create an Instagram shop even with few followers and present it to your followers for use. However, when you reach 10,000 followers and above, you can use the swipe-up feature in your Instagram stories.
How to set up Instagram shopping?
You'd be impressed at how simple it is to set up an Instagram shop. Here is a step-by-step user guide to get you going.
Determine your eligibility
Before you start shopping on Instagram, you should pay attention to several nuances. These are the following.
Your company has a product that qualifies.
Your business must have a website and a verified domain.
Your business complies with Instagram commerce policies.
Convert to an Instagram Business or Creator Account
You must have an Instagram business account to use the Instagram shop. For this, you can convert your personal account into a business account. Or you can create an Instagram business account from scratch. For this:
Go to your profile and tap in the upper right corner.
Tap Settings.
Tap Account.
Tap Switch to Professional Account.
Tap Continue.
Select a Category for your business and tap Done.
Tap OK to confirm.
Tap Business.

On Instagram for small businesses, brands must switch to a business account to advertise themselves first. Because when we use a business account, Instagram gives us many opportunities.

We can get a lot of information about our Instagram account from the Instagram Insights section. By getting information about our audience, increase your Instagram reach.
Connect to a Facebook Page
Check the Instagram account for your business.
Choose "Edit profile."
Choose "Page" under the "Public business information" option.
Choose a Facebook Page from your Pages that you'd like to connect.
Choose "Create a new Facebook Page" if you don't already have one.
💡
No Facebook Shop is required here, just a Facebook page.
Upload Your Product Catalog
In this catalog, you can put a picture, amount, and description of your products and services. There are two ways to do this.
Catalogue Manager- In Commerce Manager, you can import them to your catalog. Following that, you can maintain your products on your partner platform, and updates will sync automatically to Commerce Manager.
E-commerce Platform Partner- use e-commerce platform partners like Shopify or BigCommerce.
Instagram account review
After you post the catalog on Instagram, you need to review it again.
Go to your business's Instagram profile and tap the menu icon
Choose "Settings."
Sign up for the store
To submit your account for review, follow the instructions.
To check your progress at any moment, go to "Shopping" in your "Settings."
Turn On Instagram Shopping

Go to the Instagram profile for your business and click the menu button.
Choose "Settings."
After selecting "Business," select "Shopping."
Pick the "product catalogue" you want to link to your account from the list.
Choose "Done."
How to add products to the Instagram shop?
Catalog items to add, you need to go through several steps first.
3 lines on the top right while you are at your store.
Select Add new from the Manage products menu.
For the item, you want to sell, include an image. At least 500 by 500 pixels must be used.
Tap Save when you're done to include the item in your catalog. Tap Save and add next to add another.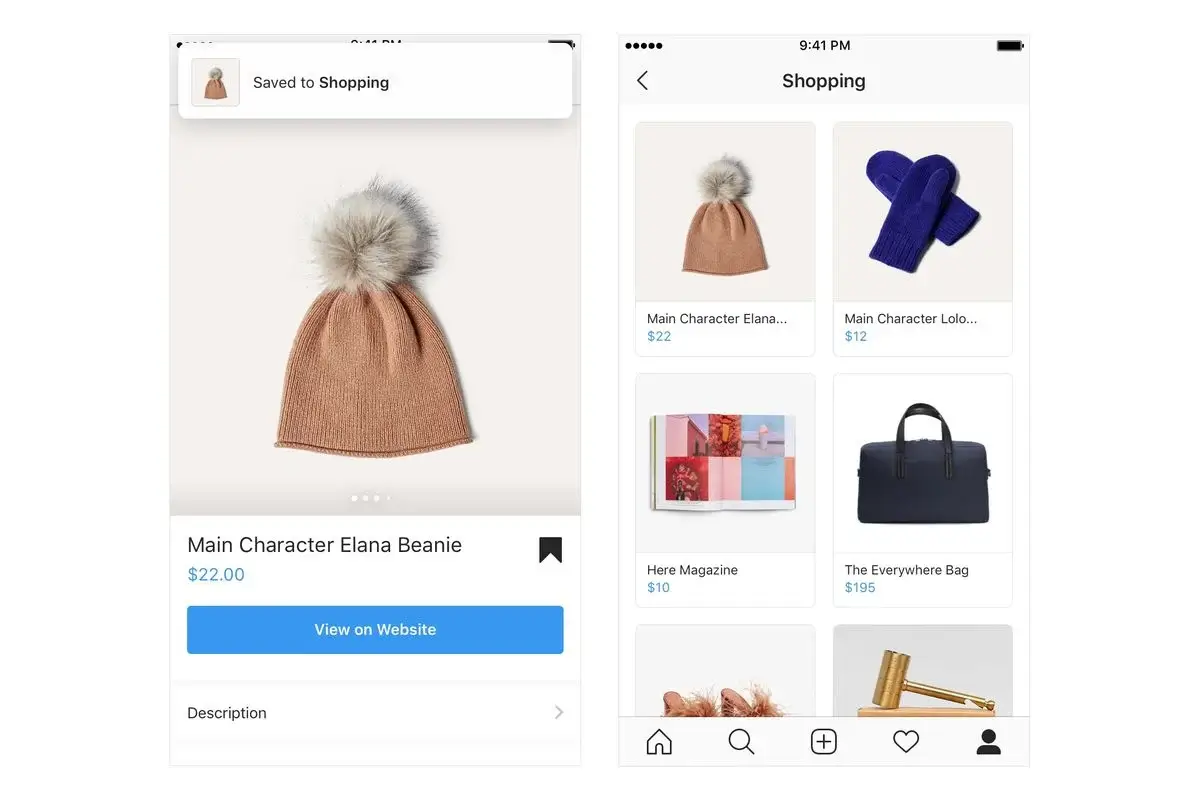 Add your item a name, description, and other information. To assist customers in buying decisions, we advise you to enter as much information as possible.
Note: You must submit a content ID for the item that matches its content ID in the Meta Pixel code on your website for it to appear in Advantage+ catalog advertising. To display visitors the most pertinent products in your adverts, this matches the item in your catalog with the same one on your website.
How to set up an Instagram shop without a website?
But even without a website, you can design a simple issue. Adding an online order form to your Instagram bio is one way to do it. A tool like Getform can be used to construct one quickly. You can personalize the form and include a link to it in your Instagram bio.
How to get approved for Instagram shopping?
Ensure you have an online store as the first step in getting approval for Instagram shopping. Instagram Shoppable posts are only available for those with an e-commerce platform that integrates with Instagram.
As the first step in getting approval for Instagram shopping, ensure you have a web store. Consider contacting Facebook directly for an update if you are still waiting for approval.
You'll get a notification in your Instagram app after your account is approved letting you know that you may activate the product tagging feature on your account. Check out our instructions to get started when you've been accepted.
Why Is Instagram Not Approved for Shopping?
If Instagram shopping is not approved, it means that you have the cases listed on your Instagram profile.
Downloading the latest version of Instagram
Setup a Business Profile (Personal Profiles will not be approved)
Uploading product catalog via Facebook
Actively selling physical goods (no services)
How do I create an affiliate shop on Instagram?
Here's what you need to do to create Instagram affiliate shopping.
On Instagram, you can directly earn commissions. Your followers can tap to learn more and purchase products from feed posts, Stories, or Reels that you generate with affiliate product tags.
Sticker product tags on the products. Previous posts can be edited to include affiliate product tags. To your Stories, you can also add product stickers.
Promote the content of your affiliates. You might run a promotion on your affiliate posts to increase your potential earnings.
Use collections to personalize your store. If you run a business, you can create collections to show your customers your favorite products.
Instagram's live shopping
You can even make money from Instagram Lives. So, if you have an accessory or clothing store, you can share their product links with your followers on Instagram live. So you can make your sales here too. You can pin one product at a time to the screen as you're filming.
While Instagram live shopping permits businesses to sell tangible items on the platform, it currently does not support the sale of digital services or products by users.
How to create an Instagram shop?
We learned all the technical ways to set up shop on Instagram, and now let's explore how to use it. Of course, our goal in doing this is to make money on Instagram. To sell on Instagram, you must first advertise your listed products.
Because then you can turn Instagram followers into customers. Your Instagram followers will buy from you based on your posts and Instagram reels. For this, first of all, you should post continuously and prepare interesting and relevant content.
It may seem a little difficult to prepare a continuous post, but remember, there is Planly. With Planly, you can schedule your Instagram stories, reels, videos, and posts. Check out Planly for free right now. Save time and think about your ideas to make more posts
Time to shopping!
You can quickly and easily grow your online sales by clicking on the power of Instagram shop. All you need to do is ensure that your account is set up for business, post high-quality images of your products, use effective hashtags, and include a link to your website or product page in your bio.