As a veteran social network, Twitter has been going through a lot of changes from a networking platform to a marketing space. Now, with its new owner, the platform is expected to enter a new level with continuous updates.
Elon Musk seems like making the platform better for users with simplified rules and access to more features. Yet, as serial business owners, we expect those changes to come at a proper financial cost to users.
What are the latest Twitter updates in January 2023?
Translated tweets
Twitter updates are becoming burning rather hot with the vital changes. Last week Twitter banned many third-party developer tools. Yet, Elon Musk is in his best mood announcing translating amazing tweets from other countries.  
In his tweet, he mentioned that twitter will translate and recommend amazing tweets from other countries to the feeds of users. Later he replied that, amazing, epic, entertaining tweets worth seeing. Tweets first will be translated before being recommended.
Although the launch day of translating tweets is not announced yet, we can expect it within the first half of 2023.
Long-form tweets
On January 9, Elon Musk announced on Twitter that there are huge UI overhauls coming to the platform. The very first update is a new navigation that we already talked about. The second biggest update that'll be coming with the new UI is long-form tweets. While from users' point of view, it defeats the purpose of micro-blogging that users have been using for more than a decade. Musk points that this will be helpful for users since they won't need to switch between different platforms.  
Long-form tweets will also be 4,000 character longs and will be displayed in the same feed as regular-form tweets (280 characters). Musk announced the long-form tweets will be live in early February.
Bookmark button (de facto silent like)
Along with the new updates, Twitter will also roll out the Bookmark button feature that we are sued to see on other platforms like LinkedIn, and Instagram. It's reported that users can also create folders and bookmark favorite posts. Twitter's CEO also refers to the bookmark feature as a de facto silent like, which fits right for the purpose of bookmarked posts.  
New Twitter navigation
Elon Musk announced that new Twitter navigation will come in January 2023. Twitter users now can switch between recommended and followed tweets on the platform.
We can hope that the new updates will bring a more personalized experience to users who don't want to see topics outside of their interest zones. We also expect that separate navigation for the followed list will impact Twitter engagement. Posts from relatively small Twitter accounts can get more exposure after these updates.  
What are the latest Twitter updates in December 2022?
Tweet views
Twitter launched tweet views for mobile and web devices in lately in December. Underneath each tweet and re-tweets, you can see the number of impressions for each one. This can be a new edition to Twitter KPIs in the long run. Plus to engagements, marketers may look for more vague metrics to see how many times their tweets are read.
Elon Musk introduced the new feature in his very own style. Tweet views shows objectively how tweets get more views than their likes.
What are the latest Twitter updates in November 2022?
Square brand profiles
Twitter account verification taking a new form by replacing round profile images with square profiles for brand Twitter pages. In addition to displaying gold verification for Twitter business pages, Twitter also changed the profile views to counter impersonation.  
3 distinct Twitter verification
On November 25, Elon Musk tweeted about the new verification system that will be launched soon. Twitter is launching 3 different verification for different users.
Gold check for companies
Grey check for governments
Blue check for content creators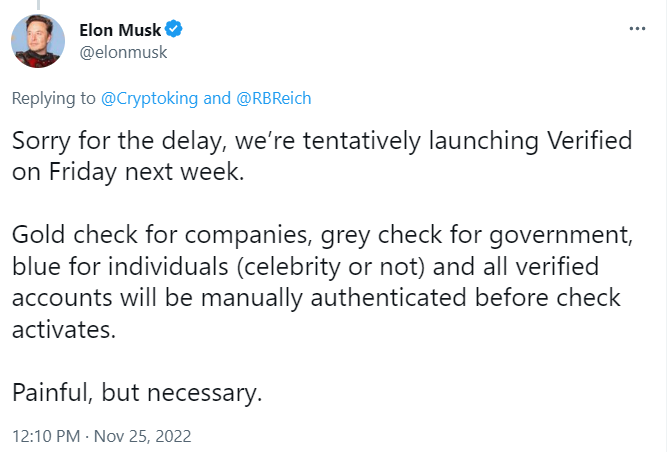 Also, Elons Musk informed that individual users with blue think can add a second logo to their profiles to showcase organizations that they represent on Twitter. This would be extra helpful for sport teams, large corporations, and government officials to verify their members.
According to Musk's notes, all verified accounts will be manually authenticated.
Purchasing Blue checkmark
The very first community-related update on Twitter is purchasing blue thick on Twitter. Elon Musk tweeted in his unique style that every user can get a Twitter blue check at an $ 8 monthly payment.
Although it will help small businesses and thought leaders to distinguish themselves from the rest, it will also have a negative impact on the community. Since the blue checkmark will be open for all users, it will cause more untrusty social accounts to look reliable with a thick.
Yet, we expect this a great opportunity to test Twitter marketing by subscribing.