Build beautifully designed landing pages for your brand
Addto.bio is a mini website that gathers your key content into a single page. Add anything that you find valuable for your visitors to see via a single link.
How
Addto.bio

works?

Build your addto.bio page once and turn followers into visitors
1
Set up your Addto.bio
Start your Addto.bio page with a sharp head shot. Use featured media and text blocks to shed light on your prime content. Tell your story cohesively with embeds, links, visuals, buttons, and products. Convert followers into visitors by sharing your profile links.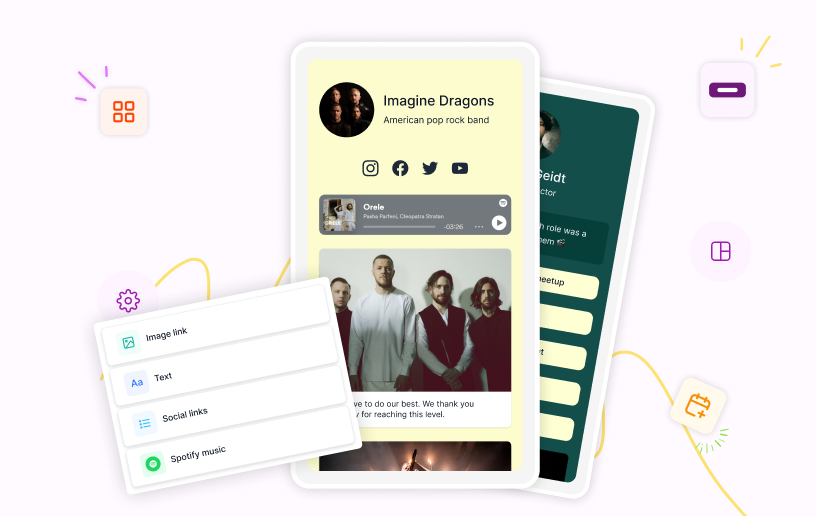 2
Customize to stay true to your style
Make your Addto.bio page represent your brand. Whether individual or business, you can customize every element of your page with endless customization options. Start with ready-made templates or from scratch to customize themes, colors, fonts, buttons, links, and their positions to make them unique. Just like you.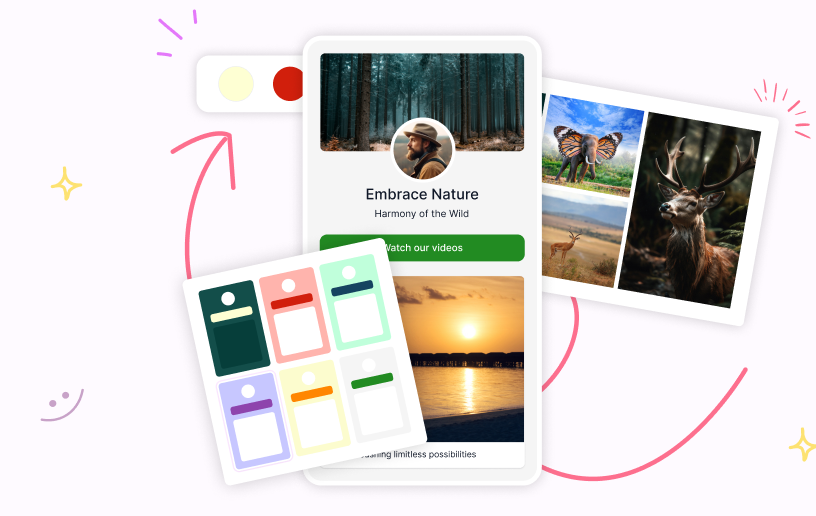 3
Drive traffic
Finish off with URL settings. Configure Addto.bio settings and hit the publish button. Have custom domains? Simply redirect them, funneling all your traffic directly to your personalized add-to-bio page. Integrate with Google Analytics to measure visitor engagement. Understand your audience better and continually refine your strategy with valuable, data-driven insights.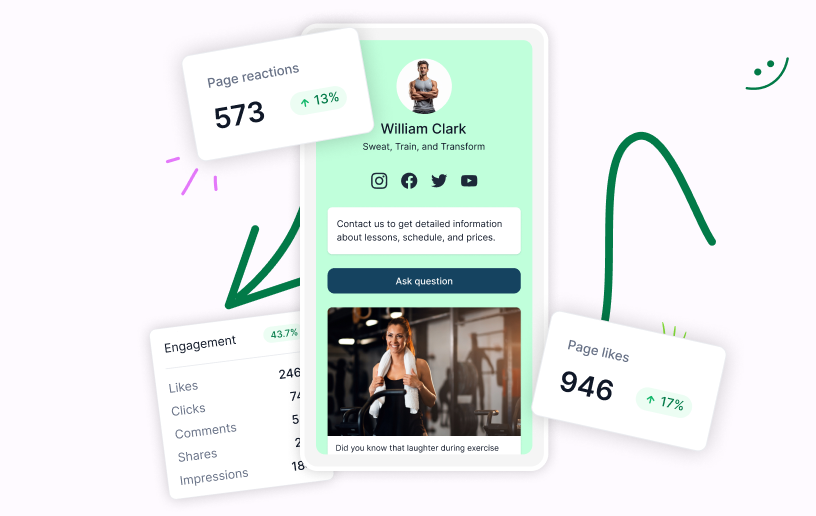 What you can do with
Addto.bio?
Highlight your links
Promote your brand with a single URL
Create a top-notch portfolio with a single link. Combine the headmost info about your brand and design it with media, links, buttons, embeds, blogs, and products to make it shine.
Create now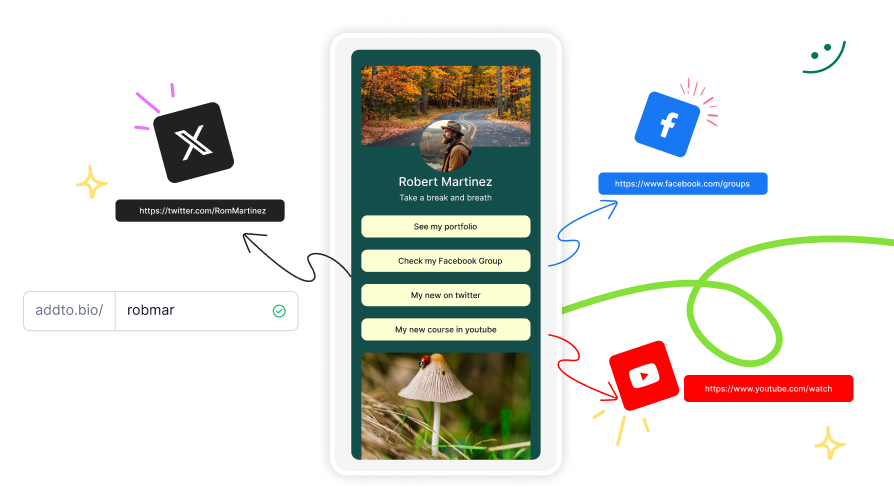 Share across platforms
Grow online presence outside your social channels
Create a unique Addto.bio URL that reflects your brand and shares the link across your social networks. Let your audience discover you every way you go.
Grow now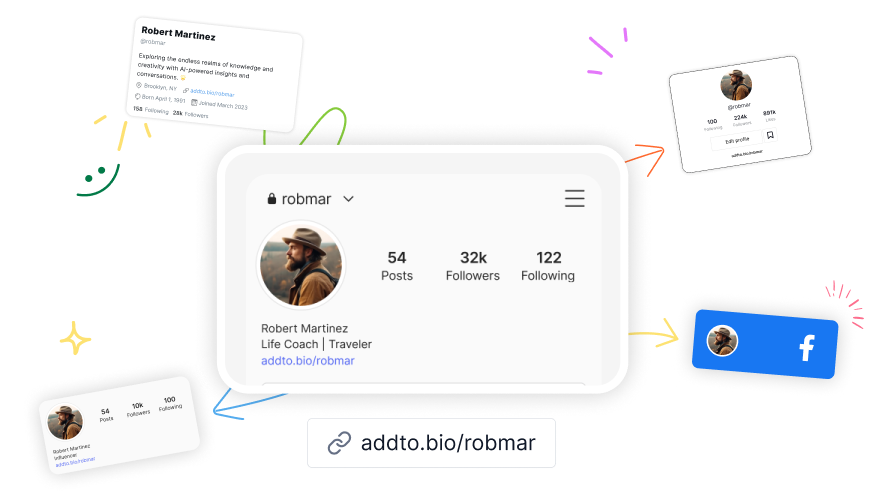 Drive traffic
Track records and measure insights
You can drive traffic from many sources anywhere you want, whether it is your website, blog, or online meeting link. Track how many clicks your Addto.bio page received on Google Analytics.
Start Tracking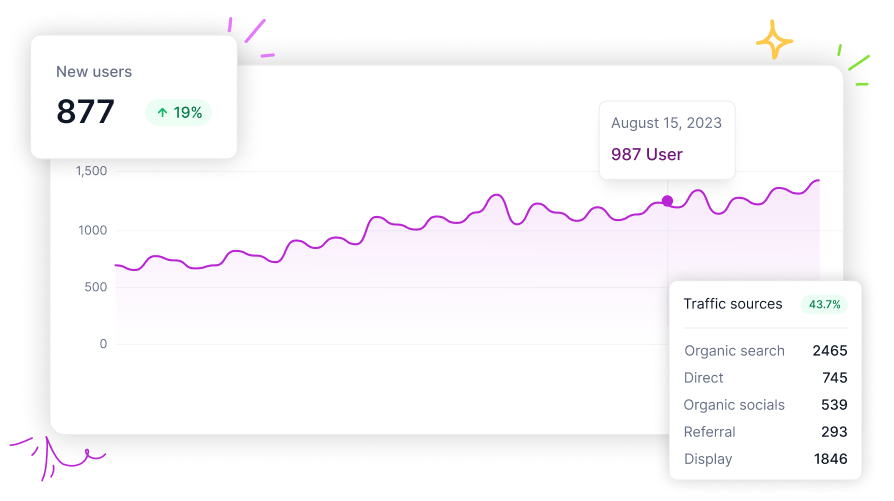 FAQ
Everything you need to know about the Addto.bio
What is Addto.bio and how does it work?
Addto.bio is a mini website that allows you to create your own web page and add all of your important links like products, forums, media, and information in one place. You can personalize this page with your preferred theme, embed important links, and embed music or videos to make it uniquely yours.
What is the difference between Addto.bio mini website and a regular website?
Well, there are many differences that lie on the technical side and use cases. To develop a real website, you need to write code or use no-code solutions and also work with UI\UX designers. While for a mini website like Addto.bio you do not need any code or no-code solution. You can build your page using ready-made templates or from scratch.

In the use case, real websites have a large number of pages with long content. They have different navigation bars to help visitors easily browse through web pages.

While mini websites like Addto.bio are usually short-sized pages where you can share your images, text messages, and buttons to link back to your important links. You redirect users to your websites, e-commerce products, social media profiles, online portfolios, and event registration links.

In short, mini websites are designed to share on social media bio sections to drive social followers to other places like real websites.

If you do not have a website, Addto.bio is an effective way to build one without getting involved in technicalities. Yet you can have both a real website and Addto.bio page to drive followers to your website
What kind of information and links can I put on my Addto.bio page?
Addto.bio page is used to show the most important info and links. You can place your products, blogs, websites, courses, videos, certificate links, recipes, books - anything that you find important to highlight in your bio.
How can I set up an Addto.bio page?
1. Log in to Planly and head to the Addto.bio section in the sidebar. Click Create page button. You can either start from scratch or choose from the ready templates in the list. Once you click on the + (plus) icon you will be asked to set a URL. Make sure your URL is related to your brand. Your URL should be between 2-63 characters.

2. From the Layout section, add content blocks that you want to include in your page. You can add photos, videos, text, buttons, grid view media, embed YouTube and Spotify embed, and add your social media profiles.

3. Personalize your page view from the Customize section. Change the color of buttons, texts, and backgrounds so that the page represent your brand identity.

4. On the Settings section configure your page. Give a title to the page. The title appears at the top of the browser window and helps to identify your page in searches. If you have custom domains, you can redirect them to your Addto.bio page as well. In the end, you can add your Google Analytics Measurement ID to track Addto.bio link clicks in your Google Analytics dashboard.
Can I track the performance of my Addto.bio page?
Absolutely. Addto.bio integrates with Google Analytics, allowing you to track the performance of your page, monitor user engagement, and gather valuable data to help you fine-tune your content strategy. Once you add your Google Analytics Measurement ID to Addto.bio section, you can start seeing the traffic in your Google Analytics dashboard.
How can Addto.bio help increase my social media engagement?
By creating a single hub for all your social media profiles, Addto.bio streamlines your followers' journey to your content. By sharing your latest updates, links on your Addto.bio page, you can encourage your followers to visit your page.
Can I customize my Addto.bio page?
Absolutely. Addto.bio offers a variety of customization options. You can personalize your page with different themes, headers, and styles, integrate your favorite music, videos, and create a layout that perfectly mirrors your unique personal style and brand identity. Make sure to keep your Addto.bio link true to your brand.
Can I create multiple landing pages?
Yes, you can create multiple Addto.bio pages in Pro and Guru plans. Addto.bio pages are distributed differently among pricing plans. In Starter plan, you can create only one Addto.bio page. In the Pro plan, you can create 3 Addto.bio pages. And in the Guru plan, you can create 5 Addto.bio pages. If you want to create even Addto.bio pages, you can opt for getting add-ons instead of upgrading.
Yes, you can. If you have your own domain you can redirect it to your Addto.bio page. Just go to the Addto.bio Settings and enter your own domain in the custom domain field.
Can I schedule links to my Addto.bio pages?
This feature will be common soon. You will be able to schedule your links and text updates to your Addto.bio page.
Why use Addto.bio link instead of a website link in the bio?
Most social media platforms only allow one link to be put into a bio. Which can be limited for content creators and brands. With Addto.bio, you can create a mini website and combine the most important links on that page. This way, with one link in your bio, your social media followers can view more links about you instead of viewing a whole website.
How do I put Addto.bio page link to Instagram?
All types of profiles - personal, creator, business- can add a link to your bios on Instagram.

1. Go to your Instagram profile section
2. Click the Edit profile button
3. Click Links and then Website
4. Add your Addto.bio URL and write a label
5. Click the Save button

Once you finish check the link both on mobile and desktop to make sure everything works fine.
How do I put Addto.bio page link to TikTok?
To add a link to your TikTok bio you need to have a TikTok business account and at least 1000 followers. Once you convert your profile into a business account you can add a link to your bio.

1. Go to your TikTok profile and click the Edit profile button.
2. Click the Website section and enter your Addto.bio page link.
Manage your
social media

in a single place