What is a reel on Instagram? You have asked this question at least once. Well, we too. We'll explore everything related to Instagram reels you should know as a user.
Most likely, if you are reading this blog, it means that you are an active Instagram user. Being an active user on Instagram means that you regularly share Instagram carousel posts and Instagram stories and stay in touch with your followers.
Instagram has become one of the most popular social media platforms and it's easy to see why! With its filters and ease of use, you can snap a quick picture or record a short video clip and have it posted in minutes. And in 2020, Instagram introduced "reels" which are short videos that can be played like a slideshow. Here is how to create Instagram reels!
What are Instagram reels?
Instagram Reels is a feature that allows users, content creators, and influencers,  to create and discover different types of short-form video content from all around the world. Creators and Instagram users have the option to record, edit, and share fun video clips with trending music or sounds, AR effects, filters, and other creative tools that we will go over below.

Instagram reels allow you to shoot and share your videos in 15, 30, 60, and according to the late Instagram updates 90 seconds. Instagram's main goal in sharing the Reels section was to compete with TikTok.
The primary purpose of Reels, outside of being a direct competitor with TikTok, is to entertain. Instagram knows this is a popular feature on another platform, so they wanted to integrate it here.
One place to find Reels on Instagram is at the bottom of your screen directly in the center.
This is the icon of the Instagram reels.
How to make reels on Instagram?
Let's get acquainted with the methods that you will use later. You can 3 types of creating Instagram reels.
The Reels tab
Your Instagram home screen
The Instagram Stories camera
Let's do the first method
Create a Reel From the Reels Tab
If you want to make your reel from the tab, enter the tab section and you can start recording your video by switching to the camera section in the upper right corner.
Create a Reel From the Instagram Home Screen
To create a Reel from the Instagram home screen, tap the "+" icon at the top right and go to the Reels tab at the bottom of the screen.
Create a Reel From the Instagram Stories Camera
By switching to the story section of Instagram, and scrolling through the post, story, reels, and live sections, you enter the reels section.
You can add as many clips as you want to your reels in the photo upload section of Instagram, i.e. the + section. After selecting your clip, you enter the music section. Any music can be added to the Instagram reel. Remember that if you want your reels to be trending and reach more viewers, the music you choose should be popular and relevant to the content of your reels.

The main point we want to make is that the mood of your reels should be the same as your content. Users come to Instagram for entertainment and information. If you are a brand or just have a product, you can make reels with interesting information about it. If you're just making Instagram reels for your personal account, it's better to do it in your own style and it will make you look unique.
What are the features of Instagram Reels?
Now that we have learned how and where to make an Instagram reel, let's start exploring the features of Instagram reels. Time to the Reels!
Audio
You can use the Instagram music library to add music to your Instagram reels. You can choose the music you want and insert its part into the reel. At the same time, you can use your own audio reels so that your audio will be attributed to you, and if you have a public account, people can create reels with your audio by selecting "Use Audio" from your reel.
AR effects
With the Instagram gallery, you can make your Instagram reels more expressive by adding various effects to your reels.
Timer and Countdown
Select this feature to record your clips hands-free. You will see a 3-2-1 countdown before the recording starts.
Align
Adding your friends to your clip requires you to flatten it to make it look better. This will make your Instagram reel look more professional.
Speed
It's up to you to speed up and slow down your reels. This can help you stay on a beat or make slow-motion videos.
You can pause or restart your reels moments before they start spinning. This will make your reels more interesting.
Among the latest Instagram updates, there have been quite a few additions to Instagram reels, but what are they?
Import your voice
This is one of the best updates for users. You can use your own voice or someone else's. Therefore, you should be sure of the quality of the sounds.
New Instagram Reels templates
Templates pre-load with audio and clip placeholders. All you need to do is to add the template and trim the video.  After downloading the Instagram templates, you can use them as you like.
You can use quizzes and polls on your Instagram reels. With this, your reels will get more views, and your viewers will react more.
Interactive stickers
Using different stickers will make your reel look even more attractive. Using this feature of Instagram will make your reels more interesting and relevant. Just be creative!
How to share Reels?
Once your Instagram reels are ready, it's time to share them.
If you have a public account and want the reels you want to share to be discovered by more users, you can share them with Explore. You can also get more reactions by sharing it on your feed. For this, you can use hashtags and trending music in your reels. Any users will find your reel by searching for the hashtags they want.
If your account is private, the reels you share will only be seen by your followers. People will not be able to use original audio from your reels, and people cannot share your reels with others who don't follow you.
How to watch Reels?
When your reel is ready, you can share it. You can also browse other people's reels If you love a reel, you can easily like, comment, or share it with your friends.
How to get more views on Instagram reels?
Instagram users are very interested in reels. Therefore, with the right strategy, it is possible to increase the number of followers and likes of Instagram reels in a short period of time.
Create Valuable Content
As many bloggers say, content is king! The content you create represents your products. You can make videos on topics like How-To on your Instagram reels. But don't forget that you should give a short and simple answer to the question you are asking in the reels you have prepared.
Users like and follow such posts. At the same time, it can vary depending on your niche. All it takes is finding the right content strategy.
Post Reels Consistently
If you want to increase your brand engagement, the number of views of your reels and your followers, you must not forget to share reels continuously. It will be more convenient for you to prepare and share the reels you will share in advance. The tool you will use for this is Planly.
You add your Instagram account by an account on Planly. Then you enter the reels (as well as posts) that you will share and set the day and time. So Planly will share them automatically. You can try it right now.
Use Popular Sound Tracks & Other Reels Tools
As mentioned above, you can use popular and trending music in your reels. For this, you need to monitor what is on the trends constantly.
Add Relevant Hashtags
According to many viewers, using hashtags on Instagram does not bring organic indicators anymore. But this is not so.  For users with a large following on Instagram, this may not be as effective. However, if you are starting out in this field, using Instagram hashtags is quite effective.
Write an interesting caption
Instagram allows you to add as many as 30 per reel and a great caption. Considering the 2,000-character limit, you have more than enough space to write descriptive copy. Many users share their Instagram reels without paying attention to their captions. However, if you want your Instagram reels to stand out, you should definitely pay attention to this part. If your caption is engaging, they might save it too, and that counts as a bonus. The more views and likes you get, the more the Instagram algorithm will support it. In short, you should take the time to caption your Instagram Reels videos.
How to increase reach of Instagram reels?
If you want to increase the reach of Instagram reels, you can achieve this in a few steps.
Follow Instagram recommendations
Instagram is constantly suggesting ways for brands to create Reels that use:
A mix of text, filters, and camera effects.
A vertical format (16x9).
Music from the Instagram music library or original audio you find on other videos in your reel!
Rules like these are not essential for your reels, but they will ensure your Instagram reels reach the right audience.
Optimize for Instagram
Before sharing your reels, you need to optimize them for Instagram. Instagram posts are either square with a 1:1 ratio or portrait with a 4:5 ratio. However, Reels are better suited for mobile, which means you should publish them with a vertical, 9:16 ratio.

Once you've optimized your reels like this, write a comprehensive title for your reel. Don't forget the call-to-action part here. If you want to continue the conversation, you can ask your followers to like, comment, and share your reels.
🎁 Gifts Expansion 🎁
If your Instagram reels have received a high number of impressions and likes, it means that your followers like and support your work. So they can make you money by sending virtual gifts to your followers. To turn their Stars gifts into cash, creators must first exceed a $100 cashout threshold (which can include revenues from other monetization platforms). Instagram Gift is a great opportunity for expansion reels and content creators.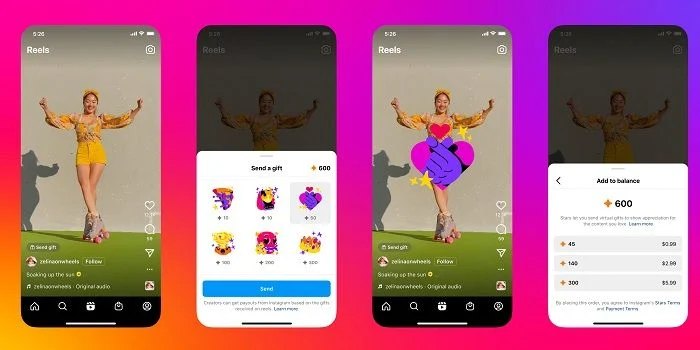 Best times to post reels on Instagram
As we know, to share posts or Reels on Instagram, you need to know the times when users are most active. Otherwise, your competitors may overtake you. You can use this chart to find the best time to share Instagram reels.
Monday: 6 AM, 10 AM, 10 PM.
Tuesday: 2 AM, 4 AM, 9 AM.
Wednesday: 7 AM, 8 AM, 11 PM.
Thursday: 9 AM, 12 AM, 7 PM.
Friday: 5 AM, 1 PM, 3 PM.
Saturday: 11 AM, 7 PM, 8 PM.
Sunday: 7 AM, 8 AM, 4 PM.
Final Thoughts
Reel is an exciting new thing that lets you transform your Instagram into a thumb-stopping Instagram platform. In doing so, we can discover more of what we love and inspire those who want to be creative. Once you learn how to create Instagram reels the next you need to discover how to increase the reach of Instagram reels.
Creating Instagram reels is a great way to show off your best work and attract new followers. By following the tips we've outlined in this blog post, you can create a reel that is both creative and eye-catching. Keep an eye on Planly to know the latest updates and get helpful tips on how to grow your social media. See you in the next blog. 🖖