Get key social media insights that matter for your growth
Understand your social media performance with Planly's advanced analytics. Track, measure, and analyze your social media performance in a single dashboard. Get detailed insights into your accounts, audience, and posts to see what works the best for you.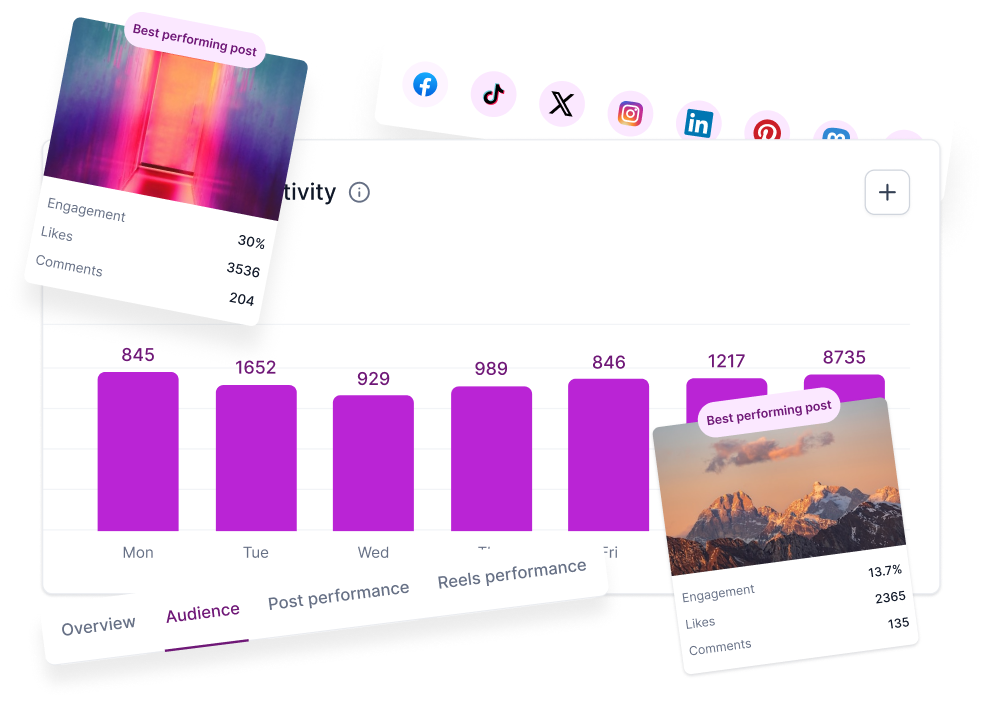 Planly is a free social media scheduler for all. With full automation and advanced interface, we let you store your media, plan, and auto post to social media - no further notifications! Save time by scheduling social media posts and enjoy your creative process.
✔
Full access to the Pro plan
Everything you need in a single
dashboard
Measure your performance across Instagram, Facebook, Twitter, LinkedIn, and Pinterest for holistic social media analytics.
Account analytics
Understand the meaning your social media numbers with Account Analytics
Numbers hold a story of your brand's performance, evolution, and connection with your audience. Planly's Account Analytics helps you unfold this story, comprehensively looking at your social media performance across multiple platforms. Dive into a pool of data - likes, shares, reach, impressions - and let them guide your next move!
Analyze performance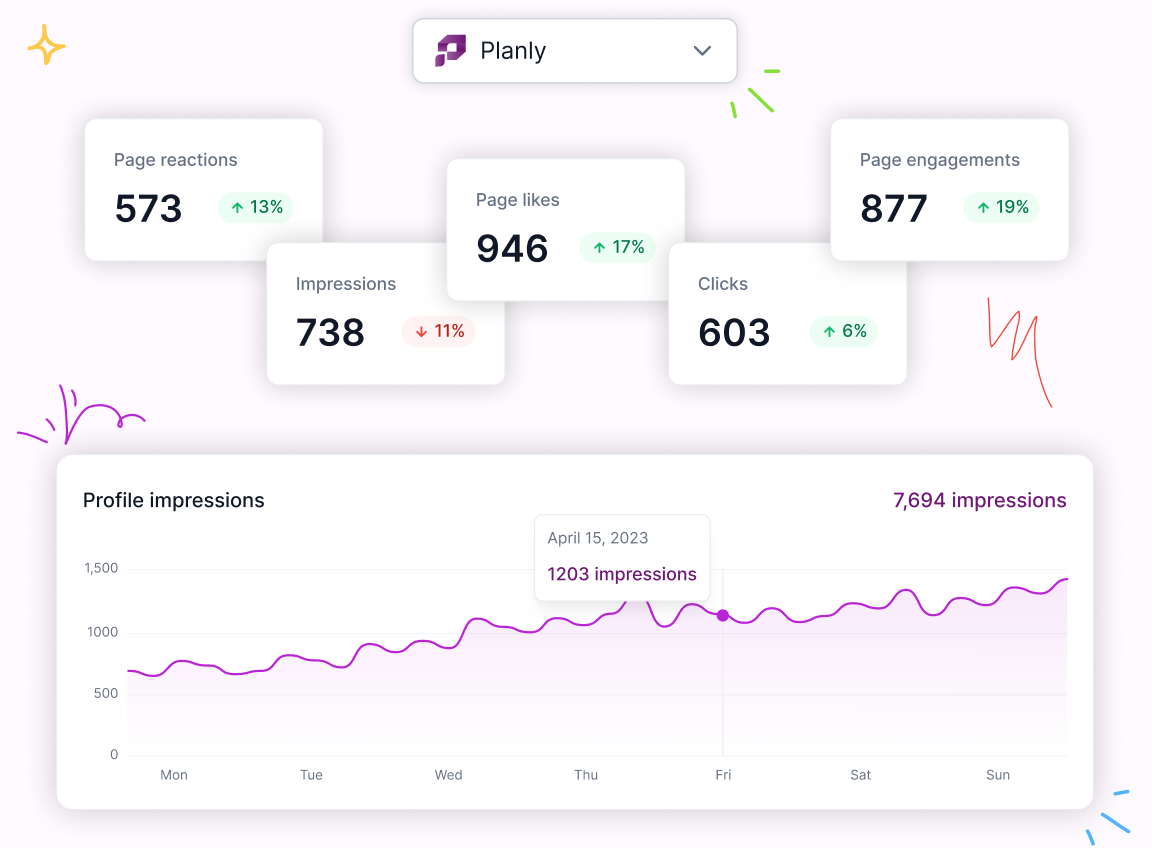 Impressions
How interested people are to revisit your content.
Followers
See how many users turned into your fans.
Website clicks
How interested your fans are to visit link in your bio.
Location clicks
How many times people want to come to your office.
Audience Analytics
Meet Your Followers Up-Close with Audience Analytics
Who's behind every like, comment, or share? With our Audience Analytics, you won't have to! Unearth vital demographic data, discover your audience's interests and behaviors, and get to know their peak interaction times.
Understand audience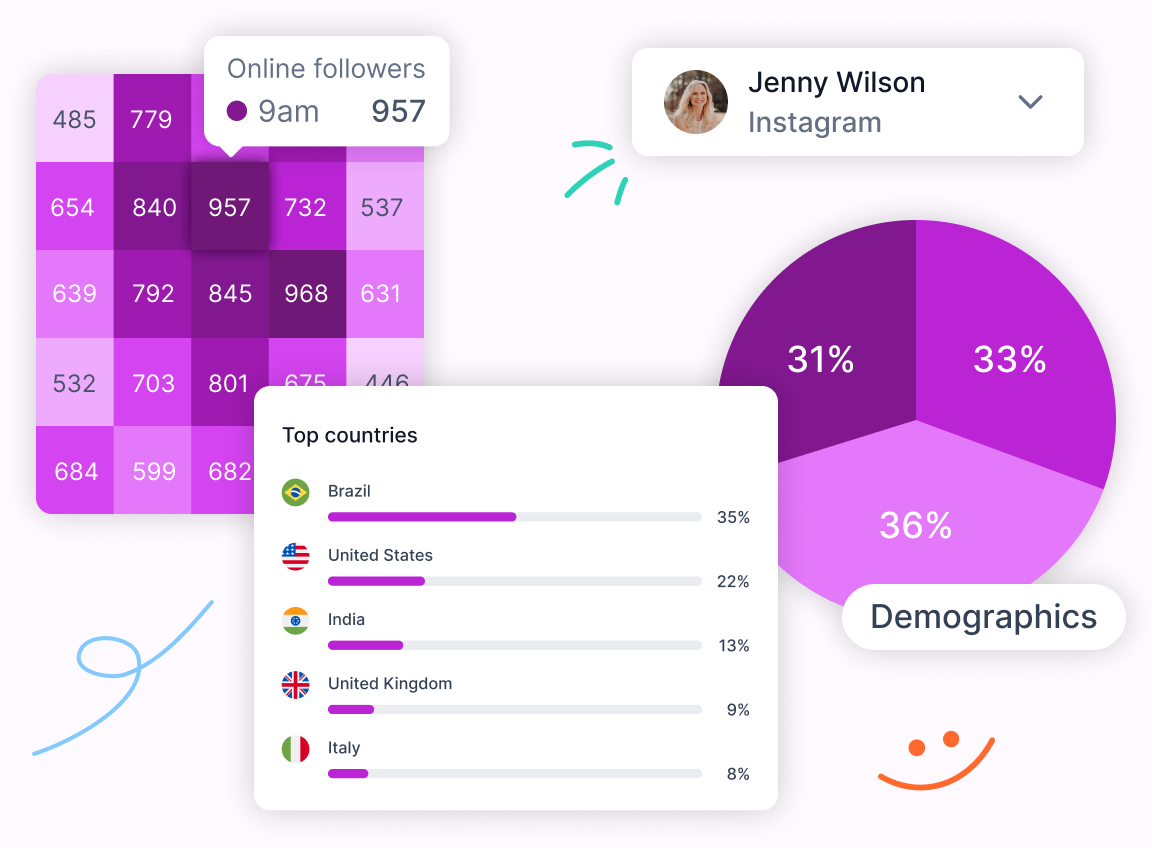 Age & gender
Understand your audience better with the age and gender distribution of your followers
Location
Track your follower's geographic distribution in real-time, allowing for precise targeting and relevant content delivery
Engagement
Boost your social media impact using Planly engagement analytics, enabling you to track shares, likes, comments, and overall audience integration
Device type
Optimize your content with Planly's device-type data, to see the proportion of mobile and desktop users
Post Analytics
Elevate Your Content Game
No more guesswork, only data-backed decisions for a stellar content strategy! Planly's Post Analytics feature dissects your content's performance, revealing the key metrics magic elements that make your posts a hit.
Analyze and compare your posts' performances to see what actually works for you.
Evaluate Posts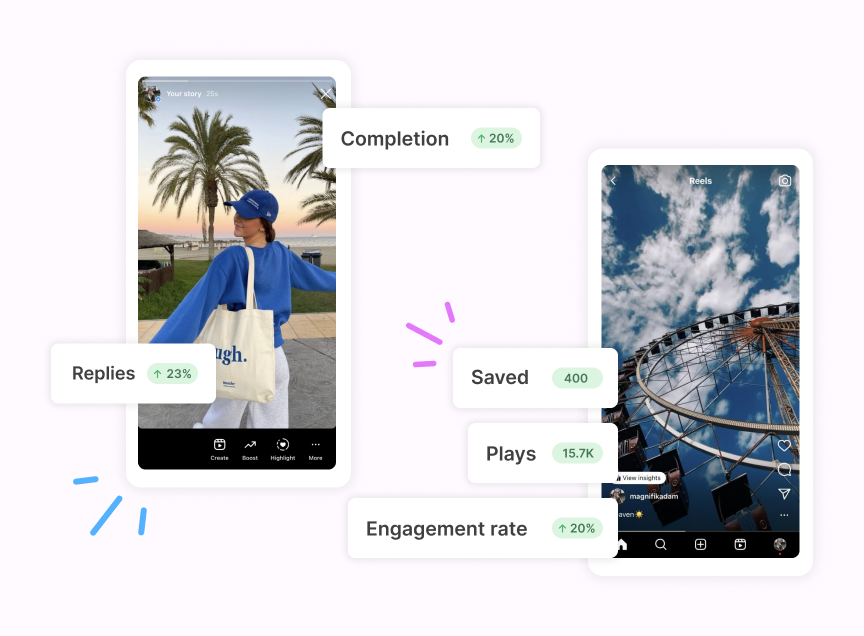 Posts
Delve deep into the performance of your posts, understanding likes, shares, comments, replies, videos views for each post.
Stories
Optimize your daily interactions with Planly Instagram stories analytics, tracking impressions, reach, replies, and completion rates.
Reels
Create re-watchable reels Planly Reels analytics, with insights on plays, total interactions, and engagement rate.
Individual post analytics
Zoom In On Success with Individual Post Analytics
Every post holds valuable insights. With Planly's Individual Post Analytics, delve deep into each the growth of each post metric. Get granular data, understand what worked and what didn't, and transform each post into a stepping-stone toward social media success.
Inspect Details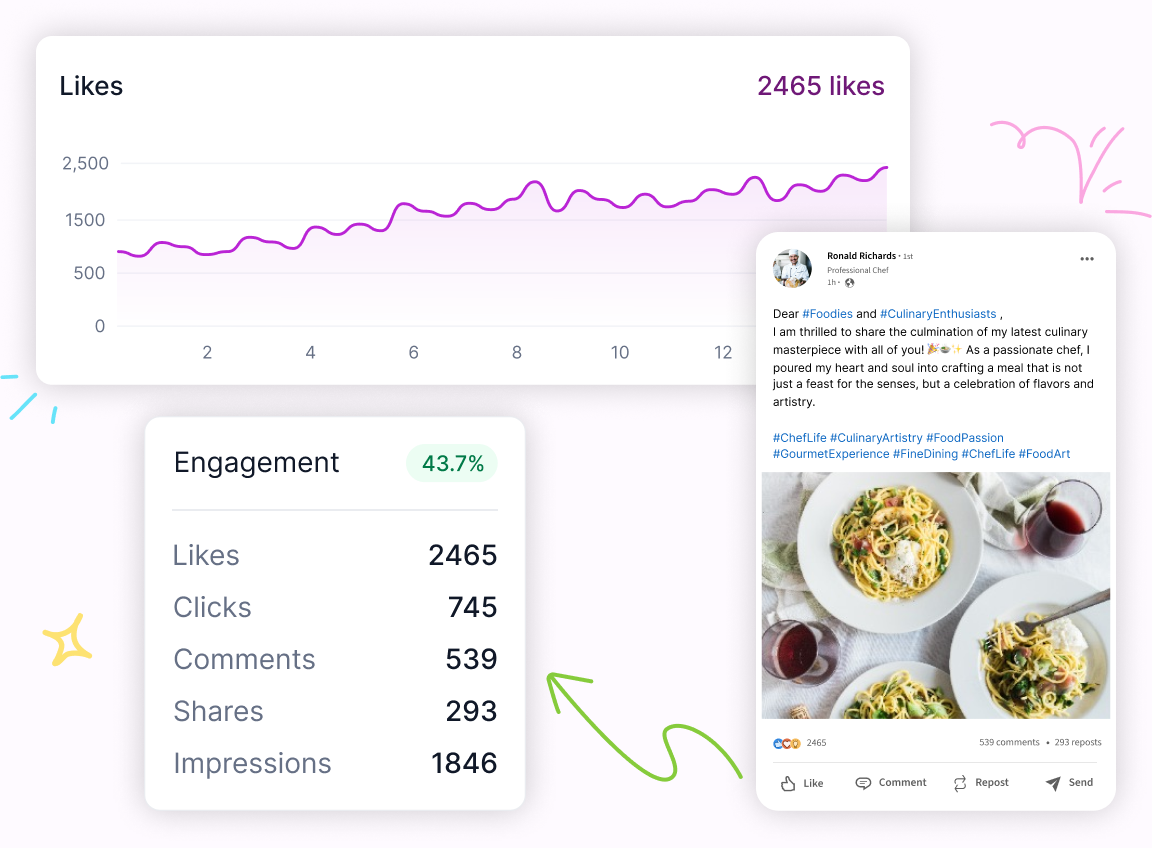 Full scale

social media management software

Manage, analyze, and drive traffic from social media in a single place.
Auto publish photo, video, and album posts across multiple platforms.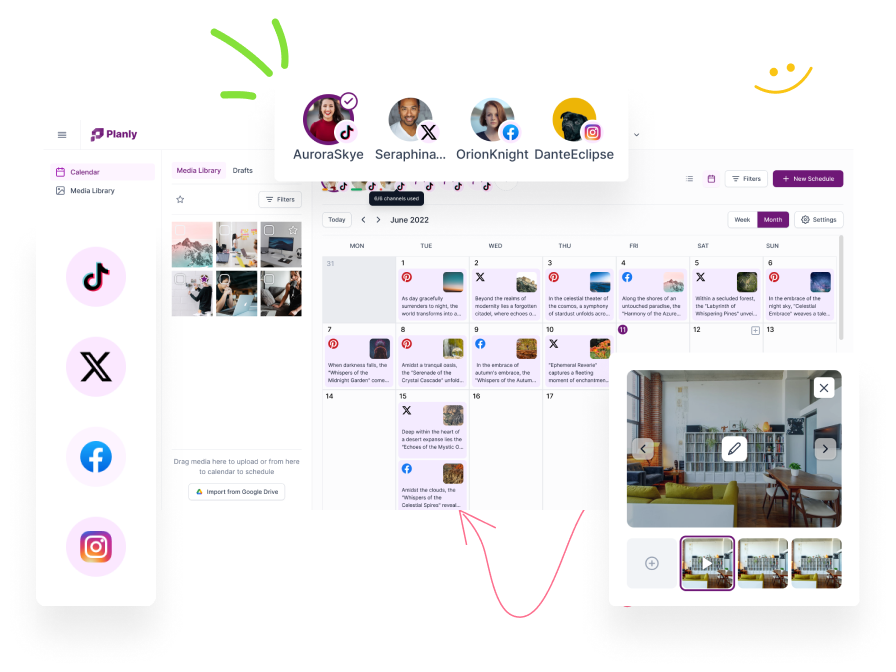 Create compelling content that speaks to your followers with the help of AI Content Assistant.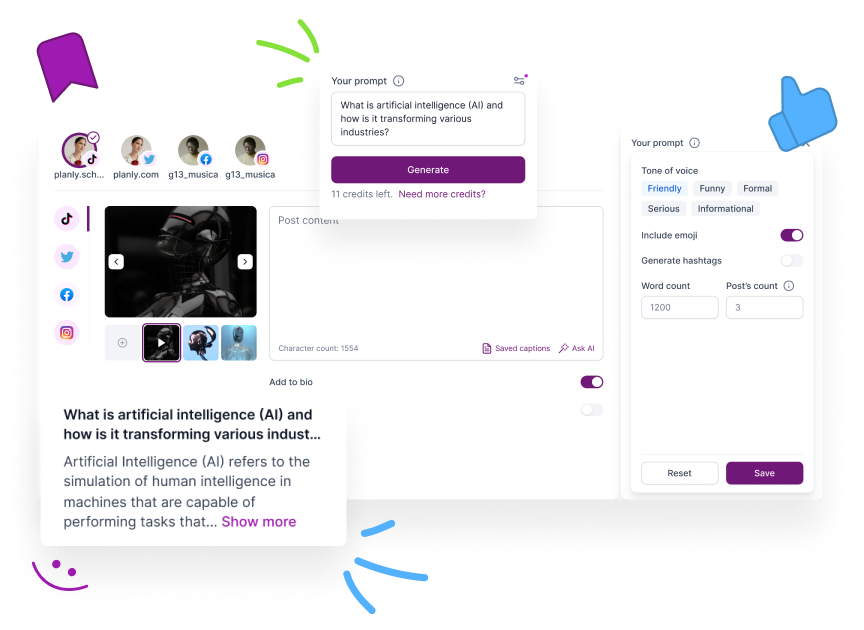 Track, analyze, and report what matters most to your brand with advanced analytics.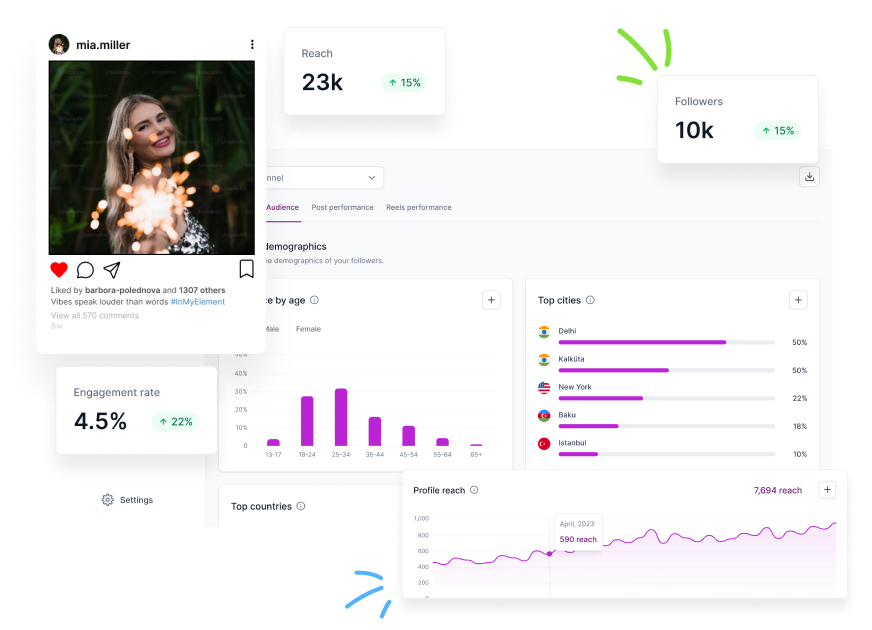 Create beautifully designed mini webpages to showcase your brand.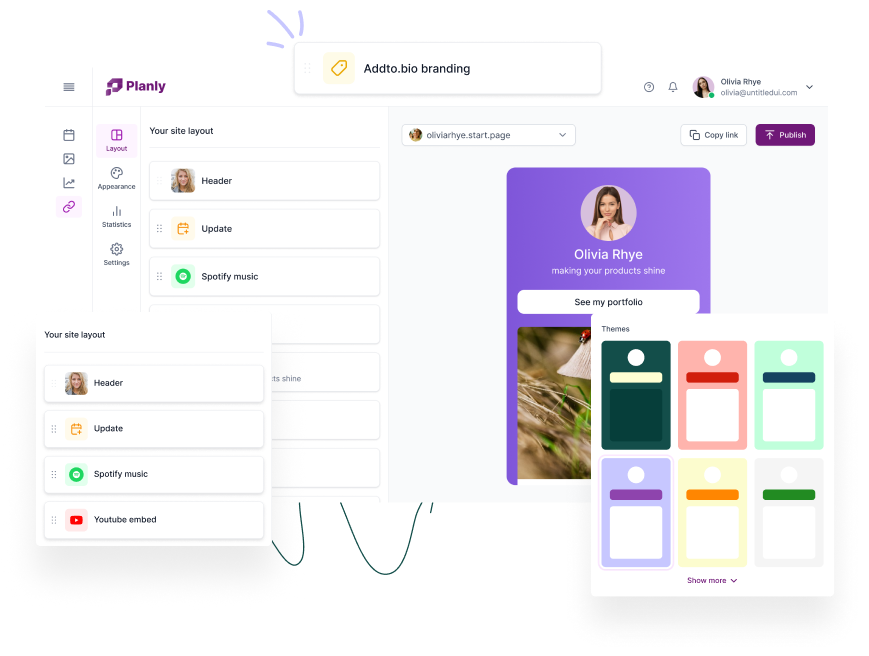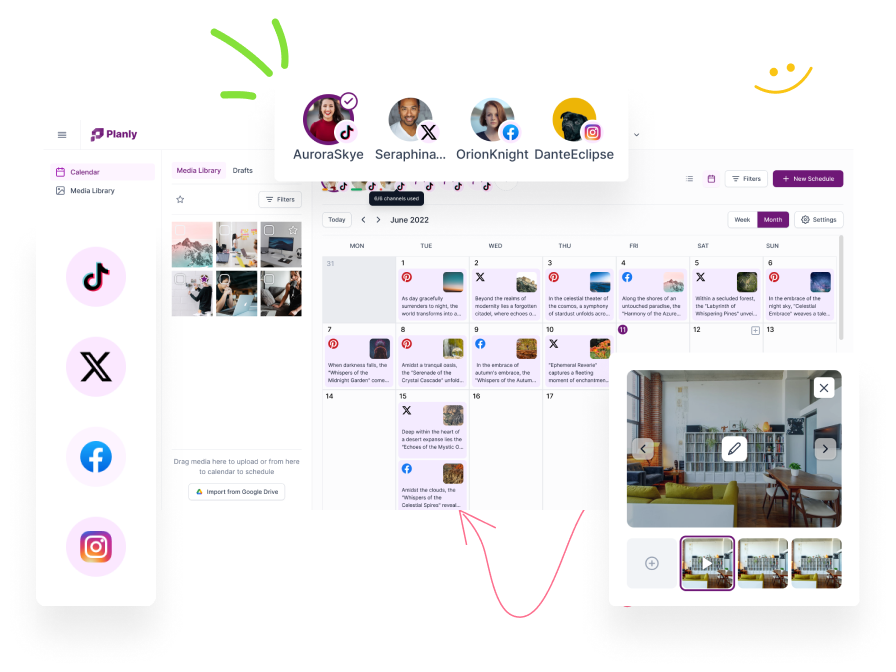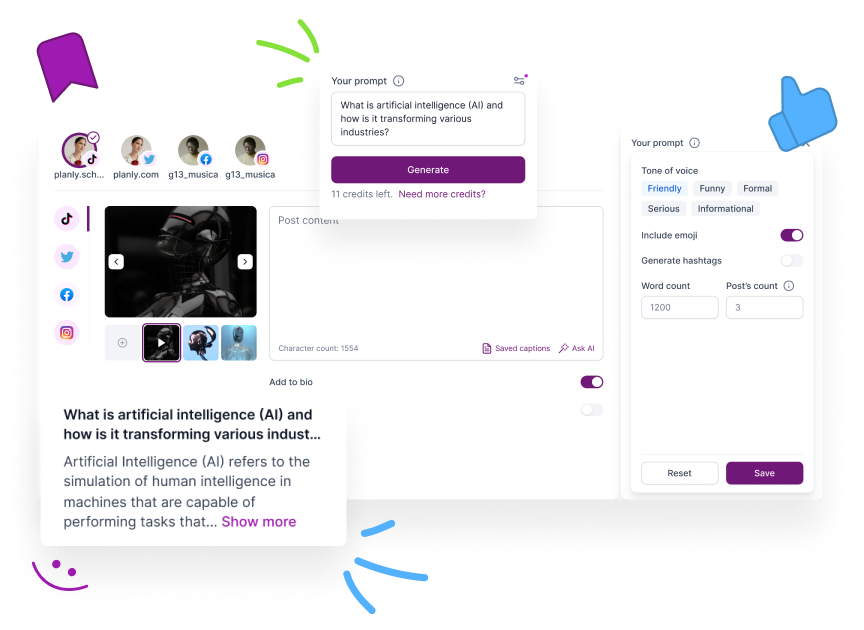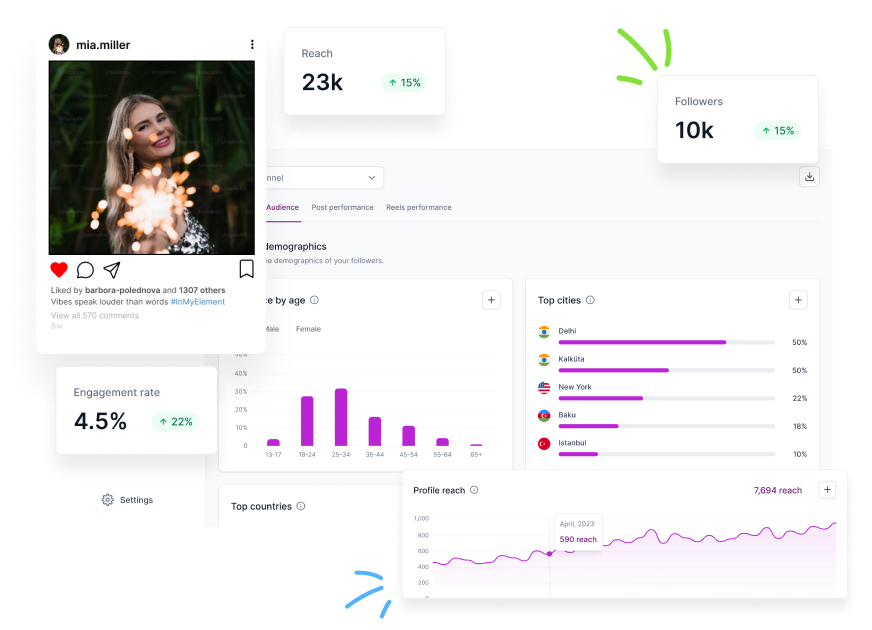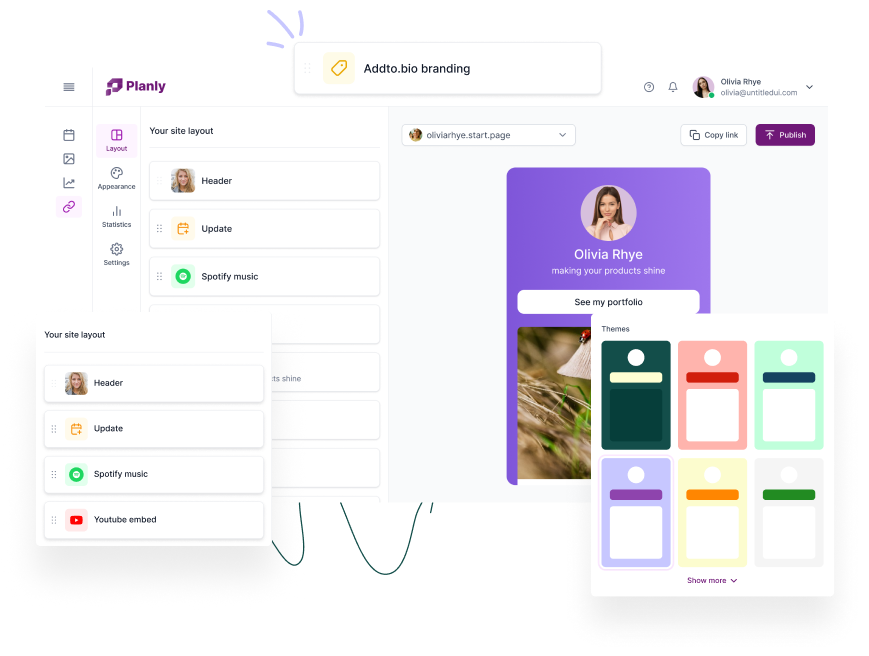 FAQ
All of your questions about Planly's Analytics are answered.
How does Planly's Individual Post Analytics work?
Individual Post Analytics dives deep into each post's performance metrics, providing insights into the growth of each metric over the given time. While the posts tab gives the latest number for each metric, individual posts analytics provides the lifetime change of that metric.
Which platforms does Planly's Analytics support?
Planly Analytics support Facebook, Instagram, LinkedIn, Twitter, and Pinterest.
How can I access Planly's Analytics?
Log in to your Planly account and go to the Analytics tab in the sidebar menu. Choose the social channel you want to see the analytics from the middle sidebar. If you have multiple channels from a single platform you can switch via the drop-down menu above. On Facebook and Instagram, you will be asked to re-authorize your account to view your analytics. After this, you will be able to see analytics.
What kind of data can I analyze using Planly's Analytics feature?
Our analytics feature allows you to analyze various data, including likes, shares, comments, reach, impressions, follower demographics, engagement times, post-performance, and more.
How often are metrics updated on Planly's Analytics?
That depends on both metrics and the social channel. While most metrics are updated in 24 hours, it can take up to 48 hours on platforms like LinkedIn or Pinterest.
How can I use Planly's Analytics to understand my audience better?
Audience analytics give clear information about your followers, their demographics, and social media active hours. Planly gives demographic insights about your audience's age & gender, countries & cities. On some platforms like Pinterest, you can also learn about their device type. Together these help to speak to your audience's needs and also better target your audience in paid ads.

On the other hand, there is Follower's online activity table that shows the active hours of your followers throughout the week. You can use these insights when scheduling your posts. Sharing posts on the most active hours promises higher engagement.
Can I see Instagram Stories Analytics?
Yes. Planly provides Instagram Stories Analytics along with reels and post analytics. Stories data is collected only for 24 hours. Even if the stories are archived or highlighted, it will only count the insights gained within the first 24 hours from the story being published. But Stories data is collected in the dashboard for 2 years.
Can I create custom reports on Planly?
Not at the moment. We will be bringingbrining custom reports functionality by September 2023. The feature will allow you to create custom reports and also export them as PDF files.
Can Planly's Analytics feature help me find the best time to post?
Yes! On the Audience Analytics tab, there is the most active hours table. On a 24-hour scale, it provides the number of online users from Monday to Sunday. The darker the color gets the more online followers you had at the given time. You can use this data to determine what is the best time to post and what is not the most appropriate time.
Take your
analytics

to the new level

Planly's analytics guide your path to social media success. Start data-driven journey now!
Explore analytics

87 new users joined us in the last 24 hours