Can you remember the world before Instagram, Facebook, and other social networks? After a long effort, you may not be able to, or it may be very vague memories that come back to you.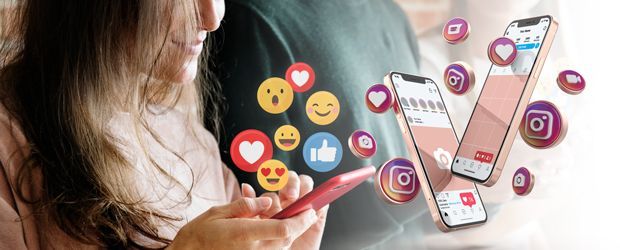 Instagram is the fastest-growing social network
In 2022, and for several consecutive years, Instagram is positioned as the most important social network among professionals in the marketing area. Among all the social media platforms, Instagram is the one that takes the most effort, resources, and budget.
The reason? It has more than 600 million active users, of which 60% connect every day. While Facebook stagnates in growth, Instagram continues to rise, not in vain 90% of the 100 most important brands in the world are present on this social network. Keep reading our article to find out how to increase Instagram's organic reach!
How to increase Instagram reach?
If Instagram can do something well, it is to create different types of content that manage to connect with different audiences. The formats within this social network are constantly evolving and generally set the trend in terms of the uses and interaction of people with the content inside and outside the platform.
How to increase Instagram's reach organically
1. Instagram Stories
The king of vertical content
This ephemeral format, which lasts only 24 hours, has been adopted by all content creators as a fast, interactive, and different way of connecting with people. It is used as a kind of diary, in which immediacy dictates the guideline to keep up with the information.
Instagram has incorporated stickers into stories, which are a new and fun way to interact with content.
2. Instagram Reel, the next level of the video format
Faced with the growing popularity of TikTok, Instagram decided to cope with a similar format. In a very short time, it became one of the most consumed by audiences, thanks to its versatility. Today, Instagram reels are one of the biggest bets on Instagram, so they continue to improve it and incorporate new features, and of course, give it greater relevance in terms of organic reach.
3. Instagram Live, the social interaction of the pandemic
During the pandemic, it was one of the most viewed contents by users. It helped people feel connected and maintain the human contact and social interaction that was sorely missed during the lockdown. Aware of the success of live broadcasts, Instagram has reinforced the tool with complementary functions, which seek to maintain this format as one of the favorites in 2022.
4. Instagram Carousel, Swipe & Join
This format takes the crown when it comes to Instagram engagement, especially when compared to static photos. The action of sliding to discover more content has given more participation to the user and has become a window of greater exposure for the brands that use it.
5. Instagram Shopping, the product catalog you were waiting for
The use of Instagram as a showcase or product display window was already established in the social network. 60% of people who use Instagram say they discover new products through this social network. However, Instagram decided to make it official and provide tools that make it more attractive through Instagram Shopping, a place within the platform where users can easily explore products.
6. Instagram Guides, and recommendations in one place
Understanding that Instagram is an inexhaustible source of content, the social network created a way to group and organize all the resources that have been published on a profile on a certain topic. In this way, content generators can create publication albums with their recommendations so that their followers can find the information much easier. Each guide provides the ability to add an introduction and description.
7. Augmented Reality Filters, virtual experiences within Instagram
Filters are another of the preferred ways when generating content and interaction on Instagram. The filters are unlimited, and their uses bring endless fun to the users. They have also functioned as a way for audiences to live the brand experience virtually or interact with products or services through Augmented Reality.
How to increase organic reach on Instagram: 3 keys to keep in mind
Much has been said about the decrease in organic reach vs. Paid outreach on social media. For this reason, it can be tempting to think that it is not worth targeting organic publications. However, nothing is further from reality.
1. Organic Posts Build Trust
Organic posts allow you to be present, that is, build trust and establish lasting relationships with followers. Additionally, they are a true challenge to creativity because only through differentiating publications is it possible to stand out, generate interaction, and, therefore, greater organic reach.
2. Reach is not the only metric you should analyze
Measuring is the first step to assessing whether the actions carried out are giving results.
Instagram, within its Instagram Insights section, provides important metrics to understand the performance of the posts made on the profile. In that section, it is possible to find a large amount of information and data that are highly relevant, depending on the business objective that has been set.
However, two metrics are essential to evaluate: impact and reach.
The impact (also known as impressions), is the number of times a content was viewed, this indicator does not measure people, only views. The same user can see the same publication more than once.
Reach: refers to the number of unique users who viewed content.
Both can be divided into organic or paid. If a budget was invested in the publication to promote it, the platform discriminates how many impacts or reach come from the paid source and how many come from the organic source.
3. Interactions also influence reach
Other metrics that are also relevant to better understand the reach of a post on Instagram are the interactions, for example:
Likes
Comments
Saved
Profile visits
Shared
Interaction and outreach are complementary. The more interaction a post has, the greater its reach.
How to increase reach on Instagram using Instagram algorithm?
Much has been said about the Instagram algorithm, however, there are still many questions about how it works.
The first thing is to establish that, according to Instagram, there is no algorithm. Rather, it is a series of algorithms, each with a specific classification and processing purpose, to best personalize the user experience. In that sense, each part of the platform uses its own algorithm to adapt to the use of people and classify the content based on that information.
Algorithm of stories and feed
There are three elements that Instagram and the algorithm in this section take into account to display the content, and therefore achieve a greater organic reach:
Popularity and information of the publication: in this section, the performance of the publication in terms of interaction (likes, comments, saved) is taken into account. Data such as time, date, place of publication, and duration are also taken into account.
Information about the author of the post: Instagram wants to show you content from people who are interesting to you. That is why it takes into account the times that users interacted with that person in recent weeks.
Your activity and interaction history – Based on your likes and interactions, Instagram also receives signals about what might interest you.
That information allows Instagram to predict what type of content is of interest to you and show it to you more frequently in your feed and stories.
Explore and Reels Sections
The Explore and Reels sections are designed for users to discover new content from people who are not on their list of followers. Therefore, although they are handled with different algorithms, the criteria are very similar.
For Reels, the focus is on the content that Instagram considers can entertain you, and also takes into account the popularity and information of the publication, its author, as well as the activity and history of user interaction.
7 ways on how to Increase Organic Reach on Instagram in 2022
Now that you know the theory, let's turn to practice and define some actions that can help you achieve a higher organic reach on Instagram. We will answer your questions on how to increase reach on Instagram.
1.  Use Instagram to know your audience
Knowing the audience you want to reach is the key to creating more relevant, assertive content, and, therefore, with greater organic reach. But how can you know for sure that your consumers like it?
Instagram itself is an inexhaustible source of information. Using social listening tools will help you better understand your audiences, what kind of content they are interacting with, who they are, what their interests are, and where they are located. With this information, you will be able to plan content that will help you better connect with your audience.
2. Prioritize content that generates the most interaction
We have already seen that scope and interaction are complementary. We also learned about the different formats that the platform allows and how each one performs.
Using formats like the carousel will help to have a greater organic reach. Carousels make people stay longer on the post, and they are also more likely to generate some interaction. These two indicators are taken into account by Instagram when classifying the content displayed in the feed.
3. Experiment with new Instagram formats
Instagram adapts its platform to give more visibility to new formats. This is currently happening with Reels, which has special access in the bottom menu of the app. Using this type of format will increase the chances of appearing to new people who are not yet your followers.
4. Inject creativity
Focus on giving value to the user and, in addition, do it in a very creative way. Those should be the premises when creating content to generate greater organic reach.
It is important to give people reasons to want to see and interact with the publications, to give them value you can do it by entertaining, giving knowledge, or motivating.
5. Consistency
Organic reach, as well as trust, is not built in a day. It is important to maintain a constant rhythm of publications. Although Instagram has not declared that this is a factor that they analyze when classifying the content, it is true that it is the only way to be present for your followers and gain relevance in your audience.
A tool that you can use to increase your reach on Instagram is Planly - it offers features such as scheduling stories, Instagram carousel, and videos.
6. Don't forget the hashtags
Hashtags or tags should not be used randomly. On the contrary, its use must respond to research and strategy, in order to select the ones that best fit and describe the topic you are going to deal with and, in addition, give it greater relevance.
Well-used Instagram hashtags are a way to extend the reach of your post and tell people and the algorithm what the content is about.
7. Find the best time to post
Timely content = relevant content
It is always said that you have to be at the right time and place. Knowing the best times to post on Instagram will help your content appear when people are online; That way you can be there when people need you and your posts will be timely and relevant.
Final thoughts
A digital marketing strategy must include Instagram within its actions, and an Instagram content strategy should include organic posts. Combining and integrating the paid strategy with the organic strategy will provide better results for your brand.
And remember, the best answer to how to increase Instagram reach organically is to truly connect with your audience to win their hearts and trust.