Instagram is a social network that currently has 1,221 million active users in the world. Every day more people use this social network to promote their products/services.
If you already have a community on Instagram, you are able to sell on Instagram and earn money on Instagram.
But this is not the only way to make money on Instagram. There are several ways to do it, so we bring you this article to deepen what ways there are to make a profit using this social platforms such as Instagram.
Why you should monetize your Instagram?
Instagram monetization is important because it allows content creators and influencers to earn income from their efforts on the platform. Monetization can come in the form of sponsored content, affiliate marketing, or selling products directly on the platform.
This income can provide financial stability and the ability to continue producing high-quality content for their audience. Additionally, monetization can incentivize more creators to join the platform and provide more diverse and engaging content, benefiting both users and the platform itself.
How to monetize Instagram?
There are several ways to monetize Instagram:
Sponsored content: Companies pay influencers to post sponsored content featuring their products or services. The influencer must clearly disclose that the content is sponsored.
Affiliate marketing: Influencers can promote products using affiliate links and earn a commission when their followers make a purchase through their unique link.
Selling products: Instagram allows businesses and creators to set up a shop on their profile, enabling them to sell physical or digital products directly to their followers.
Paid promotions: Influencers can offer paid shoutouts or promotions to other accounts on the platform.
Paid partnerships: Instagram offers a feature called "Branded Content" which allows influencers to tag business partners in their posts, providing greater transparency and potentially leading to additional paid partnerships in the future.
It's important to note that successful monetization on Instagram requires building a substantial and engaged following, creating high-quality content, and establishing trust with your audience.
How to make money on Instagram?
Create your own product store
When you mention Instagram and earning money, the first thing that comes to mind is selling products. And that's why Instagram released its Instagram Shopping feature.
But to enable your product store you need to have several things. The first is to convert your account to a commercial account, the second is to have your own domain and your own website since the purchase method would be carried out through eCommerce.
By the way, Instagram Shopping is only visible in the mobile Instagram application, if you enter Instagram through a computer browser you will not be able to see this option.
If you have an online store or planning to have one Instagram is making a lot of new features that will benefit you. According to the latest Instagram updates, Instagram is bringing an in-app checkout process to make Instagram for small businesses easier.
2. How to make money on Instagram with amazon affiliate marketing?
Amazon affiliate marketing is where the affiliate promotes the product of Amazon in exchange for a commission for each sale or action taken.
In other words, Amazon has products on the market, and the affiliates receive the product and are responsible for disseminating the product through all their social networks, usually, the method they use to share is making reviews, and commenting on what they thought of the product.
Once users have seen the product and are also convinced that they need the product, they will proceed to click on the links left by the affiliate and subsequently make the purchase.
Some marketing tools enter this process that will identify the affiliate link and once the employer verifies the purchases that have been made through the link that the affiliate distributed, he will receive his commission for all the sales generated by the said link.
But to get to use Amazon affiliate marketing you must have an audience to offer these products to. So yes, you must be an influencer or have a huge following to apply for the said benefit.
And speaking of influencers, let's talk about Influencer Marketing.
How do you make money on Instagram without selling?
Run Influencer Marketing
Influencers are characterized by being popular on social networks, where they often share stories, occurrences, problems, and even opinions on a specific topic.
This content can make us laugh, reflect and even take action on the matter. Hence the term influencers. So brands make use of Instagram influencer marketing to promote their products as there are different types of influencers.
Each type of influencer has a number of followers that make up a market niche, a niche that the brand is willing to reach.
Since the brand or company can benefit from this public, simply because they can obtain new clients through influencers.
So how do we make money on Instagram? Well, as we have already mentioned, brands or companies are interested in obtaining new customers.
And you as an influencer have a specific area in which you have developed and you have a community on Instagram that is closely related to that area. Then the brand will contact you to establish an exchange relationship or establish a contract for you to work for them for a certain time.
Create a profile as a brand exhibitor
As we have already said, brands seek to win new customers and you can help them get those new customers. So it is important that you define very well the niche that you are going to specialize in. Between the niches can be.
Sport
Pets
Fashion
Beauty
Jewelers
Trips
Stores
And to complement this, your profile must be super descriptive and creative. Since your profile will give a brief summary of the content you deal with.
Share Reels and creative content
It is clear that creativity is an important factor since it gives you originality. And if we combine creativity with various content such as fun, education, or technology.
It is certain that we will be able to obtain one or another content that attracts the attention of many people. But to get those visits we need to get there organically, that is, without paying the platform for us to get visualization.
It's important to keep in mind that, creative content doesn't mean much if you are inconsistent. In order to publish content on a planned schedule, use Planly Instagram scheduler to automate your content plan.
It allows content creators and brands to easily schedule their posts, videos, stories, carousels, reels, pin posts, and share feed posts to stories that no other social media scheduler allows you to. And you can use Planly for just 1$ to see how it works.
So the perfect medium is Instagram Reels. The great thing about Reels is that it gives you the possibility for users to find you organically, and in the last update Facebook promised to give Instagram more organic reach so you have a better chance of being discovered by more users.
Post sponsored by the brands
Once you have already got followers on Instagram you had one or another trending post. You may already be in the sights of some other brand.
But this will vary as some brands choose influencers based on brand guidelines. So you must take care of your language and your image so that this can be possible.
So if you passed through that filter, the brand will contact you and they will enter into a conversation to generate one or another dedicated content for them. This is when the brand will sponsor you for the content you create or that they tell you to create based on their guidelines.
Teach what you know and offer your services
As you already know, there are many people who offer their services on Instagram and they offer it in many ways and forms that without realizing it at some point you find yourself in the need to acquire some consultancy or advice from these people.
This is the cool part because you can expose your knowledge on social networks and offer it to a wider audience and consequently generate leads using your profession without spending your budget.
But trying to be new in the area of ​​insurance you do not know how to do it, so we recommend you use the different media that Instagram offers you so that you can be found by a new audience.
Tell stories
But before taking action, you must be clear that one of the fundamental parts is that to promote your products or services and consequently make money on Instagram, you need to have certain marketing knowledge. But here we will share a small marketing technique and that is to tell stories.
Have you ever felt hooked by an advertisement? Where do you feel identified and feel that you are the one in that story? Well, I have to tell you that you have been influenced by marketing stories and were the target of that campaign.
This technique is known as Storytelling, the art of telling stories using techniques inspired by writers and screenwriters to convey a message.
There are many people and companies that make use of this technique and it is that storytelling gives meaning to needs. So it is important that you learn and apply it to some of your content after having learned it.
🎁 Gifts Expansion 🎁
If you are a content creator or influencer, you know how Instagram reels increase engagement. Reels are already bringing money. According to the latest Instagram updates, Instagram has announced that all eligible Reels creators in the US will now be able to accept virtual gifts from their fans via a button on their clips.
The minimum cashout amount for creators is $100, after which they can turn their Stars presents into cash. It's another way for creators - and Reels creators in particular – to make money in the app.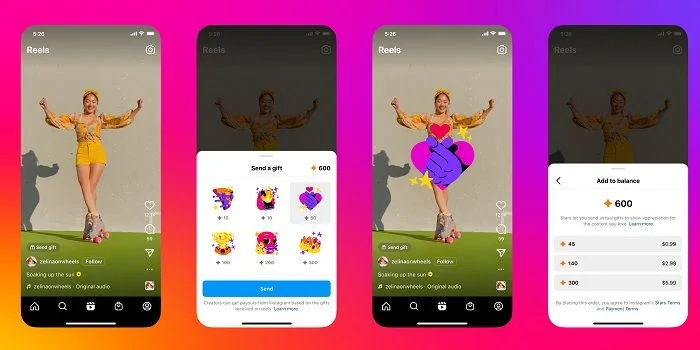 How much money can you make on Instagram?

Everything will depend on the quantity and quality of your audience. The more people follow you, the more you can charge for one promotion or the more donations you can get. In the case of promotional campaigns, you set the prices yourself.
How much money you earn on Instagram depends only on how you invest in the development of your account, and how many audiences you gain. The more customer loyalty you generate from Instagram, the more income you can get from one way of earning. And you can use several - for example, advertise someone's services and sell your information product at the same time.

Influencers with a million followers can earn money on Instagram in hefty amounts -  somewhere around $670 per post, the search marketing website says. A content creator on Instagram with 100,000 followers can earn about $200 per post, while someone with 10,000 followers can make about $88 per post.

Most asked questions about how to make money on Instagram

How do travel bloggers make money on Instagram?
High-quality visual content for a travel blog is of particular value. Why do you think colleges have become popular in the last few years? Yes, precisely because it is difficult to convey the whole palette of emotions and moods that captured you with one photo.
Of course, once you find a unique style that effectively conveys your values, you can skillfully reflect this in your images. And here the next stage of "career growth" opens on Instagram - cooperation with well-known brands and the opportunity to become an ambassador of a certain brand.
If you have a company in mind whose value orientations are similar to those of your blog, then you can safely offer mutually beneficial cooperation. Or vice versa: a certain brand liked the concept of your travel blog, which means that there is a proposal for cooperation ahead.
Buttom line
There are many methods to make money on Instagram. Whether offering your services or products, making affiliations with affiliate marketing, being an influencer, or selling your own content such as photographs.
So you can use several methods or just one, that's a matter of how you want to handle it. The two most important things here are:
To clearly set your social media goals
Be authentic and organic with your content strategy
If one lacks you are less likely to be successful in your marketing to make money.