Best LinkedIn scheduler
Built to uplift your LinkedIn marketing
75% of B2B buyers use social media to support purchase decisions. Stay on consumers' radars by consistently sharing posts that match their interests. Think of your business development, Planly's LinkedIn scheduler will take care of your posts.
Schedule posts on LinkedIn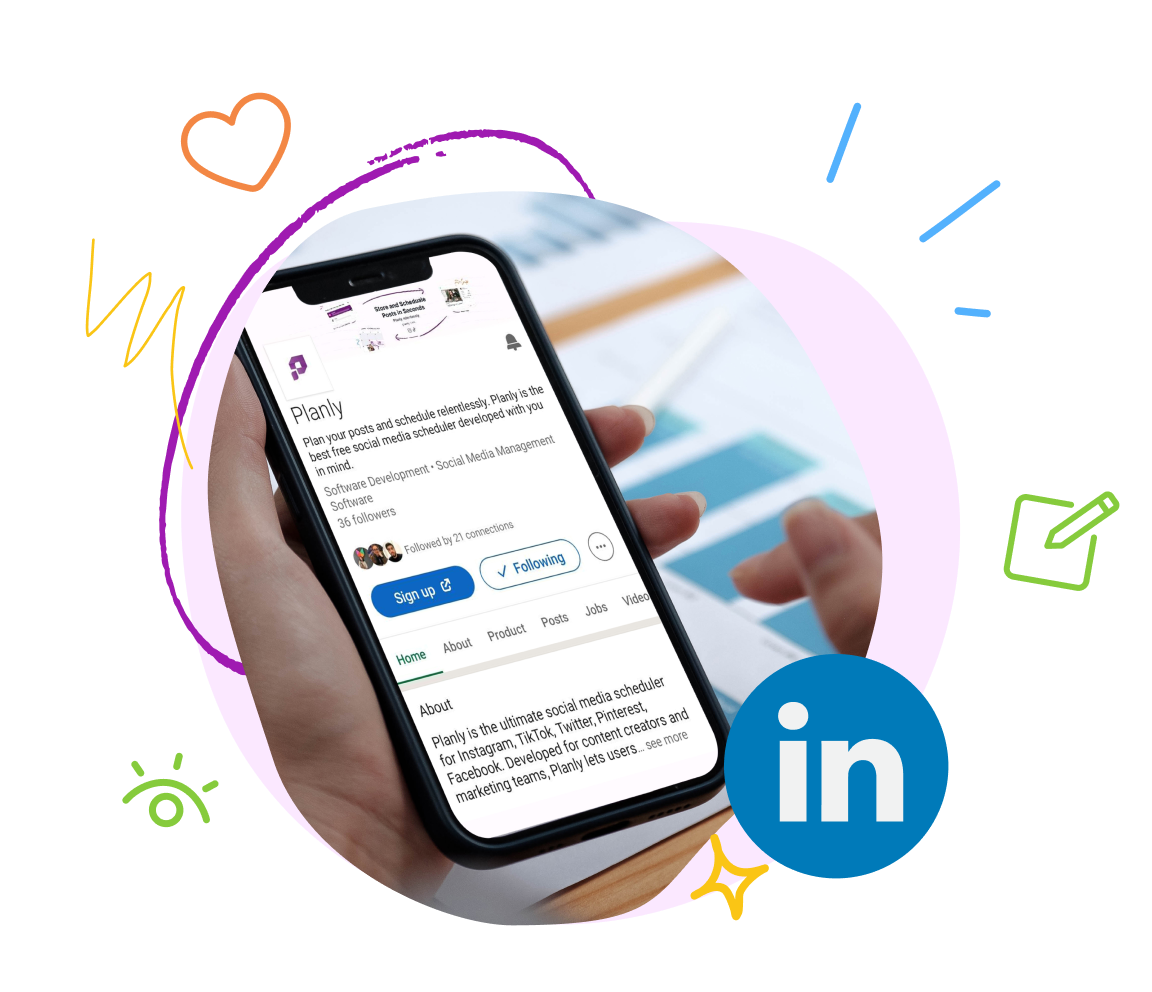 Multiple images
Schedule videos or multiple photos to LinkedIn to make your posts self-explanatory at the first site.
Use keywords
Want to reach out to more users? Add the relevant niche and brand keywords to organically increase your impressions.
Add link
Schedule links on LinkedIn posts to rapidly move leads down your sales funnel. No need to attach links in the comments. 😉
LinkedIn first comment
Save your first comment for more thought-provoking lines. Schedule LinkedIn first comment to fire up hot discussions. 🔥
Planly serves you
leading

way to schedule LinkedIn posts
LinkedIn scheduling tool made for all
Whether individual or brand, we got your back.
Marketers
Create your LinkedIn posting calendar in advance with Planly LinkedIn scheduler.
Agencies
A single dashboard to keep all clients and your social media team organized.
Content creators
Sway over your audience by scheduling LinkedIn posts at the time they are online.
Contributors
Spread the word and boost impressions with LinkedIn scheduler.
Entrepreneurs
Put eyes on your business ideas by scheduling posts on LinkedIn at the right time.
Startups
LinkedIn marketing is uphill battle. We let you present your business at the best time with the best LinkedIn scheduling.
FAQ
LinkedIn scheduling uncovered
Why should I schedule LinkedIn posts?
Scheduling LinkedIn posts saves time to create and publish posts. It ensures that your content calendar is ready for the week or month ahead.
Can I schedule LinkedIn posts to publish automatically?
Of course. Planly has only LinkedIn auto publishing feature which scheduled posts are automated published to LinkedIn without notifications.
How to tag a user in a post?
We don't offer user tagging in Planly yet. You can schedule your posts, once they are published you can then edit the published post to tag a LinkedIn profile.
Can I schedule carousel posts to LinkedIn?
Yes. With Planly, you can schedule LinkedIn carousel posts with up to 9 images.
How can I start scheduling LinkedIn posts?
How many LinkedIn accounts can I connect to Planly?
More than 2. Depending on your subscription plan, you can connect LinkedIn personal profiles and business pages.
What types of posts can I schedule to LinkedIn with Planly?
You can schedule images, videos, GIFs, and text posts, and schedule first comment on LinkedIn.
Can I edit scheduled LinkedIn posts on Planly?
Sure you can! You can plan, edit, draft, and schedule posts to LinkedIn. Until posts are published, you can edit the time, image, text, link, or first comments on LinkedIn.
1 Dollar,
7 Days,
Full access