You can't ignore TikTok as a platform. It's important to know how TikTok ads work.
Thanks to TikTok AI/ML algorithms and geolocation placement, company content is shown to the target audience, which helps to optimize conversions and achieve your goals.
Why You Should Use TikTok Ads?
The first reason is that TikTok is one of the most used social networks today, with nearly 1 billion monthly active users. Plus, it's a great way to build your brand and bring your products to market.
Secondly, TikTok's multipurpose ad formats drive more engagement. Unlike other social media platforms, it attracts an active and engaged audience that other social media platforms try to replicate.
Thirdly, the integration of social media into sales has become increasingly important in today's digital landscape. With the rise of e-commerce and online shopping, businesses are leveraging social media platforms like TikTok to promote their products and convert followers into customers.
TikTok's unique ad formats, combined with its highly engaged user base, make it an effective tool for driving sales and generating revenue. By creating captivating and creative content, businesses can capture the attention of TikTok users and entice them to make purchases, ultimately maximizing the potential of social media for driving sales.

When your audience is engaged, they are much more likely to respond well to ads, especially those that are not intrusive.

For example, in TikTok In-Feed ads, if done right, there is a high chance that the target audience will click on your ad.

Another reason is that TikTok is one of the most popular short video-sharing platforms for TikTok influencers (content creators) who have a lot of fans or followers. These creators use TikTok to share aspects of their daily lives from their point of view.

TikTok is used to share first-hand experiences. You will find more authentic content that looks sincere.

Before you start advertising on TikTok, here are some strategies to help you get a great ROI.
How much do TikTok ads cost?

TikTok ads cost is something many users are interested in. The minimum price for targeted advertising on TikTok is around $80 per campaign and around $30 per day for an ad group. If you want to run an ad for a week, it will cost around $170. It will not work to set the budget lower in the Advertising Account.
TikTok Ad Structure 📝
The basic structure of TikTok ads is simple. There are three main parts: campaigns, ad groups, and ads.

Campaigns

This is the overall picture from the advertisement you made. When you run ad campaigns, you need to decide on two main points; the objectives of the advertising content and the overall budget of the advertising campaign.

Advertising groups
They determine the configuration of the ads that you will compose. Here are a few things to keep in mind when creating ad groups:
Advertising placement
Characteristics of the target audience
Ad group budget
Ad display time
Bidding Strategies
Ads
These are the advertisements that you will publish to your target audience. Two things need to be determined when creating an ad: ad type and content.
How to Run TikTok Ads?🤔
The first step to running ads on TikTok is to install TikTok Pixel.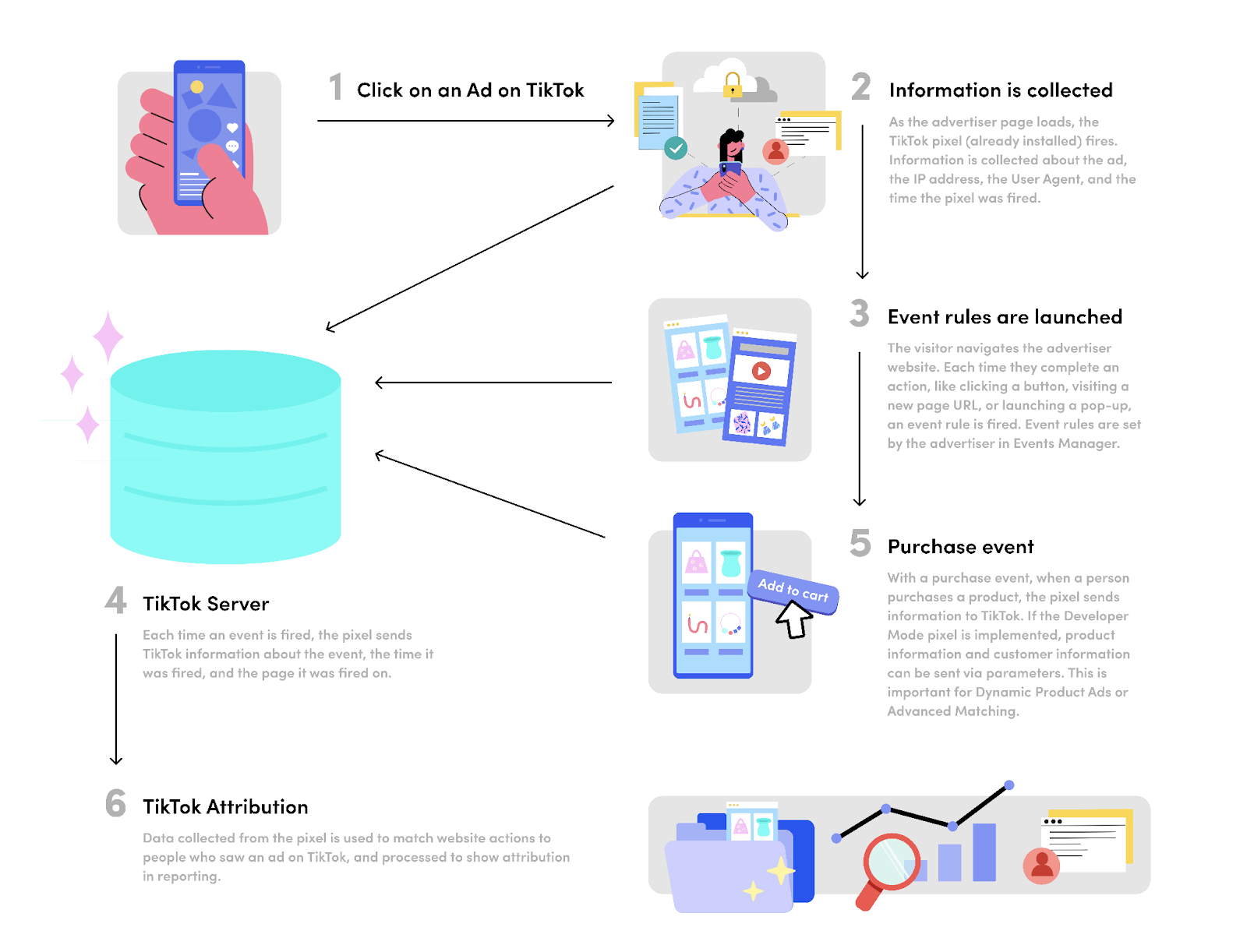 This will allow you to track your page visitor activity, sales, and other events. This way, you will be able to find the right audience on TikTok for your ads.

Using the TikTok pixel, you can effectively track ad performance and conversions based on the events you define. These can be page views, downloads, adding to cart, checkout, etc.
This will help you target users who will respond to your ads.
You can also create custom and lookalike audiences for your site users. This data is useful for retargeting.
As you use the TikTok pixel, you can control the targeting of TikTok ads;
The audience
There are currently 5 standard custom audience types available to create on TikTok:
Website traffic; created through an interaction registered with TikTok Pixel
Application activity; downloads, and in-app purchases.
involvement; interaction with advertising content.
lead generation; lists of users who submitted the form via TikTok Lead Generation ads .
Each of these audiences must be matched with TikTok users and (assuming more than 1,000 users) can be used to create Lookalike Audiences. These Lookalike Audiences can be selected as:
Narrow
Balanced
Wide ... which directly affects their size

2.  Demographics
These are common measurements that marketers use regularly and include language, age, gender, and location. It's important to keep these in mind to get top-performing TikTok ads.

3. Interests
Interest targeting is based on user habits or behavior and inferences made by the TikTok algorithm that give away their content preferences.

4. Behavior
Behavioral targeting delivers ads based on the user's in-app behavior and interaction with content, such as a fashion or makeup post, within the last 7 days.

5.   Creators
This is a relatively new platform feature, creator targeting allows you to serve ads to a targeted audience that has followed a "creator" profile or viewed it in a pre-defined list of categories such as fashion.

TikTok users are known to be very savvy.

They know when they are being shown ad content. Therefore, choose wisely with whom to partner and how to conduct promotions. Best TikTok ads examples fit these descriptions.
Work directly with content creators to agree on a message and format that resonates with both you and their fans while generating real business results.

TikTok helps build these partnerships with its data, matching brands with the most appropriate influencers.

After managing your TikTok ad targeting, the next step is choosing your TikTok ad options. You can choose from several options that suit your business. Check them out below.
TikTok Advertising Options 👩🏾‍💻
Embedded videos
Feed ads are short videos that appear in users' news feeds on the For You page. They look just like regular TikTok posts, so they fit seamlessly into the feed.
They are currently the only advertising option available to self-service customers.
These ads in the feed contain:
Video or image that can be 5-60 seconds long
Trademark name from 2-40 characters
Text containing from one to 100 characters
Call to action from a predefined list of 22 actions
Destination URL
Best TikTok ads formats
👉🏼 This is the only TikTok ad option that can be put up for auction
Brand capture
TikTok brand takeover ads are an ad format that appears when TikTok users open the app and take over the screen for a few seconds before changing to in-feed video ads.
It also appears on Page for You as images or videos with clickable links that lead to landing pages on TikTok.

It is effective in building brand awareness and driving sales as ads appear right on the first page of the target audience.

Branded hashtag contest

Just like on other platforms, TikTok hashtags are also great to increase awareness and get more views on TikTok. Brands are partnering with TikTok content creators to create a unique and engaging TikTok hashtag challenge, encouraging TikTok users to join the campaign by creating relevant TikTok videos and using the hashtag in content.

Running the "challenge" hashtag along with TikTok influencers is one influencer marketing strategy to get engagement from user-generated content, as TikTok users are naturally drawn to creating, sharing short videos, and participating in dance challenges.

Proprietary Augmented Reality (AR):
What can TikTok users do with this branded content? They can use these effects, stickers, and other content in their videos.
How to create TikTok ads account?
Now that you're ready to start advertising on TikTok, the first thing to do is create a campaign, then an ad set, and finally, an ad.
Go to the Campaign tab at the top of Ads Manager and click Create
Select ad objectives. Depending on what your ad's goals are, you'll choose awareness, consideration, or conversion.
That's all you need to do to create a campaign. TikTok will automatically support your transition to the ad group section.
Create an ad group
Choose a placement for your ad (it's easiest to use auto-placement for the first ad)
Choose the promotion type, URL, display name, profile picture, and how you want users to interact with your ad.
Decide if you want to use TikTok's automated creative optimization. This is one of the tools created by TikTok for small businesses. Basically, it creates ads using your images, videos, and copy, and then constantly tests them for you.
Select target audiences. You can target audiences based on demographics and interests. You can also create a custom audience based on your customer data, website traffic, app activity, or previous ad engagement.
Choose a daily or lifetime budget - the total amount you'll spend over the life of your ad set or campaign. (as explained in TikTok Business Help Center: About Budget)
Set up a trading plan. TikTok Ads Manager currently provides 4 different bidding methods:
Cost Per Million/Thousand Impressions (CPM)
Optimized cost per million/thousand impressions (oCPM)
Cost Per Thousand Views (CPV)
Cost Per Click (CPC)
Click Next and you will be ready to create a new ad
How to create TikTok ad?
Upload your ad creative. It can be either a promotional video or an image. TikTok will turn still images into videos. And be sure to follow TikTok's ad creative guidelines.
Fill out the ad text and call to action.
Click the Submit button and your campaign will be submitted for review.
Now the TikTok team will check each of your ads for compliance with their recommendations.
If you are looking for a TikTok ads manager, Planly might come in handy. With this app, you can manage your TikTok ads account and put yourself in a position to succeed.
Bottom line

To sum it up, TikTok ads allow you to target an audience using age, gender, location, and interests. As a brand or marketer, you can maximize your chances of achieving a greater ROI with TikTok ads.