Instagram scheduler
for all
Auto post to Instagram to boost your engagement
Schedule Instagram stories posts, videos, carousels, and reels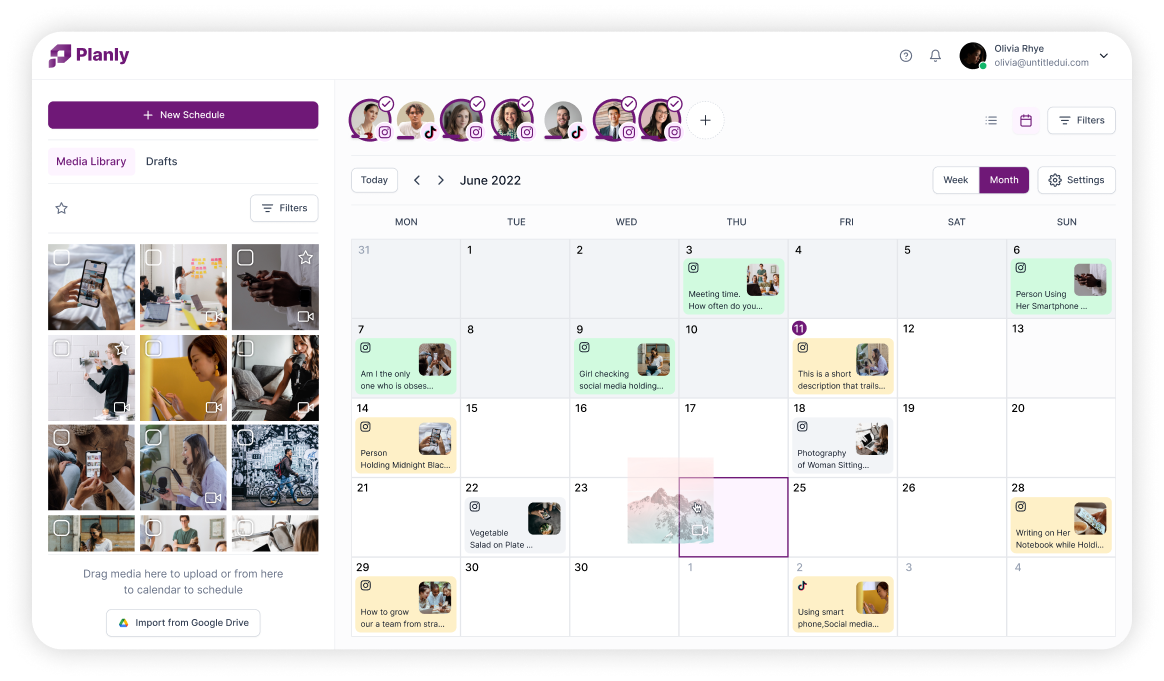 Write different captions for each Instagram account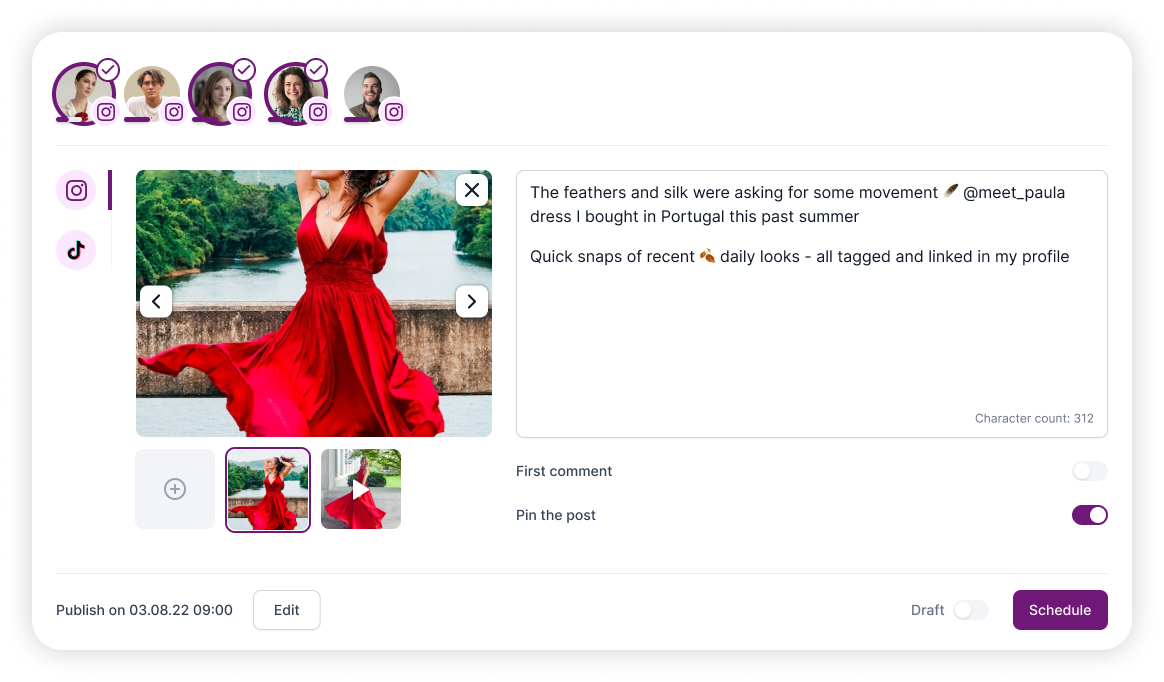 Add hashtags and more info in the Instagram first comment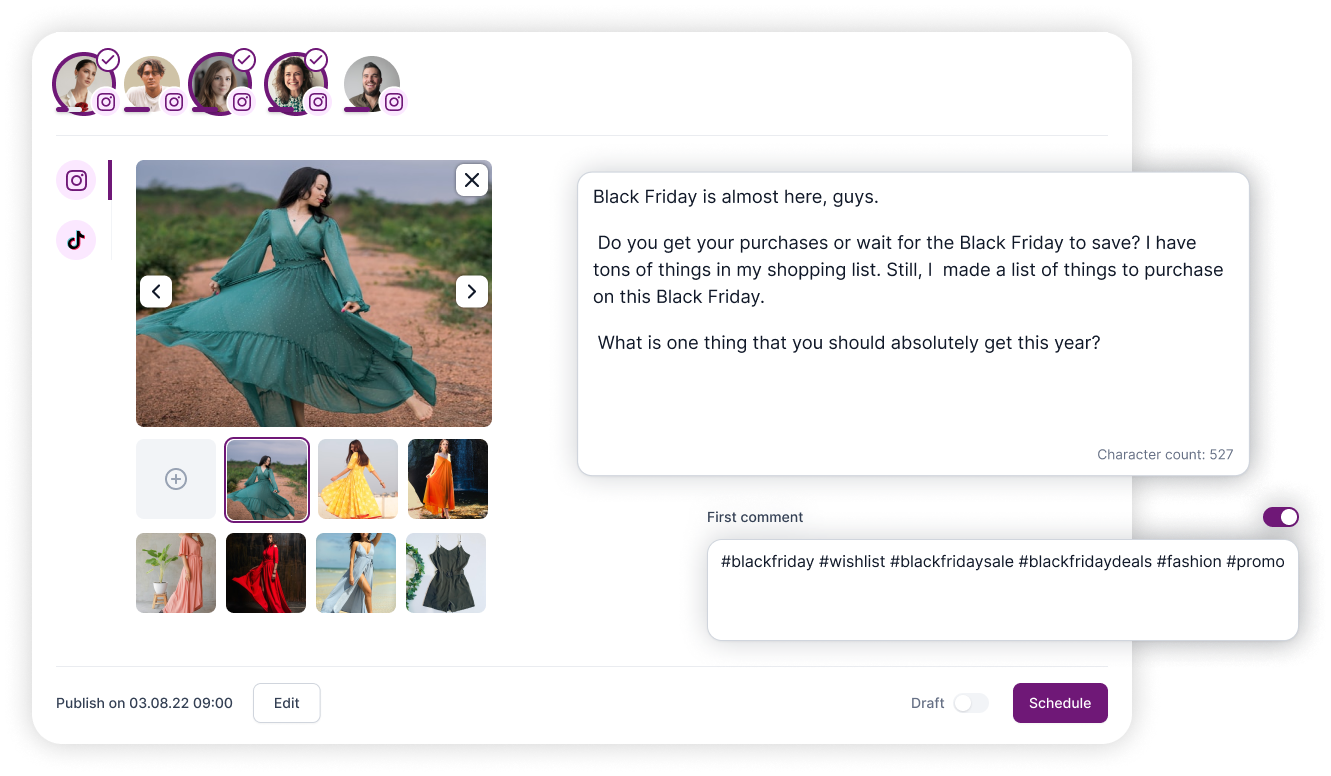 Track and analyze the performance of your Instagram page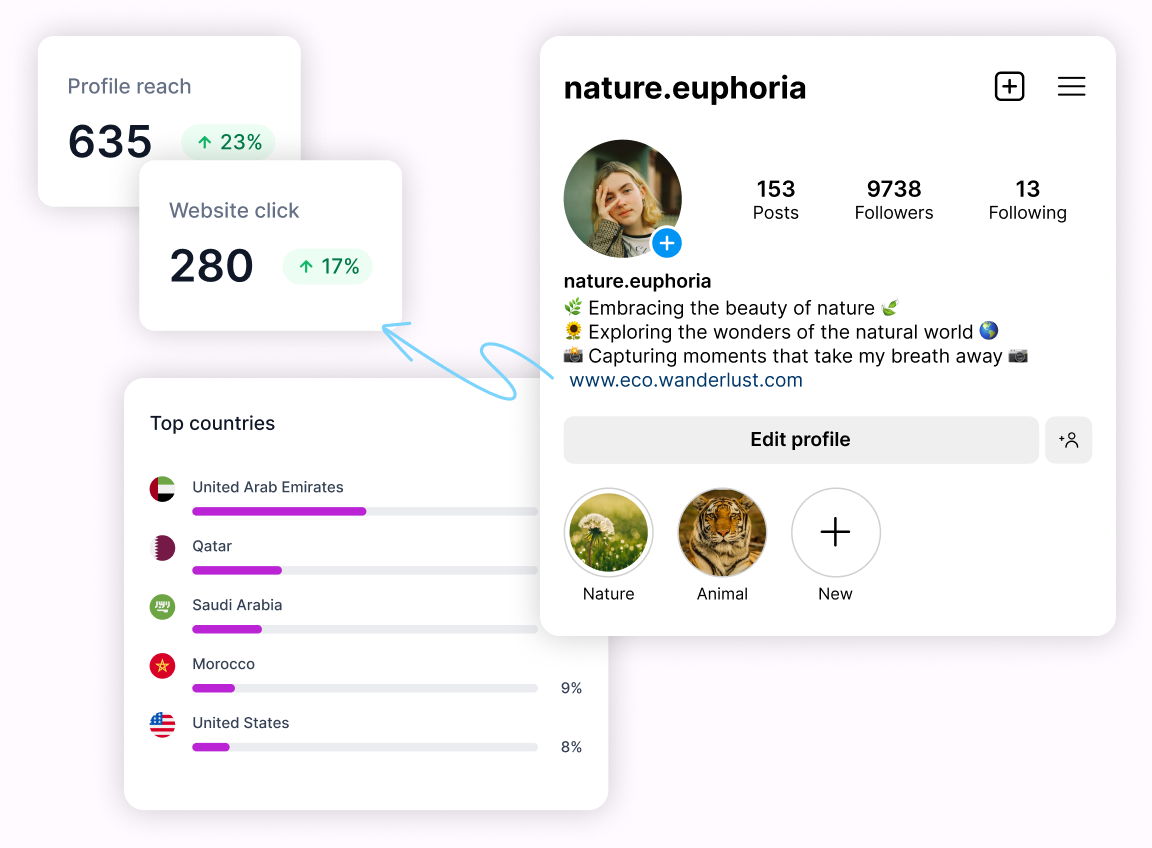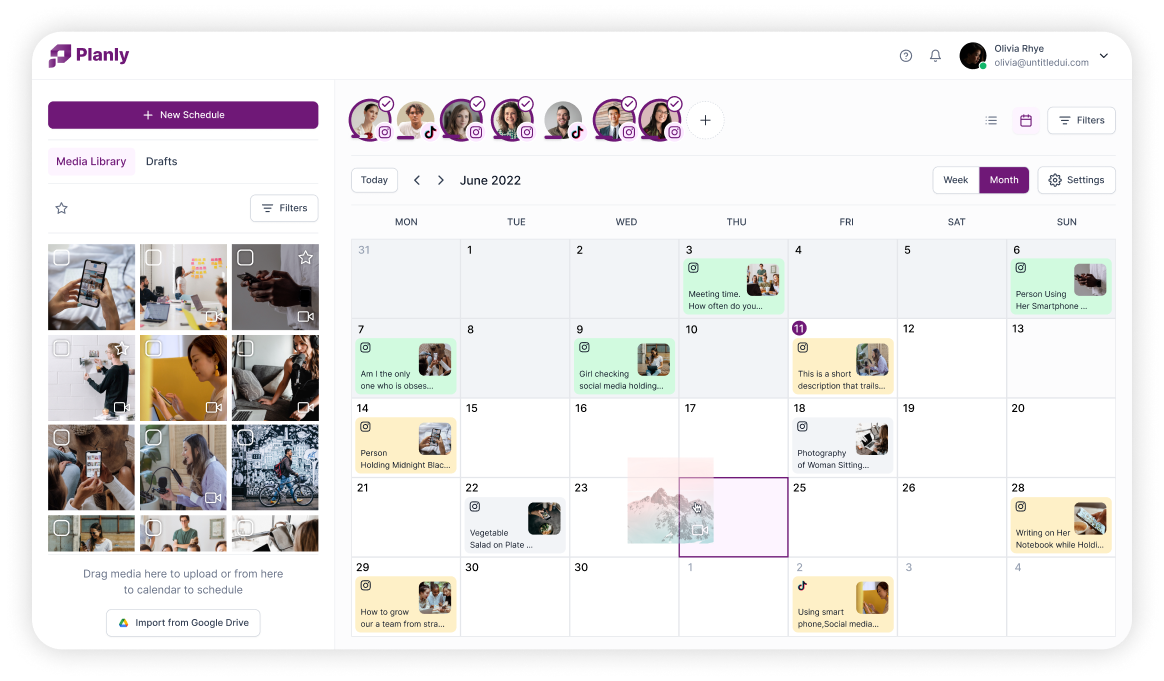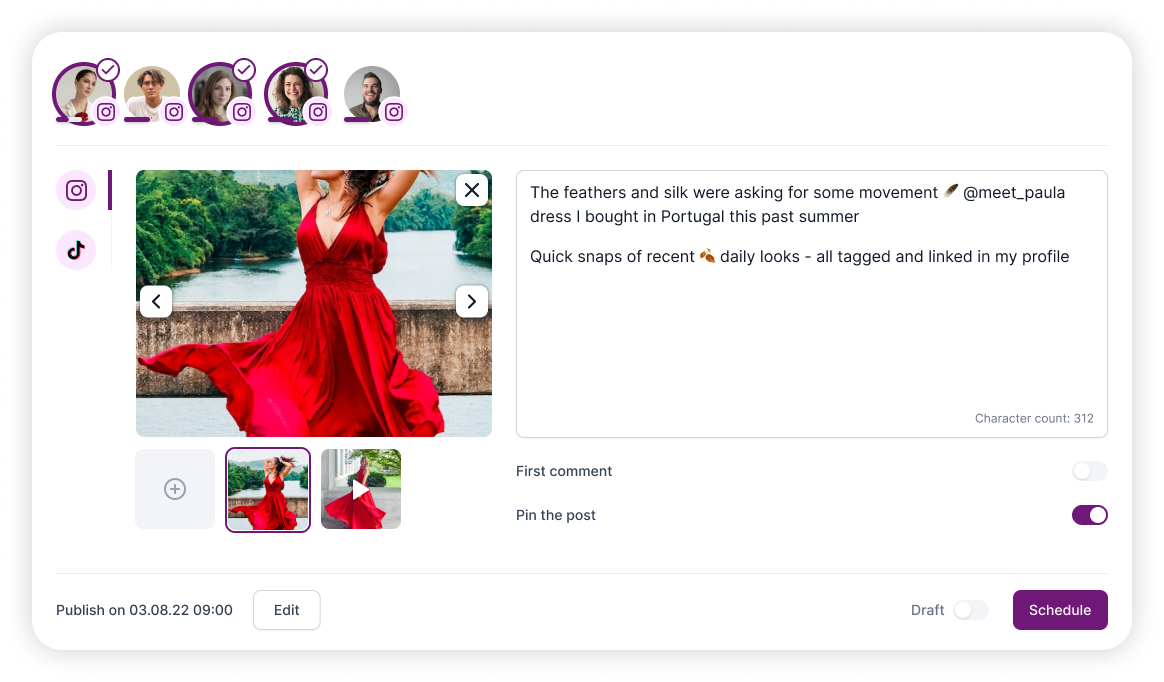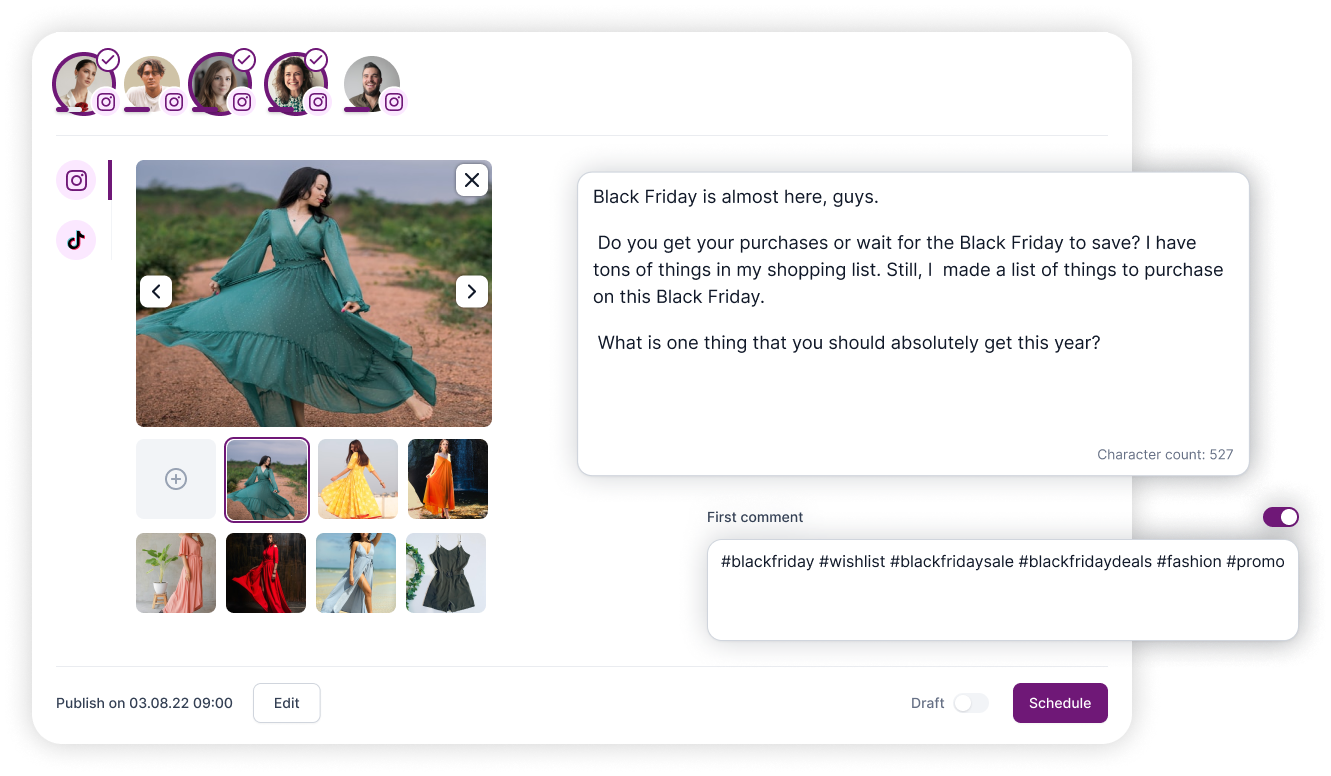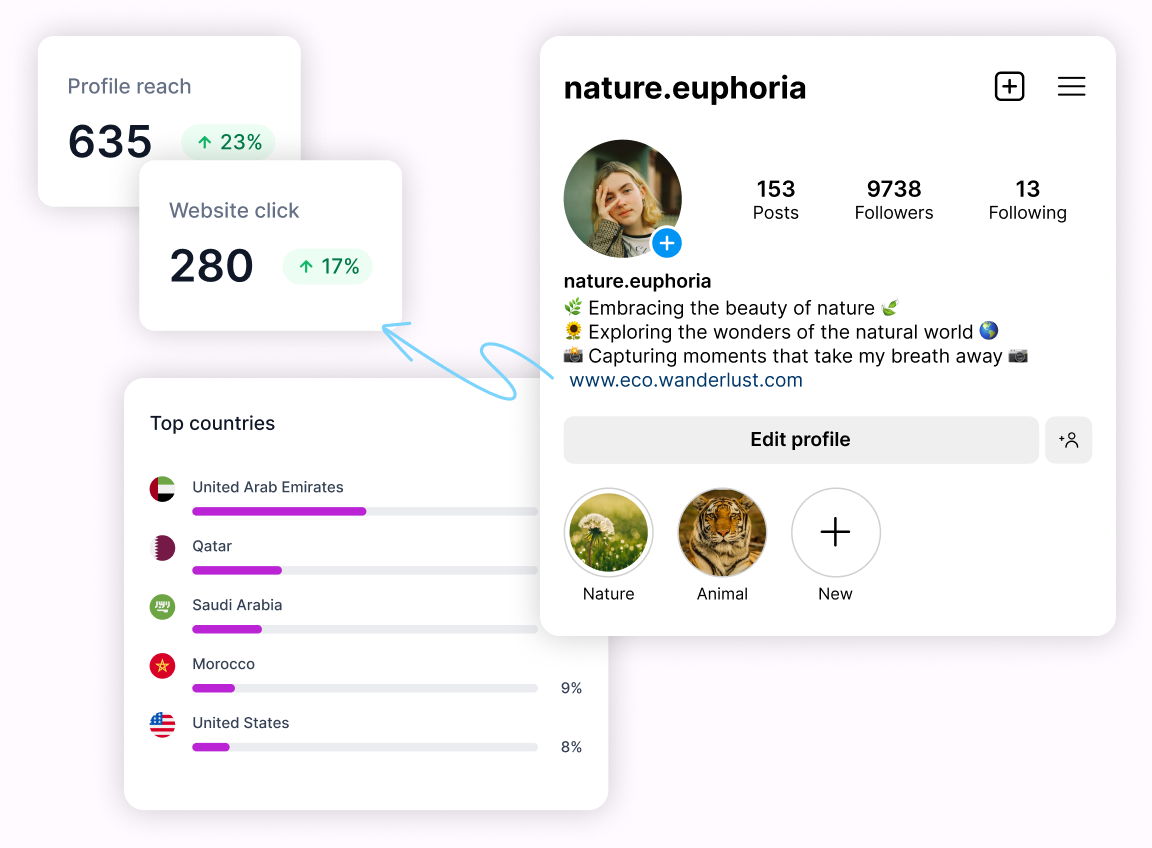 Here is how Planly helps your Instagram to
grow
Grow social with Planly's Instagram
scheduler
FAQ
Your questions about Instagram scheduling are answered.
What type posts I can schedule with Planly?
You can schedule Instagram posts, carousels, Reels, Stories to Instagram Business Pages.
Can I add my personal Instagram account?
Unfortunately! Due to Meta Regulations, you can only connect Instagram Business Pages to Planly.
Why do I see my Facebook profile while connecting Instagram?
To connect your Instagram page to Planly, you need to have your Instagram page connected to a Facebook page. This is a requirement set by Instagram. You can only connect Instagram business pages that are connected to a Facebook page.

This is why when you attempt to connect your Instagram to Planly, you are directed to Facebook authorisation page.

If you have not connected your pages please follow these guides to convert personal profile to a business page and connect Instagram page with Facebook page.
How can I connect my Instagram page to Planly?
At this stage you need to have your Instagram page connected to your Facebook page. If you have not please convert your instagram profile to Instagram page first and then connect your Instagram page with a Facebook page.

To connect your Instagram page to Planly follow these steps:

1. Log in to Planly in your browser
2. Click on the + (plus) icon at the top of your calendar and select Instagram from the menu
3. Allow Planly on the Facebook authorization page. (If you have already authorized Planly with Facebook, click Continue as "your username". If you want to change what you allow Planly, click on the Edit the Settings button follow the prompts)
4. Select the Instagram pages that you want to connect to Planly and click on Add button to finish

If you do not see your Instagram page on this list make sure your page is connected to Facebook page you are the admin of.
How can I set a Logo for my calendar?
You can add a custom team image that will be displayed next to your team name.
Can I add multiple Instagram profiles to my Planly account?
Absolutely. This is what Planly is made for. You can have multiple Instagram accounts within your subscription plan limits.
How does scheduling limit work for Instagram Stories and carousel posts?
For each carousel post containing multiple media and a single story, it use one post scheduling limit. The number of media in your carousel posts does not impact your scheduling limits. But the amount of stories you schedule takes from your scheduling limits.
Will my Instagram posts be automatically shared to the connected Facebook page?
No, you need to create different schedules to Instagram and Facebook pages.
How can AI Content Assistant help with Instagram posting?
Basically, AI Content Assistant helps you to generate post ideas, paraphrase original content, create post content based on your prompts. It uses natural processing language to synthesize the given prompt. This helps you to save time on content generation, repurposing, and also remove writer's block from the game.
What type of insights can I access with Planly's Instagram Analytics?
Planly's Instagram Analytics provides a detailed overview of the page performance, audience demographics, and individual post performance. On the Profile Overview section, you can see the insights of Profile Reach, Profile Impressions, Profile Engagement, Profile View, and Website clicks.
On the Audience section, you can see the share of your audience based on age, gender, country, city details and most active hours.
The Post Performance feature display all the important information about your post including Likes, Comments, Followers, Engagement, Shares, Reach, Impressions, Saves, and Profile visits from each post.
For Instagram Reels posts, you can find the following metrics: Comments, Likes, Plays, Reach, Saved, Shares, and Total interactions.
How can I use Instagram Analytics?
To access Instagram Analytics you need to have Instagram page connected to Planly. Once you have your Instagram account connected to Planly, you can see your Instagram analytics in the Analytics tab.
Just go to Analytics in the sidebar menu and click Instagram. By default, we display the earliest Instagram page you connected early to Planly. You can change this anytime you want from the channel selector dropdown on the page header.
We grouped the analytics into different sub-tabs to make them digestible. The Overview tab provides the general overview of your Instagram page performance. While the Audience tab only displays the details of your audience based on their interaction with your account. On the Post and Reels tabs, you can get insights into the performance of your Instagram feed posts and reels posts.
Manage your
social media

in a single place