Black Friday is a day held once a year, which all customers look forward to, and where there is a rain of discounts on many brands in one day. On Black Friday, almost many brands offer discounts on their products and services and create companies for their customers.
First of all, let's note that this phrase was created in 1869 after the crisis in the USA. Thus, Black Friday had a great impact on the marketing of brands.
Different brands use Black Friday marketing strategies on this big event, which is quite relevant today. And they do this in social media according to the requirements of modern times. In this blog, we will provide you with Black Friday social media post ideas.
Using Black Friday content ideas like these, you can get your customers excited in advance. You can read the blog till the end and get information about what to do for this.
Best Black Friday Social Media Campaigns Ideas
Coming up with Black Friday social media content ideas can take some of your time, so the main thing you should focus on is crafting content ideas for Black Friday that are relevant to your products and services. Different markets require different levels of preparation. Black Friday and Cyber Monday for SaaS is different than Black Friday for consumer goods. So, you need to create social media campaigns that are relevant to your service.
And pay attention to one point before Black Friday approaches, you inform your followers about the discounts. Soon to Black Friday, consumers are looking for Black Friday shopping tips to make smart deals and save their budget.
To do this, share an informative post about it with people a few weeks or even a month in advance. Let them know which products and services will be discounted. Keep reading the blog for more Black Friday social media tips.
Start your planning early
That's why people share all the first information here so that people know. You should also plan your Black Friday social media content in advance and note what you will share on the day.
Even after preparing a social media content calendar, you can schedule them and speed up your work even more. Planly, the best social media scheduler, will help you here. With Planly, you can schedule your posts on social media platforms such as Instagram, TikTok, Twitter and Pinterest. Planly auto-posts posts and does not send you any notifications at this time. Start using Planly now for just 1$.
Offer a reward for shopping
We can start Black Friday Social media campaigns with these tips. However, when you offer a discounted product, you can start by adding your gifts on top of that. For example, when you buy a product, use campaigns like a second one as a gift and make your customers happy.
Partner With Influencers
It can be said that many influencers are interested in participating in Black Friday social media campaigns. The main reason for this is to let their followers know which brands have discounted products and services.
You can partner with an influencer that fits your niche. Which they will appreciate by telling their followers about your products and services. For this, we recommend using Instagram Influencer marketing.
Instagram influencers will share information about campaigns and advertise you in their Instagram stories. You can also use TikTok influencer marketing. One of the main differences between TikTok vs Instagram is simply the difference in audience.
Your target audience may not have followers on TikTok. If your products and services are aimed at Gen Z, you can collaborate with TikTok influencers without thinking.
Send unique promo codes to email subscribers
Don't wait on starting to grow your email list until the last minute. Your Black Friday marketing campaign must include email marketing. A strong email list can improve the effectiveness of your promotions.

Make sure there is motivation for customers to join to your email list by offering discounted or a gift.
It's time to delight your customers. You may have noted their contact details. So, before your Black Friday social media campaign, send them a promo code to use. Share this promo code only with your regular customers and ensure they use it. For example, if you listed a product for 10% off, offer your followers a 15% discount. You can send it to them by email or by phone call. At the same time, you can share it by creating a Black Friday social media post.
You can attract your customers' attention in the email's subject line. Note the unique sentences here.
For example:
Finally! It's Black Friday – GO GO GO!
Sales is Here!
You won't believe it!
Is It Black Friday Yet?
Stopwatch ⏱, shopping bags 🛍️, sparkles ✨
Your Black Friday subject lines can be short, straightforward, and creative. However, it should also work well with your copy and design.
Use Hashtags
Use hashtags like these in your posts. Which are some of the most searched hashtags on social media during Black Friday.
#blackfriday
#blackfridaysales
#black_friday
#blackfriday2022
#blackfridayweekend
#blackfridays
#blackfridayspecial
Tips: Include your brand name and #blackfriday in your posts. Then your customers will find you faster
Create campaigns that allow for upselling
Create campaigns that let you upsell services and products.
How to sell more:
Gift once a specific amount is spent
With a specific amount paid, shipping is free.
Deal: Buy 3  get 1 free Bundle. 5 for $25, but each is $6.85
Introduce A New Product
When launching a new product, we recommend that you do so on the eve of Black Friday. New product and discount applied to it! It will encourage your customers to buy and use this product first.
Pay attention to dynamic retargeting ads
Whether you have a limited budget or are willing to spend thousands, Cyber Monday is the day to focus on dynamic retargeting ads.
By starting your Black Friday socail media campaign earlier this year, you'll give your ads more time to reach their target audience and potential before your competitors begin pushing their own deals. Cyber Monday, however, is the same for everyone and only lasts for one day. Yes, you can make it a weekend sale, but with all the holidays coming up. it's unlikely your new advertising campaign will have enough time to have any real impact.
Making Use Of A Countdown Clock
One of your posts must be such a post. Get your followers excited by letting them know how long Black Friday deals are left. So they will be counting down the days until they get the great products😉
You can use Instagram Stories to display the countdown to your deals and trigger followers to stay in touch with your brand.
Create a Giveaway
Another effective Black Friday social media content idea! Either join the giveaway or create a new one and attract other brands. In this case, more people will know about the discounts, and they will have a chance to win gifts from several brands.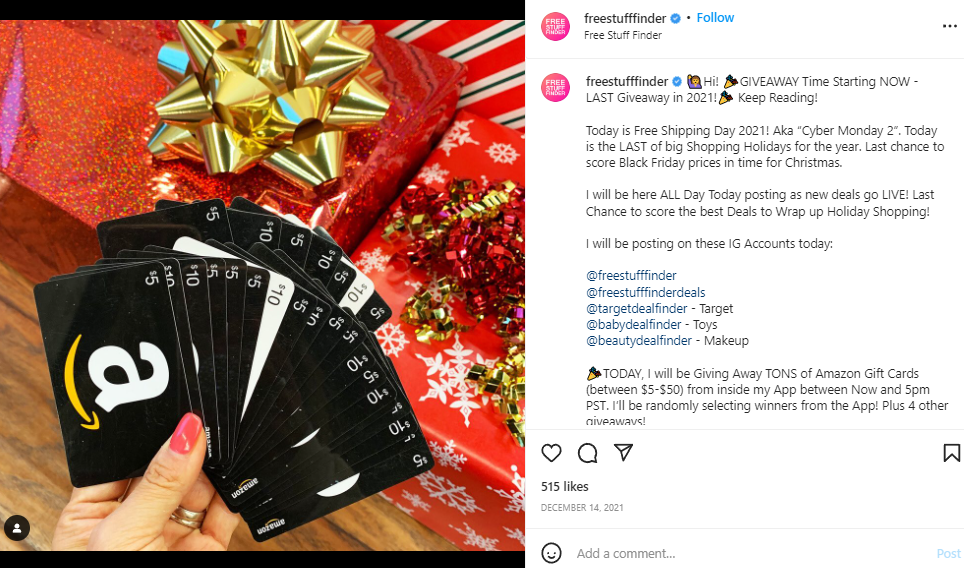 For example, freestufffinder has an Amazon Gift Card giveaway for Black Friday.
Create a Gift Guides
Customers will decide more quickly and complete their shopping more quickly if Black Friday social media campaigns focus on gift suggestions.
Be sure to prepare a gift guide about what kind of discount will be for your followers and present it to them as a catalog. This is a convenient way for your customers. With this, they will be able to quickly find the product they want.

Bonus
Offer Multiple Payment Options
Offering payment options that are compatible with different platforms will make the buying process simple and quick. You can sell your products through Instagram shop or direct them to your website for more payment options.
Popular means of payment include:
Apple Pay
Google Pay
PayPal
Installment payments using Klarna
Card transfers
To Optimize Your Website For High Traffic
This may not seem like a Black Friday social media campaign, but if you don't prepare your site for huge traffic, you'll be in trouble when it falls. Test your website.
Time to be Black!
Black Friday, which is the biggest event of the year for businesses, is an opportune time to go all out with your social media content. A productive Black Friday social media campaign will benefit eCommerce companies by increasing traffic and increasing brand awareness. Optimized social media content can also produce significantly greater sales performance.