It's the end of the year, but the start of a whole new journey with Planly. This year, we built Planly from scratch. You made your social media better while having personal time. We're thrilled to be part of your amazing work.
2022 was a year of social. With the growing use of social media in different fields, the need for social media management tools also increased.
As you begin setting your social media goals for 2022, let's highlight the big events that need to be celebrated in 2022. From the idea of Planly to the very last update, let's see the tools that will help you to get ready for 2023 and beyond.
How did the idea of Planly come?
I guess we need to begin with the start, the very start. As developers of social media scheduling tools for a long time, we were watching trends and also listening to our existing customers.  
It was at those times we started to get enormous requests from the users of our existing products about TikTok scheduler tools. Getting into details, we saw no existing social media tools had full TikTok scheduling. The available options were partially scheduling TikTok posts requiring mobile push notifications to actually publish TikTok videos. Which defeats the purpose of full auto-publishing.
So, we invested our time to come up with a TikTok scheduler that fully automates TikTok video scheduling and does not send a push notification to finish.
You can schedule TikTok videos and allow comments, stitch, and duet while scheduling them.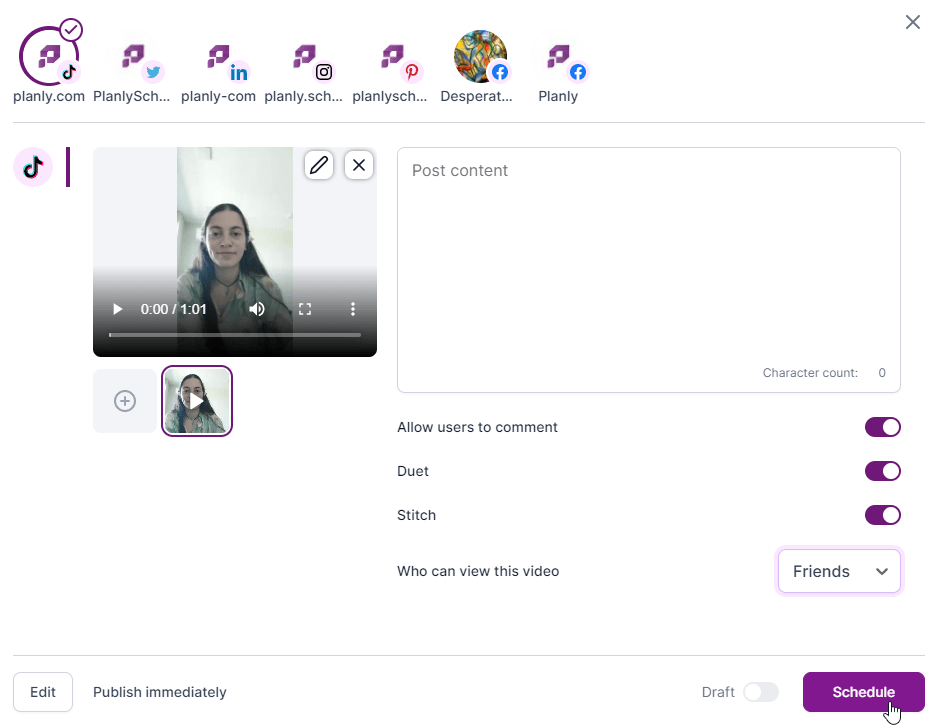 Schedule your posts to 6 social networks  
During the development, we added more social networks to make it a truly automated social media scheduler. To date of December 2022, we have TikTok, Instagram, Twitter, Pinterest, and Facebook scheduling features available to you.
Group and manage social channels with Teams
Managing various social channels can be a real challenge if you don't categorize and keep track of them. We made social media management so much easier with the Team management feature. It allows you to group related social channels and manage them without interfering with other channels.
You can group related social channels, (profiles from the same or different social networks) into a single Team. To simplify things a lot easier, you can name teams and add a Team profile photo. There is no limit on the number of teams you can create with Planly.  
If your pricing plan allows, you can also add members to the team. You can assign members to all teams or select teams of your choice. Only Account owners can add or remove users and social channels in Teams.
The best thing is that you can create unlimited teams in Planly, even if you are in the Free Plan. And, you can also add the same social channel to different Teams in Planly.  It will not affect your pricing plan. Your social media scheduling limits won't change when you add the same channel to different teams.
Add the first comment to each post on social media
Except for Twitter and TikTok limits, other platforms give enough character limit for post captions. Yet bombarding your posts with hashtags and too much information is not the best way to get engagement.
To help you with this, we added first comment scheduling to Twitter, Facebook, Instagram, and LinkedIn where you can automatically schedule the first comment on these platforms.
Comments are one of the first ways to increase engagement on social media. having the first comment posted, will organically trigger engagements and give directions to followers to move the conversation.  Also, comments will save yo from spamming posts with unlimited hashtags.  
Create social media posts in seconds with Drag & Drop Calendar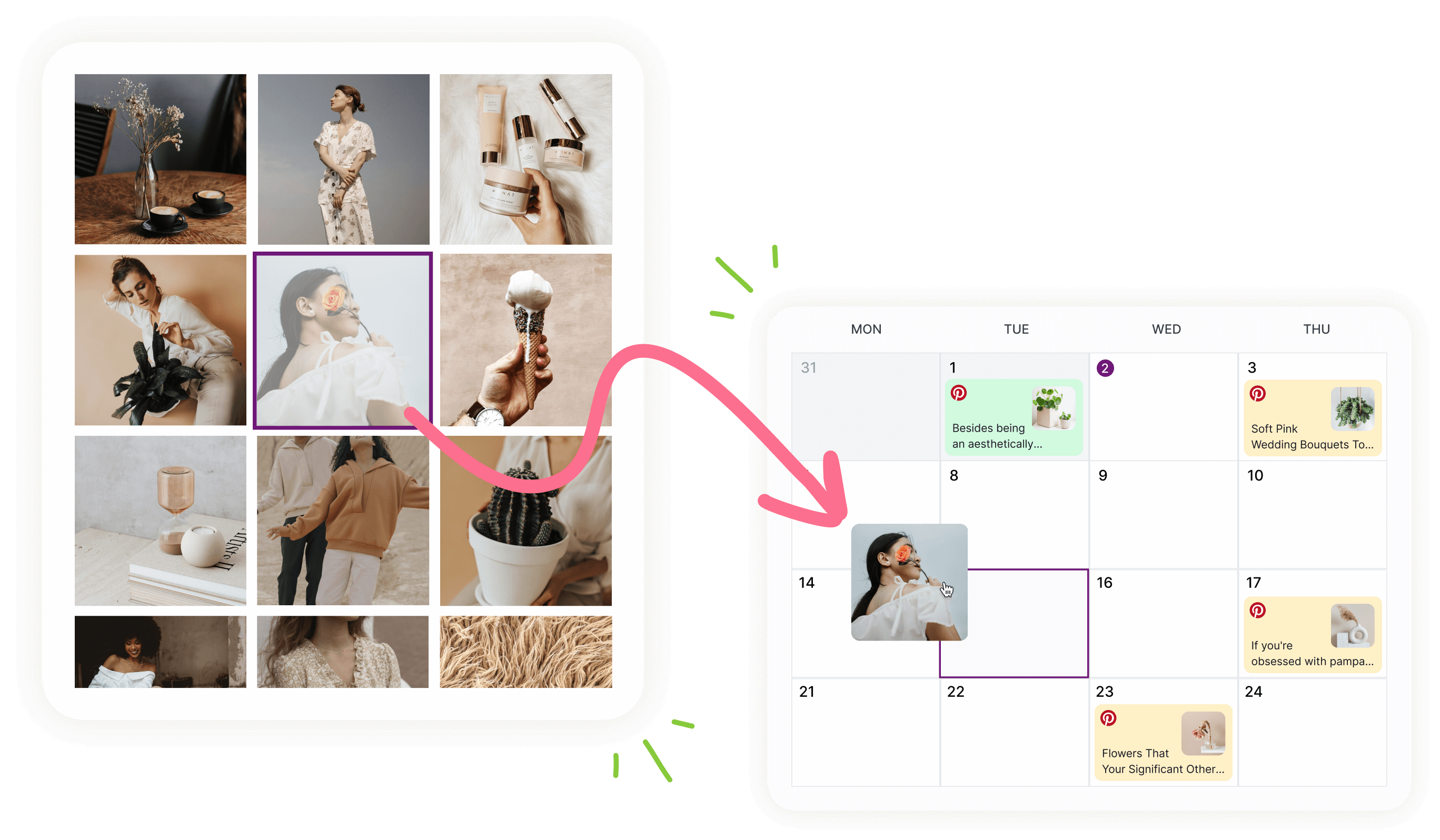 To easily create schedules, you can drag and drop your media files from Media Library to the Calendar. If you want to change the date or time of your scheduled posts, you can simply drag and drop the post to the time you want them to be posted. Done! No extra time to edit timing.
Drag & drop feature also includes media uploading to the Calendar itself. You can directly uplado media file to the Calendar while scheduling them. Once the scheduling is finished directly added media files will be stored on your Media Library.  
Tame your social media posts with Photo editing features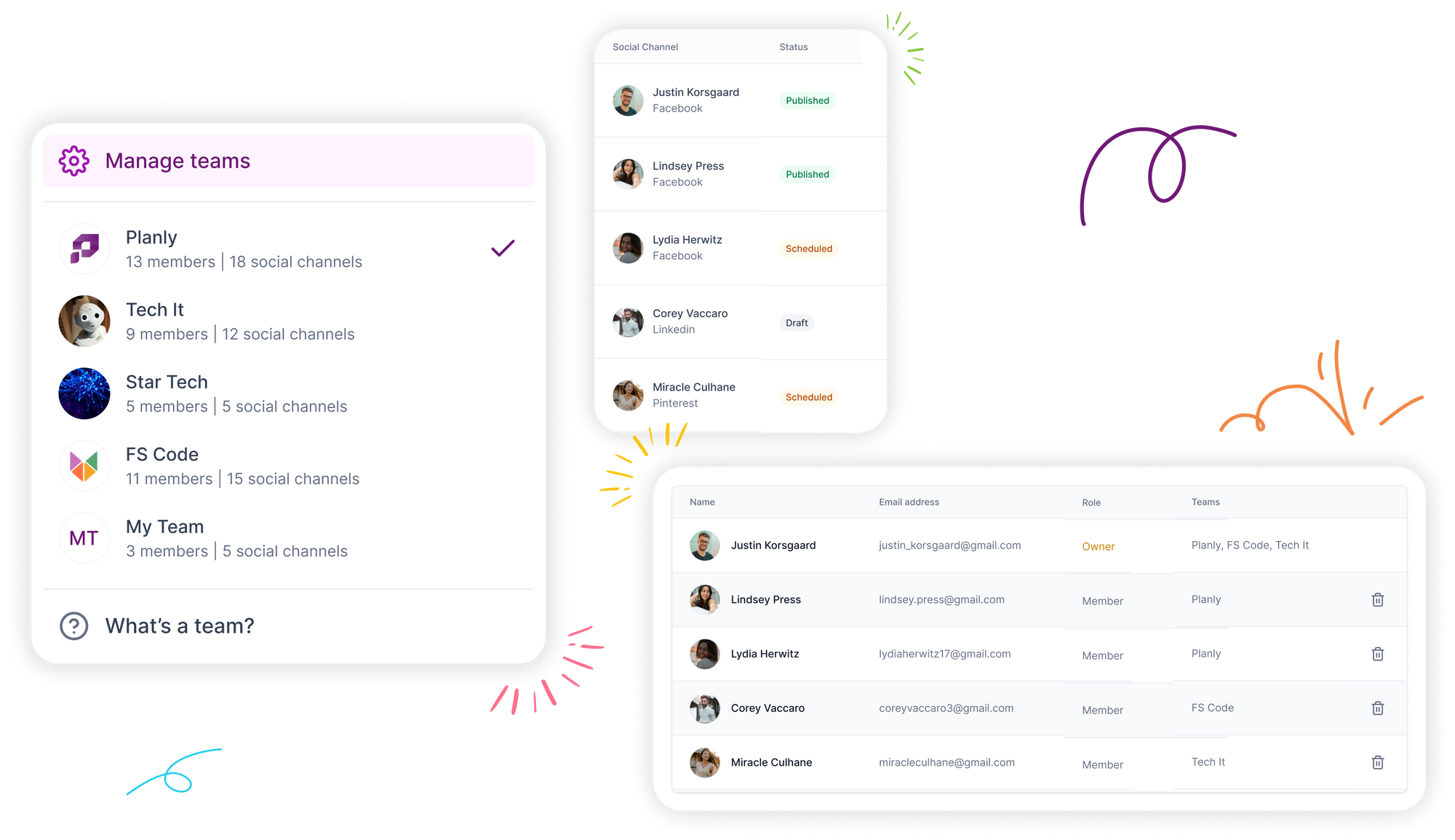 Wouldn't it be great if you can manage all the things media from a single place and schedule your posts? Yes, this is why we made it for you. Starting in November 2022, we added a photo editing feature to Media Library.
This allows you to crop, edit, filter, resize, annotate, and use other editing options right before scheduling them. Editing features are available in Pro and Guru plans.
Fill your social media calendar with Dropbox files
Not all great files exist on your laptop. In the first launch, you could only add photos from your laptop. Now, you're able to add unlimited media from Dropbox. To use this feature, you have to log in to your Dropbox account in the browser.
If you have multiple Dropbox accounts, you need to switch to the account where you will upload media. Dropbox is available in all of the paid plans.
Get broad social media content ideas with Unsplash
Finding content ideas and media to share on social is made waaay easier with Planly Unsplash integration. You can search for photo ideas, select, and edit them with Planly.
Gather, edit, and schedule stunning stock images — and build a killer feed in minutes. With stock images, you can create a broad variety of social media post ideas for your calendar. You'll find a valley of high-quality stock images from professional photographers.  
So, not only will it save you a ton of time, but it's also perfect if you don't have the budget for professional photography.
Every ending is a new beginning
This year taught us to smile at challenges. We came up with the idea of Planly by getting enormous requests from our users about TikTok. So, we can proudly say that we solved the savvy.
Thanks for joining Planly in 2022. We're so grateful you were part of it. We can't wait to take your social media management to a new level in 2023. Happy New Year from Planly!
For now, party time 💃🏻