Social media has become an integral part of our daily life. Here we constantly receive news from different platforms and communicate with our friends. That's why businesses choose social media to grow and gain recognition.
When people search for a brand, they first search for it on social media platforms and look at its posts. All posts are important to engage your audience. Because social media users pay attention to several nuances when looking at a brand's social media account.
For example, the brand's social media activity, which social media influencers it works with, etc. Therefore, brands should always be active on social media and prepare social media goals for themselves.
They mostly do it weekly, monthly, and yearly. In this blog, we will tell you about annual social media goals. How do you think you can set smart social media goals for your brand? To do this, you must first find out what your business needs. So, let's explore how to set smart goals for social media.
What are social media goals?
Social media goal is a state, target, or goal you want to achieve with a specific social media strategy. So, the difference between social media goal and social media strategy is that goal is the final destination, and strategy is the tactic to make it.
Social media goals show you how you can grow your business. If you constantly set smart goals for social media in your business, the possibility of your business increasing will increase even more.
Each plan you make will open new paths for you. As you set a social media goal, you'll do different things to reach it, and you'll see how quickly your brand grows.
Why are social media goals important?
Setting clear social media goals might help you gain support from your manager or other stakeholders and give you something to aim for.
Control your budget.
Organize and accelerate your productivity.
And integrate your social media efforts with the larger corporate goals of your corporation.
Set social media KPIs and track them.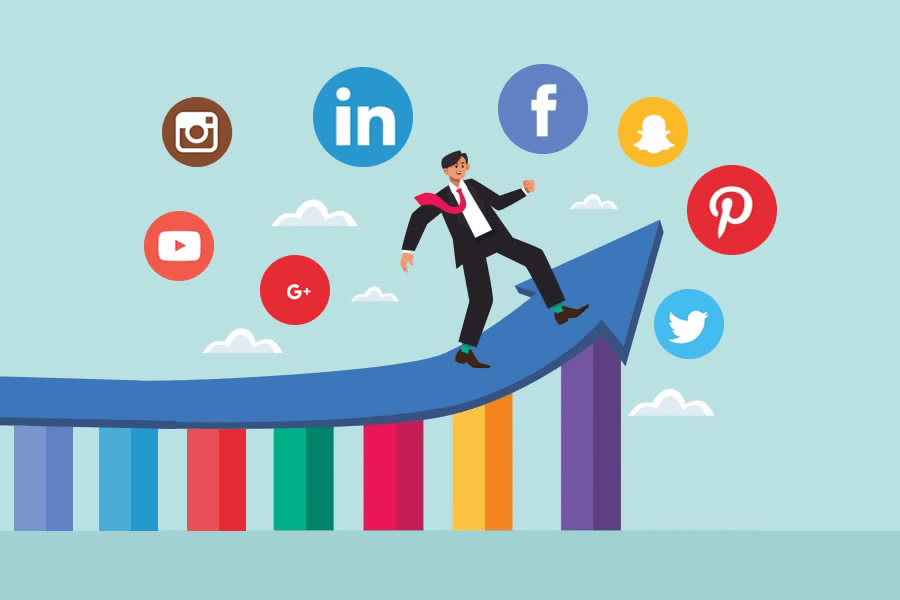 How to set social media goals?
To set social media goals, you must first identify your primary desire for social media. You use social media. What are the benefits it will bring you? To determine these, you need to think in several ways.
The SMART goals method works perfectly for setting social media goals and keeping track of them.
Specific
The social media goals you set should be specific. Set specific goals for each social media you use. For example, my Instagram followers will be 10,000 this year. What steps should I take for this? Always ask yourself questions like. So, you need to prepare an Instagram marketing strategy specific for that end goal.
Measurable
Be sure to measure your goals. For example, how were your Instagram statistics last year and what are you aiming for next year?
Available
It's great that you set your sights high. But make these goals believable. If you currently have 5,000 followers, don't aim for 1,000,000 next year. But the number you aim for should not be too small. You have to work harder and achieve the desired result.
Relevant
Of course, your wishes may be too much. But you need to determine whether these requests are appropriate for your business. Do the goals you set really support the vision and values ​​of your business?
Time Specific
It's perfectly normal for you to plan your social media goals annually. However, you can divide these goals into shorter months, like quarters or half year, instead of one year. For example, set smart social media goals to increase my Twitter engagement within the first 3 months of the new year.
Smart social media goals examples
Your business always needs smart social media goals examples for social media. For this, we show you the best 7 social media goal examples. We can generalize and say that you can set these social media goals for the business:
Increase community participation by x% and brand awareness by x%.
Get x monthly leads through social media;
Get x monthly visitors to the website;
x% increase in social media followers;
Leave a certain number of comments per month on LinkedIn;
Increase the ROI of social media ads by x% during holiday;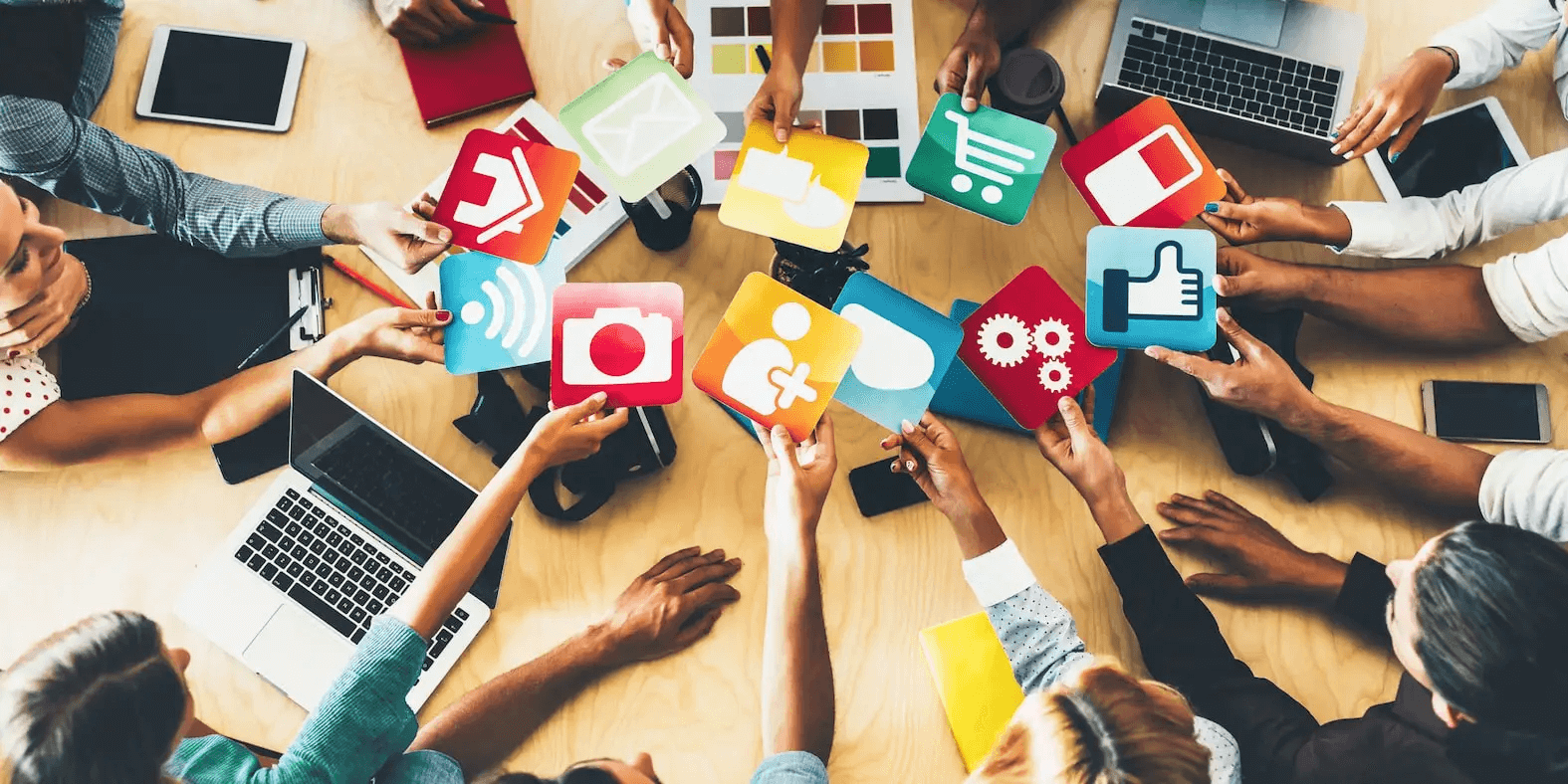 1. Improving brand awareness
If you want to increase your brand's awareness, there are many things you need to do to do so. First of all, let's note that brand awareness social media campaigns has some nuances that increase or decrease according to them.
Social media post impression- How many impressions do your social media posts get on average?
Social media audience growth rate- How quickly do you gain followers over time?
Social listening- How many times your brand is mentioned on social media in comparison to that of your competitors?
2. Manage brand reputation
Social media marketing is a good tool for managing your brand's reputation. To track brand reputation, you can follow social media posts that tag you. You can also find out what people think about you with your brand hashtag. For this, you can take advantage of various features: Twitter space, Spotify, and podcasts.
3. Increase traffic to your website
The benefits of social media are endless. You can work here to increase your website traffic. This can be done in several ways.
By placing your website link in your Instagram bio
Post a link to your website or other social media account on your Pinterest pin
Posting a link on Twitter and writing various articles about it
Even if it should go without saying, make sure to report on the most relevant time frame. This may occur daily, weekly, or monthly. Even better if you have a benchmark figure to evaluate traffic against!
4. Active on social media
There is a lot of content that needs to be shared on social media. To find each of these, you must first create a yearly or monthly social media content calendar. Then you need to schedule them by day and date.
Because this way is the best way to be active on social media. You can complete your work by scheduling the posts you have prepared in social media scheduling tools. For this, you can choose social media scheduling tools for both price and features.
We recommend Planly, the best social media scheduler. With Planly, you can schedule social media posts and their special features such as Instagram, TikTok, Twitter, Facebook, LinkedIn, Pinterest, and Google Business Profile.
Planly's main difference from other social media scheduling tools is that it doesn't notify the user when Instagram posts, videos, carousels, stories, and TikTok videos are auto-posted. At the same time, it is possible to use Planly 1 dollar for 7 days. You can also get acquainted with the pricing of other premium plans.
5. Improve community engagement
The engagement of your community should increase in order to have a positive effect on your business. You need to be in constant communication with your followers. You should listen and answer their questions and suggestions. The engagement rate is measured according to different nuances.
Engagement rate by reach- the percent of users that chose to engage with the content after seeing it
Engagement rate by social media posts- analyzes the regularity with which your audience interacts with your content.
Daily engagement rate- how frequently a day your followers interact with your account.
6. Provide consumer support
In social media, it is necessary not only to gain new customers but also to convert them into regular customers. For this, provide high service to your followers. Answer their questions in a short time or automate this process if you don't have time to do it. For example, you can get the automatic reply feature to the messages written to you on Instagram. Prepare the most frequently asked questions and their answers.
Create a new social media customer service channel.
Shortened wait times
Boost customer satisfaction

You should focus on your customer service goals on social media platforms that allow for conversation, such as Twitter and Facebook.
7. Find candidates for roles that are open
If you want to achieve your smart social media goals, you need to have master social media managers The first platform that comes to mind in this section is LinkedIn. Through LinkedIn, you can share job ads and grab people's attention by adding Easy Apply features. However, other social media platforms should not be forgotten. You can share an open vacancy here.
What are the social media trends for 2023?
Authenticity
Now according to new trends, people like originality more. Therefore, make sure that what you do is original. Especially if you collaborate with social media influencers, allow them to share their thoughts with their followers.
Use TikTok
As we know more Gen Z TikTok use. Nevertheless, many brands are currently using TikTok to improve their brands. This situation is also considered for 2023. With its ever-growing audience, developing interesting content on TikTok is quite perfect.
It must be interactive
A social media management team should always be looking for innovations. In this way, if there is a difference in every content shared, viewers are always looking. We need to abandon traditional ways and be more innovative!
Achieve Goals!
Your business is constantly evolving on social media. If you are new to social media for your business, you should definitely set social media goals. Or conversely, if you already have an image on social media, you need to set smart social media goals to maintain it. In response to the question of how to exceed social media goals, we can briefly summarize and say that there are 3 main social media goals.
Generate more leads on social media.
Improve engagement of the current follower base.
Build your brand awareness on social media.
You can set smart goals for social media using the other information we recommend.