Nowadays, businesses using social media use different tools. The main reason for this is that software tools make our work easier. Businesses in particular, spend most of their time sharing posts on social media.
For this, it is necessary to pay attention to visuals and content so that viewers like it. It is also necessary to constantly share posts on social media. Because, in this way, your chances of getting into the feed of your followers will increase.
For some users, sharing a continuous post on social media is difficult, and they are looking for different solutions.
The right choice for this is to use media scheduling tools. In this blog, we present the best 11 social media scheduling tools for you. You can get to know each of them closely.
What is a social media schedule?
Social media scheduler is a software tool that schedules your social media posts. You can schedule your posts for any time using tools like this. Although such tools are used especially by businesses and influencers, users who use personal accounts also prefer to use social media scheduling tools. Because, at this time, you already have 3-4 post ideas in your mind.
When influencers collaborate with brands, they regularly share promotional posts. Thus, they prepare a social media content calendar for this. Many influencers and social media agencies use social media auto-poster tools and their features, which make work much easier.
What are the best social media scheduling tools for small businesses or influencers?
We started to learn 🚀
Top social media scheduling app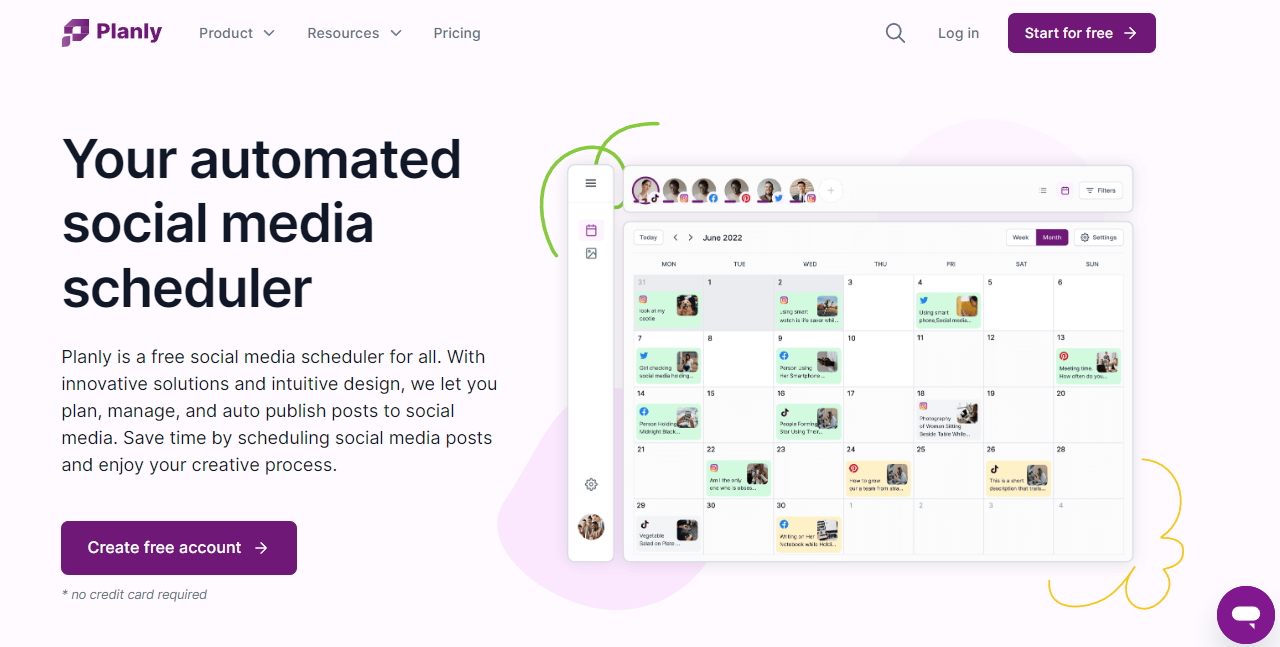 Planly is a social media scheduler tool. With Planly, it is possible to schedule posts and their special features for social media platforms such as Instagram, TikTok, Twitter, Linkedin, Pinterest, and Facebook.
The advantage of Planly is the possibility of post-scheduling on several social media platforms at the same time. Also, no notifications are sent to you when scheduling Instagram posts, carousels, and reels.
Planly has an advanced interface with drag and drops content calendar, team management, photo editing, and Google Drive, Unsplash, and Dropbox integrations.
There are also AI content assistant features that you can use for your social media post captions. You can write unique captions in any way you like by entering the right prompt.
Planly offers 4 pricing plans, including a 1$ trial for Pro plan subscription. Additionally, you have the option to select between a monthly or 20% off a yearly subscription to enjoy greater savings. The monthly subscription packages are:
Starter-  $15
Pro- $40
Guru - $80
Pros:
Trial plan available
Store unlimited media files
7-day trial advantage for just 1$
Allows to duet and stitch on TikTok videos posted from Planly
User-friendly
Filter your media by their date, media type (photo or video), and category
100% auto-posting, without notifications
Customizable pricing
Team management
AI Content Assistant
Cons:
Only available for TikTok, Twitter, and Instagram
There is no mobile application
With the help of the FS Poster WordPress social media auto poster and scheduler, you may automatically auto-publish posts to the most important social networks. You will be able to publish your WordPress posts to 20 social networks at the same time: Facebook, Instagram, Twitter, LinkedIn, Pinterest, Vkontakte, Reddit, Tumblr, Odnoklassniki, Plurk, Google Business Profile, Xing, TikTok, Blogger Telegram, Medium, Discord, WebHook, Youtube community, WordPress based sites.
With the demo version on FS-Poster, you can familiarize yourself with the usage rules. Also, with the FS-Poster lite version, you can auto-post to a limited number of social media for free.
Price: $49
Pos:
Easy-to-use
18 integrated networks
Customization in automation
Competent customer service
Discerning analytics
Cons:
Just being able to auto-post to WordPress-based sites
3. Loomly
Through Loomly, you can auto-post on Facebook, Twitter, LinkedIn and Instagram. With Loomly, you can do a 15-day free trial. At the same time, you can enjoy various features. You will also receive notifications on platforms such as email, Microsoft Teams, and Slack. After you schedule your post, you can promote it to reach a larger audience.
Pricing:
Base:$26
Standard: $59
Advanced: $129
Premium: $269
Enterprise: Request Quote
Pros:
Loomly has  Media Studio, Hashtag Manager, and a UTM parameters generator
Easy to learn the platform
Inexpensive
Automated pushing for Facebook Ads & Instagram Ads
Cons:
The calendar function may be hard to access
Extra integrations are necessary for various social publishing
Loomly is a social media scheduling app for influencers, small businesses, and a variety of organizations.
4. Sprout Social
An all-in-one tool for scheduling and posting to social media is Sprout Social. You can schedule posts across many networks and do both with it.
Marketing teams may use it to collaborate, and user-level permissions provide marketing managers, authors, and everyone-in-between specialized ability to add to a social media calendar. You can familiarize yourself with the features of this software tool with a 30-day free trial.
A team can get a bird's eye perspective of what is posted and promoted each day using Sprout Social's calendar feature. You can also track social listening for your business with Sprout Social.
Pricing:
Standard: $89
Professional: $149
Advanced: $249
Pros:
All social media access
In-depth analytics to understand how your brand is performing on social
Cons:
The limited number of social networks
The platform does not integrate with Pinterest or Instagram
Sends notifications to share TikTok and certain Instagram posts
Users from Small Businesses (1–50 employees) in the Marketing & Advertising sector make up the majority of Sprout Social's users.
5. Buffer
With a premium account from Buffer, you can schedule unlimited social media updates. Buffer uses a freemium business model.
Buffer, as the name suggests, lets you compile a list of relevant content you want to publish and schedule them to go out at times that are more acceptable for your audience.
Pricing:
Free: $0
Essential: $5
Teams: $10
Agency: $100
Pons:
Publish your content for Instagram, TikTok, Facebook, Twitter, Pinterest, and LinkedIn, all from one simple dashboard
Simple and quick setup. Everything was easy, from connection to social networks to posting
Changes and upgrades keep coming over time
Cons:
Sends notifications to share TikTok and certain Instagram posts
The social media platform may have caused many unsuccessful posts, but sometimes it was simpler to post manually than to try to fix the problems
A few specialized post types were not supported, such as Instagram's carousel photos
Additionally, Buffer offers stats that show the effectiveness of your posts.
6. CoSchedule
You can easily schedule posts to Facebook, Twitter, LinkedIn, Instagram, and Pinterest. You can schedule and organize your marketing using CoSchedule. This may only require you to organize your blog and social media posts if you're an entrepreneur or influencer.
If you own a company, you might need to organize other marketing programs centrally. Even better, it allows agencies to plan out every client's projects.
Therefore, CoSchedule's offering includes more than just social media scheduling.
Pricing:
Marketing Calendar: free
Marketing calendar: $29
Marketing suite - customizable
Pons:
Headliner analyzer
E-mail subject line tester
social media messages optimizer
Cons:
Quite expensive
Sends notifications to share TikTok and certain Instagram posts
The interface may find the interface difficult to use
7. Later
Although Later allows you to post to various social media platforms, Instagram is its primary focus. Later, you start a post with an image rather than its text, unlike many other social media posting and scheduling applications. You post the picture Later, after which you write the caption. Available on Instagram, Facebook, Twitter, TikTok, Pinterest, and LinkedIn.
Once you have converted your Instagram account to a Business or Creator account, the process is simple.
Pricing:
Starter:$18
Growth: $40
Advanced: $80
Pons:
Post scheduling across all social media platforms
Includes " Link in Bio"
Checking analytics
Cons:
No way to add stickers and tags to stories
Sends notifications to share TikTok and certain Instagram posts.
Auto publishing is not available in all premium accounts
Sends push notifications
8. SocialBee
It is now possible to focus more on content and less on scheduling thanks to SocialBee. A social media management tool called SocialBee focuses on scheduling posts for different social media networks and tracking your results afterward.
To handle social media on the fly, SocialBee, a well-known social media scheduling tool, has its own mobile application. Instead of granularly setting posts, SocialBee allows you to categorize them, making it easy to schedule various types of articles.
However, if necessary, you can still set them separately. Setting posting schedules is a laborious process, therefore this tool is a great help.
Pricing:
Bootstrap:$19
Accelerate: $39
Pro: $79
Pons:
Provides the ability to create several workspaces
To save hashtags
Supports RSS feeds
Has hashtag manager
Cons:
A little difficult to use
A hard time getting it to show me the posts for one profile
Does not provide the option to perform A/B testing of social media posts.
Sends notifications to share TikTok and certain Instagram posts
9. SocialPilot
Quite a few highly useful, user-friendly features are included in Social Pilot. It doesn't try to guess every keystroke, as other scheduling programs do, so I can concentrate on doing my work.
The platform's best account/channel limit makes it ideal for small businesses with a wide range of brands. Post on social media platforms like TikTok, LinkedIn, Facebook, Instagram, Google My Business, Twitter, Tumblr, Pinterest, and VK.
Pricing:
Agency: $125
Studio:$100
Small business: $50
Professional:$30
Pros:
Very affordable
Supports all major social media platforms
Advanced analytics
Cons:
Lack of Instagram analytics
Sends notifications to share TikTok and certain Instagram posts
Lack of a totally free plan
10. Sendible
One of the greatest social media schedulers is Sendible, which allows you to handle social media marketing for several clients at once. It's a tool that was created with the requirements of agencies in mind.
In addition to popular blogging platforms like WordPress, Medium, and Tumblr, this outstanding social media scheduling program also supports well-known social media networks like Facebook, Twitter, Linked In, Google My Business, YouTube, and Pinterest.
Pricing:
Creator:$29
Traction: $89
Scale: $199
Pros:
Consists of an RSS Feed Poster, content suggestions, and a built-in library with effortless access to Canva, the design tool
consists of a number of automation technologies that help increase social media followers and drive interaction
You can even use it as a mobile app for iOS and Android.
All plans include a free 14-day trial
Cons:
Keyword monitoring provided by the tool is not always accurate
Sends notifications to share TikTok and certain Instagram posts
11. HootSuite
One of the most well-known social media management apps on this list is HootSuite. Over 800 Fortune 1000 firms and over 15 million users use it. It is a complex tool that allows you to easily track your social media KPIs on the platform.
HootSuite gives you the same flexibility to schedule posts for publication at a future time that suits you as all the other social media schedulers on this list. The distinction with this social media scheduling tool, though, is that if you choose one of the packages offered by the business, you can post to a wide variety of social media accounts.
Pricing:
Professional: $49
Team: $179
Business:$739
Pons:
Effortlessly lets you view analytics data
Effectively lets you manage your team
The unique add-on tool Hootlet plugin enables you to share information hassle-free
Cons:
Difficult to use for those without much computer experience
Only three social media accounts can be managed during the free trial, and only basic analytics and message scheduling are available.
Sends notifications to share TikTok and certain Instagram posts
Time to schedule!
Social media scheduling tools help you increase your social media presence. In this way, you will devote more time to your business and gather an audience on social media.
The only way to do this is through proper content planning and post-scheduling. Simplify your work with the best social media scheduling tools. Find the best social media scheduling tool for you right now and grow using it.