Planoly is one of the best social media management tools. With Planoly, it is possible to schedule to 7 social media platforms. You can easily schedule your posts on multiple channels if you want to share them immediately.
In this blog, you will find the answer to the question of whether it is worth using Planoly. We have researched Planoly pricing and will share it with you.
Planoly pricing: What is Planoly, and how can we use it?
Planoly, as mentioned above, supports 7 social media networks: Instagram, TikTok, Facebook, Twitter, YouTube, Pinterest, and Linkedin. As they wrote, Planoly was created a year ago as a visual Instagram planner. Therefore, many features are still available just for Instagram.
There is a 7-day free trial based on Planoly pricing. However, it requires card details when signing up. Then, after choosing the subscription plan we want to choose, the 7-day free trial is activated, and this kind of dashboard appears.
Based on all these features, let's list the pros and cons of Planoly.
Pros on Planoly
Show content trends- If you don't know what post to share, you can follow the significant days marked on the dashboard. You can set these days in 3 categories at the same time.
Save sounds directly from TikTok from Planoly- the ability to choose the music you can use when sharing a video on TikTok from Planoly.
Having both iOS and Android app
Have different integrations: Canva, Pexels, Unsplash- You can improve your social media visuals with these types of integrations.
Sellit-Here you can post your products, share them with your customers and sell them.
Cons on Planoly
After you schedule a YouTube video, you will receive a notification to publish it - This feature is not user-friendly and will annoy users after a while.
Many features are available only for Instagram - For example, hashtag generation, image and video generation, analytics, and comment inbox are included in these features.
Sellit is not sold separately, but as an addon- And thus, the pricing is more expensive than usual.
Is it worth buying Planoly?
If we take a look at Planoly's pricing, we can see that the Free trial is available but requires a credit card. It is also divided into 3 plans Starter, Growth, and Professional. Due to its features, Groüth costs to buy a plan, but as we mentioned above, many important features are only available for Instagram. If you are active on several social media and want to constantly measure your progress, Planoly is not for you.
At the same time, if you are especially interested in selling on Instagram, Sellit may be a good choice for you because you can sell your product here for one price.
I want to manage all social media in just one dashboard 😎
Okay. I can recommend you Planly for this.
Planly is a social media management tool. It is possible to schedule and analyze social media posts with Planly. Planly supports 8 social media platforms: Instagram, TikTok, LinkedIn, Facebook, Pinterest, Twitter, Mastodon, and YouTube.
You can easily sign up from Planly, add a channel according to your plan, schedule posts, or share them instantly. Through Planly, you can place your images, videos, and GIFs in a single Media Library and group them into the desired category. You can also edit your social media visuals, give different effects, and crop. You can benefit from the following features of Planly:
Thanks to Planly, users can simultaneously schedule their posts on several social media platforms - Facebook, Instagram, TikTok, Linkedin, Twitter, Pinterest, and Mastodon- and auto-post them without the notifications sent to their accounts.
Use AI Content Assistant for your social media post captions. You can ask the AI ​​to write any caption you want by entering prompts and filters.
With its hashtag suggestion feature, Planly will help you find the right and effective hashtag for your posts. Also, if you want your post to get more engagement and impressions, you should share them at the best time to post. Planly tells you what social media network you should share in a single dashboard at what time and day.
You can use Planly's analytics feature to see the results and analytics of these posts and your social media profiles. You can learn about post engagement, impressions, and the characteristics and demographics of your social media audiences.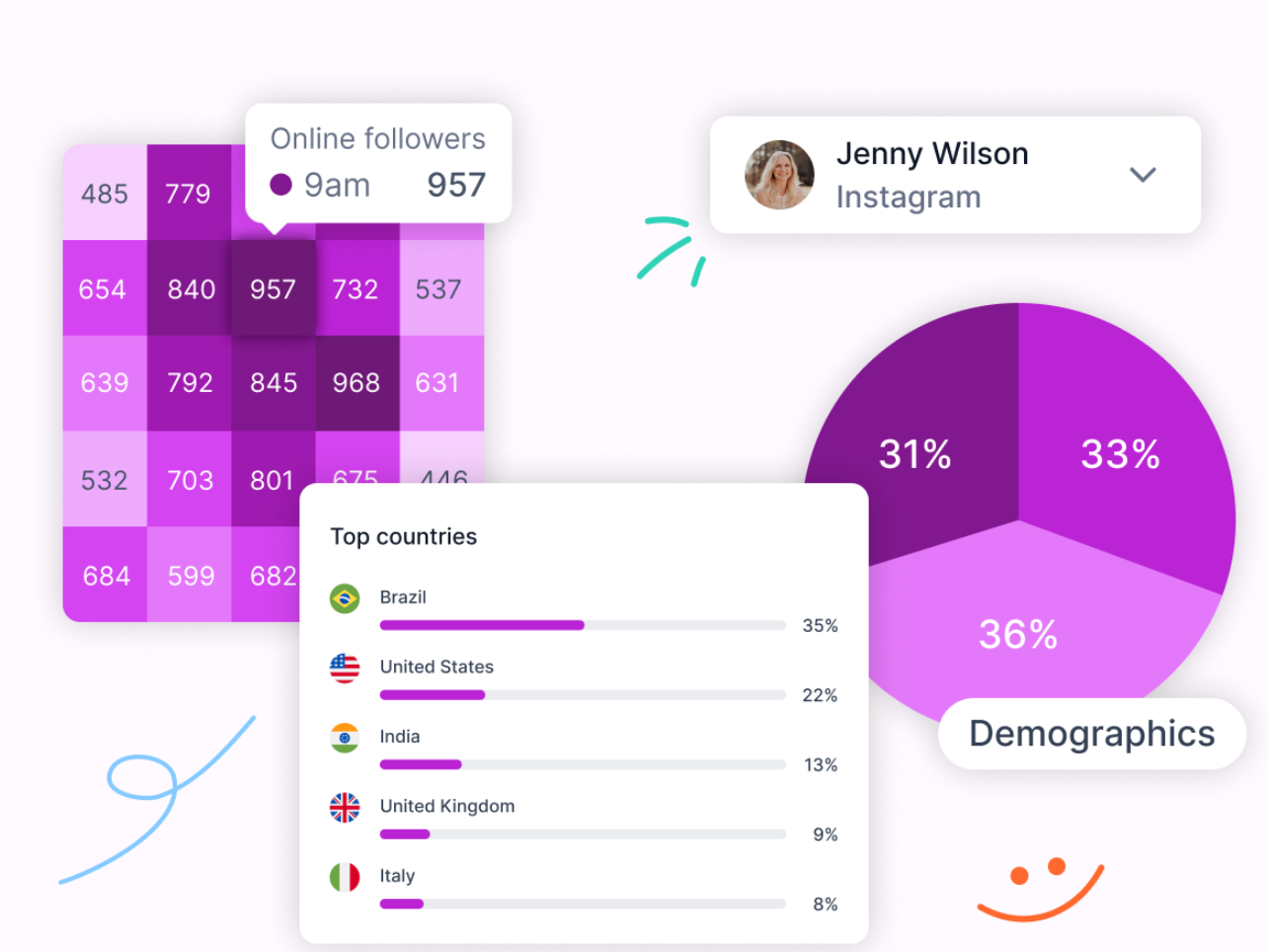 If you want all your social media accounts and your business to be visible to your followers using just one site, you can use Addto.bio feature. With Addto.bio, you can create your portfolio without any coding knowledge.
In Planly, with integrations such as Unsplash, Dropbox, and Google Drive, you could easily do everything you usually do on social media in just one platform.

You can try all the features of Planly by paying $1 a week. There are also 3 different pricing options: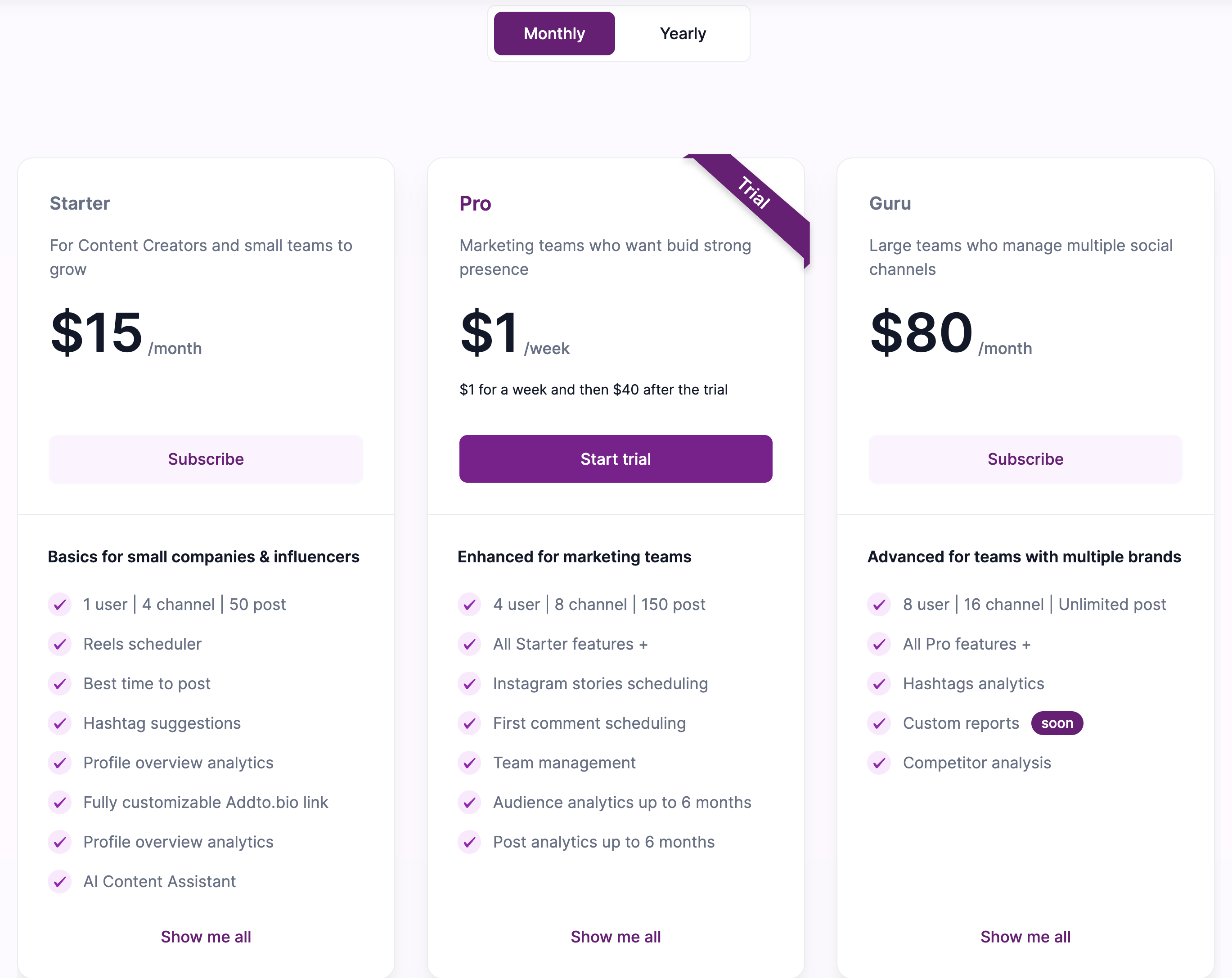 In the Starter plan, you can add 1 user and 4 social channels, including the included features, for $15.
You can add 4 users and 8 social channels in the Pro plan by paying $40
Add 16 social channels and 8 users to the Guru plan for just $80.
Now, let's compare Planoly and Planly visually.

Conclusion
We can determine that Planoly is a good tool for Instagram scheduling. However, if you are a social media manager or must be active on several social networks simultaneously, you should definitely use Planly. You can subscribe to Planly right now for just $1 for a week.