Instagram is one of the most popular and influential social media platforms in the world, with over 2 billion monthly active users and 500 million daily active users. If you manage your own Instagram page to interact with users, you already know the importance of having a solid online presence. But did you know Instagram is also an excellent tool for E-commerce success?
This guide to Instagram for E-ommerce mentions the main points of using Instagram and its various tools to succeed in E-ommerce in 2023, from setting up your account to optimizing your content and measuring your results. Here is an overview of what you can learn from this guide:
- Understanding Instagram's role in E-commerce
- Setting up your Instagram account for E-commerce success
- Creating engaging and compelling content for your target audience
- Growing your following and reach on Instagram
- Using Instagram features and tools to boost your E-commerce performance
- Measuring and analyzing your Instagram results and ROI
Understanding Instagram's role in E-commerce
Instagram was launched in 2010 as a simple photo-sharing app, but it has evolved into a robust E-commerce platform.
According to a report by Facebook, 81% of people use Instagram to research products and services, 83% discover new products or services on Instagram, and 80% decide whether to buy a product or service on Instagram.
Moreover, Instagram has introduced various features and tools over the years to help E-commerce businesses using Instagram reach their potential customers and increase their conversions, such as:
Shopping tags: These allow you to tag your products in your posts and stories so that users can easily tap on them and view more details or purchase them directly from your website or app.
Shopping stickers: These are similar to shopping tags but can be used in stories and reels, which are short-form video formats popular on Instagram.
Shopping tab: This is a dedicated section on the Instagram app that showcases personalized recommendations of products from brands and creators that users follow or might be interested in.
Shopping ads: These are paid ads that appear on users' feeds or stories, featuring your products with a call-to-action button that leads them to your website or app.
Checkout: This feature allows users to buy products directly on Instagram without leaving the app, making the shopping experience more seamless and convenient.
As you can see, Instagram is the right social media platform for success in E-commerce in 2023, as it offers multiple ways to showcase your products, reach your target audience, and drive sales.
However, it doesn't mean you should focus all your E-commerce activities to Instagram. Instead, you should focus on being active on as many social media platforms as possible. Take a quick look at each of the platforms and their demographics and decide whether or not to focus on them.
But how do you set up your Instagram account for E-commerce success? Let's find out in the next section.
How to use Instagram for E-commerce?
To have a successful Instagram for E-commerce business,  it is crucial to create a profile optimized for your business.
To begin with, your Instagram username should be memorable and easy to search. Ideally, it should consist of two parts - your brand name and your industry. Don't forget to add relevant keywords related to your niche to make it more searchable for Instagram E-commerce.
Your bio is another crucial element of your profile. Keep it short and simple, but make sure to include the most important details about your business. It is also a good idea to include a call to action, such as a link to your website, to encourage users to visit your site and make a purchase.
Having a high-quality profile picture is essential for creating a professional-looking profile. It should be eye-catching and consistent across all your distribution channels on Instagram for E-commerce.
Switching to a business account on Instagram is a must for to be successful on E-commerce. This will give you access to features like insights, ads, shopping, and contact buttons. Take advantage of these tools to better understand your audience and promote your products effectively.
Tip: Click the three dots on an Instagram page and go to the "About this account" page on the desktop. This will take you to the Meta library and show you a brief overview of the page and its history.
Optimizing your profile for SEO by using relevant keywords and hashtags in your username, bio, and posts is another key factor in achieving success on Instagram E-commerce. This will help you rank higher in Instagram search results and reach more potential customers.
Tip: A little section of your Instagram bio appears on the search page. Make sure to highlight the most important parts of your page at the beginning of your bio.
Sharing high-quality photos consistent with your brand is vital for creating an attractive profile. Use a theme, filter, or color scheme to make your feed look more professional and consistent, which helps in achieving success on Instagram E-commerce.
A good way to be consistent is to create a content calendar and manage it.
Engaging with your audience is equally important for a successful E-commerce page on Instagram. Regularly post content, respond to comments and messages, ask questions, run polls and quizzes, share user-generated content, and collaborate with influencers and other brands. This will help you build a loyal following and boost engagement.
Optimizing your Instagram profile for E-commerce success takes time and effort, but it is worth it in the end. Remember to stay consistent and regularly test and learn what works for your audience to succeed on Instagram E-commerce.
Creating engaging content for Instagram
To have a moderately successful E-commerce business on Instagram, you must create engaging content that showcases your products and brand.
Photos and videos are key to grabbing the attention of the Instagram algorithm and your audience. Here are some photography tips to make your Instagram E-commerce content more engaging:
Use high-quality images and videos that are clear, bright, and appealing to increase your chances of success on Instagram E-commerce. Avoid posting blurry, dark, or low-quality photos at all costs, as they may negatively impact your brand.
Use natural lighting and avoid harsh shadows or artificial filters that can distort the colors or details of your products. Try to shoot your photos and videos in the morning or evening when the light is soft and flattering and perfect for Instagram E-commerce.
Use different angles and perspectives to show off the features and benefits of your products. For example, you can use close-ups, wide shots, or aerial views to highlight different aspects of your products and increase E-commerce success.
Use props and backgrounds that complement your products and brand identity. Creating extra dynamic range and showcasing your product can drive positive results for your E-commerce page. You can also use solid colors, patterns, or textures to create contrast or harmony with your products.
Use captions and hashtags to add context and value to your photos and videos and drive E-commerce success. The Instagram algorithm looks for photos' metadata, so add alternative text to get in front of your competitors.
Maximizing reach and engagement on Instagram
Growing your Instagram following organically is a vital aspect of achieving E-commerce success on Instagram. It means attracting real and interested users who will engage with your content and potentially become your customers. Here are some tips to grow your Instagram following organically and achieve success on Instagram E-commerce:
Interact with other users on Instagram, share helpful content, promote it on different social media sites, and ask family and friends to share them to get a headstart. After a while, organic results pour in, and you will have to make less effort to grow your page.
Collaborate with other influencers or brands in your niche or industry to leverage Instagram for E-commerce success. Find accounts with a similar or complementary audience to yours, and partner with them to create co-branded content, and cross-promote each other's products or services.
Analyze your performance and optimize your strategy accordingly to have a successful  E-commerce page on Instagram success. Use Instagram Insights or other analytics tools to track and measure your reach, engagement, growth, traffic, conversions, and other metrics that matter to you. Focus more on what works and test to improve even more.
Use Instagram Stories to pave the way to E-commerce success. Share behind-the-scenes footage of your business, showcase your products, highlight promotions and discounts, and use interactive features like polls, quizzes, and questions to engage with your audience. Instagram Stories are an excellent way to increase engagement and attract new followers.
By following these tips, you can achieve Instagram for E-commerce success and grow your following organically. Remember to be patient, consistent, and authentic; your efforts will pay off in the long run.
Utilizing Instagram advertising for E-commerce success
One of the most effective ways to be successful is using Instagram ads for E-commerce. By creating targeted and engaging ads, you can reach potential customers at the right time and place. But to make the most of your ad campaigns on Instagram, it's important to follow some best practices.
Firstly, it's crucial to choose the right ad format and creative that resonates with your audience. Instagram offers different types of ads, including photos, videos, and carousels, and each format has its strengths. You should combine these ad formats with a clear and compelling call-to-action in your ad copy.
Next, you need to optimize your ad budget and bidding strategy to ensure you're getting the most bang for your buck. You can maximize your ad performance and achieve your E-commerce success goals by selecting the right optimization goal and bidding options.
Finally, it's important to monitor and analyze your ad performance to see what's working and what's not. Using tools like Meta Ads Manager, Instagram Insights, and Google Analytics, you can track your ad reach, engagement, conversions, and return on ad spend (ROAS), and make adjustments to improve your results.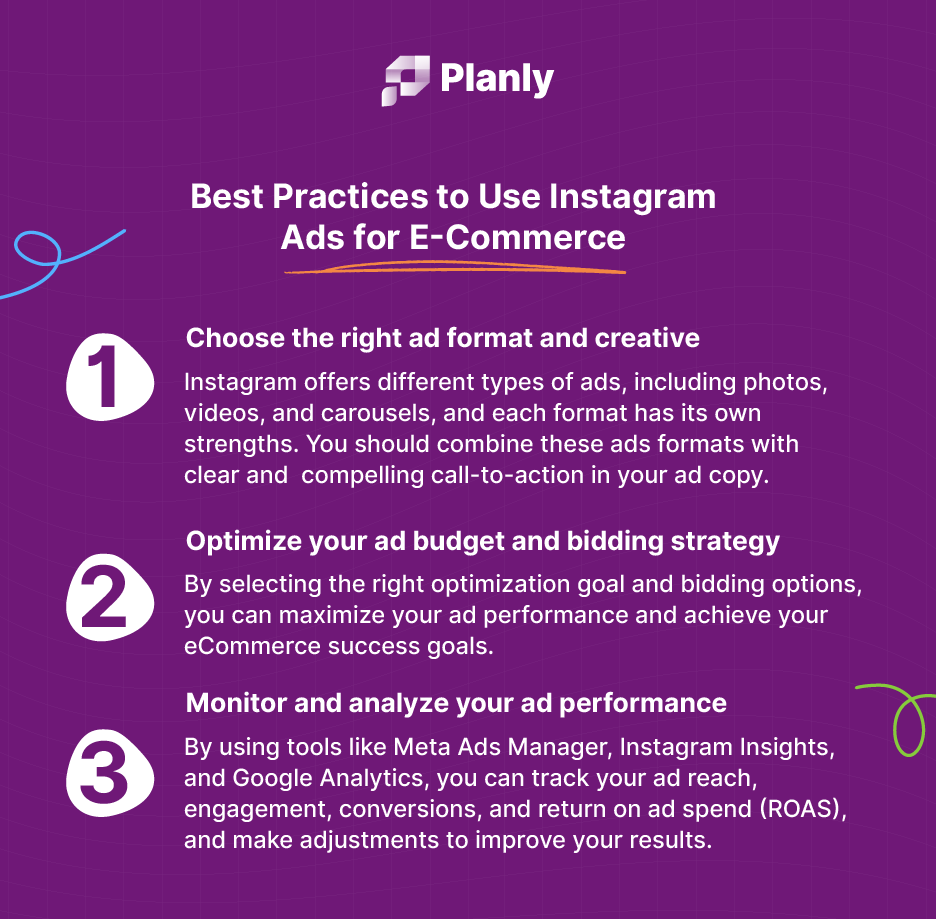 By following these steps and best practices, you can create effective Instagram ads to achieve your E-commerce goals. Instagram advertising is a great way to showcase your products, connect with your audience, and grow your online store. Start creating your Instagram ads today and see the difference they can make for your E-commerce success!
Leveraging Instagram influencer marketing for E-commerce success
Using Instagram for E-commerce is crucial as it has a lot of opportunities to promote your E-commerce page. One such opportunity is influencer marketing and visual storytelling.
Influencer marketing is a powerful strategy to boost your E-commerce success on Instagram. It involves partnering with influential people who have a large and engaged following on social media and who can allow you to build your online brand.
Influencer marketing can help you in your overall Instagram marketing strategy and find better conversion rate-optimizing strategies. But how do you find and work with the right influencers for your brand? Here are some tips to help you get started.
- Identify your goals and budget. Before you start looking for influencers, you need to define what you want to achieve with your campaign and how much you are willing to spend. This will help you narrow down your options and choose the influencers who can deliver the best results for your budget.
- Research your niche and audience. You need to find influencers who are relevant to your niche and have a similar audience to yours. Tools like BuzzSumo or Social Blade is helpful for doing keyword, topic, or hashtag research for influencers related to your industry. After doing the research, you can combine their key statistics and data into an Excel sheet and move on to the next step.
- Evaluate the influencers' performance and engagement. Once you have a list of potential influencers, check their performance and engagement metrics. You want to work with influencers with a high number of followers but also a high engagement rate. This means that their followers are interested in their content and interact with them regularly. You can use tools like SocialRank or HypeAuditor to learn about these metrics.
- Reach out and negotiate. After selecting the influencers who match your criteria, you must reach out to them and pitch your collaboration idea. You can send them a personalized email or DM them on Instagram. You need to introduce yourself and your brand, explain why you want to work with them, and what kind of campaign you have in mind.
- Measure the ROI of your campaign. The last step is to track and measure the results of your influencer marketing campaign. You need to set up some key performance indicators (KPIs) that align with your goals, such as impressions, clicks, conversions, sales, or revenue. You can use tools like Google Analytics or Shopify Analytics to track these metrics on your website where it matters and calculate the return on investment (ROI) of your Instagram influencer marketing campaign.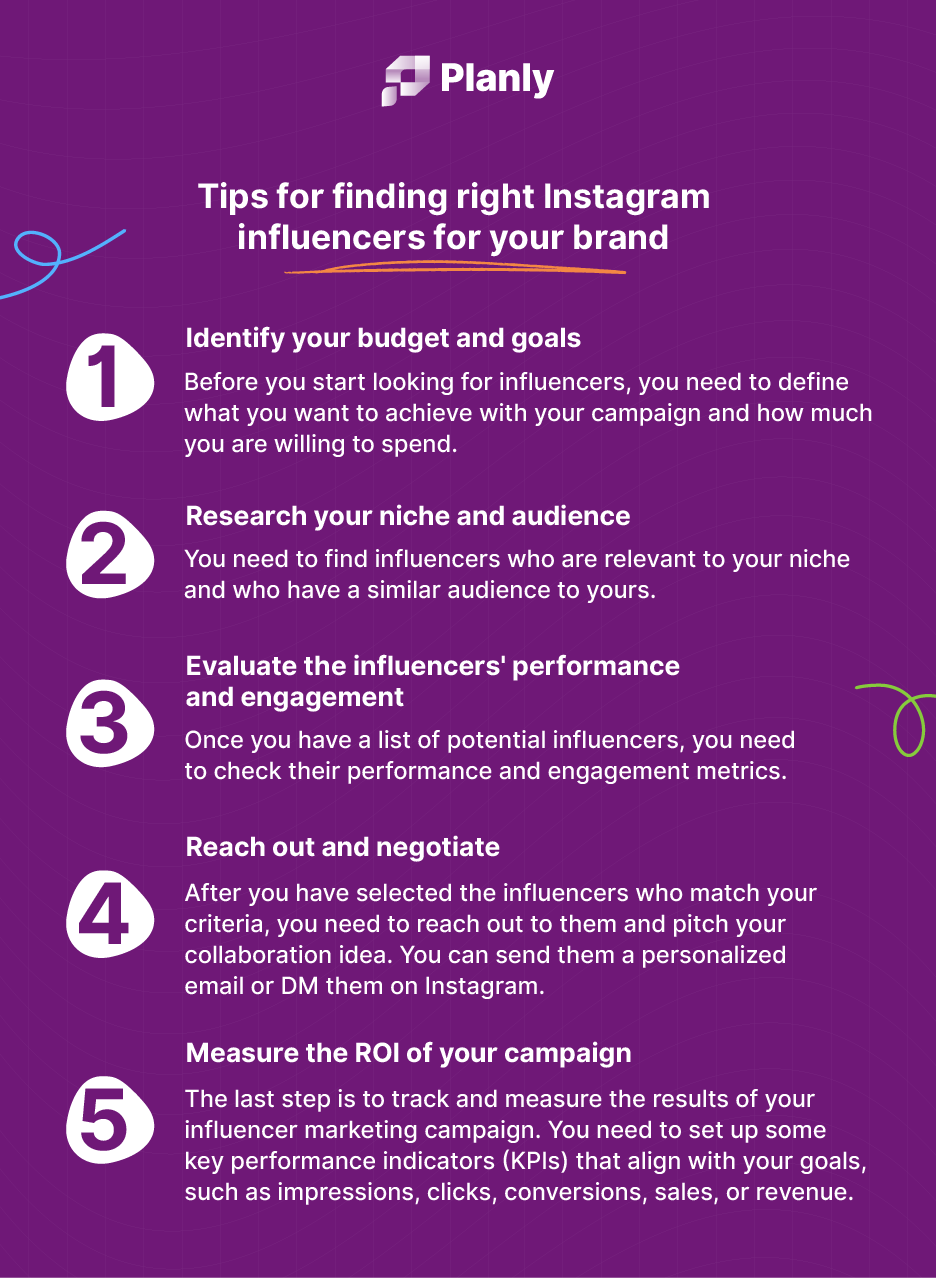 Using Instagram shopping for E-commerce success
With Instagram shopping, you can showcase your products in an engaging and interactive way, and make it easy for your followers to shop directly from your posts and stories.
Just like with this example, people can just click on the tag and buy directly from the Instagram app. Having a dedicated product photography process can significantly boost your productivity and efficiency.
Here are some steps and tips to help you set up and optimize Instagram shopping for E-commerce success.
1. Make sure you meet the requirements for Instagram shopping. You need to have a business or creator account, sell physical goods that comply with Instagram's commerce policies, and connect your account to a Facebook catalog.
2. Enable Instagram shopping in your account settings. Go to Settings > Business > Shopping and select the catalog you want to use. You can create a catalog from scratch or use an existing one from platforms like Shopify or WooCommerce.
3. Tag your products in your posts and stories. You can tag up to five products per image or video post, or 20 products per carousel post. You can also tag products in your stories using the product sticker. When you tag a product, it will show the name and price of the item, and link to a product page where users can learn more and buy it.
4. Use shoppable features to enhance your Instagram shopping experience. You can create a dedicated shop tab on your profile, where users can browse all your products in one place. You can also use features like collection ads, shopping from creators, live shopping, and guides to showcase your products in different ways and drive more conversions.
5. Optimize your Instagram shopping strategy with best practices we mentioned.
Analyzing and optimizing your Instagram performance
The last step in success is consistency. Consistency in posting and consistency in analyzing. You should always track your Instagram performance and adapt your strategy accordingly.
One of the best ways to track your Instagram performance is to use Instagram Insights, the native analytics tool with a business or creator account.
Instagram Insights lets you see metrics such as impressions, reach, engagement, followers, and website clicks. You can also see how your posts and stories perform and learn more about your audience demographics and behaviors.
To access Instagram Insights, tap the menu icon on your profile and select Insights. You can then view insights for your content, activity, or audience. You can also see insights for individual posts and stories by tapping View Insights below them.
[Image credit: Quora]
While all of the before-mentioned points have some tips and tricks you can use to measure your E-commerce success, there is none for Instagram Insights. You should dive in yourself and see key metrics and decide for your scenario.
Ensure your success
Instagram is a powerful platform and offers various tools for E-commerce success. In this blog, we have covered some of these tools and best practices for using them. Whether a beginner or an expert, Instagram for E-commerce can help you achieve your marketing goals and take your business to the next level.
So go on, take this advice, and implement them for Instagram E-commerce success!