Twitter is known as one of people's most used social media platforms. In total, there are 237.8 million daily active users confirmed for 2022. Twitter is a micro-blogging social media platform. Some people continuously share their daily events and thoughts on trends there.
There is also a group of users who continuously share tweets on Twitter for purely informational and entertainment purposes. Thus, they have enough followers.
Because they do this continuously, they need Twitter scheduling tools to help them. In this blog, we will show you the best 12 Twitter scheduling tools that you can use. Twitter scheduling tolls, both paid and free, will help you greatly on Twitter.
Why you need Twitter scheduling tools?
There are many benefits of Twitter scheduling software and it is possible to increase engagement on Twitter faster by using them. We can explain in more detail.
Increased productivity
Shared content is always more effective. Therefore, it is generally better to schedule tweets on Twitter and then share them. Maybe you want to share a tweet other than the plan. This is completely normal. This is where you excel. Because you will be more active on Twitter. It is also possible to edit your tweets later when you schedule them. With Twitter scheduler apps, you will make your work even easier.
Consistency
All in all, using social media scheduling tools will turn you into a social media user who constantly posts. The same is true for Twitter. If you used to post a few times before, now you will have a social media content calendar and you will be able to post continuously.
Holidays and time zones are neutralized
With Twitter scheduling software, you can schedule from any time zone. For example, you live in the USA, but your client is in one of an Asian country. You can schedule your posts and track traffic instead.
You have time for engagement
You will now have plenty of time to think about how to increase your Twitter engagement and impressions. After creating and scheduling multiple tweets in an average of 1 hour, you can spend the rest of your time brainstorming new ideas and ideas.
12 best Twitter scheduling tools
Planly is a social media management tool with Twitter scheduler. Through Planly, you can schedule your tweets any time you want. With Planly, you can insert your media, write a Twitter caption, and complete it with Twitter hashtags.
It is also possible to schedule the first comment on Twitter with Planly. For this, you need to activate the 'First Comment' button. You can save your prepared tweets in the draft section and schedule them later. Writing the first comment on Twitter is an important factor for Twitter engagement. Here you can write Twitter hashtags, emojis, or the continuation of the content.
Pros:
Easy interface
Media Library
Filter media
First Comment
Manage multiple Twitter accounts
Trial Plan available

Cons:
Lack of mobile application
You can add 2 Twitter accounts to this plan. There are other payment options through which you can join a different plan.
Trial - FREE/14 days
Starter- $15/month
Pro- $40/month
Guru- $80/month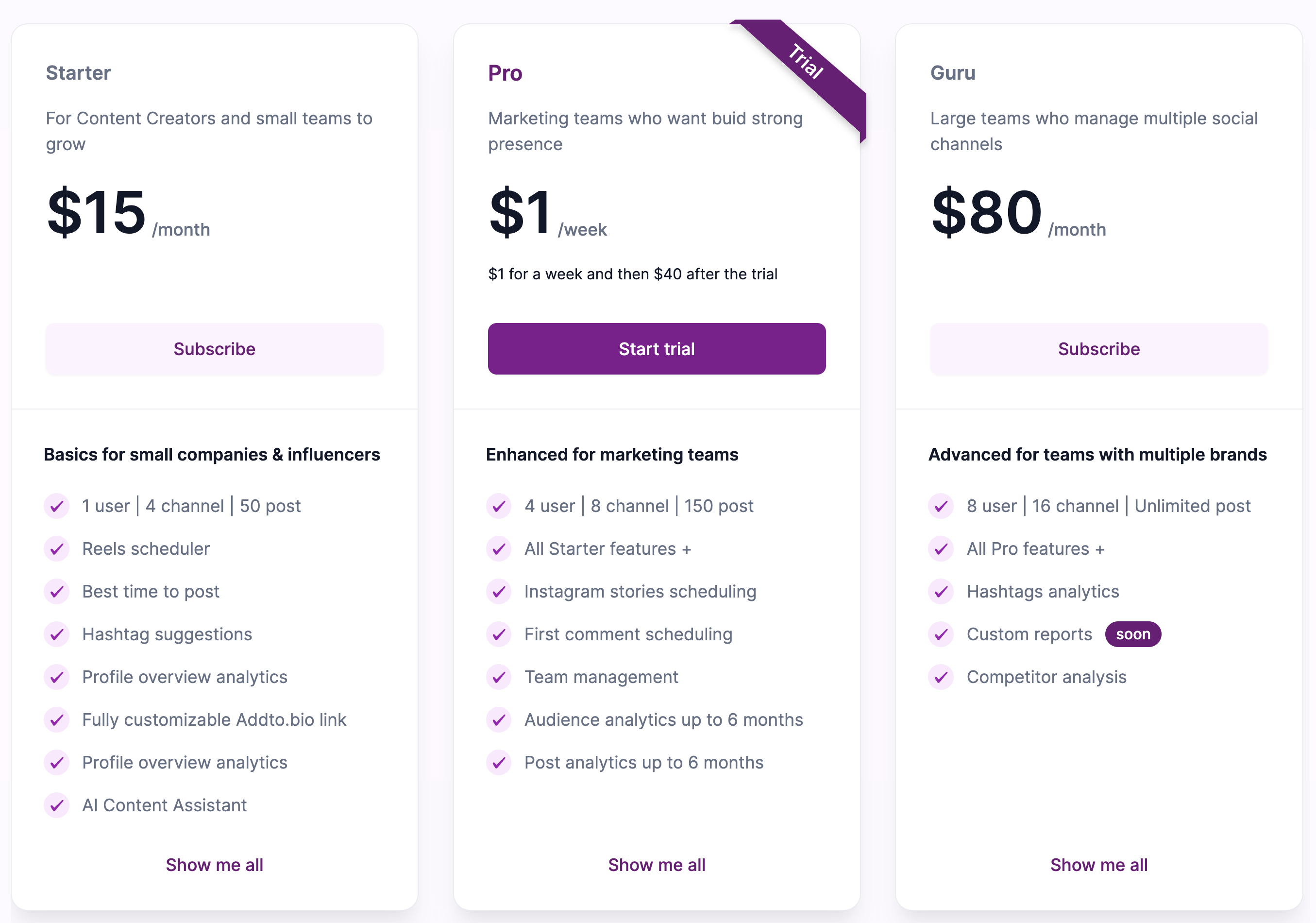 With the help of the FS Poster WordPress social media auto poster and scheduler, you may automatically auto-publish posts to the most important social networks. You will be able to publish your WordPress posts to 21 social networks at the same time.
One of them is Twitter schdeuling. To auto-post to Twitter, you can easily use FS Poster. Here are some features you can use on Twitter to track your progress on Twitter.
Pros:
Easy-to-use
The Dashboard tab allows you to view shares count, clicks count, and comparison of social networks.
First comment feature
Track the shared posts on the logs tab.
Cons:
Just being able to auto-post from WordPress-based sites.

Price: $49
TweetDeck
TweetDeck is one of the earliest Twitters scheduling tools. You may "customize your Twitter experience" with TweetDeck. This organizes the design of your Twitter page as well as scheduling Tweets. However, this one functions for both individuals and businesses, unlike the Business tool.
Pros:
Easy use
See follower's reactions and engagements and messages
Cons:
Only schedule Tweets
Tweet schedule limit is 10
lack of customization to the interface and lack of custom coding
Tweetdeck doesn't support Twitter Cards
Pricing:
Tweetdeck is a completely free Twitter scheduling tool.
Buffer
Here it is possible to measure hashtag performance, calculate the number of likes, comments and followers and engagement accordingly. You can schedule Twitter image posts, multi-image posts (up to 4 images), GIF posts, video posts, retweet posts, quote tweet posts, and link preview posts.
Pros:
Integrations via Canva, Giphy, OneDrive, Dropbox, and Google Drive
Repurpose posts
Twitter Hashtag Suggestions
Twitter Mentions
Draft and schedule threads on Twitter
Have Buffer mobile app
Cons:
The first comment on Twitter schedule cannot be made
Pricing:
You can use Buffer for free. Here you have the chance to enter 10 social media accounts. Buffer has a 14-day free trial option. You can then switch to one of the paid plans that suit you accordingly.
Loomly
Due to its Twitter hashtag analytics tools and tracking of Twitter trends, Loomly  Twitter scheduler tool. The platform also allows you to create Tweets. This is a one of the great tools if you use Twitter to share content because everything is in one location.
Pros:
Loomly library
Audience interaction
Measure metrics from your account and posts
Cons:
No free plan is available
Tagging can be complicated
Can't post multiple images
Pricing:
Loomly offers you a 15-day free trial. So you can use Loomly's features for 15 days. At the end of 15 days, you can choose the appropriate paid options.
CoSchedule
With CoSchedule Twitter scheduling tool, you can easily schedule your tweets and analyze them. You can create various new tweets and schedule them while waiting for the Twitter limit.
Pros:
Twitter mentions
Analyzes engagement on Twitter
Accessible ReQueue
Cons:
Software is not intuitive
Pricing:
You can use CoSchedule for free. With 2 profiles, it is possible to easily schedule Twitter on social media platforms as well.
SocialBee
The Twitter scheduling software SocialBee is very adaptable. One of its benefits is the capability to automatically edit successful posts, which greatly eases the difficulties brought on by Twitter's regulation regarding reposting.
Additionally, you have the option of categorizing your posts for publication and even setting them to target particular customers. A real powerful Twitter scheduler overall.
Pros:
Tags Other Users
Use Unsplash and GIPHY
Export your social media reports in a PDF format
Monitor the growth of your Twitter account
Cons:
No way to export reports for clients.
Pricing:
With SocialBee, you can enjoy a 14-day free trial. At the same time, you can choose the one that suits you from the mentioned paid options in the application.
Tweepsmap
This one is still in action, as far as can determine, for one key reason: despite still being customized to Twitter, it does more than just schedule Tweets. Tweepsmap in particular mixes planning with analytics.
Datapoints are used to show not only which Tweets are most successful but also the best times of day to tweet them. After that, you make use of the scheduling tool to profit from this knowledge.
Pros:
Twitter Scheduler with RSS feed support
scheduling (threads, retweets, polls)
Best Times to Tweet
Analyze Twitter list
Twitter Engagement Dashboard
Export your analysis
Cons:
Not the most intuitive software
Pricing:
Free plan is available to all: individuals, multinational brands, or somewhere in between.
Premium plans:
SocialPilot
Depending on the requirements, SocialPilot offers a variety of functions, and it is cost effective. Having said that, they have amazing features for a Twitter scheduler tool, including ideas for content curation, support for RSS, and a good content calendar.
Pros:
Very affordable
Advanced analytics
Content Curation
Cons:
Absence of a completely free plan
Pricing:
Hootsuite
Hootsuite separates itself in two key ways. This makes it possible to protect brands from concerns with thoughtless posting and legal compliance. They also have a fantastic tool for content curation.
Pros:
Manage Accounts Multiple Streams
Easily make analytics reports
Cons:
Sometimes images fail to upload or content fails to post due to errors.
No free plan available
Pricing:
SproutSocial
The content calendar on Sprout Social is great. This is a feature of all good Twitter scheduling tool, but the one provided by Sprout has the added advantage of being collaborative. This is therefore one of the better choices if you have a huge team.
Pros:
Easy-to-use
Automated link tracking
Manage all your social conversions
Cons:
Social listening is available only as a premium functionality.
Trend analysis is currently available only for Twitter
Pricing:
Sprout Social for free with a 30-day trial.
PostPlanner
PostPlanner is one of the Twitter scheduling tools that is designed to generate as much interest as possible. PostPlanner collects the greatest content from across the web as part of this service for future categorization. They also heavily support evergreen content.
Pros:
Content Search Engine and Library
Social Analytics
Social Management Dashboard

Cons:
Pricing:

Time To Schedule!
In this blog, we told you about Twitter scheduling tools. There are a few things you should consider when choosing a Twitter schedule tool for yourself:
Price
These applications come at a number of price points, just like many other marketing-related products. While some of them are free, others might be quite expensive. However, there is always a "value" proposition connected with features and use. When choosing a Twitter scheduling tool, you should evaluate the benefits it gives you according to the amount you pay.
Ease of scheduling tweets
This often has to do with the number of choices and features. The application shouldn't, however, be overly complicated.  You need something that makes sense and is simple to comprehend.
Calendar
Do they provide a schedule or calendar where you may add tweets? Having a native calendar is definitely beneficial because one of the main reasons to use a Twitter scheduler is to support your editorial calendar. Make sure you have a backup plan to remember what has to be stated and when if the scheduler is weak.
Content curation
You might require help with content curation, depending on your needs and price range. A Twitter scheduler tool can be helpful if it suggests content for you, for example. In this situation, they often base their recommendations on your brand's community, keywords, and topics.
After paying attention to points like these, you will find the right Twitter scheduling tool and become the best at Twitter!