Instagram has long ceased to be just a social network with photos. This is a platform for business, creativity, and communication. Knowing how to beautifully design an Instagram story, you can develop your blog and increase the engagement of subscribers. Instagram story design ideas will help you with that.
What is Instagram Stories
Instagram stories came to the social network with the 2016 update. These are fifteen-second videos or photos that users can share. These files do not fall into the main feed but hang above it. Modern times require Instagram story design ideas.
You can hide stories from a specific person in your profile settings, as well as turn off showing stories from other users. The story will be available for viewing during the day. After it can be saved to the highlights folder.
Why does a business need Instagram stories?
With the advent of stories, business profiles have received another platform for promotion and contact with the audience. This is an opportunity to additionally demonstrate a product, talk about a service or give examples of work and organically increase Instgram engagement.
In the story, you can post photos that do not fit into the concept of the main feed. It's important to have cool Instagram story designs for your business.
Stories increase audience reach and announce new posts. Warming up the audience's interest in new photos has become easier: tell the background and show the shooting process. Most prefer to watch stories than Instagram feed.
Prices for targeted ads in Stories are lower than in the feed. You can save or cover two tools at once by launching the target in the feed and stories at the same time. This provides better options for the use of Instagram for small buseinsses.
To understand how effective is Instagram ads for your business, use the end-to-end analytics service from Calltouch. In your personal account, you will see a report on advertising sources: this way you will understand which campaigns lead to successful applications, and which ones waste your budget.
Stories make it easier to connect with your audience. Polls, quizzes, sweepstakes, and games captivate users. You can also use Instagram story design templates that are available on the internet.
What to shoot stories about?
The content plan should have a base of two to three themes around which the daily content will be built. Do not upload many videos at once on different topics. Subscribers can quickly get tired or lose the connection between stories. For a more organized content plan, you can use Planly. Planly will help you keep everything organized and neat.
Planly lets you schedule your feed posts and stories to Instagram. You can even schedule feed posts to story from Planly dashboard. All you need is to choose social channels and schedule posts. No push notifications required for Instagram story scheduling.
Instagram story ideas:
behind the scenes (production video, backstage from filming or packaging process);
product test;
new collection preview;
contests;
heading "product of the day";
showcase overview;
promotional offers;
promo code with a discount;
reviews.
Instagram Story Ideas for a business:
getting to know the team
funny stories related to work;
announcement of events;
vacancies;
important announcements;
filming of the working process;
reviews;
office overview.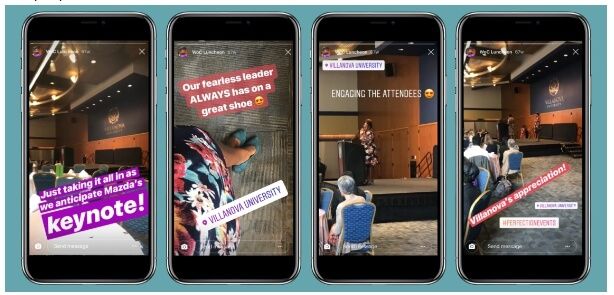 How to design Instagram stories?
How to make a beautiful story on Instagram to stand out? - use built-in tools and additional applications.
Stickers tool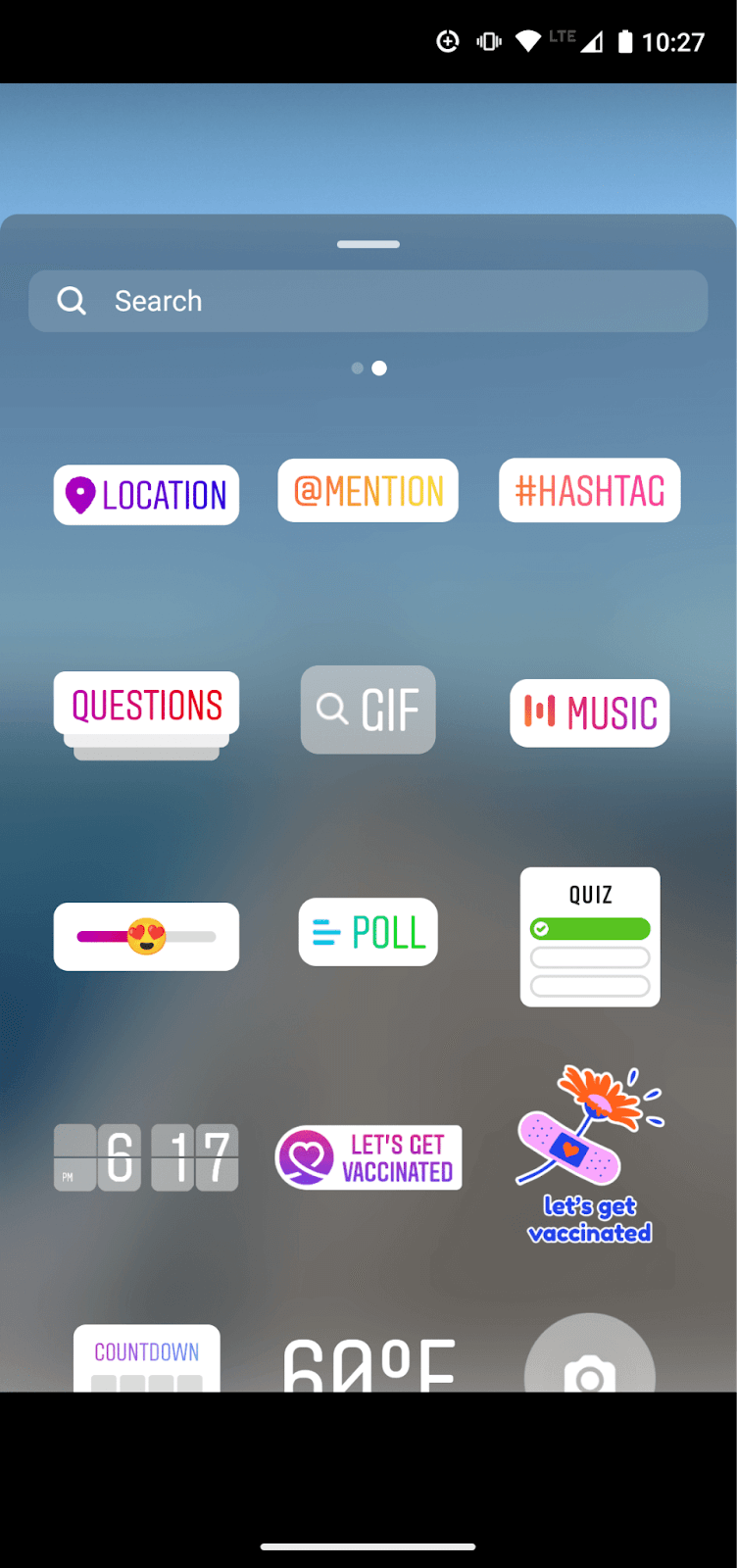 Instagram stickers in stories make photos and videos unique and stand out from other publications. Instagram has created a set of stickers in the form of special tags:
donations (users can help a non-profit organization);
calls (users can join group calls);
quiz (users answer a question);
countdown (displays a timer until the scheduled event);
ask a question (users ask a question to the author of the story);
sticker-hashtag (add a hashtag by which other users will find the story);
weather/date/time (displays the current weather, date or time);
location (adds a geolocation point).

You can remove a sticker by dragging it to the white trash can at the bottom of the screen.
Brush tool
Another way to make cool Instagram story designs is to click on the drawn curved line and paint them. On Instagram 5 brush options: pencil, arrows, marker, neon, felt-tip pen. The color picker is located on the bottom line, and in the left corner is the eyedropper tool. It allows you to choose a color identical to the shade in the photo.
The default brush line weight is set to medium. It changes both up and down. To do this, pull the slider on the left.
The brushes paint the screen. We select the desired shade, hold the screen with our fingers for a couple of seconds, and, voila, the story gets a new background.
Text function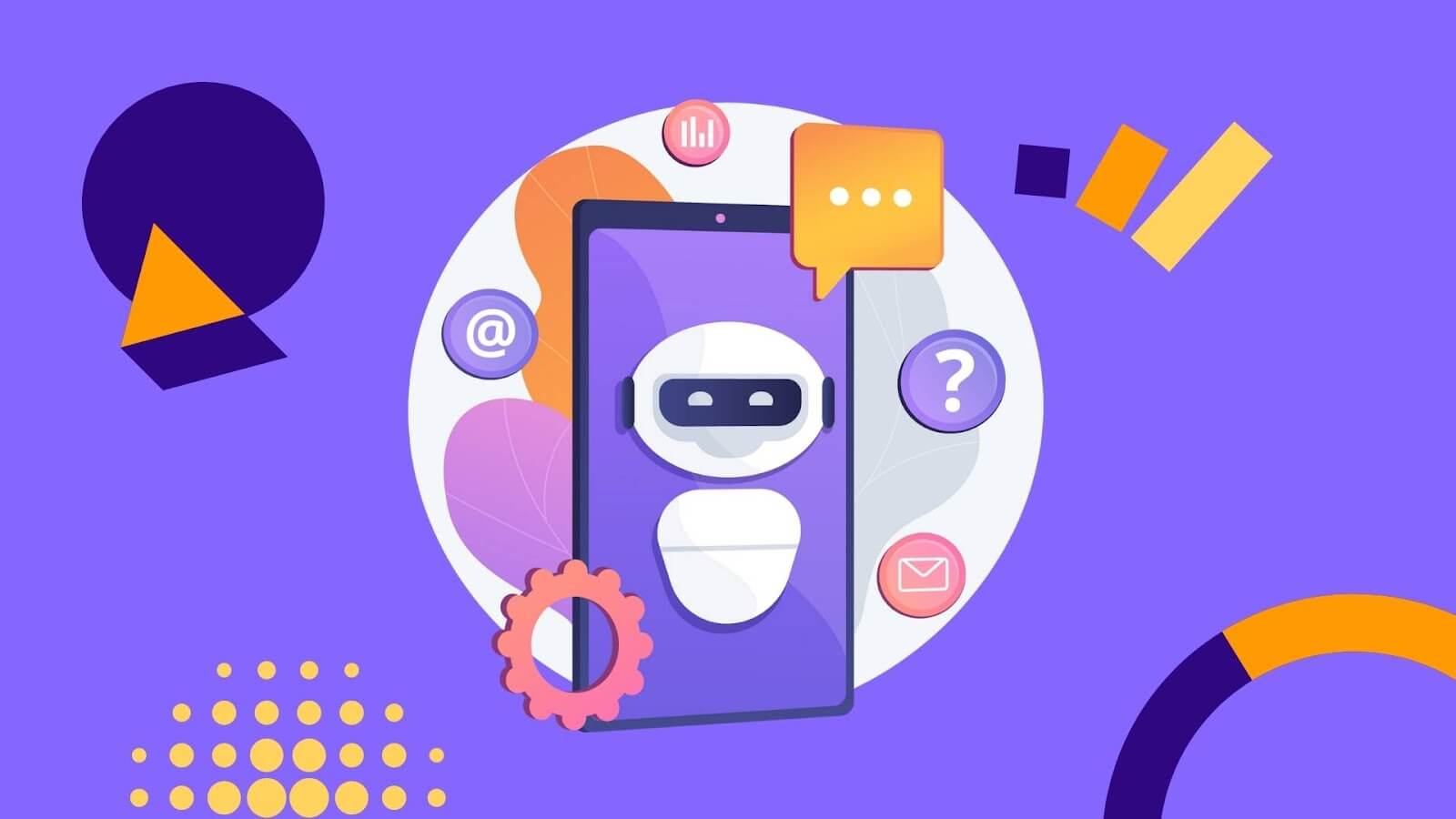 Text on photos and videos in stories makes it easy for the viewer to find important information. When there is no opportunity to listen, the text will help out. On the photo and video, you can make brief notes with abstracts.
If there is too much information, we put it in a separate story. In the "text" mode, change the background tint using the colored ball on the left.
You can customize the font at the top. To set a picture as a background, click on the camera icon below. The icon with the letter "A" allows you to add a colored background to the inscription. This makes the text stand out from the background of the image.
Tired of monotonous text? Make it a rainbow: select the inscription, and then use both hands to drag to the left over the text and color bar.
Many use only the basic Instagram fonts, not knowing that they can be supplemented with new ones in the Over application. It downloads fonts in OTF format to your phone and then embeds them on Instagram.
Filters
Instagram is primarily a visual platform. Here they look at the picture, and after that - at the content. You can diversify photos and videos in stories using filters. The developers have created 10 built-in color correction options, and Instagrammers have added their own filters in masks to them.
You can see them on the bottom line of the screen when adding a story. To switch the filter, swipe from right to left.
Expanded palette
The color of the background and text can be changed using a special function of Instagram. At the bottom of the screen there is a palette of 27 colors: choose a pre-made one or customize in the extended palette. To open it, tap and hold your finger on one of the shades.
Animated stories
Animation adds movement to static pictures and decorates cool Instagram story designs in an original way. The tool captures the attention of subscribers with GIFs or short videos that can be made in third-party applications and help to present information in an interesting way.
To add a GIF on Instagram, select a background, tap the sticker icon, and select the "GIF" option at the bottom of the screen.
Branded content and templates
Branded content forms the unique style by which subscribers will recognize you. Use corporate colors, fonts, filters, and logos to make your account stand out from the rest. Combine these elements into a your branded Instagram story design template to further simplify the story posting process.
How to post stories?
A new story is created on the social network itself or through a post from a third-party application. To post a video or photo, open the Stories mode and select the gallery icon on the far left. One file can be added to one story.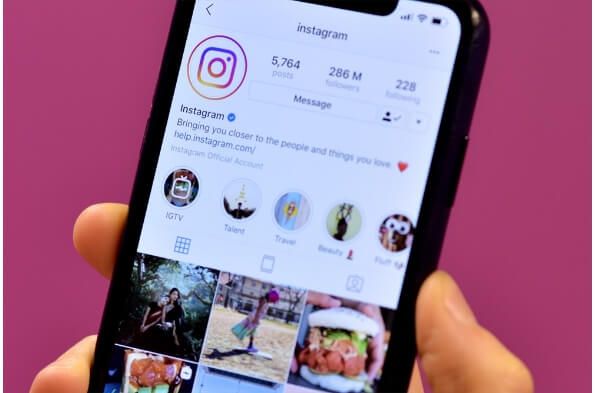 You can take a story from the application: for a video, hold down the camera button, for a photo, click once. The maximum video length is 15 seconds.
💡
According to Instagram latest updates, the duration of Instagram stories has been increased to 60 seconds. So, your stories that are less than 60 seconds will be shared without division.
The Instagram camera has several modes under the photo button: boomerang, collage, superzoom, and hands-free.
Stories can become a free advertising tool. There are ten ways to increase views and coverage of stories. Targetologists do not recommend using everything on one video, but a reasonable use will surely attract new subscribers.
Using hashtags and geotagging
You can increase the number of views of your story with the help of Instagram hashtags and geotags. For example, a video reviewing new gadgets can be tagged #bestphones or #reviewphone.
Geotagging will pin the story to a specific location. It can be a country, a city, or a public place. Users who search for information about this place on Instagram will land on your story.
Pinning a link
Previously, Instagrammers had to add the desired link to their Instagram bios, but now users can be transferred to the site through stories. However, only those who have more than 10 thousand subscribers can add a link in the story.
Mention subscribers
In order for the user to see himself in history, we write his nickname through @. The user will be notified that they have been mentioned. They won't be able to remove the tag, but they will be able to share this Story on their account.
This way you can attract bloggers and celebrities to watch your videos. But the mention must be justified. Your account will be blocked for spamming.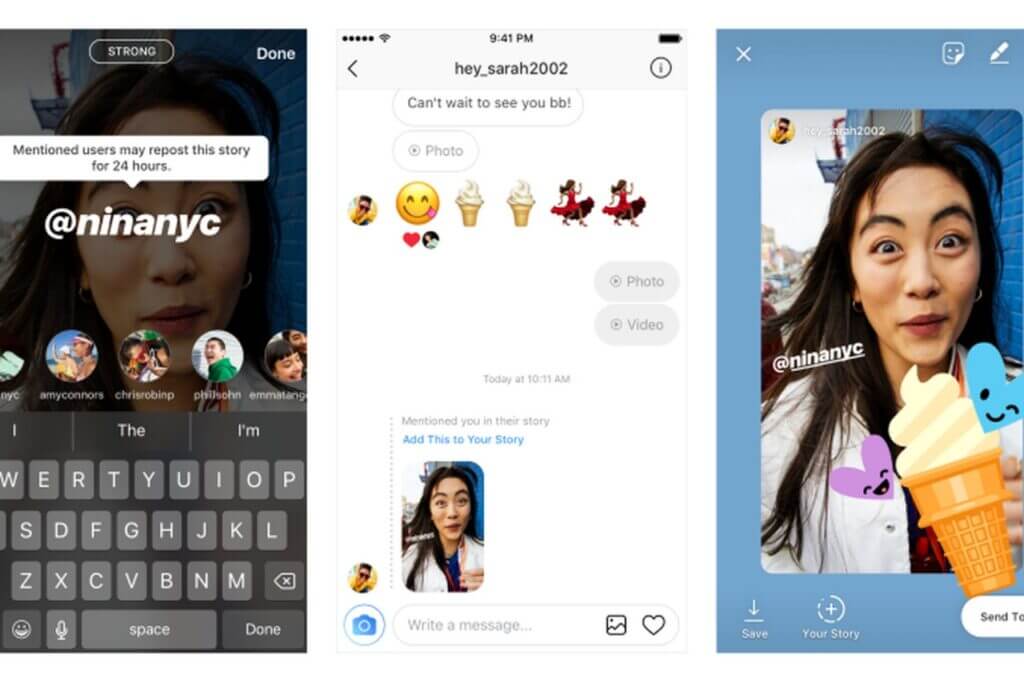 If the influencer finds the tag interesting and the content attractive, they will share it with their audience. The same function conducts SFS - mutual PR.
Adding Polls
You can engage viewers in a dialogue using a poll. People appreciate when their opinion is taken into account, and the survey will help the owner of the profile to find out the tastes of his audience.
The form appears with standard response options: "yes" and "no". They can be changed. Once published, the author of the story will be the first to respond to the survey. Answers will be displayed as a percentage after you select an option.
At the end of the survey, in the story statistics, you can see which of the users clicked on which answer, and the total number of viewers.
Questions
Questions in stories are a popular sticker. The audience asks any questions to the blogger, and the blogger asks the viewers.
Questions help to increase the credibility of the account owner and get closer to the audience.
Answers are an additional platform for increasing profile coverage. In them, you can fix a link to a post on a similar topic.
This sticker will help to find out the interests of the audience. Many bloggers conduct a survey on what topic the audience wants to see the next post / video / live broadcast on. Questions in stories increase statistics and involve more users in communication.
Live broadcasts
With the advent of live broadcasts, communication with subscribers has become closer. Instagram Live broadcast is launched through the stories section: the icon is at the beginning of the line.
The maximum broadcast time is 1 hour. Statistics show that viewers can't stand it for more than 25 minutes. The submission of information should be reduced to half an hour so as not to bore anyone.
Instagram may not send a notification to subscribers about the start of a live broadcast. Therefore, it is worth making an announcement of the event in advance. Most people watch live broadcasts on weekdays. Weekend activity is twice as low.
During the live broadcast, viewers can write comments. Immediately after the start of the broadcast, you can add a participant and conduct it together.
The "End" button will help to end the broadcast. At the end of the broadcast, you can save it for 24 hours or permanently in IGTV. If the automatic save prompt does not appear, save manually through the settings.
Masks
Masks are filters that are applied to the video during shooting. These can be color effects, AR objects or inscriptions. Masks give you instant Instagram story design ideas without thinking much about.
Animal ears have been popular masks for several years now. Beauty effects are also in demand: smoothing wrinkles, adding makeup or increasing / decreasing body parts.
You can expand the choice of masks by subscribing to the profiles of their creators or by saving the effects you like. Anyone can create a mask using the SparkAR app. Each time your mask is used, the nickname of its creator is displayed in the upper corner. This attracts new subscribers to the profile.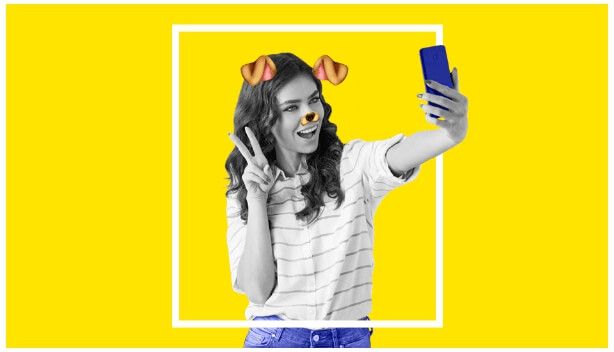 Regularity
Engaging an audience by publishing one story a week will not work. Consistency is important. Instagram does not limit the number of stories per day, but deletes the first every 100.
Posting hundreds of stories a day is undesirable. The optimal number is 10-15 so that subscribers do not get tired. The story is recommended to be distributed evenly throughout the day.
Collections
Selections are stories saved in Instagram story highlights. There are no restrictions on the distribution of stories: you can divide them by topic, time period, or save them in one folder. Highlights help new users get to know the owner of the profile and find useful information.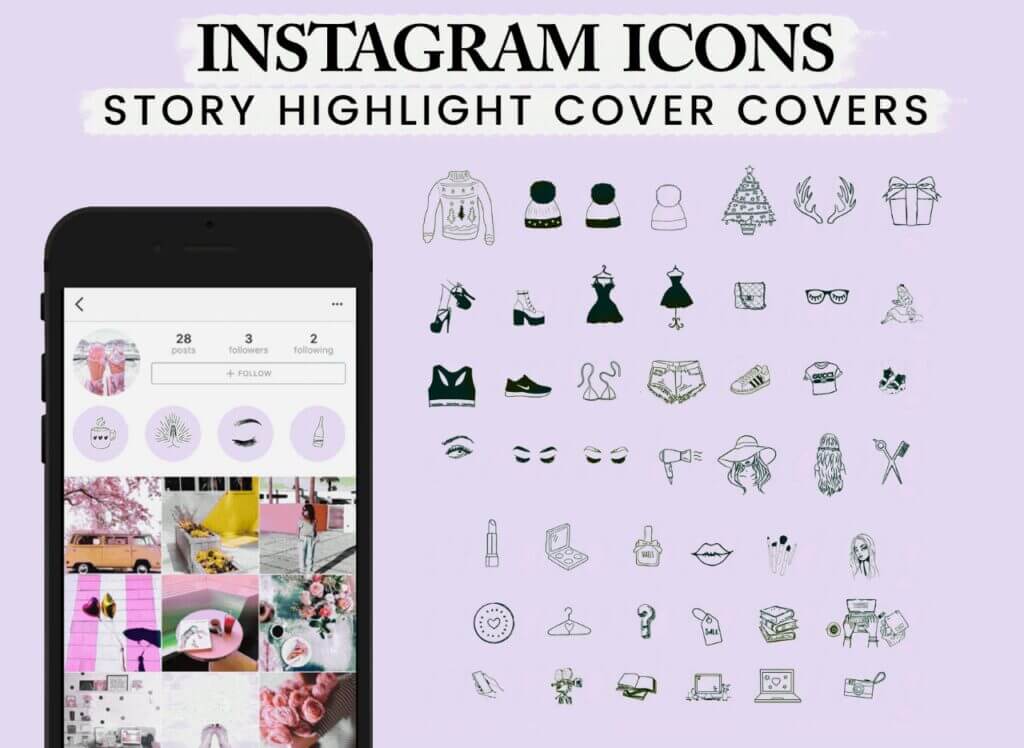 You can add your first custom folder while viewing your current history. Click on the heart in the lower right corner, and then give the collection a name. The title and cover can be changed at any time. Stories that are 24 hours old are available in the archive, from where they can be transferred to a suitable collection.
Add stickers and GIFs
You can add stickers to any story in the form of stickers and GIFs. These files are in the top drop-down menu. The creators have added several hundred animated stickers from GIPHY.
Video captions
Instagram story can be decorated not only with stickers, animations, polls, but also with captions on Instagram. In the story editing mode, click on the "Aa" icon, a text input field will open. You can change the color, font and size of the inscription by playing with the settings in the top bar.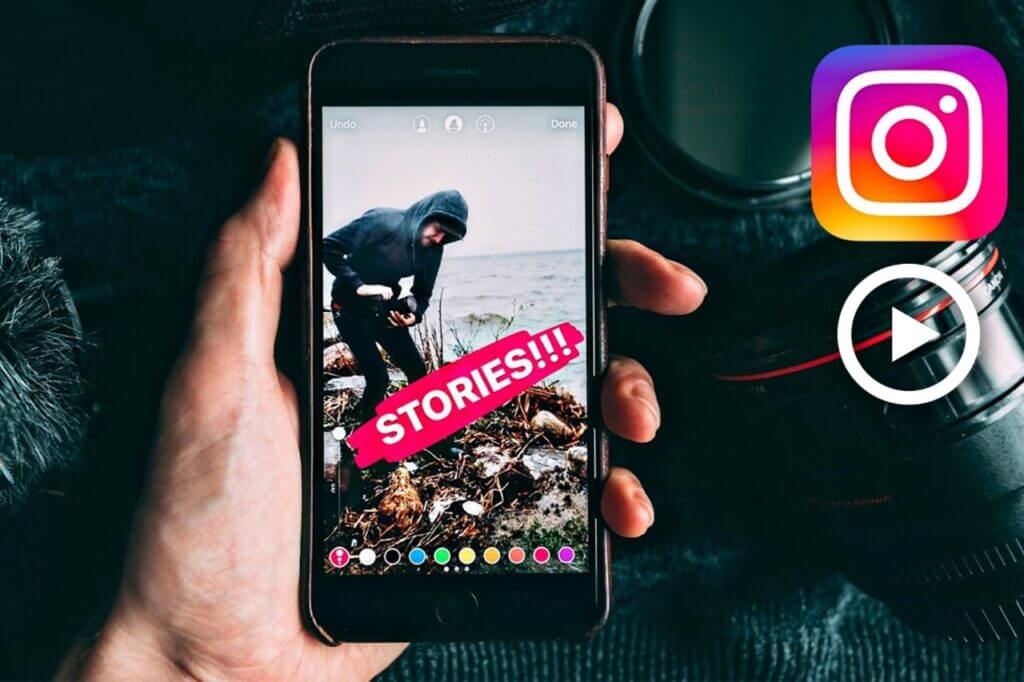 In addition to static text, you can create a moving caption. To do this, we fix the signature on a certain part of the video (a hand, a head, a person running in the background, an animal, etc.). We hold the inscription with our fingers, the time slider opens at the bottom. We select the desired moment, point the inscription to the object and click on the "Finish" button.
Instagram Story design ideas for 2023
Cultivate the eye to post stories that engage your audience. To understand how to design Instagram stories beautifully, check out the current trends in this area.
Organicness
If possible, avoid staged photos, unnatural poses, and frozen faces. A minimum of photoshop and filters are the current trends in 2023 when designing stories. Subscribers trust sincere people and are content with real emotions and photos more.
Conciseness
This trend comes from the minimalism that is popular today. Get rid of extraneous things and "water" in favor of the most significant information. Do not overload stories with heavy visuals and colorful colors. Minimum text, more space and "air" in images.
Retro motifs
Retro motifs are popular because fashion is cyclical - things that our parents wore in their youth are back in trend. You can create a vintage atmosphere through themed shots, a matching wardrobe, or filters with retro effects.
Collages
Collage - the design of several images or videos at the same time, combined in one slide. For such an effect, select the "Create" mode on Instagram, add a suitable background and effects, stretching or reducing the finished image. This diversifies the presentation of content and dilutes its visual part.
Games
Games engage the audience by testing their attentiveness, arousing interest and impatience in anticipation of new stories. In this case, users will linger on stories, and not just scroll through them. On Instagram, you can do entire quests with a symbolic reward if there are scenarios for their design.
Narratives or carousels
Narratives are a story format in which images are accompanied by text captions, and the slides themselves are scrolled through in carousels. There is also a trend towards conciseness in this issue: the amount of text should be minimal, and the pictures themselves should fit the subject of the published stories.
Subtitles in video
In some situations, people watch stories without sound, for example, in transport. If there is no text on the video, it will not be understood or scrolled through. Subtitles help conveys information to subscribers and takes care of the interests of the audience.
Apps to design Instagram stories
Canva
Canva has hundreds of creative and business story templates. Users can choose animated covers, stickers, and more to create interesting stories.
Unfold
It's an online story editor with hundreds of templates to work with. The collection has different styles, textures, backgrounds, fonts, filters. An additional bonus is the ability to publish stories directly from the editor.
Story art
The application contains about a thousand ready-made options for stories and allows you to create covers for current stories. There is integration with Instagram* (a product of *Meta, which is recognized as an extremist organization in Russia), which allows you to publish photos directly from the application.
StoryLab
The program allows you to work with multilayer collages Instagram story template design. You can choose stock backgrounds, fonts, a collection of stickers and brushes. There is also an extensive collection of text textures. Of the minuses - images and videos are not cropped when saved and may not fit the format for Instagram.
Storyluxe
The range of the application includes more than 600 ready-made ideas for work. Unusual filters and backgrounds, such as neon or marble, are available to users. With its Instagram story design templatetemplates, you can create collections of images in the style of film and Polaroid photographs.
Over
The application itself is not designed for stories, but it allows you to decorate images with text and graphic details. Users are offered a variety of stickers, photo frames, more than 30 fonts for signatures, and images from photo stock.
A design kit
This application features a variety of textured paint brushes and unusual stickers. Here it is convenient to create layouts for stories, posts or collages.
Mojo
Another option for creating animated stories. Layouts are divided into collections and freely edited at the request of the user. Here, for example, you can add your signatures and pictures.
Adobe Spark post
The application provides ready-made examples of regular and animated stories in the style of movie posters. The collection has a selection of fonts and frames. It is possible to edit the built-in layouts, insert texts, photos, and videos, and change colors.
Inshot
The program works with video. It allows users to edit, glue, and create entire clips with musical and visual effects. There are stock audio recordings for backgrounds and an editor for trimming files.
Crello
This editor makes it easy to create content from built-in layouts, animated stickers, and additional background audio recordings. You can save time on editing and choose one of the ready-made templates.
The main thing
For subscribers to distinguish you from other accounts, think about your style. Inside Instagram and in app stores, you can use the tools to create interesting, catchy Instagram story designs. The main thing in stories is moderate dynamism, benefits for subscribers, and engaging elements of interaction.