One feature of Instagram that adds color to our lives is Instagram stories. With these stories, we can share our day with viewers or share any posts we like with them. Instagram stories are vital for users. For example, they know what needs to be shared in their stories. Also, Instagram stories allow 61% of Instagrammers to see what their friends are doing.

💡Did you know? 70% of Gen Z and 59 % of Millennials watch stories on Instagram.

If you want to increase the engagement of your Instagram stories, this blog is for you. Because you will need different and creative Instagram story ideas to increase your Instagram story engagement. In this blog, we will show you the best Instagram story ideas.
What are Instagram stories?
Instagram stories are the part that appears with red circles at the top of our feed. If we want to add an Instagram story, we can download a new story and view existing stories using our profile in the upper left corner.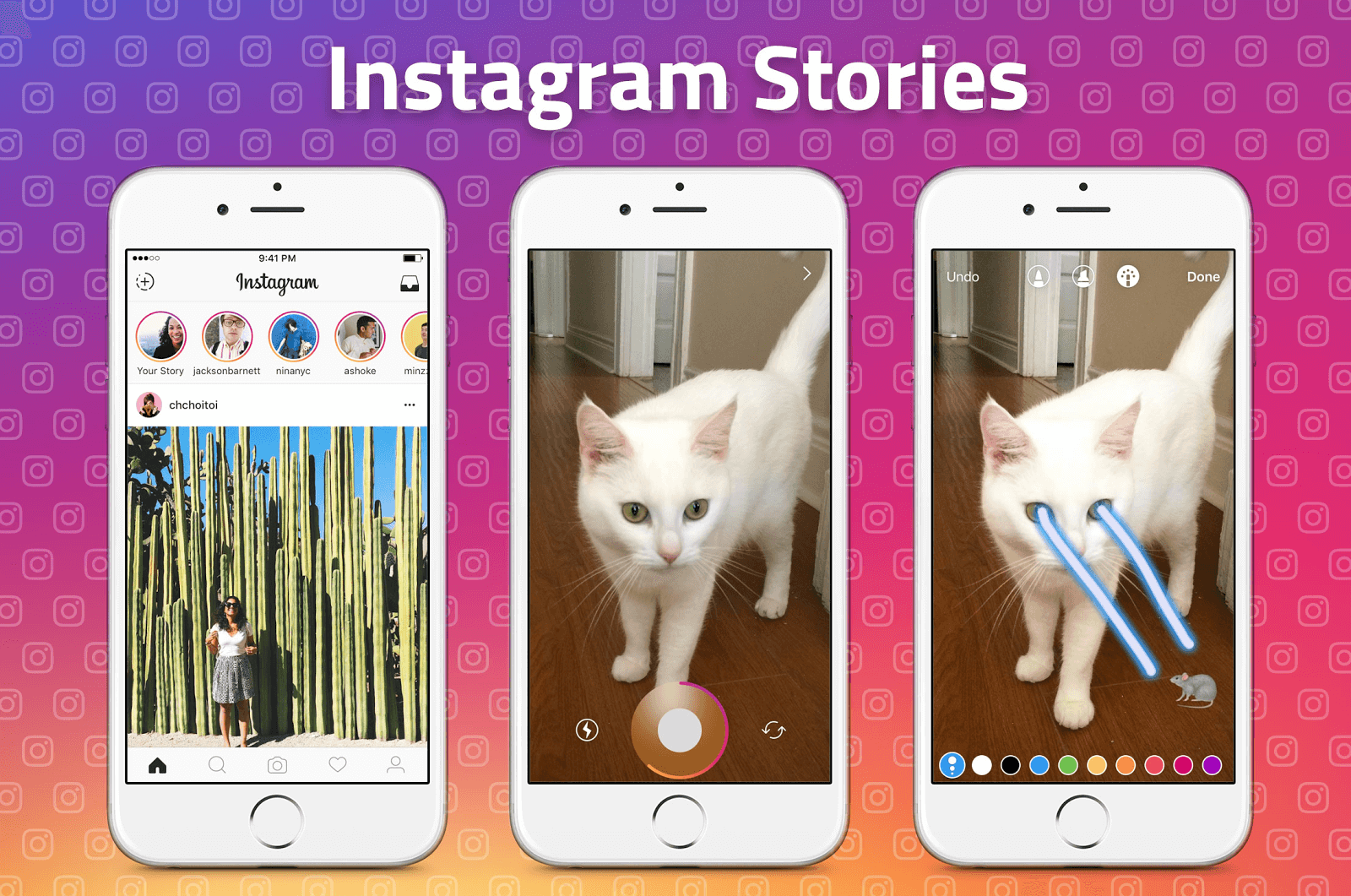 With Instagram stories, you can share your daily moments in pictures or videos. Stories are a quick, easy way to share moments and experiences. Use text, music, stickers, and GIFs to bring your story to life.
What is the Instagram story time limit?
The Instagram story time limit is 15 seconds. That means your videos or photos can take 15 seconds. Every post you share to your Instagram story will appear in your and your followers' story section for just 24 hours. If you want to keep them longer, you can pin them and place them in the Instagram story highlights section.
💡
According to Instagram latest updates, the duration of Instagram stories has been increased to 60 seconds. So, your stories that are less than 60 seconds will be shared without division.
What is a good engagement rate on Instagram stories?
When you upload a story to Instagram, you should consider your Instagram story engagement rate. These rates are calculated differently depending on the number of your followers.

If you have less than 50K followers, your engagement rate could be 11%. If it is more than 100K, this price is enough to be 7.7%.
Why should we pay attention to Instagram stories?
When talking about Instagram stories, the first questions that come to people's minds are what kind of posts I should make, how to increase Instagram stories engagement, and so on. You should really pay attention to Instagram stories because one of the main features that increase your Instagram engagement is using Instagram stories correctly.
How to increase Instagram stories engagement?
Connect with Facebook
It is possible to combine Instagram stories with Facebook stories. Thus, you can be active on two different social networks at the same time.
Businesses grow on the audience
Just by using the right story tactics, you can grow your audience on your Instagram for small businesses. You can easily use the Instagram location buttons using the Instagram hashtags you will use for this because these two features can bring you not only to your audience but also to people who don't know you.
Variety of content
Be completely free in Instagram stories. Because here, you are free to share articles and pictures, whether entertaining or different content.
Engage with your audience
If you want to be in constant contact with your followers, Instagram stories are a great option for you. You will be able to interact with your audience using a set-up poll, ask a question, and tag other people's features. You don't need to use these features every day. You can do this on certain days and attract your followers' attention.
Trafic other sites
One of the latest Instagram updates presented is to place a link in your stories. You can increase site traffic by posting links to your own site and to other sites.
Since we learned the necessary information about Instagram stories, let's give a number of examples of them.
Best Instagram story ideas
Introduce your team
One of the best Instagram ideas is team praise. Giving a place to your team is one of the best Instagram story ideas for businesses to increase engagement and show the human side of your brand.
Prepare stories about them. Make videos or Instagram reels where everyone introduces themselves and shares them in the story. It will be loved and appreciated by everyone.
Celebrate birthday
Many people already share their birthday wishes in the Instagram story section. As an example of birthday Instagram story ideas:
Film reel Birthday Story
Cute Collage Birthday Story
Photo frame Birthday Story.
or, just a simple birthday story, tag this person and celebrate it!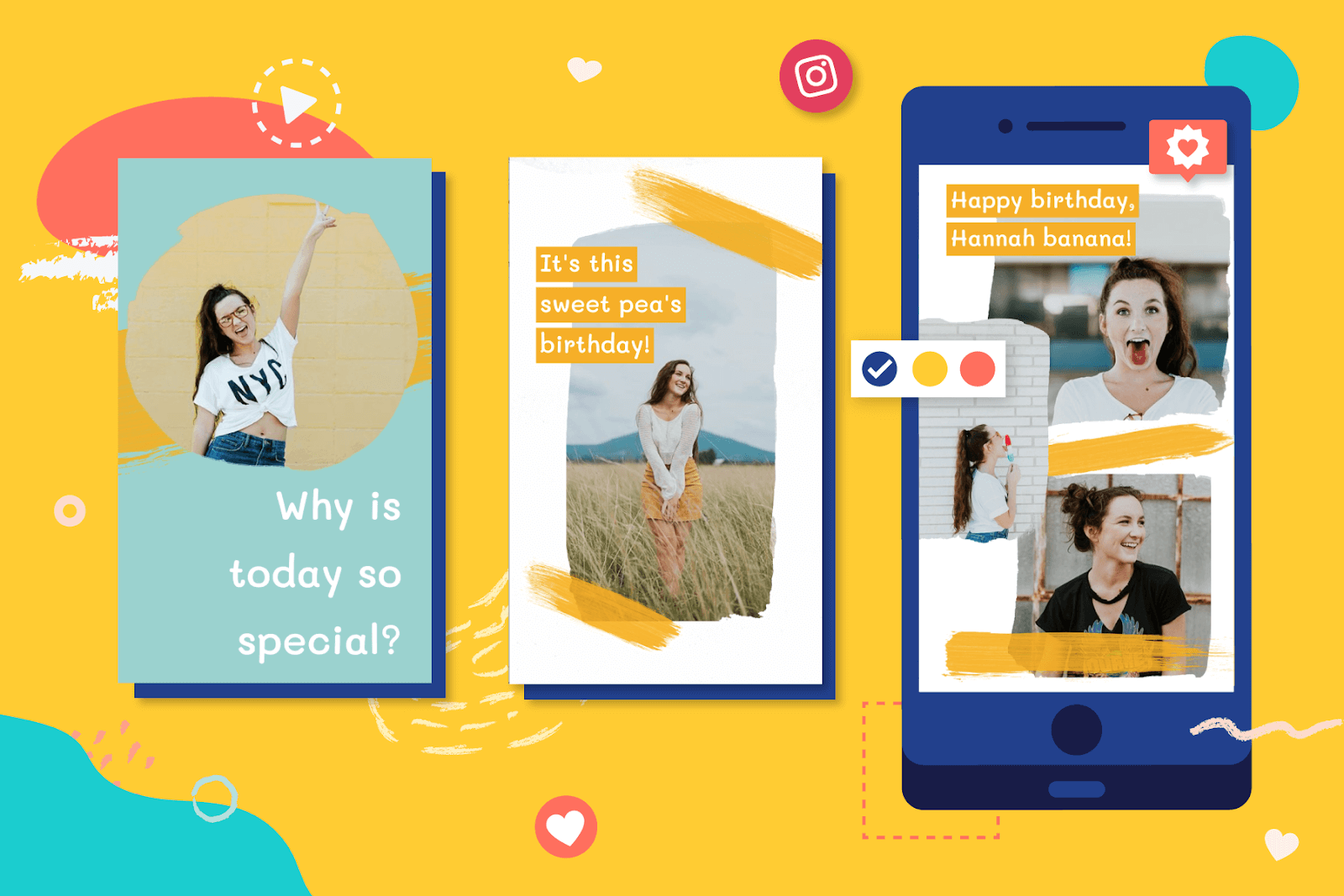 Make a selfie
You can use various Instagram effects as examples of Instagram story selfie ideas. If so, people will be able to like and use your effect. Instead of simply sharing your selfies, you can create collages from them. Or you can make your selfie prescriptive by making a different background.
Cool selfies have the potential to turn into cool Instagram story collage ideas 😉

Educate your audience
You can now share fast and straightforward video tutorials that your audience will find helpful. For example, if you're in the restaurant business try giving them quick recipes from your kitchen or sneak a peek into what's happening behind closed doors with insider tips.

If retail is more up your alley then create weekly outfit how-to videos for customers looking to inspire themselves on their next shopping trip--you'll be sure not only to keep them coming back but also to build new relationships along the way.
No matter what your business niche is you can always interact with your audience via cool Instagram stories and also educate them at the same time.
Spotlight Customers
Think of it as an Instagram story idea for businesses. If you are a service provider, you can share customer reviews. This is one of the creative Instagram story ideas. So your customers will feel special.

If a client or follower has shared a story about you and posted it, share that story on your Instagram. Focus on customers is the next way to save. There are also other ways to stay in touch with them.

If you are looking for Instagram story highlights ideas real customer feedback is one of the options you cannot pass by.
Ask a question
The next Instagram business story ideas to engage with your followers. Sometimes Instagram followers aren't quite sure what type of questions they should ask their followers.
We recommend you to not limit your Instagram stories content only to your business. Go beyond only-business content and look for things that can strengthen your relations with followers.
We have prepared some examples for you.
Guess my favorite [ice cream/anything you want]
How many stories do I have?
What instrument do I play?
My hidden talent is:
The scariest thing I did in my life:
The best gift I got:
My favorite song/band:
Guess how many people bought [your product]:
Guess when we are launching our new [product]:
The color of our next [product] is going to be: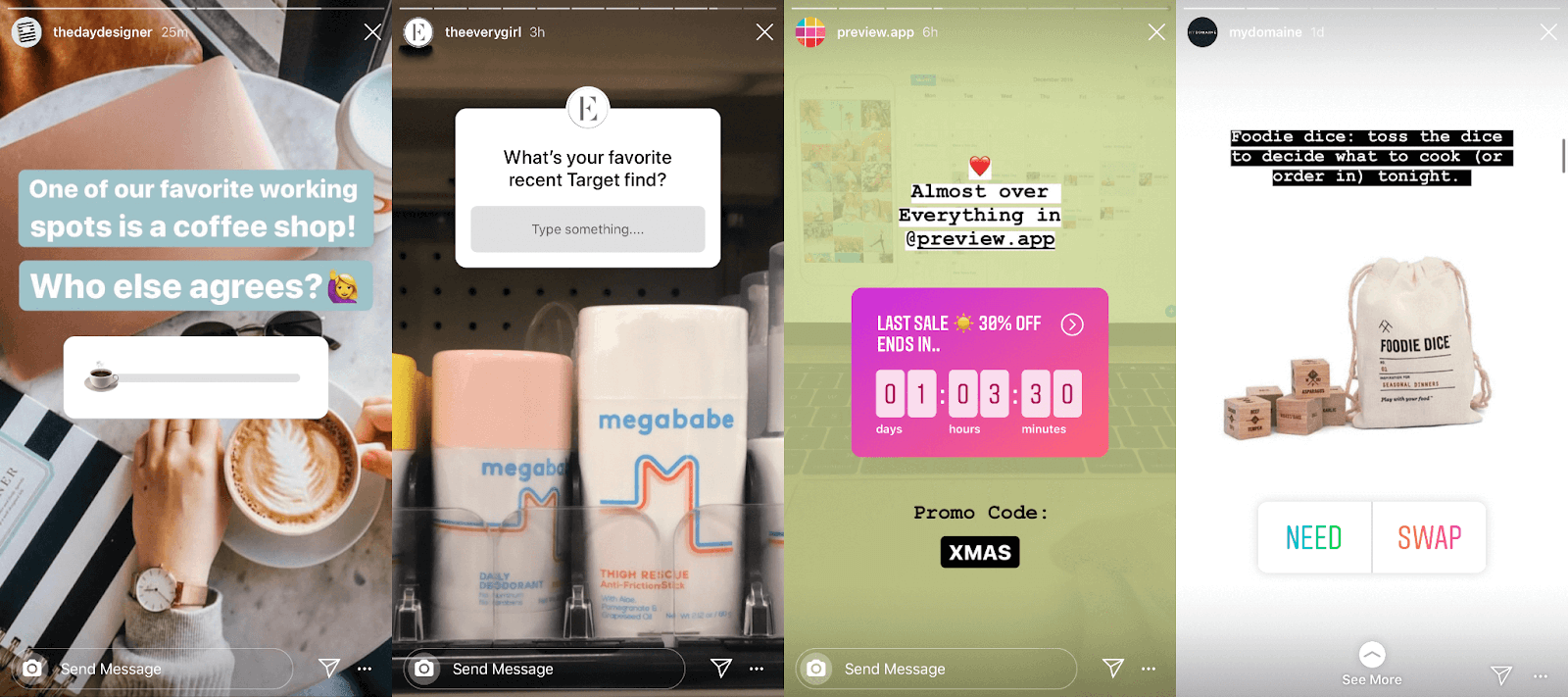 Share a Quiz, Poll for Engagement
If you want to make cute and creative Instagram stories, use these stickers. For example, you can poll your followers about which of your products is better. Or you can post two pictures and ask them which picture they like more.
Use Instagram highlights
As we mentioned above, if you want your stories to stay longer on your page, you can place them in the Instagram highlights section. Here are a few Instagram story highlights ideas every business can use to increase engagement.
Reviews/Testimonials
Product display
Customers
Employees
Behind the scenes
Fun and games
If you use a personal account, you can create sections like this.
Me daily live
Music
Film
Quotes
School\ University
Family
Make a collage
We recommend you make Instagram photos collage stories. For this:
Select the "Layout" icon on the left side of Instagram stories.
Choose your layout from the given options.
Now, choose your image for each section of your college.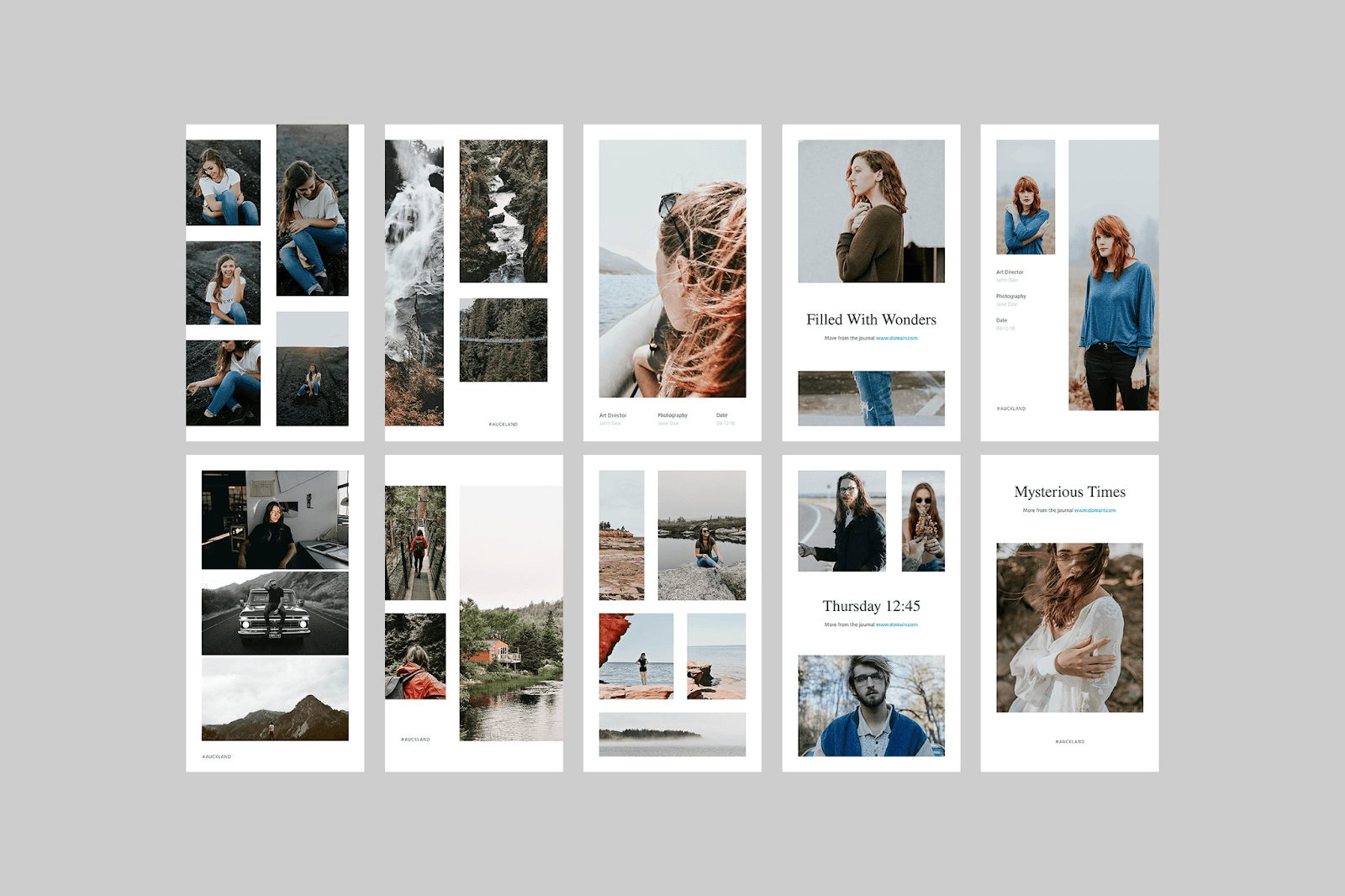 Anniversary Instagram story ideas
Anniversaries are also great for you to refresh your content with meaningful memories. Take this opportunity to share events that deserve to be celebrated between you and your followers.
The best anniversary Instagram story ideas are the ones that credit back to all the contributors including your customers, teams, partners, and supporters who have been there in all these times.
You can write posts and share pictures in different captions for Anniversary.
The best love stories never end.
When did we become an old married couple?
I remember our wedding like it was just yesterday.
These are just ideas and you are free to make variations!🌟
How to easily my Instagram stories?
With all goodies of Instagram stories, you might still get stuck when it comes to exploring Instagram stories ideas and preparing and sharing them. The fact that you probably prepare stories way ahead of time before sharing them can make this process a little tedious.

With the help of Instagram scheduling tools, you can easily auto-publish your Instagram stories whenever you want them to go live. If you do so, you will already see your stories as a table. You can clearly see what you're sharing and when and schedule others accordingly.
The best of these tools is Planly. Because using Planly is very easy to use. You simply connect your Instagram account to your Planly account by opening an account on Plany. Then schedule the stories you will share later. When you want to share, Planly shares your story without sending you a notification. It's that simple.
Final words
So, what happens next? Follow our blogs for more updates and ideas on how you can use Instagram stories to engage your customers and increase sales. In the meantime, try some of the ideas we've shared in this post and see how they work for you. Be sure to check how these stories impact your overall performance.