Instagram is one of the most popular social media platforms in the world. It's a great way to connect with your audience and share your brand's story. However, managing an Instagram account can be time-consuming, especially if you're trying to post new content every day. The social media scheduling tools come to your aid in this regard. In this blog post, we will discuss 9 paid and free Instagram scheduling tools that you can use in 2023.
Why do you need to use Instagram scheduling tool?
Using Instagram scheduling tools can help you save a lot of time and energy. With the right tools, you can plan out your content ahead of time, eliminating the need to manually post each day or multiple times per day. Scheduling also ensures that your posts are consistent and spread out across different times of the day so they reach more followers. It also allows you to batch-create images or videos to free up even more time throughout the week.
Additionally, most scheduling tools come with features such as analytics that let you track how well your posts are performing, which helps you refine your strategy over time for even better results.
Finally, automation eliminates human error and lets you take advantage of opportunities at any given moment without having to stop what you're doing in order to post. All these benefits make using an Instagram scheduling tool essential for any successful social media strategy.
How to choose a right Instagram scheduling software
1. Ease of Use: An important factor to consider when looking Instagram scheduling tools is how easy it is to use and navigate. You want something that's user-friendly and won't take too much time to figure out how to use properly. It should be intuitive and have a simple interface that's easy to understand.
2. Features: Once you've narrowed down your options based on price, the next step is to compare the features of each Instagram scheduling tool. Each one has its own unique set of features that may be suitable for different types of accounts and needs. Make sure that the tool includes all the features you need before making a purchase or signing up for it.
3. Price: If you're looking for free Instagram scheduling tools, then there are plenty of options available online that will enable you to schedule posts on Instagram without any cost. However, if you want something more comprehensive and/or premium features such as analytics tracking, content curation, etc., then you might have to pay a small fee.
4. Support: Whenever you opt for an Instagram scheduling tool, make sure it offers reliable customer support. This will ensure that any issues or queries you may have can be attended to quickly and efficiently. You should also check the reviews online to find out how responsive the customer service team is when it comes to solving problems.
Best free Instagram scheduling tools (ones with free options)
Instagram scheduling tools (paid options)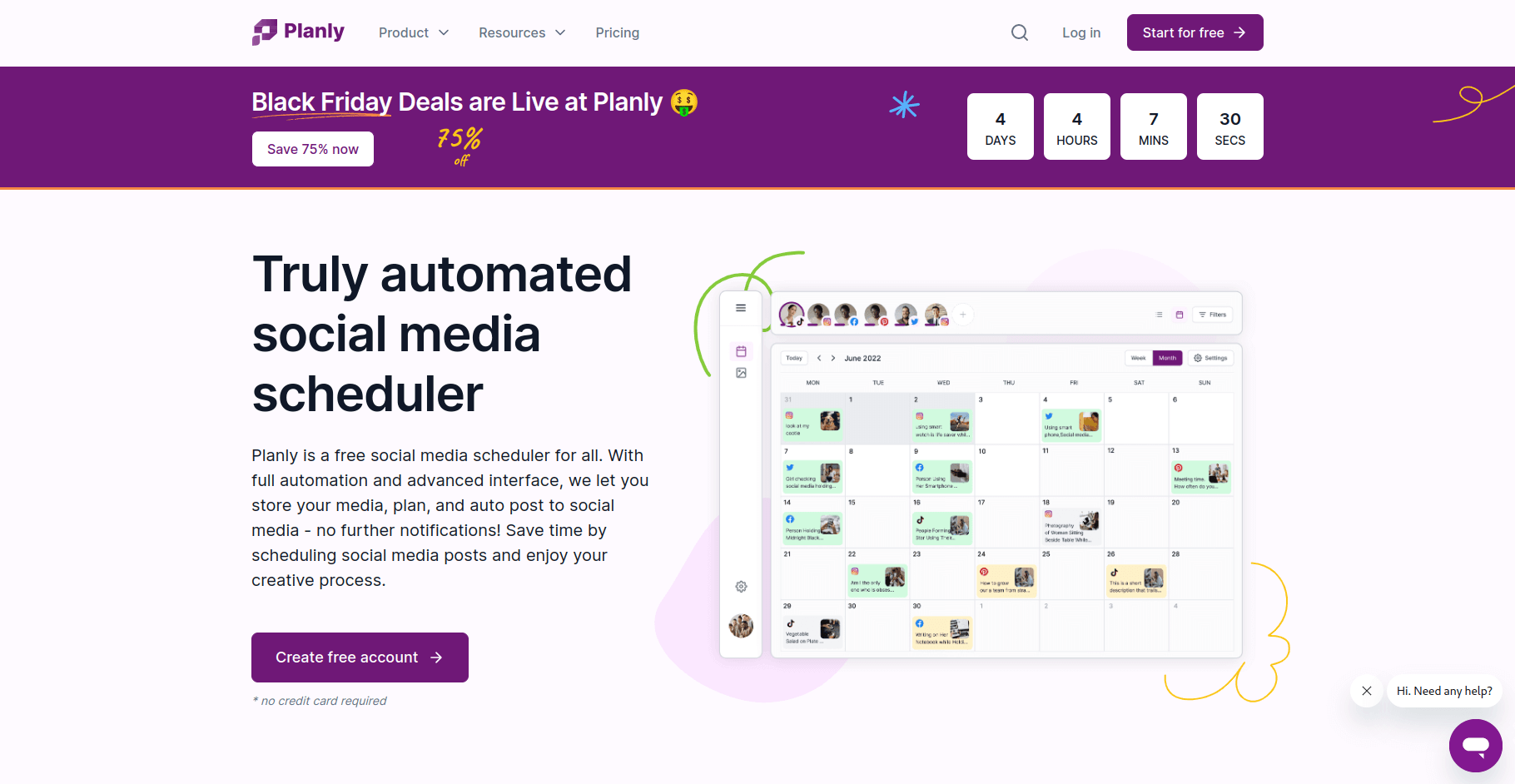 Planly is one of the best Instagram scheduling tools on the market. Its Instagram scheduler is available both paid and free plans. However, when used for free, it restricts you from using some features. Planly offers a host of features like Instagram stories, reel scheduling, first comment, and more. You can also save your posts as drafts and share them later with Draft post-management. Planly makes it easy to see ahead of time what your post will look like with scheduled posts.
Main features
Drag and drop Instagram calendar
Instagram carousel scheduling
Instagram post pinning
Reels scheduling
Instagram first comment
Stories scheduling
Feed scheduling
API security integrations
Pros: Planly allows you to share on social networks such as TikTok, Facebook, Pinterest, Twitter as well as Instagram. What makes Planly different from other tools is that it doesn't send you any notifications when it's time to plan.
Cons: The lack of a mobile version of Planly, for now, is considered a con.
Price: Planly is for both paid and free Instagram scheduling tools. In the free plan, the limit is two social media channels, so you can add a user and 2 social channels. This offer is mainly aimed at users who want to individually schedule their social media posts. There are 3 paid plans that you can choose between monthly or annual subscriptions.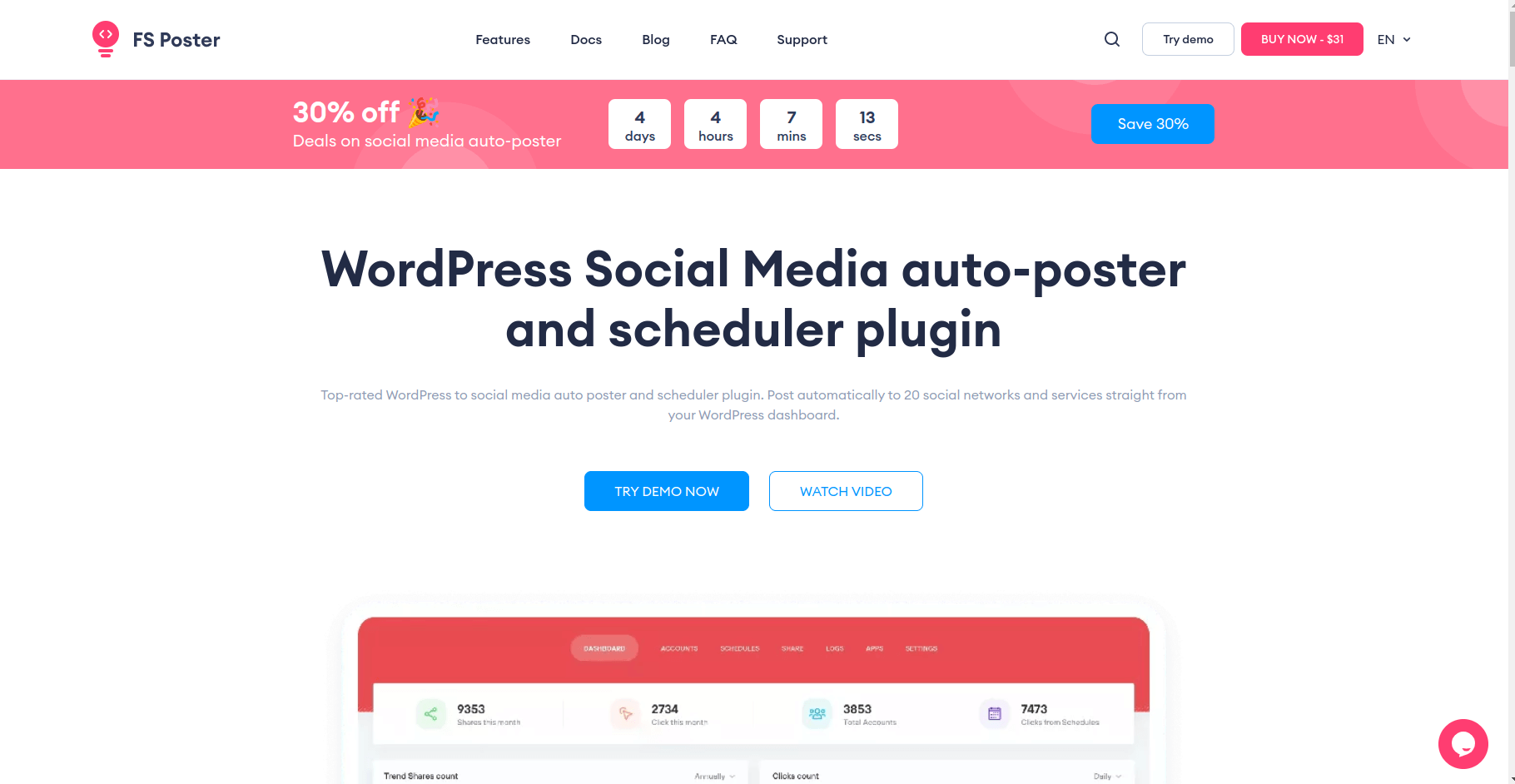 FS Poster is a powerful and efficient premium WordPress Social Media auto-poster and scheduler tool. It allows you to easily publish, organize and schedule the content in your account from a single dashboard. You will be able to create unique posts and preview them in advance by adding emojis, Instagram hashtags, and custom captions. The pricing plan is affordable, and it's an all-in-one solution that lets you manage multiple accounts at the same time, saving you time and effort.
Main Features
Instagram carousel scheduling and Instagram link in bio feature
First comment feature for Twitter, Instagram, and Reddit
Custom image feature
Facebook comments on website comments
Auto post to YouTube community with new plugin
Webhooks integration available
Pros: You can easily schedule posts with bulk scheduling features, custom image options, comments to website comments, a first comment feature, and more. A lifetime purchase is a great option if you want access to all features at once. It's affordable and well worth it for the time it takes to schedule posts manually.
Cons: FS Poster does not have a mobile version. And since it is a plugin it is only valid for WordPress
Price: FS Poster is an affordable WordPress social auto poster and scheduler plugin, available for just $49.
Buffer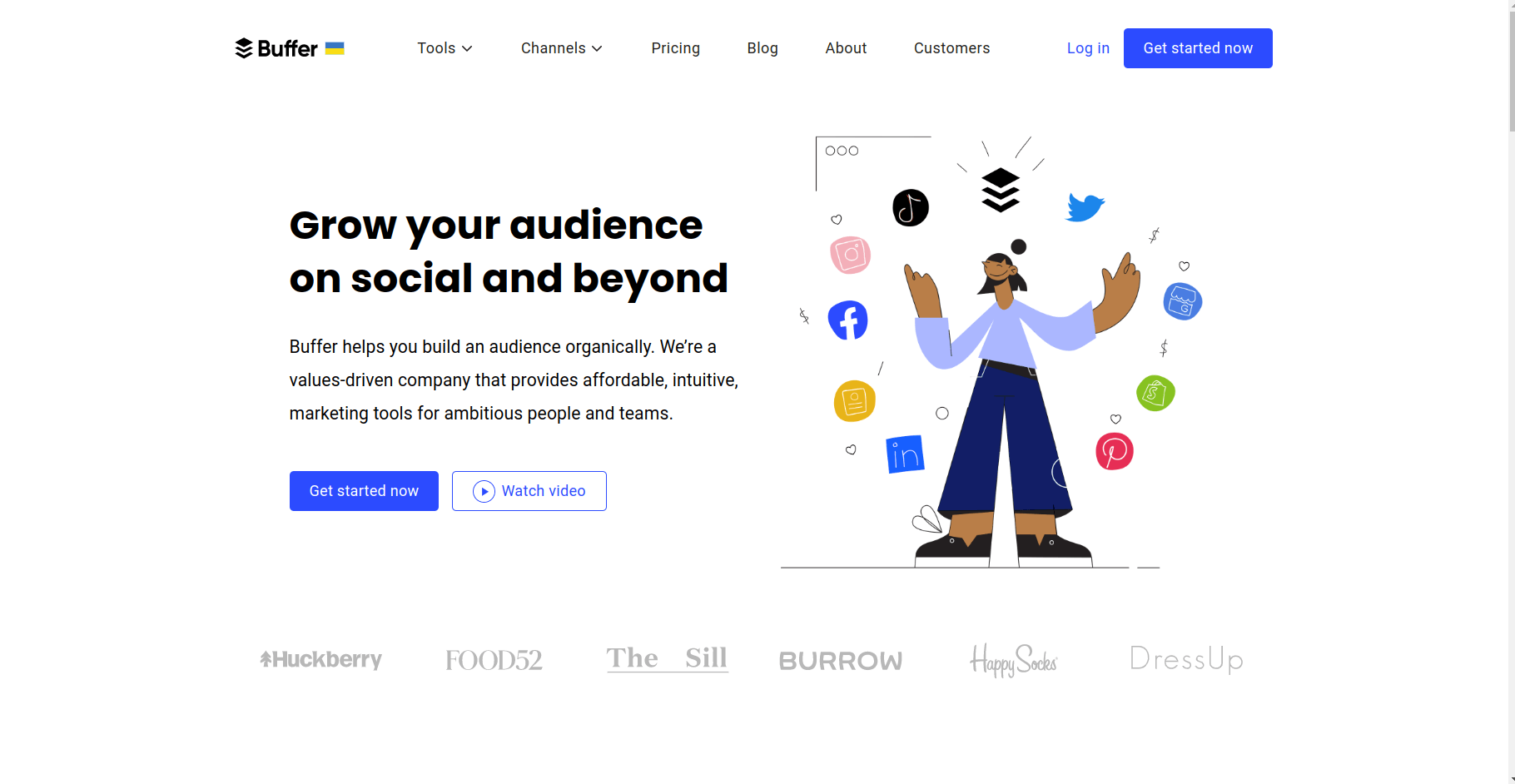 Buffer is one of the most used paid Instagram scheduling tools that lets you plan and schedule your posts ahead of time. This allows you to easily manage all of your accounts in one place, saving you time and energy. Additionally, it provides analytics on the performance of your posts so you can measure how effective they are.
Main Features
Analyze Performance with Insights
Direct scheduling
Create, save, and organize hashtags to use in your Instagram posts
Allows you to see the best times to post to gain the widest reach
Adding the first comment to your scheduled Instagram posts
Pros: It has a user-friendly interface, which makes the platform easy for anyone to use. The scheduling feature lets you plan and schedule shipments in advance so you don't have to manually post every day. With analytics built into Buffer, users can track engagement with their posts and gain insights into what content works best on Instagram.
Cons: In terms of price, it is one of the slightly more expensive options. Learning the interface and features of customization for each platform can be a bit confusing. Also, Buffers sends notifications for auto-publishing posts to TikTok if you use the platform.
Price: With the use of 1 user, free scheduling can be done after 10 channels. In addition, there are 3 pricing plans available.
SocialBee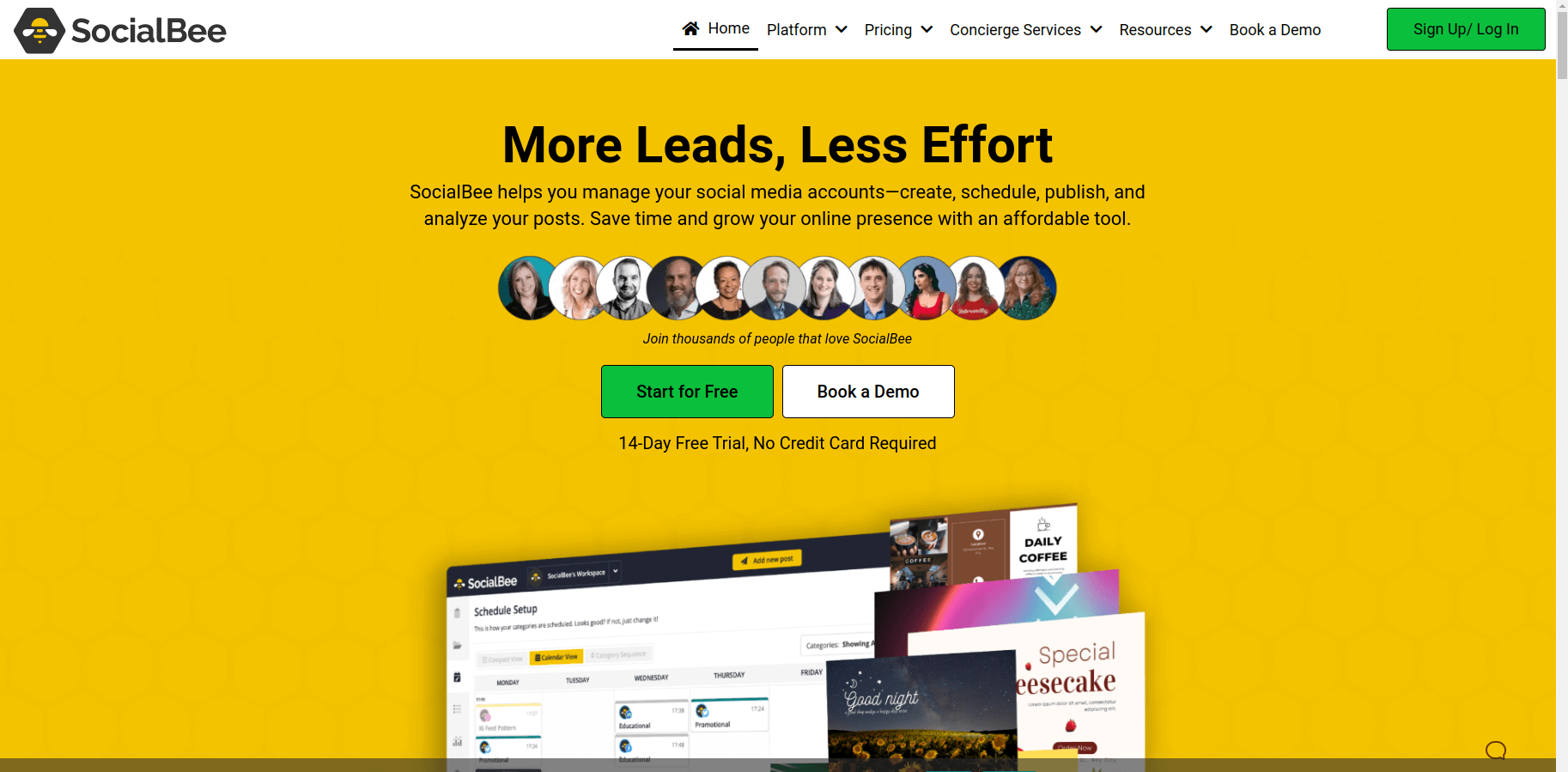 SocialBee is the best option for managing your Instagram scheduling in. The user-friendly platform allows you to easily schedule posts, create multiple queues for different content types, and even repost user-generated content. Plus, their features include hashtag suggestions and an analytics dashboard to track the success of your posts.
Main Features
Ability to share single-image posts
You can use Unsplash and GIPHY to search and upload images and GIFs straight from SocialBee's post editor.
Allows you to schedule and automatically post the first comment on your Instagram posts
Thanks to the grid, you can see in real-time what your Instagram Feed will look like
You can add a location to your posts with our Instagram Business Profiles feature
Pros: The drag-and-drop feature makes it easy to create visually appealing posts for Instagram. SocialBee also has an analytics dashboard that allows users to monitor how their posts are performing on the platform in terms of likes, comments, and followers.
Cons: Some users say Socialbee's layout is not intuitive and can be confusing for someone new.
Price: One user, two social accounts, and five scheduled posts are included in the free plan. The paid plan starts at $49.
Social Pilot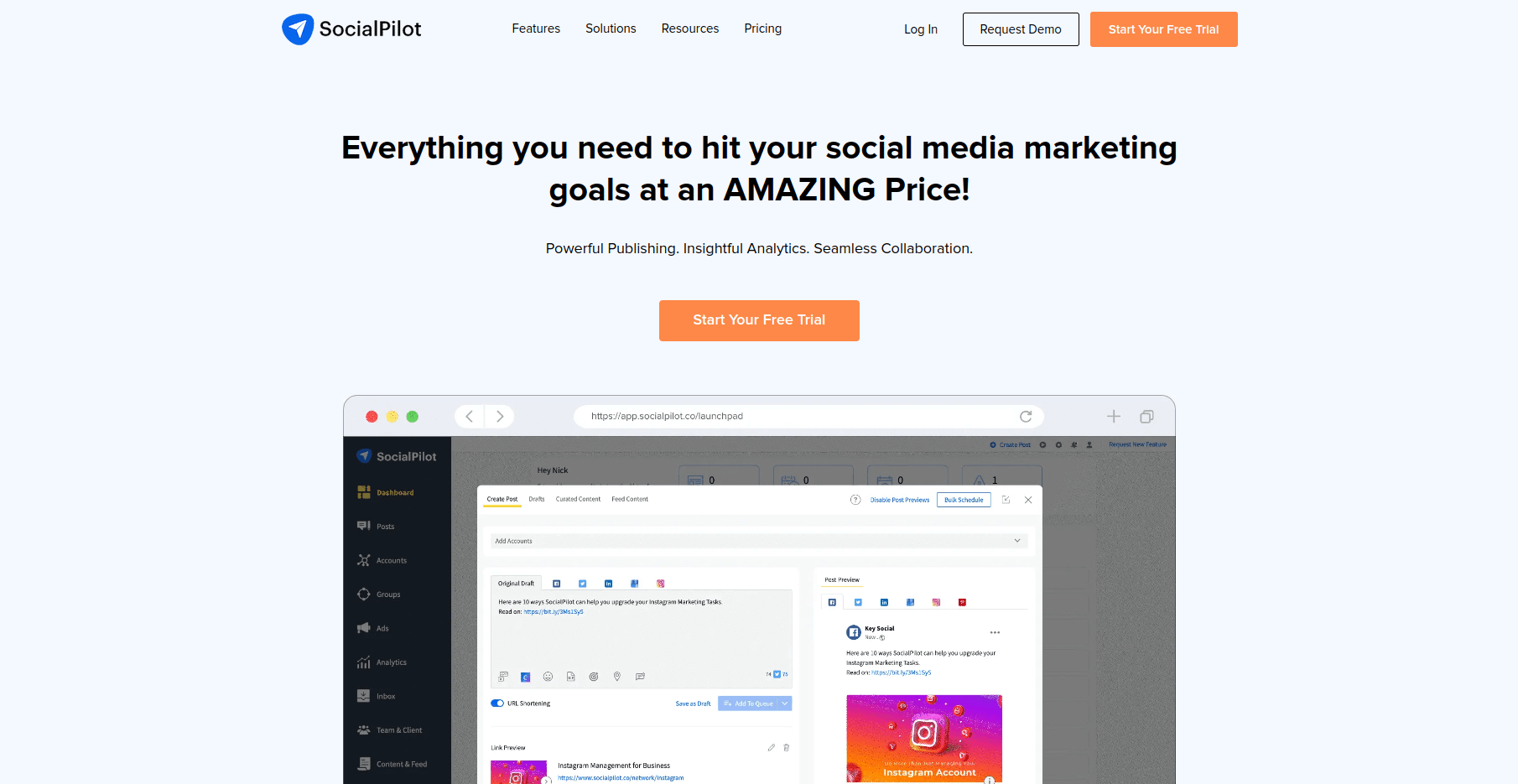 Social Pilot is a popular paid Instagram scheduling tool. It helps you plan, schedule, and post content on your Instagram account while being able to monitor the impact of your posts. With SocialPilot's analytics feature, you'll be able to track how well each of your posts is doing with insights such as engagement stats and audience demographics.
Additionally, its bulk scheduling feature allows you to upload up to 350 posts at once so that you can save time when prepping for weeks or even months' worth of content.
Main Features
Publish photos, graphics, or reels directly to your Instagram business accounts with our tool
Bulk schedules up to 500 posts with images in a single upload
It allows you to get detailed data on your audience demographics to better understand your audience base on Instagram.
SocialPilot's report includes dynamic graphs such as heatmaps of when your followers are most active, hashtag performance, and engagement in stories to help you understand what type of content and hashtags you should create.
Get superior seller benefits when opting for SocialPilot's white-label setup
Pros: It supports both organic and paid Instagram content. It allows you to pre-plan your content strategy by scheduling posts in advance. It includes analytics and insights so you can track engagement on your posts. It automatically adds tags for each of your posts to maximize reach and engagement. It can create multiple accounts from a single dashboard, making it ideal for businesses with multiple social media accounts. Ability to repost videos and images directly from other users' accounts.
Cons: SocialPilot does not have a free plan, also Instagram Analytics is missing.
Price: You can use it free for 14 days. However, only its paid plan is available and starts at $200.
Sprout Social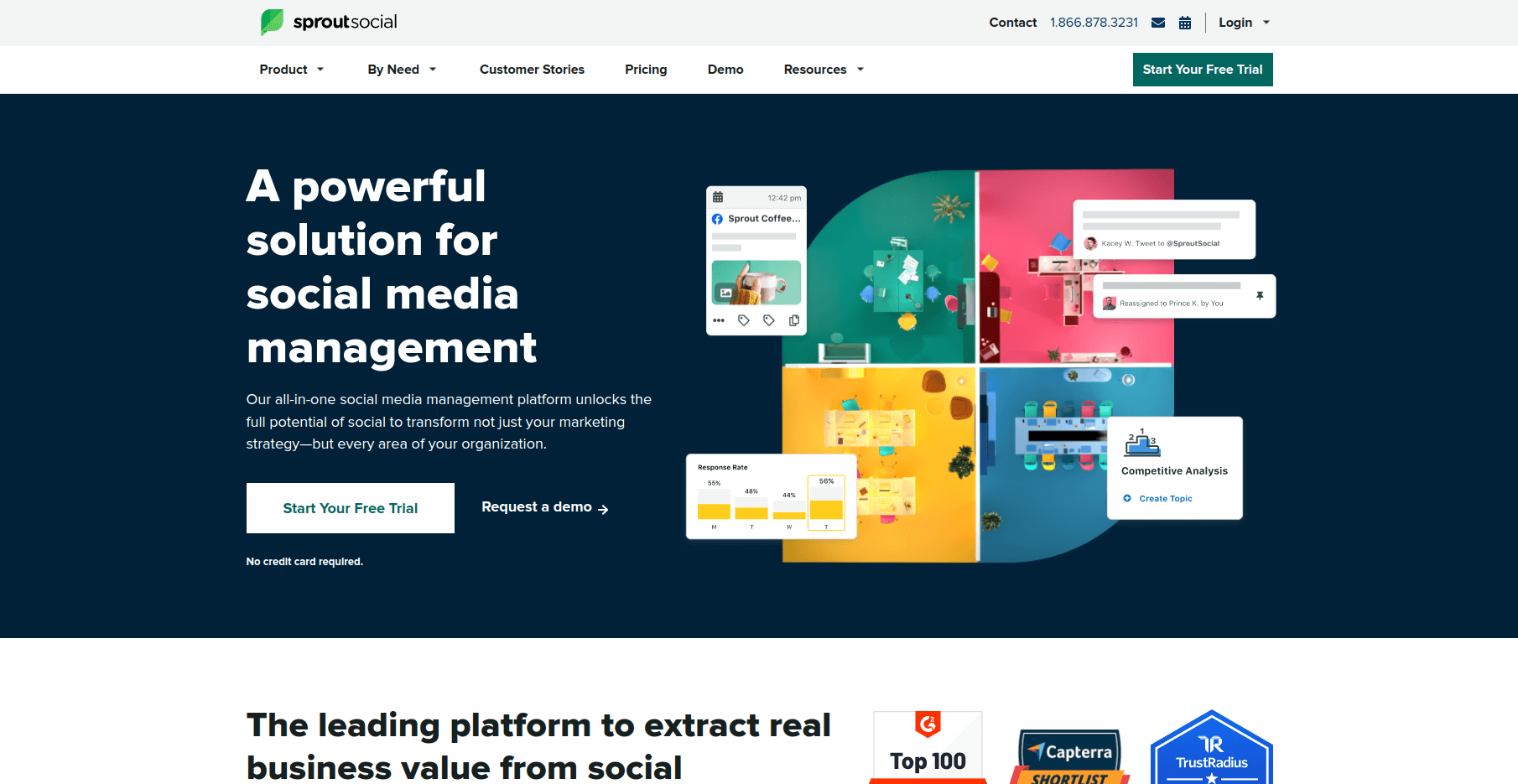 Sprout Social is one of the most used paid Instagram scheduling tools on the market. It offers an array of features such as integrated analytics, reporting, and collaboration capabilities. With Sprout Social's intuitive user interface, users can quickly organize content into campaigns and publication schedules. Additionally, users have the ability to automate content posting across multiple social media channels from a single dashboard location.
Main Features
You can automatically schedule posts up to 6 months in advance for all your Sprout Social, Linked accounts and channels.
It allows you to monitor conversations in your social networks from one central control panel.
By tracking engagement levels, reach, and impressions, you can gain insights into how well your content is performing.
Create stunning visuals in the prout interface or simply drag files directly into the post composer.
Pros: Sprout Social has a user-friendly interface that makes it easy for anyone with little to no tech experience to quickly learn how to use the platform. The platform automates processes, such as scheduling posts, monitoring conversations, and tracking analytics. This allows users to save time and maximize their efforts on other tasks. Sprout provides comprehensive insights into how successful your content is performing, allowing you to make data-driven decisions when crafting future campaigns.
Cons: Sometimes support takes a long time to respond so any issue takes a long time to resolve.
Price: It offers 30 days of free usage and a standard pricing plan is available starting at $249.
Hootsuite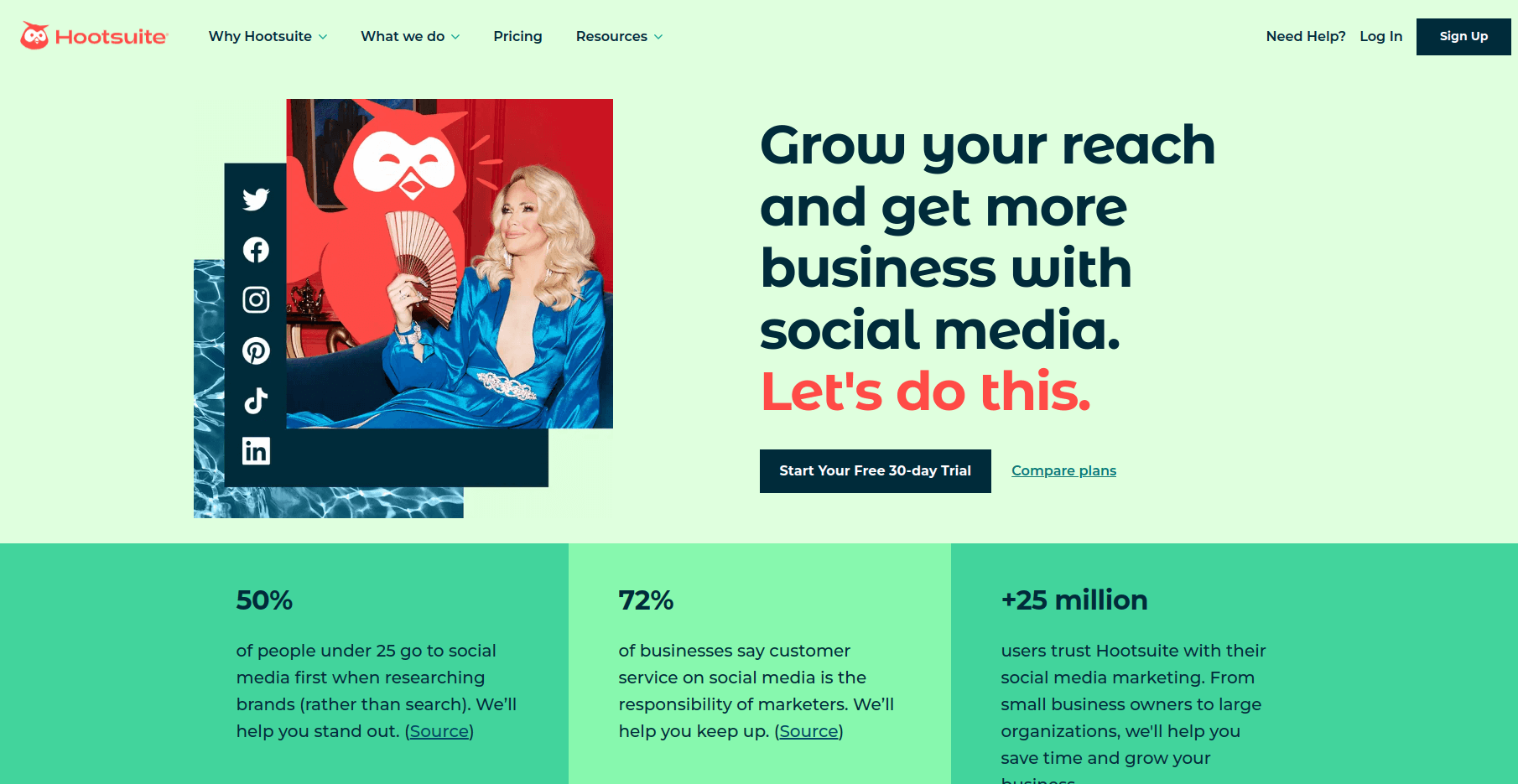 Hootsuite's paid Instagram scheduling tools are a great option for businesses or individuals who want to manage their social media presence more effectively and efficiently. It allows you to create, schedule, and analyze posts from multiple accounts in one place. You can also take advantage of its integration with other social networks like Twitter and Facebook, allowing you to post to multiple platforms at the same time.
Main Features
With Hootsuite, you can easily schedule posts to be shared at any time and get an idea of how they're performing.
You can also manage multiple accounts from a single platform and collaborate with team members on tasks like captioning or moderating comments.
In addition to its planning capabilities, Hootsuite also provides an analytics dashboard that helps you better understand engagement and ROI metrics for all of your social media campaigns.
Pros: It has an easy-to-use interface, allowing users to manage multiple accounts from one platform. The Pro version gives access to extra features such as detailed analytics and the ability to customize posts for different platforms. Hootsuite also provides helpful customer support and training resources. Additionally, it integrates with other tools like Buffer, Zapier, and Google Analytics.
Cons: The disadvantage of Hootsuite is that it is a bit expensive.
Price: Hootsuite offers a 30-day free plan, with a standard pricing plan available starting at $49/month.
Later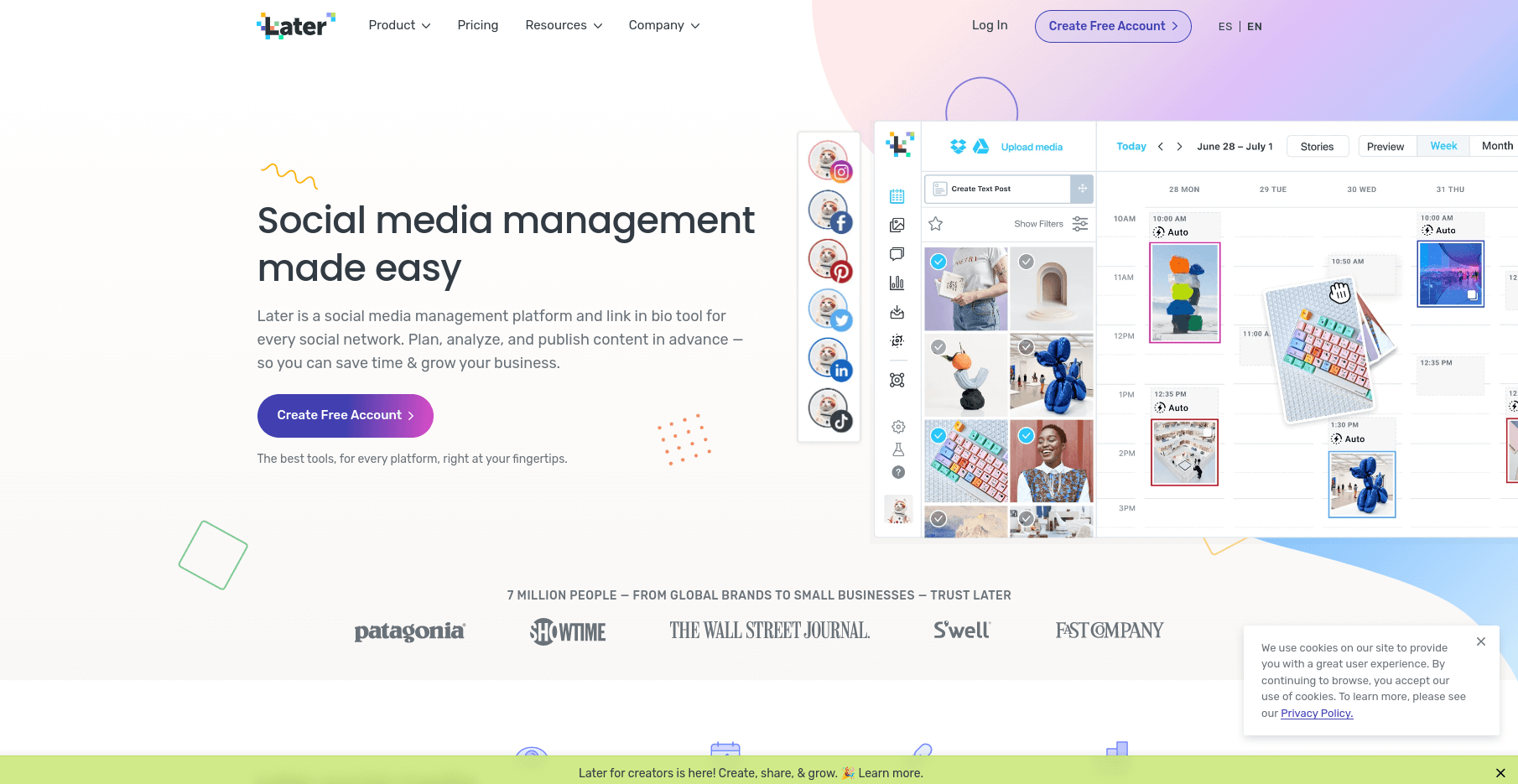 Later, when it comes to the Instagram scheduling software, there are a few options available for users. Many of these tools come in either paid or free versions, and each has its own set of advantages and disadvantages.
With the paid version, you have access to more features, such as advanced analytics, automatic hashtag optimization, and post-scheduling. You will also be able to access customer support services if you experience any issues with the tool. Additionally, since the service is being paid for, the quality of the product is usually much higher than that of a free version.
Main Features
With Later, you can schedule, schedule, and automatically publish content across multiple accounts, saving you time and energy so you can focus on creating beautiful visuals for your audience.
You can also create custom link previews for all your posts so they stand out in the feed.
Later offers powerful analytics tools that track how your posts are performing so you can adjust future content strategies accordingly.
With Later's free plan, it's easy to get started with no fees or commitments.
With paid plans, users gain access to additional features such as advanced analytics, team collaboration, and bulk upload capabilities.
Pros: You can easily schedule Instagram posts and stories with one click. It allows you to pre-create headlines, hashtags, and other post elements. You can automatically optimize the timing of your posts for maximum engagement. You can send reminder notifications to help make sure you never forget to post. You can view detailed analytics to track how well your content is performing.
Cons: There is currently no way to schedule Instagram Stories to post automatically.
Price: Offers 14-day free plan and starter plan starts at $19/month
Iconosquare
Iconosquare is an easy-to-use Instagram scheduling software that allows you to plan and schedule content in advance. Iconosquare offers a variety of features, including the ability to automatically optimize time slots for maximum engagement, detailed analytics for tracking performance, and integrations with many popular social media management systems like Hootsuite. For those just getting started on Instagram, Iconosquare provides basic scheduling features at no cost.
Main Features
Iconosquare allows users to easily schedule, preview and post content to their accounts. It also offers in-depth analytics so that users can track the performance of their content and adjust accordingly.
Iconosquare enables you to monitor comments on your posts, search for keywords or hashtags, and measure the volume of activities related to those topics. This helps brands stay informed about what people are saying about them and respond quickly when necessary.
Iconosquare allows you to engage with your followers by sending automated direct messages, hosting contests, creating polls, running giveaways, and more.
Pros: Iconosquare's intuitive dashboard makes scheduling and managing campaigns a breeze, even for those who are inexperienced in social media management. You get detailed reports on your content performance, including impressions, interactions, reach, and more. This helps you make better decisions when creating or adjusting strategies. Iconosquare also offers advanced features such as influencer marketing, A/B testing of ads, hashtag tracking, and more that can help brands maximize their presence on Instagram.
Cons: Iconosquare has higher price plans than some of its competitors, making it less accessible for small businesses or individuals with limited budgets. Iconosquare does not integrate with other social media platforms such as Twitter, which means users need to use multiple tools for their marketing efforts.
Price: 3 pricing plans available per month, pro starts at $49.
Conclusion
As you can see, there are a variety of paid and free İnstagram scheduling tools to choose from when it comes to Instagram. All offer scheduling and management features that can help make social media easy. So which one is the best for you? It really depends on what you need and what works best for your individual business and workflow.
Try out a few free Instagram scheduling tools and see which one makes the most sense for you. And don't forget to experiment with different times and days of the week to find what works best for your audience. What scheduling tool do you use for Instagram?