We all love social networks. These digital platforms allow us to connect with people around the world, interact, create communities, do business, share content, and many more opportunities that allow us to relate, both personally and at work.
You know what TikTok is. This Chinese social network came to the western market in 2017 and has managed to reach 800 million users in a very short time,  becoming one of the best options if you want to promote your brand or make your creativity known.
If that is your case, we recommend this article where you will learn how to go live on TikTok and how to get more views on TikTok lives.
What are the advantages of TikTok live compared to feed videos?
First of all, we are going to clarify this concept a bit, so that you have a better idea about it. A Livestream or simply live consists of a real-time transmission made through the platform, which allows you to show live content while interacting with your followers.
One of the great advantages of direct broadcasts is that a previous download or preload of the material is not required, but rather the transmission is done as the content is generated. Going live on TikTok can bring you great benefits, such as:
Get to know your audience better and establish closer links.
Improve user interaction with your account.
Communicate a message openly.
You can get income for each live you do; for example, if you want to be a streamer and dedicate yourself to it you can get a monthly salary.
How to go live on TikTok?
Now, unlike other platforms such as Facebook or Instagram live, TikTok does not allow any user to go Live, imposing a series of requirements that you must meet certain requirements before you can start broadcasting live.
How many followers on TikTok to go live?
+1000 Followers – The second account requirement is that you must have at least 1000 followers on TikTok to go live on TikTok.
As you might know, there are many TikTok limits that the platform imposes to protect the community and also control app use among different users. Being over 16 years old: the first requirement of the platform. and not to be confused with the minimum age to create an account and access content.
Sure, these requirements will surprise you, but don't be discouraged! If you haven't reached 1,000 followers yet, get motivated to enhance your TikTok growth quickly.
For this, you should always track your activity and analytics on TikTok. You can also increase the interest and activity of your audience by sharing posts regularly. To do all this in just one dashboard, use Planly.
With Planly, you can schedule TikTok videos and monitor their analytics. You can also find out the activity time of your TikTok audience and share a post according to your unique best time to post.
What are the rules for live-streaming TikTok?
Along with the above requirements, TikTok also requires streamers to adhere to a few standards while streaming :
Show respectful and responsible behavior.
Follow the rules of the community.
Respect your audience.
Do not display third-party works or otherwise infringe copyright.
Do not usurp the identity of another person.
Do not encourage bullying, harassment, or consumption of illicit substances.
Now that you know what a TikTok live is and what the requirements are, let's go step by step on how to do it.
How to go live on TikTok?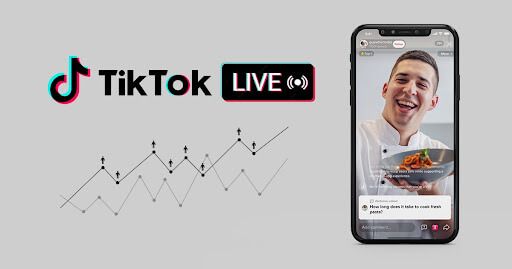 Having your device, the application with your account logged in and a good internet connection, the steps to follow are:
Open the TikTok app on your device.
Now, hit the " + " button (the one you use when uploading content ).
Just below the record button, the time options will appear, and just to the right of it, you will see the " LIVE " option.
Select the " LIVE " option
Next, you have the option to add a title or short description to your live stream (this will help you better grab attention, don't miss out!)
Tap the red " Go Live " button and a countdown will appear.
Once this countdown is finished, the live transmission of what you are recording at that moment will start.
This is undoubtedly the easiest way and the most popular among users, as it requires no more than a few steps to start streaming.
Remember: if you do not meet the above requirements (+1,000 followers and be over 16 years of age), the "Live" option will not appear on TikTok.
💡
TikTok live limit is 60 minutes per session.
How to get more views on TikTok Live?
We are not going to say goodbye without first giving you a series of valuable tips so that your live shows are a success and you can reach more audiences:
Make sure you have a stable internet connection without errors.
Plan TikTok live content in your TikTok content calendar: prepare drafts, a script, or establish a routine, making sure to organize your ideas well.
Choose an attractive title that hooks the largest number of users.
Utilize trending hashtags relevant to the live stream's content.
Choose the best time to transmit the direct, according to your objectives. Just like finding the best time to post on TikTok, the timing of your live is also crucial to get more views on TikTok lives.
Interact with the audience through various dynamics to achieve a greater connection.
Announce your upcoming TikTok live session beforehand in your profile.
Post constantly on TikTok. If you randomly post on the platforms and wish to receive massive views on TikTok lives, the chances are low unless you are a known celebrity. You can use social media management tool to share your TikToks. Planly is the best TikTok scheduler that will help you to auto-publish your TikTok videos and save your time for preparing better content.
Now that you know how to do direct on TikTok, what are you waiting for? Put your creativity and skills to the test, and join the thousands of users who share live content every day through the platform, conquering followers.
Best tips to get more views on TikTok Live
1. You must have a good username
From the first moment that you have created your account, you must make the TikTok algorithm recognize you, the best way is to use a name that is similar to the theme of the content that you are going to show.
This way you help the platform easily locate you in the search engines.
2. Create a good profile
Use a good profile photo that represents you, share other social networks that you own, and, if possible, add everything that TikTok allows you to show.
TikTok natively allows you to share posted videos on other platforms right after the video goes live. You can share the video link on other platforms to get more views on TikTok and thus help to receive more views on TikTok lives.
Another way you can try to connect with your overall audience is from different platforms. TikTok allows you to add your Instagram profile to TikTok and display it in the bio section. This also helps to convert TikTok audience into Instagram followers and vice versa.
Make a good description of your brand, either in the profile or in the text that you will use in your videos.
TikTok bio carries huge importance in this case. Pay attention to every word and element that you include in your bio. This way you can show yourself to more people who have similar interests.
How to make a direct on TikTok from the PC
It is a slightly longer process than the previous one, but if what you are looking for is a much more professional result, you have the option of making a live broadcast from your PC through two applications: OBS Studio and Streamlabs. Let's see how we can do it.
First of all, you will need to get the Stream Key of your TikTok account. To do so, follow these instructions:
Enter the application through your mobile and perform the steps as if you were going to do a direct.
Just below the red " live stream " button, you will find selectable text: " Device camera " and " Transfer to PC/Mac ". Select the last.
A window will open where you will have the URL of the server and the Stream Key. Copy both data and keep it very well Do not share it with anyone!
Wrap up
To sum it up, going live on TikTok is fun and engaging. When done right, you can get a lot of viewers and increase your engagement as well.
Yet, as with all types of social media platforms and posts, it needs testing and trial to decide how effective they are for your marketing and monetization of your account.