Everyone now uses social media daily. In addition, users constantly follow each other's daily life on social media. So we are constantly sharing different content on social media. In particular, various businesses advertise on social media to increase brand awareness and promote and develop their businesses.
Social media advertising is cheaper and more effective than other traditional advertising. For this, businesses use ads. For example, through Instagram ads, you can set how many and which audience you want to see your post. So you need to be active on social media platforms, continue to do social media ads and reach more audiences.
Your videos, photos, and stories should be actively shared so that people can get to know you and create engagement. Businesses use a variety of tools to post on social media consistently. The most important tool they use is a social media scheduling tool.
In our previous blog, we talked about Best social media scheduling tools, we want now to talk about free social media schedulers that small businesses can use and also try before making a purchase. This blog will tell you about the best free social media schedulers in 2023. By knowing the pros and cons of these schedulers, you can find the best one for you.
What to Expect When choosing a Social Media Scheduler?
When looking for affordable social media schedulers, we should pay attention to several important nuances. With these nuances, our schedules will be successful.
Easy management on a single dashboard
If you're running a business, you probably need to post on multiple social media platforms at the same time. For this, it should be possible to auto-post two or more social media platforms in a single dashboard in the scheduler tool you choose.
User-friendly
The social media scheduler tool you choose should be very user-friendly so that you can use it comfortably. You can test it first by using the free or demo version of the tool you will use.
Automation
Automation is the main point when selecting the affordable best social media scheduler for your business. You'll have everything you need to schedule and automatically publish content using any tool worth its salts.
Best free social media scheduling tools
FS Poster is a WordPress Social Media auto-poster and scheduler plugin. The premium version lets you schedule to 18 social networks and also connect platforms that FS Poster does not support natively. With Webhook integration, you can connect and schedule to all social media platforms.
With FS-Poster light, you can auto-post to your WordPress-based social media accounts. In this version, you will have access to a large number of social media.
Social media posters will automatically post to Facebook groups and pages that are managed.
Link to your Twitter profile from your blog.
auto posting of WordPress material and articles to community pages, personal profiles, and LinkedIn groups.
Reddit and its comment sections will automatically upload your material using a social media auto-poster.
Make your Tumblr oriented society of your blogs.
VK.ru pages, communities, and events can help you distribute your material.
Using the accounts and groups on OK.ru, send your friends links to your blogs.
Send a message to Plurk and Telegram.
Free Plan: FS-Poster Lite version is completely free to use.
If you want to use the premium version of FS-Poster WordPress social auto-poster and scheduler, you can use it for just $49.
Loomly
Loomly intends to make managing social media for businesses simpler. You begin by selecting your business, time zone, and calendar. After that, you may easily schedule your posts in Loomly, including publishing to Instagram.
The processes of Loomly definitely stand out. It's easy to get your new posts set up and you can use it to set up workflows to move your material from draft to publish.
Simply enter the post's specifics and select the social networking sites where you wish to share the content. From there, you may specify general material and make simple changes to each social media channel's settings.
Free Plan: Offers a 15-day free trial. Pricing starts at $26/month.
Pricing: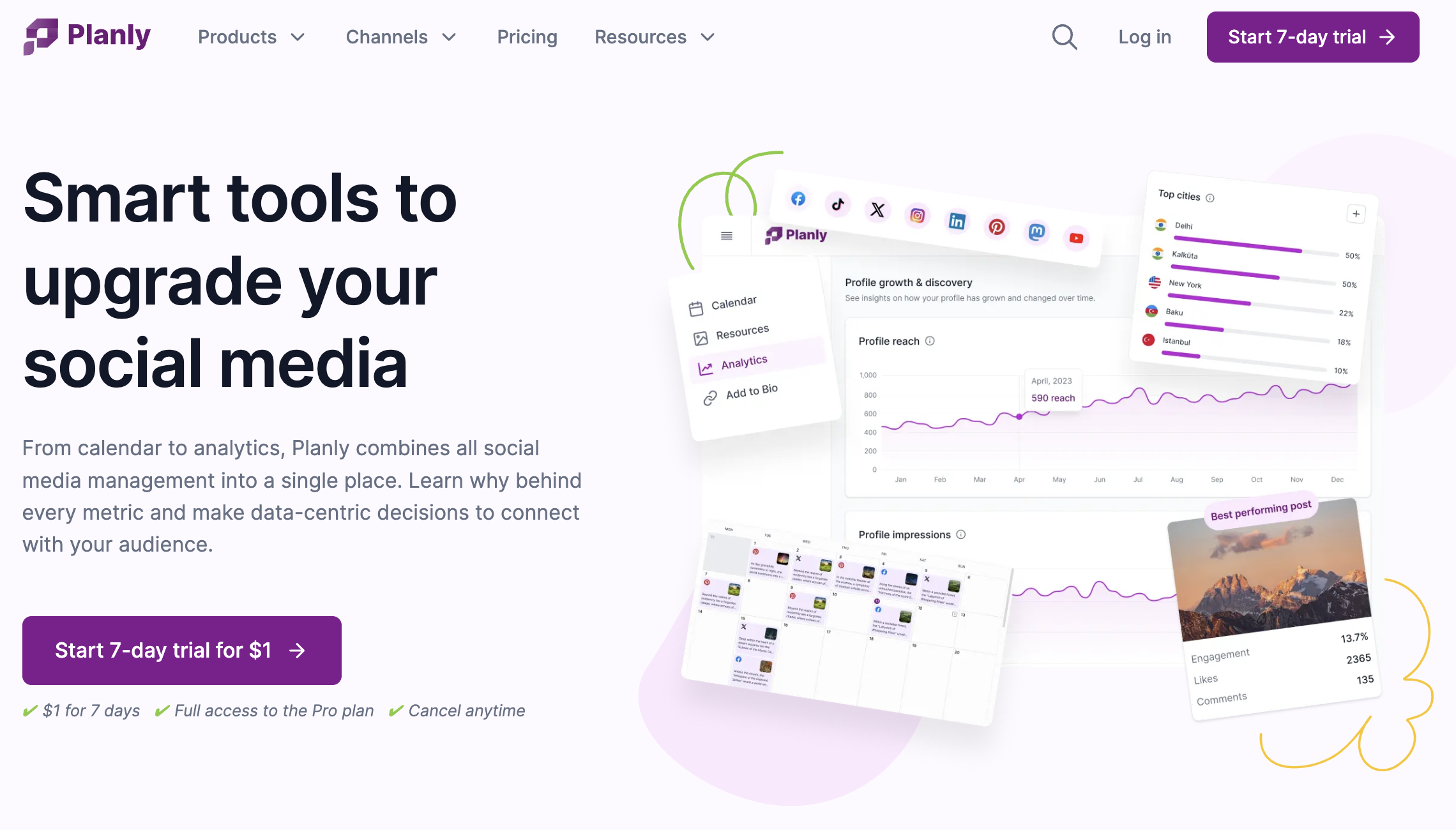 Planly is a premium social media management tool. With Planly, you can schedule posts and their special features for social media platforms such as Instagram, TikTok, Twitter, Linkedin, Facebook, Pinterest, Mastodon, and YouTube. Also, scheduling posts or sharing posts instantly is quite easy in Planly. Planly has advanced features with a user-friendly dashboard, a drag-and-drop calendar, and various integrations.
You can analyze your social media posts, profile and audience with Planly. All of the data in is your dashboard.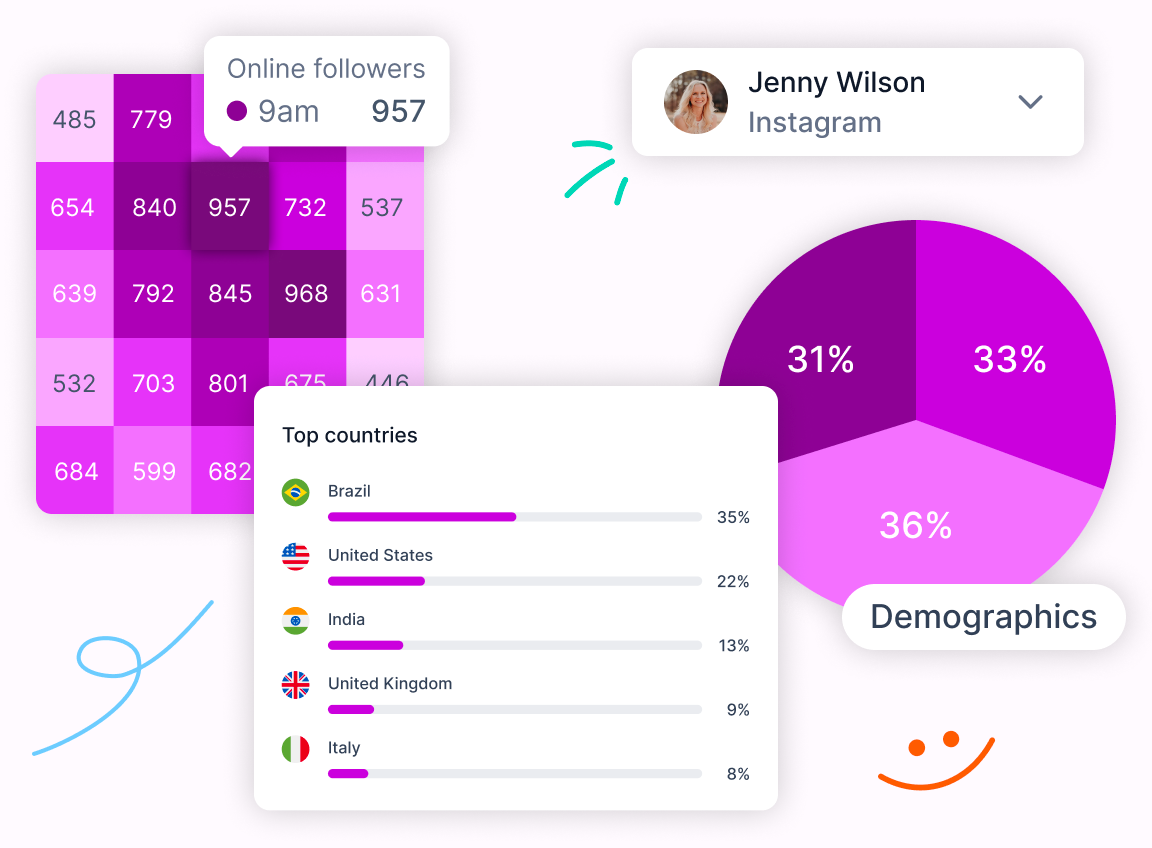 These integrations include Google Drive, Dropbox, and Unsplash integrations designed to enhance your visuals in Planly Media Libray. There is also a feature like an AI content assistant for writing social media post captions. So, by entering the right prompt, you can craft your unique social media post caption.
Also, if you want to collect all your social media accounts in one place and create your own portfolio, create Addto.bio on Planly. No specific code knowledge, and it is so easy to create your own mini website and add your social media profile bio.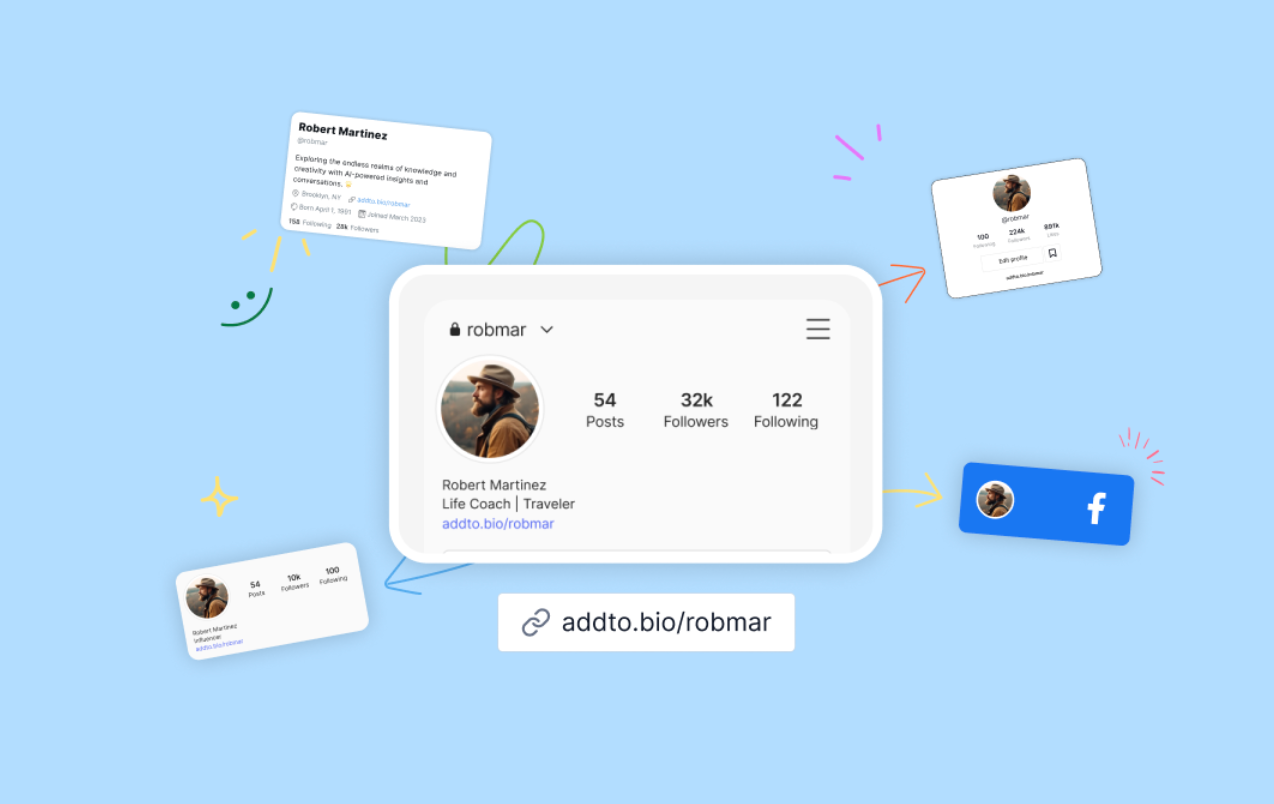 Free Plan: You can use Planly for 7 days just a 1 dollar. Here, the including a Pro plan. You can get acquainted with other paid prices from the table.
Pricing: There are also 3  premium plans you can use.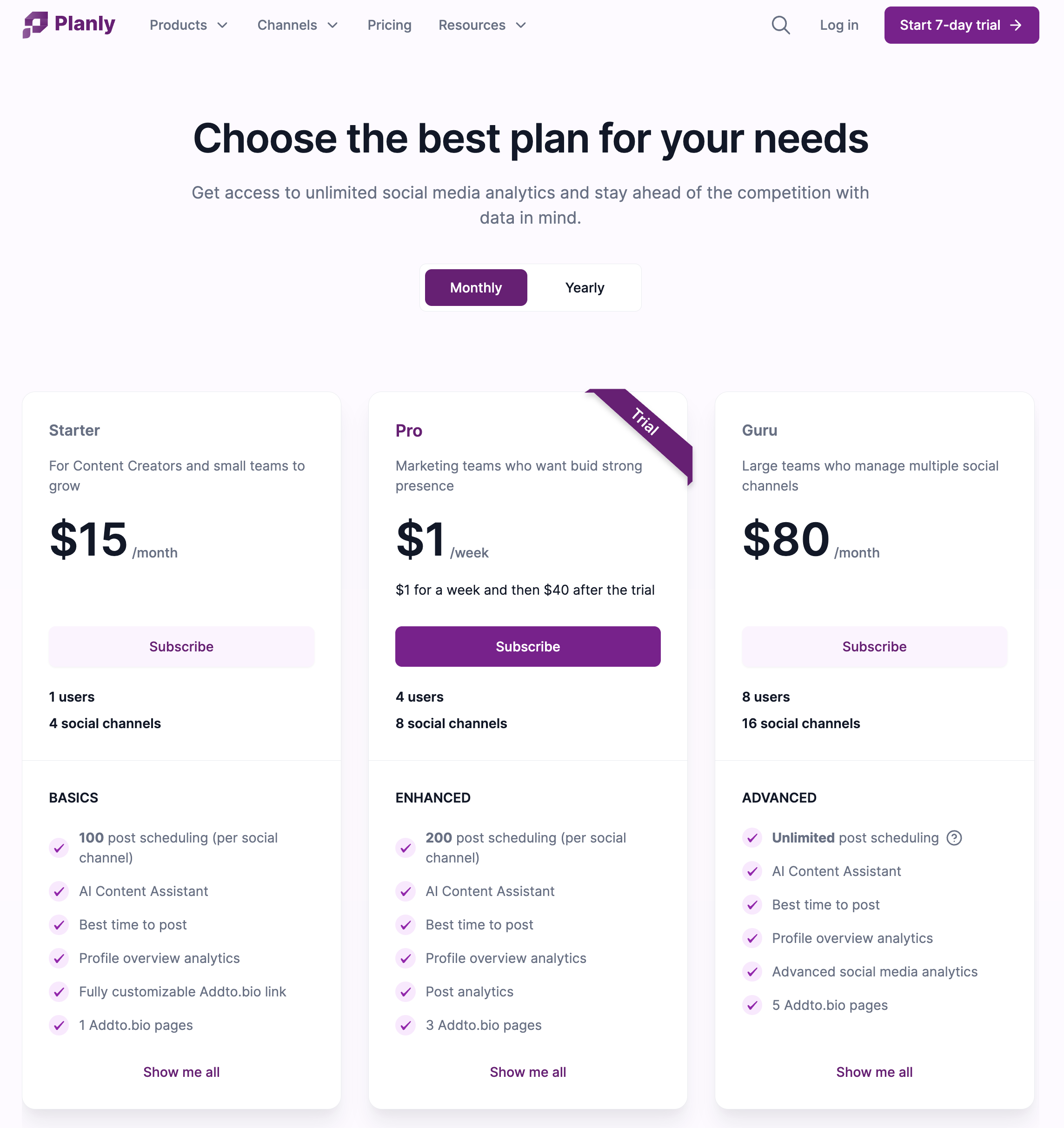 Later
It can auto-post to social media platforms such as Later, Instagram, Facebook, LinkedIn, Twitter, etc. You can easily schedule your posts through Later. You can find the appropriate hashtags for your posts using their hashtag research tool, which also offers full statistics so you can see how well your posts are performing in terms of engagement.
Free Plan: Later, including 14 days free trial. One social set (one each for Instagram, Pinterest, Facebook, Twitter, LinkedIn, and Tiktok) is included with Later's free plan, and the ability to schedule 30 posts for each social media profile and entry-level analytics.
Pricing:
Tailwindapp
Tailwind is an all-inclusive marketing toolbox for Instagram and Pinterest that allows you to manage your social media accounts from a single dashboard. It only supports two platforms, nevertheless, in contrast to other tools.
With the help of this tool, you can schedule posts for the most effective times, make stunning pins more quickly, find content, keep an eye on conversations, increase your reach, and track your progress.
Free Plan:  20 monthly posts across one Instagram and one Pinterest account, five Tailwind communities, limited analytics, and 1 user.
Pricing:
Buffer
One of the top free social media scheduling tools is Buffer. Its simplified UI and free edition make scheduling and viewing your social network postings simple. The platform is fully functional and provides you with the resources you need for audience engagement, publishing, analytics, and team collaboration.
Free Plan: With the use of 1 user, it is possible to schedule post 10 channels for free.
Pricing:
Combin
For anyone looking to gain more Instagram followers and interaction, Combin is the ideal solution. It can help you obtain actual followers rapidly and is straightforward and simple to use.
Growth and Scheduler are the two major plans that Combin offers. The Scheduler program lets you manage 15 Instagram accounts, upload large quantities of images, tag users and locations, and more.
Use Combin to locate influencers in your business or niche so you can work together and gain more exposure. Or this is the ideal tool if you want to promote your account.
Free Plan: One account management, two searches running concurrently, 25 results for posts, and mass searching for stories.

Pricing:
Friendsplus
Another free social media scheduler tool for automating and scheduling your social network postings is Friends Plus. With their desktop application, you can generate fantastic content, collect it from all over the web, and bulk schedule it.
They also have browser add-ons that enable it simple to share content directly from your browser to Facebook, Twitter, Linkedin, or Pinterest. Additionally, if you're using a mobile device, they provide iOS and Android applications so you can manage everything in one location.
Free Plan: One user, two queues, 5 schedule posts per queue, link shortening, Zapier integration.
Pricing:
SocialOomph
SocialOomph is a free social media scheduler that keeps track of your activity across several networks and lets you pre-plan postings.
You can plan content to go live at any specific time or date in the time zone of your choice. Additionally, you may easily bulk-upload blog content from your PC.
SocialOompah provides a variety of features, including the ability for messages to personalities, and is automatically removed after a set amount of time.
You may use the essential posting tools, link one social media account, and make a limit of three posts each hour with their free plan.
Additionally, SocialOomph can be integrated with Shopify, Tumblr, and WordPress blogs, although this involves subscribing to a more expensive subscription.
Free Plan: 1 social profile, max three posts per hour, access to personal area only, unlimited schedule posts.
Pricing:
Time to schedule!
Scheduling posts on social media will always be useful for you. Before you can schedule your posts, you should set your social media goals, social media KPIs, and prepare a social media content calendar to be mroe measurable and effective. After that, you can prepare and schedule their design and visual image.
If you are an individual social media user, free scheduler tools are ideal for you. Even the free social media scheduler is considered affordable for micro-influencers. Get more engagement on social media by scheduling your posts! 🤩