When maintaining an Instagram account, many are faced with the problem of filling content. Indeed, ideas run out, a crisis of creativity sets in, and sometimes even banal laziness.
In addition, creating content is a huge amount of time spent. But there is a way out, user-generated content on Instagram can solve this problem, both partially and completely.
What is User Generated Content?
User generated content is any post by a regular person that features a brand. Let's start by listing the benefits of user-generated content on Instagram. So:
inspires confidence in other users - this is especially true for commercial accounts, when people share photos from your cafe or beauty salon, this involuntarily inspires confidence;
additional audience coverage - when users post photos on their profile, you get their subscribers as an audience;
time to create - you don't spend anything on creating such content, people themselves are happy to take photos and share them.
How to use User Generated Content on Instagram?

Use it to gain credibility
The main asset of the user generated content on Instagram is its authenticity. In fact, brands do not pay or hire Internet users to create this content. Therefore, they produce authentic opinions aimed at helping other users in their choices, in all areas (fashion shopping, travel, car, insurance, restaurants, etc.).
Internet users, and millennials, in particular, are becoming less sensitive to traditional communication methods and are warier about sponsored content. They look for authenticity and genuine customer reviews.
In addition to gaining credibility with your community on Instagram, by using user generated content in your marketing strategy, you also seduce Google. In fact, Google's indexing bots consider user created content as "trust builders," which will improve your SEO.
Build your engagement rate
Instagram user generated content allows you to develop and increase your Instagram engagement rate. Most of your clients are nano influencers, which makes them your main allies. They are your main ambassadors and will be your best assets for viral and authentic marketing.
The user generated content they produce and share on social media receives proportionally more engagement and is considered trustworthy. In addition, offering your community the creation of content allows you to multiply the number of photos/videos/articles produced.
Then you will get a lot of authentic customer reviews and your online reputation will develop.
Increase your visibility
Internet users like to share their posts with their community on social media. Likewise, your own brand community will reach other users (potential prospects) who follow your clients on social networks among their friends, family, colleagues...
Your audience multiplies,  therefore, which will allow you to gain visibility, increase your notoriety on the web and attract traffic to your site while benefiting from a great advantage: a consumer has more confidence in the content spread by another consumer.
Reduce marketing costs
For reasons that are easy to understand, user generated content on Instagram saves your marketing costs. And for good reason: it is your users, your customers who create content around your brand.
Unlike " paid media", the media purchased by brands to communicate such as press ads, Instagram Ads, TV ads, radio, mail, billboards, Google Ads, word of mouth, comments, publications in blogs, forums, video customer reviews, and all other forms of UGC represent " earned media" for businesses.
In a time of economic crisis where marketing budgets tend to be tight, using Instagram user generated content is an ideal solution. UGC allows you to increase brand visibility at a lower cost. This does not mean that UGC will replace branded content! The two are complementary.
Better understand your users and customers
The content created and shared by users, whether in the form of customer reviews, Instagram posts, or blog comments, allows the brand to better understand its users and customers, their expectations, their needs, and their feelings about their products and services.
Encouraging the production of UGC is a way of developing what is called the " Voice of the Customer ". The authenticity of UGC let brands turn Instagram followers into customers with less budget than spent on paid media.
Return users and customers to the center
By promoting this content and by encouraging your users to share their opinion and experience of your brand, you put them back at the center. You involve them in your brand adventure and promote the creation of a real community.
Encouraging your users to produce UGC is a signal you send them, a message that says: "your voice counts, speak up!" The use of UGC is one of the essential levers to becoming "user-centric" and transforming your users into players in your brand development.
Allowing users to share their voices and listen to their opinion, you organically pursue customer retention strategies within Instagram marketing.
How to start User Generated Content on Instagram?
Where do you start? The beauty of social media is that you can make it social, conversational, and creative. Some of the ways we recommend are to start an Instagram hashtag trend as a question and to engage in impressive partnerships. Here's how to get started with user-generated content on Instagram with these methods.
Once you have prepared a social media content calendar, make sure they are posted within a certain schedule. To help you with that, we can recommend you use Planly Instagram scheduler. It lets you schedule your posts, videos, carousels, stories, and reels, without a single push notification. Another difference from other platforms is that you can also pin posts and share feed posts to stories while scheduling your posts.
Track what is already working for you
Might sound strange at first sight but. If you have a set social media account where you have considerable engagement that means you are successful in your social media goals. By analyzing your Instagram analytics you can see what type of posts have higher engagement.

Although individual users have a different style or voice than brands, the type of content that works for you will probably attract more eyeballs when they are created by other users.

You can also keep track of your brand on social media to see how the audience is generally thinking about your brand or updates. By implementing social listening and social monitoring for tracking your users, you can get interesting social media post ideas on how to start your users generated content on Instagram.



Start a hashtag trend
Encourage your fans/followers to contribute and show what they have by using a unique hashtag you created. If you have it in mind, check their usage by searching for Instagram hashtags on the relevant channels.
Your posts that encourage users to use your hashtag can be a way to showcase a retail product you sell, a tool you provide and what they create using it, or how your service has shaped their lives.
An added advantage of doing this is that you can easily follow posts, especially on Instagram, where you can search for a hashtag and follow it. This will also serve as your creative arsenal when you want to share some UGC content.
Procreate created one of the best User Generated Content campaigns on Instagram. Check below how effectively encourage customers and people who haven't done so yet.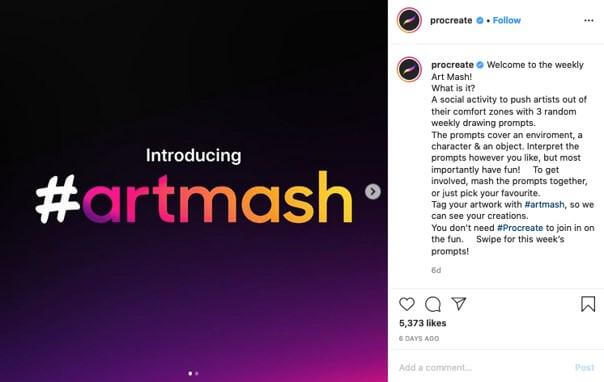 3. Ask a question
It's simple: Post a question and encourage your followers to share a post and tag you. After all, people enjoy standing out and feeling special.
American Eagle is even more direct in asking fans if they want to be featured in their Instagram bio, and all users have to do is use their hashtags.

4. Partner with influencers
On a larger scale, we often see celebrities endorsing products on social media. This requires a larger budget, so it may not be so easy to come up with for small businesses or limited budgets.
Thanks to Instagram influencer marketing you can reach out to well-known social media users that can advocate for your brand and attract more users.
For example, if you're a clothing boutique, find a local fashion blogger in your area and discuss a small partnership opportunity with them. If you're a law firm, research local businesses you've worked with before and do the same, because you may have helped them merge when they opened and they can share a story about how you got involved. If you're in the real estate industry, there are plenty of opportunities out there with people you help buy or sell their homes. influencers,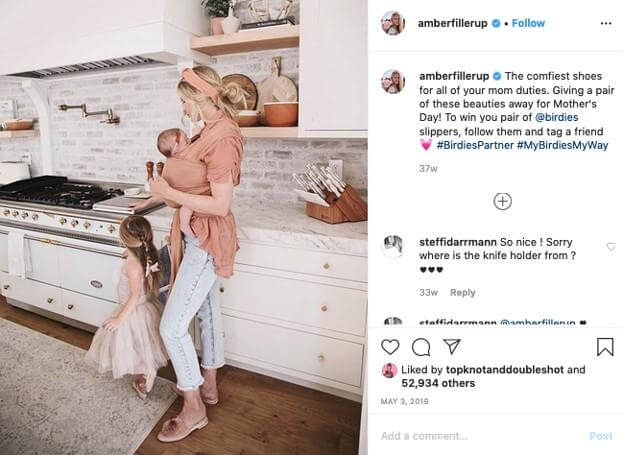 Another thing you can do with your influencers is get them to run a contest from their account. If you can, provide one of your products or services. If the cost is too high, you don't have to give a big deal and you still find success with something like this. While the product sweepstakes were successful, we had great success with all kinds of prizes, such as branded t-shirts, bags, and even stickers. Again, making the user feel special.
Wrap up
Now we've covered all the basics and best practices for driving engagement with user generated content on Instagram: how to source content, how to use it for boosting engagement on Instagram, and how to make sure you deliver a great customer experience. With user-generated content, the possibilities for the ways you can use them to benefit your commercial marketing efforts are numerous. Have fun, be creative and achieve success!