TikTok is gaining momentum every year and is becoming an increasingly relevant platform for business promotion. Compared to 2019, the number of TikTok visitors increased 7 times. The platform with short videos became the fourth most popular on the world average and left Facebook itself in the fifth position.
In January 2021, TikTok already managed to surprise: the application took second place in terms of downloads in the world - only the Telegram messenger could overtake it.
Foreign brands have been actively conducting TikTok ads campaigns on the Chinese platform for several years. We will talk about the best TikTok take-over examples in the article.
Best TikTok ads examples
GUESS
Guess Challenge in 2018 can be considered the first ad campaign on TikTok. To promote the initiative, the brand resorted to collaborations: TikTok influencers set the trend and increased the reach of the challenge's audience.
To take part, it was enough to shoot a video before/after: under the track "I'm a Mess" by Bibi Rex, users showed their outfits in old clothes and changed into a fashionable look from Guess. The challenge was held under the hashtag  #inmydenim. A great solution to draw attention to the new line of denim.
The result of this TikTok in feed ads example was more than 5 thousand videos and 52 million hashtag views.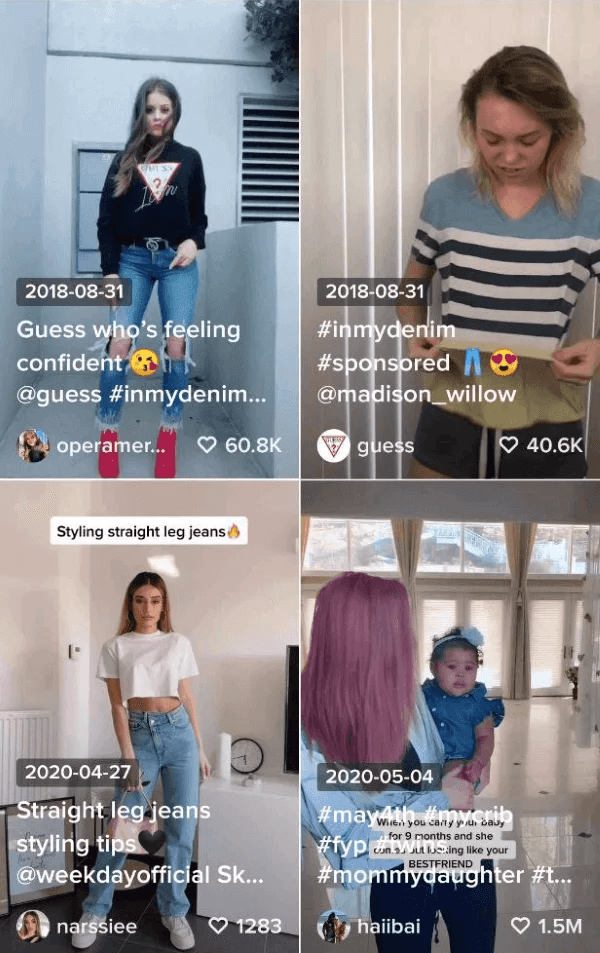 Calvin Klein
Calvin Klein was one of the most successful TikTok ads examples. Under the hashtag  #MyCalvins, three videos from celebrities were released, where everyone shared one true fact about themselves. American supermodel Kendall Jenner was among the stars.
The trend was quickly picked up - today videos with honest confessions already have over 30 million views. Of course, the brand did not just call for expression without boundaries: this is how they prepared the ground for the release of a new collection of underwear and denim under the same name.
Coca Cola
Even such a giant corporation as Coca-Cola is constantly looking for new platforms to maintain brand awareness and attract new audiences. Creative videos with a bottle or can of cola have grown into a massive #shareacoke challenge was one of the best TikTok in feed ads example with over 80 million views.
EA Sports
Not just challenges: there are companies that are opting for more traditional TikTok advertising options.
Video game developer EA Sports of Electronic Arts Corporation promotes its games by attracting influencers to cooperate. For example, American blogger  Brent Austin Rivera  (36.7 million followers on TikTok) posted a parody video of him playing Apex Legends: today the number of likes for the video is approaching 1 million.
For the advertising campaign for the game Plants vs Zombies,  Gil Cruz, one of the oldest and most famous TikTok stars, was invited. This video already has 635 thousand likes.
EOS
Cosmetic brands know how to appeal to their audience no matter what platform they are in. The American manufacturer of the famous organic lip balm EOS with a catchy sphere-shaped design is also known for its successful case of launching the #makeitawesome hashtag challenge.
The brand leveraged a User Generated Content on  TikTok takeover examples. The scheme is about the same: the brand invited users to shoot a short video and demonstrate how EOS products change lives for the better.
The audience reach is impressive: the five TikTok bloggers invited to collaborate have 17 million followers.
TikTok Hashtag Challenges Ads
The most popular ad format on TikTok. Bloggers or stars, as a rule, together with brands, launch a challenge, and any user can shoot their video according to the given rules and mark it with a hashtag. Usually in hashtag challenges you need to use certain music.
On the hashtag challenge's official page, all the participants' videos are saved, from which the organizers choose the winners and award prizes. It can be brand products and services, meetings with celebrities, but the main reward for Tik Tokers is, of course, popularity and views.
This type of TikTok ads examples helps to expand the audience greatly due to the large number of celebrity subscribers with whom you are joining TikTok hashtags and the fact that user begin to participate and spread the very idea of ​​the challenge further.
An example of a popular hashtag challenge from Converse. The company teamed up with millionaire bloggers popular in England and invited users to decorate their conversions. Thousands of videos from fans of the brand appeared under the hashtag, showing how they paint, dye and even embroider their favorite pair of sneakers. Still, the winner was promised tickets to the company's event.
24 million views in 6 days! That's what it means to run successful TikTok brand collaborations and find the right content creators. Well, be a cool well-known company.
Why big brands need TikTok ads?
Many people are under the delusion that large companies, whether it be Pepsi or Coca-Cola, BMW or Mercedes, do not need advertising. In reality, everything is different: brands with global popularity are actively using all kinds of tools for promotion on social networks. What for?
Nobody canceled the competition between giant corporations. It is worth reducing the advertising budget and slowing down, and competitors will immediately find a way to shift the focus to themselves by increasing media presence (and media presence directly affects the value of a company's shares). Reminding yourself is especially important when it comes to launching new products. A systematic approach and maximum creativity - without this, the advertising strategy will not "shoot".
At stake is the media image. They continue to drink those ads are still part of our holiday lives because a positive image of the holiday has been formed around it: the legendary New Year's advertising continues to work for the brand's name. Maintaining the image is one of the tasks of advertising.
Promotion is aimed not only at attracting new consumers but also at retaining regular customers. Advertising knows how to justify the cost of a car of several million: by showing how status and success its hero looks, it convinces the buyer of the right choice.
TikTok ads won't help your case without quality and consistent content - for such purposes, Planly will help you organize your TikTok posting. You can schedule your TikToks beforehand and have them auto-published at the exact time you set.
Bottom line
TikTok, with its concept and atmosphere, is the perfect platform for initiating this kind of activity, fun music, and creativity. Brands are aware that the attitude of the modern user of social networks to intrusive advertising is predominantly negative, therefore, when developing a promotion strategy, it is important to choose those tools that will not lead to a negative response.
Engaging the audience in a creative hashtag challenge, inviting popular influencers to cooperate, and choosing the right mechanism to launch a campaign is a scheme that works, and domestic brands are already starting to conquer TikTok marketing actively.
TikTok advertising is a tool with great potential that is worth at least testing. If there is yours among the audience of this social network, experiment with different TikTok ads examples, collaborate with bloggers, and see what brings the greatest response. TikTok is also a business, if you have successful cases and creative ideas, you can always write to brands yourself to offer cooperation, shoot video ads, or do TikTok promotions.