More than half of the world's population uses social media. Social media is where people follow each other, and social media platforms are the most used search engines after Google. So if you have a store on Shopify, you should not be content with Google. To reach your target audience, you must promote your products on social media and share them so that people know about the Shopify store.
You need Shopify auto-post apps to share your products posted on social media quickly. Thus, your time will not go to social media every hour to share products. The auto post apps for Shopify should be able to schedule your posts to your targeted social media. You should use Shopify social scheduling apps to boost Shopify sales with social media marketing. You can learn how to drive a Shopify store using social media.
Your social media engagement will increase when you use Shopify's social media apps. So, with this, Shopify's social selling will increase. When your followers see you on social media, they will become interested in your products and order them.
All you need to do is sell your products on social media with the right strategy. Customize where your products appear, so you can feel confident that the right shoppers discover your business. Which social media platform do you want your products to appear on, you need to learn the essential secrets of that platform, and that's how Shopify social media selling will increase.
The good news is that using the right Shopify social media apps can significantly improve the effectiveness and productivity of your social media marketing campaigns. Let's look at the top 10 Shopify social media scheduling apps to assist you in making the best decision for your social media marketing and customer service requirements.
Best Shopify auto post apps to use in 2023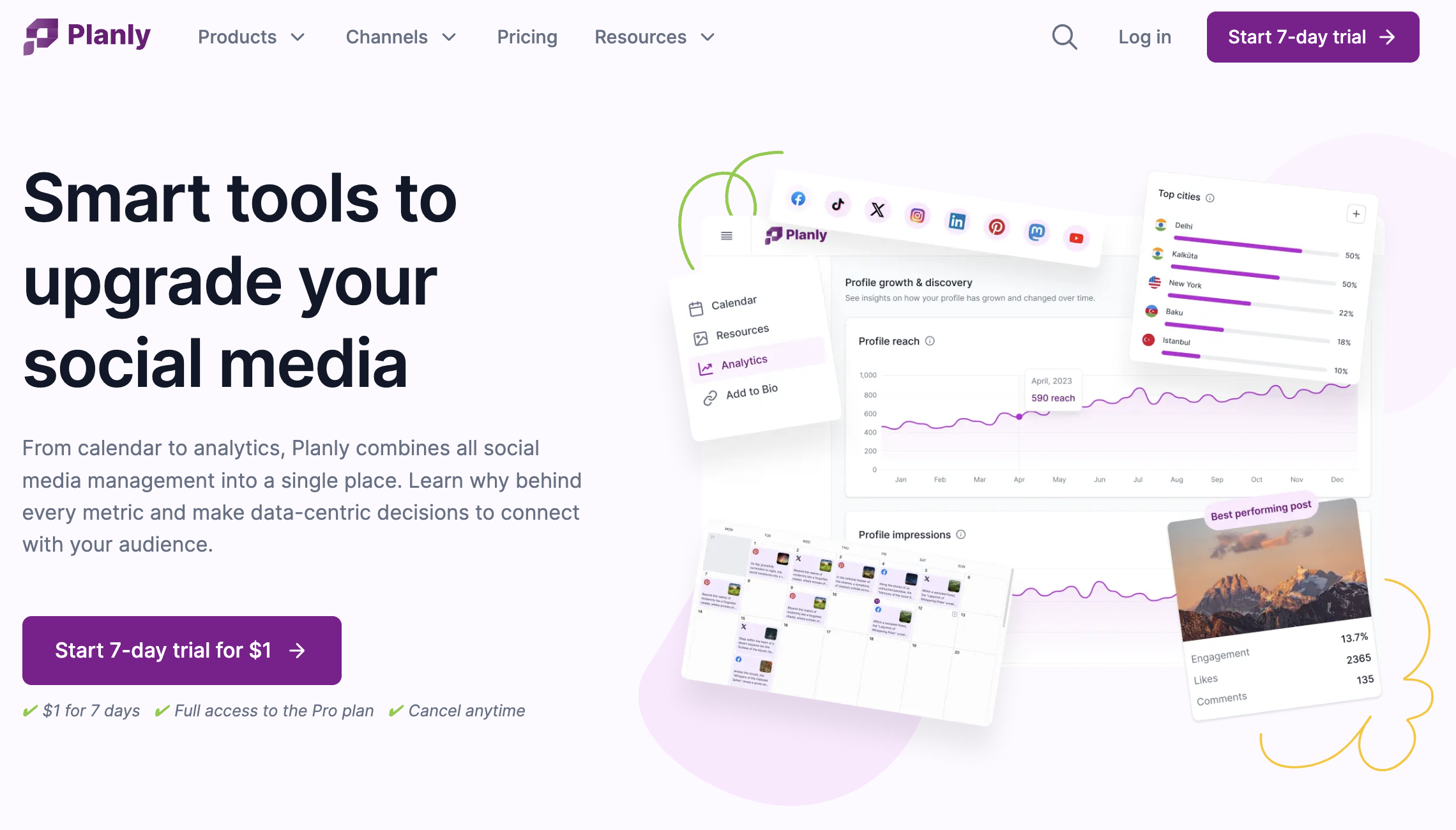 Planly is a social media management tool that makes it easy to schedule and analyze social media posts. With Planly, it is possible to schedule posts on social media platforms such as Instagram, TikTok, Twitter, Facebook, Pinterest, LinkedIn, Mastodon, and YouTube.
One great feature of Planly is its Shopify integration. You can add products from your Shopify store to Planly at once. To do this, you enter your Shopify API address in Planly, and your Shopify products appear in Planly's Library section.
So you can schedule them on 7 different social media platforms. During the post schedule, you can schedule the product price and description according to the specific features of each social media platform.
Your Shopify products will appear in the Shopify products section of Planly.
You can schedule the desired product from several social media platforms simultaneously by clicking the New Schedule button.
Key features:
Great time saver
Drag & drop calendar planner
Shopify Product Library
The first comment on Instagram, Facebook, LinkedIn, and Twitter
Planly is a premium Shopify app.  The premium plans range from $15 to $80. You can use your free trial for 14 days to check these plans. Note that the Shopify integration is on premium plans. Also, you can try Planly for just 1 dollar, 7 days.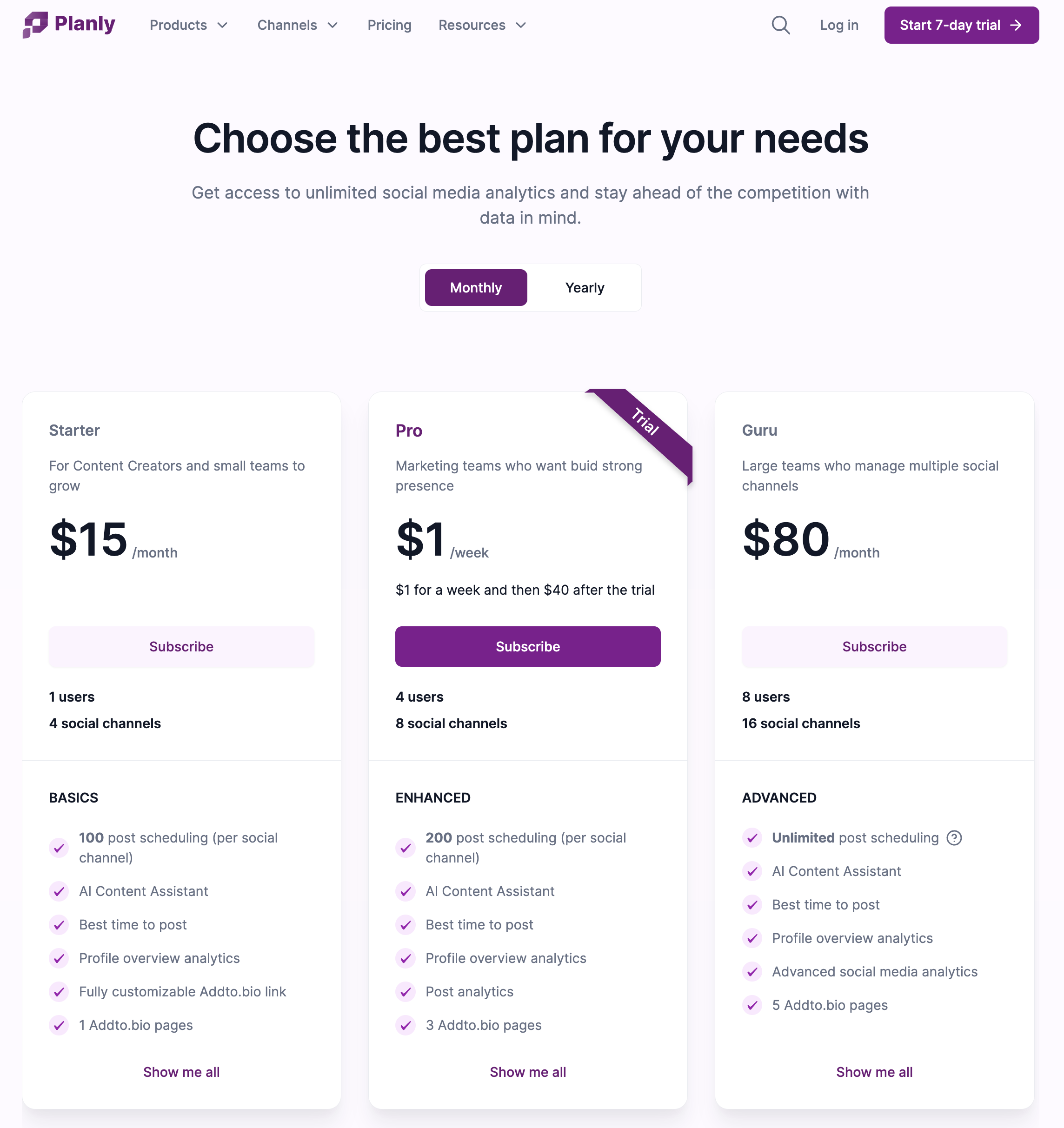 Outfy - Automate Social Media by Outfy
Outfy is a social auto poster app for Shopify and other ecommerce platforms. With Outfy, you can easily make high-quality collages, videos, and GIFs to market your products and increase brand awareness on social media, in addition to its helpful automation features.
Key features:
Provides a variety of customizable promotional post templates
Hashtag research to choose the most suitable ones
Pricing:
From $15/month, the free plan is available.

Facebook & Instagram Auto Post
Using this Shopify scheduling tool, you can schedule items on your Facebook, Twitter, Instagram & Pinterest accounts in just a few steps.
Key  features:
Automatically post products to your Facebook, Twitter, Instagram & Pinterest
Add a new product to your store, and we post it automatically to your accounts

Pricing:
Completely free
Twitter Auto Posting
The software automatically tweets about new products to your Twitter account. This boosts your business's web profile, shows customers how devoted you are, and boosts sales. When you want them to be posted, you can specify how many, which products, and at what time. Customers will see a message posted with each product that reads,
Key features:
You can choose the time that the posts should go live on Twitter.
A separate message will be displayed for each product to make it appear authentic.
Want specific products to be hidden from your newsfeed? This is possible.
Pricing:
From $9.95/month. 90-day free trial.
Instafeed ‑ Instagram Feed
With Instafeed, you can quickly add simple and elegant Instagram feeds to your store. Posting Instagram content on your sites, such as images and Reels, can help you create social proof, turn customers into customers, and gain followers on Instagram. Mint can use your Instagram material - Instafeed to direct fresh new content to your store automatically.
Key  features:
Layout changes can be made manually or automatically based on visitor screen resolution
Create shoppable Instagram feeds by including multiple product tags in your posts
Filter your posts with hashtags

Pricing:
Free plan available.
SocialPublish: Auto Post Facebook, Twitter
SocialPublish is precisely what you need if you're looking for a quick and efficient Shopify auto-post app. You can select templates, and the products you wish to sell, alter the templates and schedule the posts for the most influential periods.
Key features:
Auto-post your products to Facebook & Twitter with a preset schedule
Choose from highly effective and fully editable post templates.
Using your logo on product photos will raise brand awareness.
Pricing:
Free plan available. 14-day free trial.
Instagram & Facebook marketing
This Shopify social auto poster speeds up your workflow. It gives you advice on the best timing and frequency while assisting you in maintaining a presence across all major social media networks.
Key features:
Help you save time and money.
Al time/frequency recommendation engine
Full end-to-end social media publishing automation
Pricing:
From $3/month
Latter
Schedule and publish posts on Instagram, Facebook, and Pinterest from your Shopify store. Later is a popular Shopify app for social media scheduling and publishing. It integrates with many other tools to streamline your workflow, including Instagram, Facebook, Pinterest, and TikTok.
Key features:
Social media scheduling: Schedule and publish posts on platforms including Instagram, Facebook, Pinterest, and TikTok.
Image editing: Integrations with tools like Canva and Adobe make it easy to create and edit high-quality visuals for social media.
Analytics: Later integrates with analytics platforms, like Google Analytics, allowing you to track the performance of your social media campaigns.
Direct publishing from Shopify: Save time by scheduling and publishing posts directly from your Shopify store.
Pricing:
From 18 dollars. 14 days free trial available.
Hootsuite
Customers who use Hootsuite Teams on a Business or Enterprise level can now add up to five team members. After set up, the owner of your store must install the app using the Shopify app directory before granting team members access to the store. Just add the app to your Hootsuite dashboard, those team members.
Key features:
View products from your shops in Hootsuite streams
Share products to your social networks with images
Filter products by collections and keyword
Reply to customers on Twitter
Multiple shop support
Image editor included
Pricing
From $99/month
Buffer
At this time, Buffer is not approved as a "listed" app by Shopify and is not an extension that can be downloaded and connected directly to a Shopify store.
Pricing:
From $5/month. 14 days free trial available.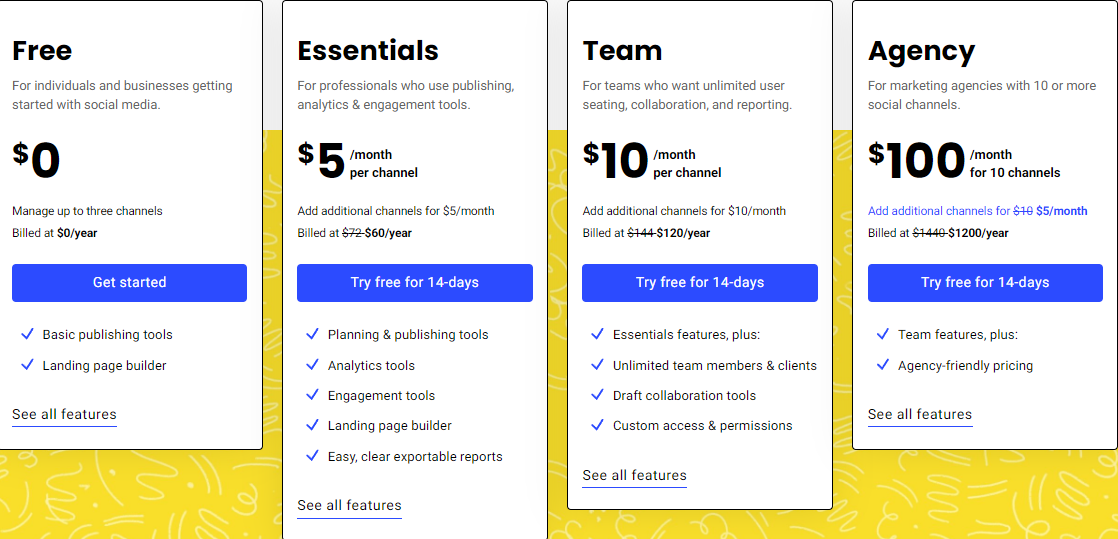 Conclusion
Selling your products on Shopify is a significant choice. Here you can earn quite a lot and increase your customer base. But remember that you have to gain your customer base from social media. Use Shopify social media scheduler apps for this too.
Shopify scheduler apps will help you be more active on social media and increase traffic to your Shopify store. The Shopify auto-post app you will use should be able to auto-post your items to your targeted social media platform. Use the free trials to find the best Shopify social auto poster. Now that you've found a Shopify auto-post that works for your business, you can start developing a social media marketing strategy for Shopify