Whether you are social media manager or a small business owner, now you can simplify your post scheduling with the latest Planly updates.
What is Planly Google Drive integration?
During late 2022, we rolled out Dropbox and Unsplash integrations to help you easily upload media and schedule to social media from Planly. Google Drive is another media source you can connect to Planly to reduce the number of steps on managing media.  
Editing media, uploading to Planly, then scheduling can take quite a long time if you manage different tasks at the same time. Planly Google Drive integration lets you easily upload media files you need. You can upload, edit, and schedule media directly from Planly to your social channels.
How Planly Google Drive will help you?
Planly's integration with Google Drive and other media platforms helps social media management teams to reduce the number of steps on posting social posts and manage all work in a single place.
In today's social media management, visual content is one of the vital elements of getting high engagement on social media posts. Media management is a challenging task for social media teams if you store and share files from different sources. But this broad range of media platform integrations allows you to bring all different media sources into a single platform and directly share from there.
Now, with Google Drive integration, you can directly upload images from your Drive to Planly. Google Drive future is available only in the paid plans. If you are on the free plan, switch to premium plans and use Google Drive and other advanced features.
How to use Google Drive to schedule media?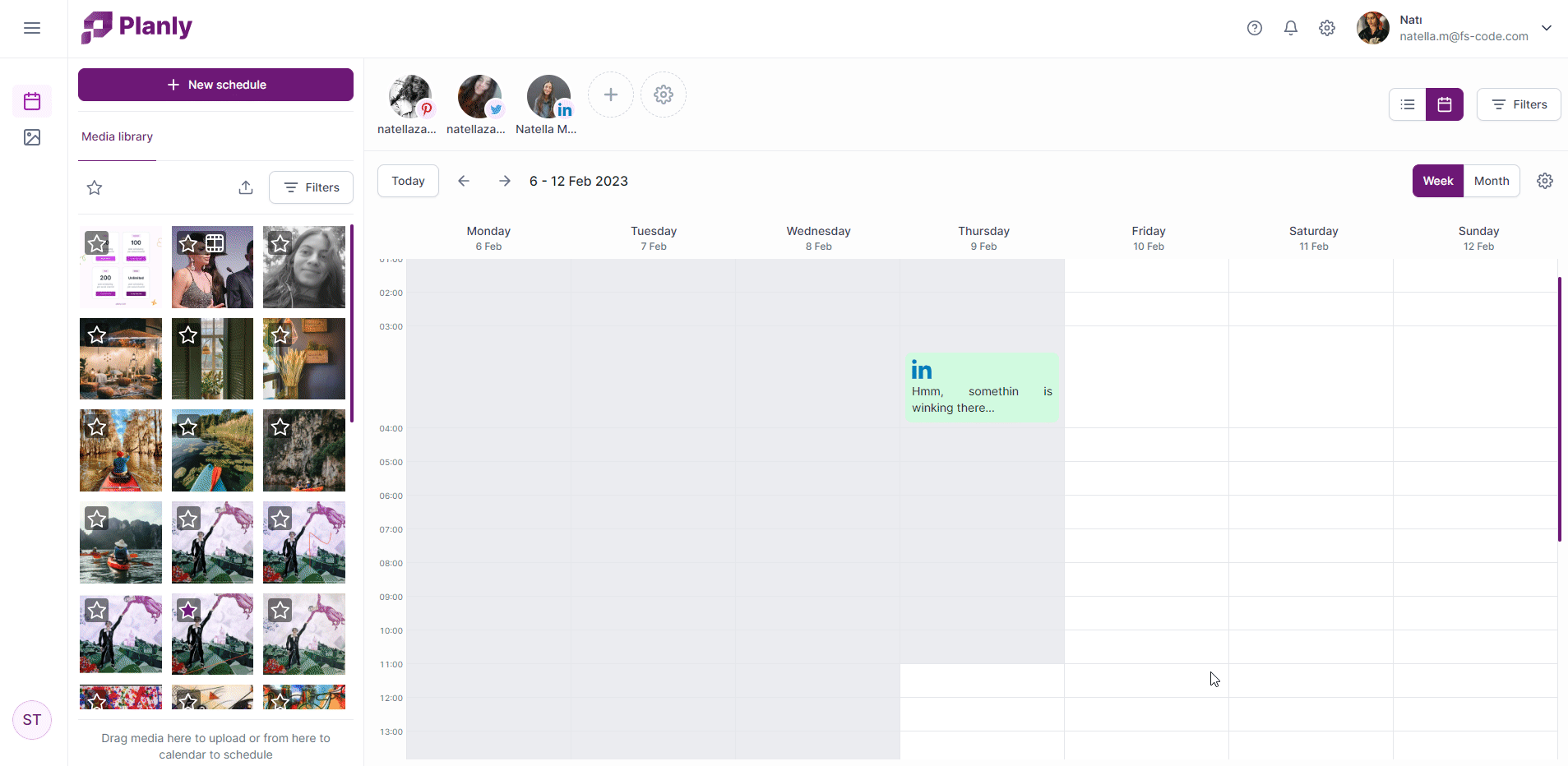 1. In the Planly app, go to Media Library in the Resources section and click the Upload button.
2. Select From Google Drive from the list. From the given menu, choose the Google account you want to connect to Planly.
3. Select media files and click the Upload button.
Bingo! Your media will be uploaded to Planly. You can either schedule them or use editing features to customize them before scheduling.  
You can connect Google Drive from the side Resources section of the Calendar tab or from the major Resources tab itself. The first method lets you upload media and directly drag and drop them into the calendar.  
☝🏻
As part of Media Library and Resources, Google Drive also belongs to Teams. The media you upload to Media Library will be only accessible for the current team you are using at the moment. If you connect the same social channel to different teams, the media used within one team will not be accessible on the other team. For detailed information, please check our
Guide to Teams in Planly
.