Becoming a professional social media manager is not as difficult as you think. All it takes is a little hard work and reading this blog :) When starting a new business, we think of promoting it first on social media.
This is absolutely the right step. Because 59% of the world's population already uses social media. The fact that people spend a lot of time here during the day means that you can grow your business on social media. To manage your business on social media, you should entrust it to professionals.
People who can do this are social media managers. The next part of our blog is for social media managers. To become a social media manager, you must first understand social media. There may be a number of difficulties that you will experience when using social media.
In this blog we will talk about how to become a master social media manager: also how to prepare a social media manager checklist and the challenges of being a social media manager.
Who is a social media manager?
Creating and managing social media campaigns, providing content, reviewing data, and interacting with important stakeholders in a company are all basic responsibilities of social media managers. Also:
Using the brand's social media profiles to engage and communicate with customers, influencers, and users.
Controlling the community on social media accounts
Tracking, analyzing, and reporting social media KPIs
Following the most recent developments in social media technology and trends.
Working together with the marketing, public relations, product, and design teams to achieve the organization's unique goals.
What qualifications do you need to be a social media manager?
There are many different qualities that a social media manager should have. We can list them as follows.
1.  Copywriting
The social media manager represents the brand on social media. Therefore, if you want to become a social media manager, you must first have social media skills. When writing posts, write the caption in a way that the user will understand.
Avoid clichés as much as you can. You should attract your audience with the captions you will write. First of all, of course, you need to know your audience. Do they like to read short or long captions, are they interested in informational posts or entertaining posts?
Once you answer questions like these, you'll tailor your copywriting accordingly.
The most effective way to improve your copywriting skills is to read books. As you read different books in your field, you will develop your ability to play with words.
2. Creativity
As a social media manager, you will prepare various posts and propose new content ideas for social media. One of the first skills you need to do this is to be creative. Try to look at your brand's products and services from different angles. In this way, different ideas will come to your mind. For example, planly.scheduler creatively explains the difficulties faced by users on Twitter with a meme post. In the caption, it introduces the new Twitter scheduling.
3. Design
Social media highly depends on visual content (especially Instagram). In addition to drawing your audience's attention, the correct images can increase the impact and memorability of your material.
Although a background in graphic design is not required to work as a social media manager, having a good eye for design wouldn't hurt. You must learn how to work in tandem with graphic designers, videographers, and artists to make sure that all of the visual materials used in your social media campaigns support and complement your brand's identity.
Also, you can make your work easier by using various design tools. There are different social media tools you can use to aethetics of your social media. For example, Canva will help you design your social media posts and help you visualize them the way you want.
4. Management
Managerial skills are a must-have for a social media manager. A social media manager must constantly be interested in what's new and follow trends. Thus, these innovations should be developed and advertised by the social media manager together with the project manager.

5. Data analysis
To become a social media manager, you must always know how to analyze your social media accounts. As part of your job, you may implement social listening and monitoring to hear public opinion about your brand. You should analyze
the impressions of your posts
which post is more liked or disliked
how much your number of followers has increased compared to last month
and the reasons for this if your number of followers has decreased.
6. Communication
A social media manager is a person who communicates with customers. Therefore, you must have communication skills. When talking to viewers, answer all their questions as accurately and clearly as possible. This will be good for your brand.
7. Marketing know-how
A social media manager must of course know marketing and work with that marketing strategy on the social media platforms they use. For example, since Instagram marketing strategies and TikTok marketing are not the same, you need to do things differently on each platform.
How to Become a Social Media Manager in 2023?
Here are some tips from our professionals that will assist you as you set out on your way to becoming a social media manager.
1.  Understand each network
New skills and niches are developing as social media continues to change. That is an opportunity for you to get knowledge in that area, so take it.
For instance, even if the majority of social media managers are familiar with the top five networks (Facebook, Instagram, TikTok, Twitter, and LinkedIn), becoming an authority on only one will set you apart.
2.`Be passionate
You will encounter a number of difficulties while working on social media. To solve such difficulties, you must first be patient and plan your work properly.
3. Understand what your competitors are doing
As you progress on social media, so do your competitors. They prepare new ideas every day and present them to their audience. Follow them regularly and see what they are up to. In this way, you will be aware of the trend, and you will be able to further develop your brand.
4. Choose your social media tools wisely
Social media managers can use several types of tools. The most useful of these tools are scheduling tools. Through which you can schedule your social media posts. The best social media scheduler is Planly. Through Planly, you can schedule your posts for Instagram, Twitter, TikTok, and Pinterest, Facebook, Google Business Profile, LinkedIn. Planly will auto-post your posts completely and will not send you any notifications. You can try Planly for free right now.
How do beginners start Social Media Marketing?
1.  Build your online community
Always keep in mind that social media is one of the best places to create and establish a group of individuals who have similar interests to your own. Make a Twitter or Facebook page, then start posting information that will connect with and appeal to them.
Even though you won't get paid for your work, this is a great (and enjoyable) method for you to gain a feel for what a social media manager does on a daily basis.
2. Strengthen your communication skills
The basis of a social media manager's job is communication. All of our experts stressed the need of honing communication abilities, such as copywriting and on-camera presentation, to get a job.
3 .Use free resources and tools
Today, you can find a ton of free tools and resources online to help you develop your abilities or learn more about a particular subject.
Your best friend is Google. Anything you're sure of, just search for it. For beginners, there are a ton of free online courses available.
4. Keep learning
Here are just a few things you may do to improve your social media manager knowledge and abilities. Remember, social media is always changing, and you have to keep leveling up.
Read blog posts and industry news.
Study books.
Watch webinars
Join a network of SMMs.
Analyze brands you like and take advice from them
How do I start a social media career?
1.  Be sure your carrier chosen
Make sure that you continue your career in this direction. Because to be a social media manager, you have to be constantly on the lookout, know new post ideas, trend changes, etc. and apply them to your company.
If you are a good researcher, the social media manager job is for you!
2. Increase awareness
Investigate every important and specialized social media platform, and master at least 4-5 distinct platforms. Learn about additional software and applications that could enhance your skill set (a basic knowledge of HTML, how to work with a CMS for example). Learn the terminology and terms used especially in the business.
3. Educate yourself
Attending social media conferences may be a great learning experience and provide networking opportunities. If you can follow a social media expert, you'll gain valuable insight into the day-to-day responsibilities of the position.
4. Learn on the job
Many professionals with expertise in social media have made the transition from jobs in related sectors. See where you may take part in social media activities in other areas of your department if you already have a focus on marketing, journalism, or advertising, to name a few.
5. Grow your network
What better strategy to preserve connections that already exist and grow your network than through making online connections? Ensure that when someone checks your profile, you are connected to knowledgeable people and industry experts.
Being well-connected is definitely beneficial in the world of social media, and their knowledge will not just add value to your developing skill set. Many websites make managing these connections easier, but to stand out, make sure you also go to events and seminars.
6. Build your personal brand
It's time to use the more well-known networking sites that you may already be a part of professionally. Instead of sharing shady stories and photos about your weekend trip, demonstrate your knowledge by producing valuable material that attracts friends and followers.📚
7. Become an intern
Put what you've learned into practice One way to apply is to become an intern for different companies. As an intern, you will be able to both increase your knowledge and acquire new knowledge.
Social Media Manager Checklist
You can make your own checklist based on the example. By scheduling each activity on a daily, weekly and monthly basis, you will be able to manage your social media accounts consistently.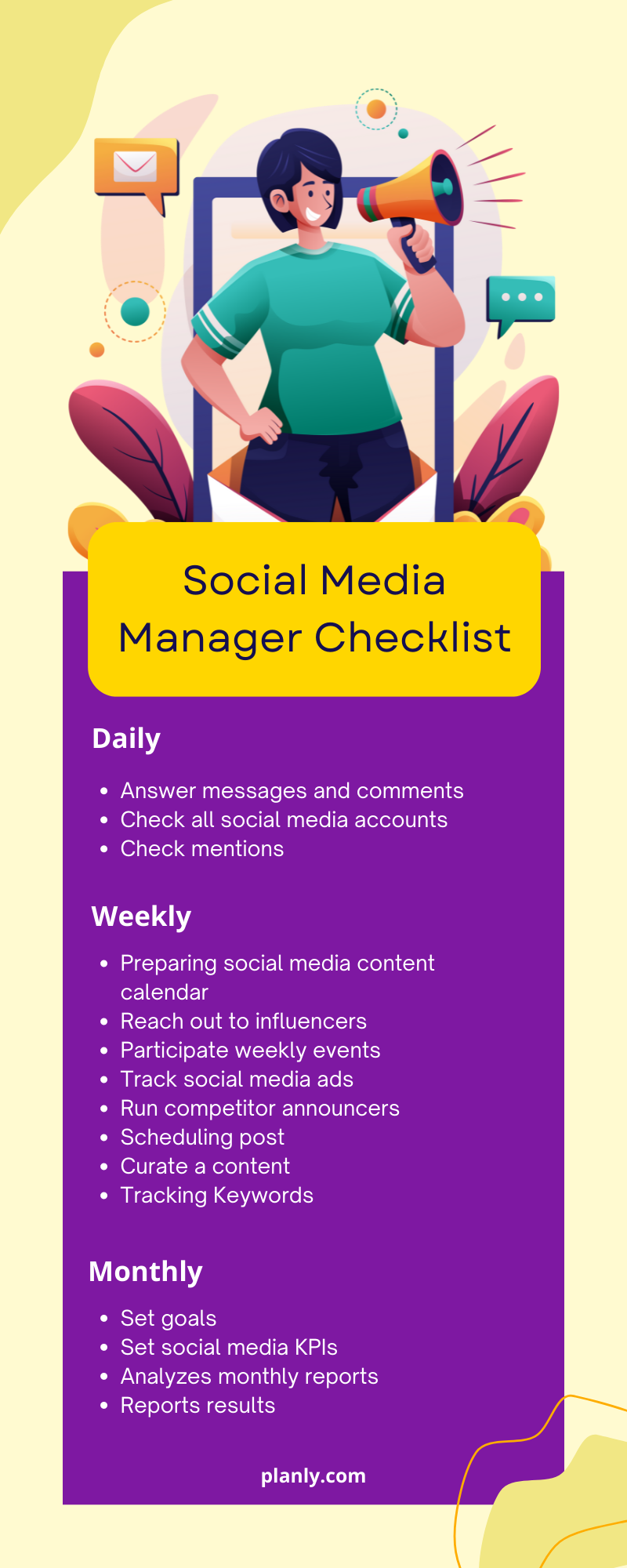 Bottom Line
He is a social media manager who manages social media and promotes the brand on social media. That's why when you are a social media manager, you have to work hard for your brand. If so, your brand will be popular on social media and you are a professional social media manager. Thanks for reading!