When was the last time you bought a gift for your mother, sister, girlfriend, friend, or lover? If this date was long ago, it is the perfect time to buy a gift. You can buy gifts on March 8, International Women's Day. Gifts were received, and everyone was happy, but what about our business?
Yes, you can use March 8, Women's day, for your business. For this, you can prepare International Women's day campaigns and use various international Women'sday social media marketing ideas to advertise.
Businesses should take advantage of International Women's Day to provide straightforward, highly engaging material that promotes their brands. While men still have a slight advantage in overall global social media activity, social media generally tends toward the progressive, which isn't true everywhere or across all platforms.
Social media lets people get almost all new information, trends, and companies. It means that if we are doing a business campaign on the international human day, we must advertise it on social media. This blog will tell you about social media content ideas for International Women's day.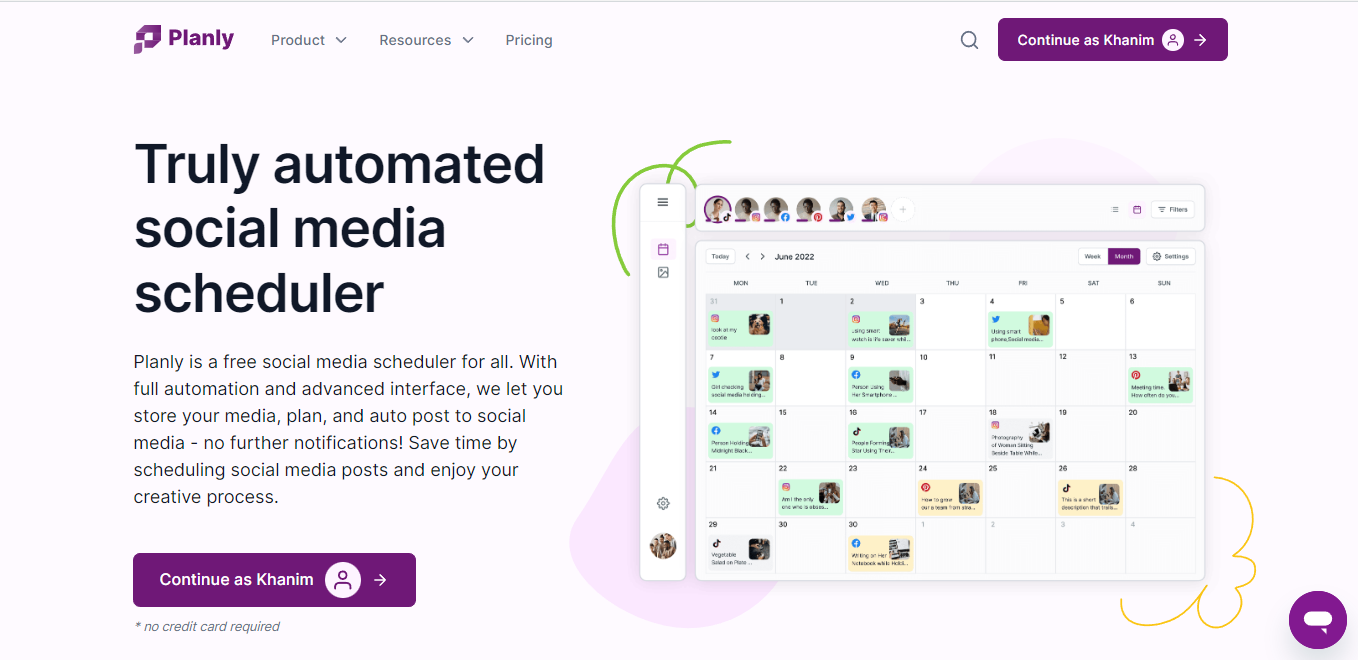 Planly
Register at Planly and create wonders
Create Planly account
6 International Women's Day Social Media Post Ideas
Creating Women's Day content is an exciting process. First, we should think that the posts we prepare will attract women's interest. Thus, the rest becomes more accessible.
For example, if you have a restaurant business, in addition to congratulating them on International Women's Day, make an exciting offer. For example, you can gift tea and sweets to women that day.
This idea is just one of the social media content ideas for International Women'sday. To learn more about social media content ideas for Women'sday, read the blog till the end.
Create IWD cards
To make International Women's Day greetings, one of the things you can do is make IDW cards. You do not necessarily prepare these cards because your social media should have classic but must-have posts. International Women's Day cards are an example of this.
IWD social media cards are a great resource on Twitter, Facebook, LinkedIn, Instagram, and more. You can find various international Women's Day card ideas on Pinterest.
Share a Women's Day Quote
International Women's Day is the perfect occasion to recognize and celebrate remarkable women who have achieved amazing things. Share inspiring quotes from these powerful women on your social media accounts, reminding everyone of their indelible impact on society! It's a great way to show appreciation for female successes and motivate others with words of encouragement.
By creating a post called Quotes for International Women's Day, you can ask your followers to share it. Or it could be the exact opposite. They may have already shared your post on Instagram stories.
These are the best International Women's Day quotes:
"Think like a queen. A queen is not afraid to fail. Failure is another stepping-stone to greatness." –Oprah Winfrey
"Women are the largest untapped reservoir of talent in the world." –Hillary Clinton
"Feminism isn't about making women strong. Women are already strong. It's about changing how the world perceives that strength." –G.D. Anderson
"Women must try to do things as men have tried. When they fail, their failure must be a challenge to others." –Amelia Earhart.
Little girls with dreams become women with vision."
"She believed she could, so she did."
"A successful woman can build a firm foundation with the bricks others have thrown at her."
"When women support each other, incredible things happen."
Some of us are becoming the men we wanted to marry." –Gloria Steinem
"Well-behaved women rarely make history." –Eleanor Roosevelt
"If you want something said, ask a man; if you want something done, ask a woman." –Margaret Thatcher
"If you obey all the rules, you miss all the fun." –Katherine Hepburn
"Empowering women isn't just the right thing to do, it's the smart thing to do." –Barack Obama
"Woman is the companion of man, gifted with equal mental capacity." –Mahatma Gandhi
Create international Women's day gif
Almost everyone loves gifs. If you make social media posts with GIFs, your followers will welcome and love you. You can also use different international Women's day gift templates using Google.

Promote a women's day sale or giveaway
The occasion of Women's Day is ideal for organizing a special promotion or giveaway for your female customers. By providing customers with a unique discount or a free item when they buy a specific product, you can express your thanks for their support. This post can be used to promote products made especially for ladies.
Share stories of women entrepreneurs
The time of Women's Day is ideal for telling the tales of successful female entrepreneurs. These ladies are frequently ignored, but they are an inspiring example of what is possible if you set your mind to it.
Tell the tale of one such woman and describe how she overcame her difficulties. This social media post can also be used to offer suggestions to aspiring female business owners.
Highlight a woman who has inspired you
If you have a female idol image (for example, it could be your mother or a famous woman), you can make a post about her. You can explain why you are inspired by her and congratulate all women on her example.
Best hashtags to use on International Womens Day in 2023
Be sure to mention International Women's day hashtags in your posts. Especially Instagram hashtags will get you to the Instagram Explore page. This rule also applies to Twitter hashtags.
#INTERNATIONALWOMENSDAY
#IWD2022
#WOMENSDAY
#womensday
#internationalwomensday
#women
#womenempowerment
#womensupportingwomen
#womenpower
#happywomensday
#iwd
#girlpower
#love
#womeninbusiness
#woman
#march
#feminism
#strongwomen
#fashion
#womenstyle
#womenempoweringwomen
#womeninspiringwomen
#motivation
#inspiration
#feminist
#instagood
#womensmarch
#art
#womensrights
#instagram
#happy
#photography
#equality

Best international Women's Day Social Media Post Ideas examples
Many brands have prepared social media to post International Women's Day ideas. The most attention-grabbing of them.
Coca-Cola
"Explore the unique, endless possibilities within you. Never give up on your dreams." With this word, we think that Coca-Cola has spoken its word in 2019. With this kind of illustration, they congratulated the international women.
Neomorganics
Neom released its sleep pack, which is filled with products that encourage sleep, in honor of International Women's Day in 2023. The wellness and lifestyle company gave £5 to the Prince's Trust for each kit that was sold. By using the hashtag #changeagirlslife and supporting young women all across the world, they donated to the charity's #changeagirlslife campaign. Therefore, every purchase truly represents women helping women.
JD Sports
In order to arrange a celebration for International Women's Day in 2022, the sports brand partnered with Adidas. They performed live in front of a wholly female audience from their brand-new YouTube series, "Make it Make Sense."
The episode discussed a variety of women's challenges, including how to deal with gender stereotypes and how companies may help young girls develop their self-esteem. The influencers who were invited to the event produced their own content to post before the event, which increased the brand's organic reach to specific audiences.
Unibank
"We want women to be valued throughout their lives. Because violence, psychological pressure, and violence are not forgiven with gifts."
Unibank has prepared a very creative and equally meaningful international women's day post.
Netflix
There have been many female leads on Netflix. Why not celebrate that that? They uploaded a TikTok featuring some of their top leading ladies from their respective series to celebrate the day celebrate, they uploaded a TikTok featuring some of their top leading ladies from their respective series.
Selpak
Selpak created an ad with the title '#önyargilarisilelim'. This means wiping stereotypes. Women can achieve anything as long as they learn.  They have prepared a video in which successful women in various fields share their joys of success. It is very interesting and commendable work.
Frequently Asked Questions
What color to wear for International Women'sDay?
For International Women's Day, wearing purple is a traditional way to celebrate the occasion. Along with green and white, this symbolic hue stands for support of gender equality around the world. Women are free to choose whatever color they want to wear every day.
What is unique about International Women's day?
On March 8, 1908, 15,000 women marched through the streets of New York City to call for fewer hours worked, more pay, and the opportunity to vote, giving birth to International Women's Day (IWD). It wasn't until 1911 that Austria, Denmark, Germany, and Switzerland hosted the first IWD celebration.
What is the theme of international women's day in 2023?
IWD 2023 will explore how increasing economic and social inequality is impacted by the digital gender gap. The occasion will also draw attention to the significance of defending the rights of women and girls in online environments and dealing with gender-based violence enabled by ICT.
Bottom Line
Get inspired by these International Women's Day social media post ideas and give your followers some content they can enjoy and engage with. From celebrating history to promoting female-owned businesses, there are many ways to show your support for women on this day and every day. So get creative, and have fun!