Another feature of Instagram is the Instagram story highlight. The main working principle of Instagram highlights is to ensure that your stories remain in your story for more than 24 hours (even indefinitely).

Typically, as we know, Instagram stories will be active on your profile for 24 hours. Thus, preparing and placing Instagram story highlights will make your work much more manageable. In this blog, we will share with you how to make Instagram story highlights.
What are Instagram story highlights?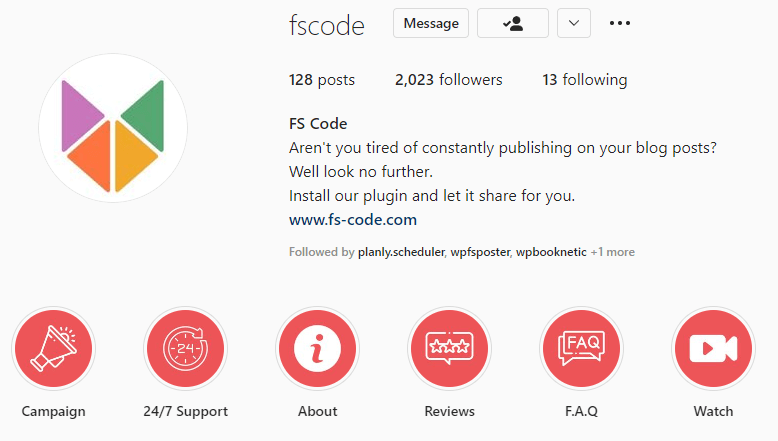 Stories that are pinned to the top of your Instagram profile are called Highlights, which ensure that Stories are saved for more than 24 hours. Through this feature, your stories will appear in your Instagram feed as much as you want.
Instagram Story Highlights consists of two parts:
Highlights covers- Here is the part where we can add different images according to the evergreen content on Instagram of your stories that you have placed in the highlight. Instagram story highlights cover can only be seen on the cover of highlights.

Highlights name- In this section, you can name Instagram story highlights according to the content of your stories or just a name you want. Which will sort of guide you. For example, if you share your stories about music in Music highlight, all the music will be there and you will be comfortable finding what you want.

Another feature of Instagram highlights is that you cannot see the Instagram story highlights viewer. This is possible within 24 hours of posting your story.
Why are Instagram Instagram story highlights so important?
The most important thing about Instagram story highlights is that it categorizes your stories. Previously, we posted and saved information that we thought would be interesting and useful for viewers, but now we can turn them into stories and pin them to highlights.

It is quite convenient and usable. Because you spend a lot of time on the post. When you prepare stories, you spend less time and can categorize what you have prepared one by one.
You can even prepare stories to share in advance and schedule them later. The reason for this is that you should prioritize stories. If you are thinking about how to increase Instagram stories engagement, the main answer is to be persistent and active.

You can prepare the stories. In particular, Instagram for small business needs to have special and pre-made stories for each day. You can schedule them and share them automatically. Various tools can help you. Our proposal is Planly. Because with Planly you can schedule stories, first comments, carousels, reels, posts to the story, and pin posts from Planly.

You simply connect your Instagram account to your Planly account by creating an account on Plany. Then schedule the stories you will share later. When you want to schedule, Planly automatically shares your story without sending you a notification.
How to create Instagram story highlights?
To create an Instagram story highlights section, you can use two ways:
Create highlight an active story- Using stories that are currently active for 24 hours
Create highlight and archive story- From the stories that you have shared before but are in the Instagram archive section.
Create highlight an active story
For this, you need to have an active Instagram story. Here are the simple steps you need to take after sharing your Story.
Tap the Highlights button
From the options that will appear, you can add to the existing highlights or create a new highlight.
Confirm and highlight your story.
Your story will remain on your Instagram page for more than 24 hours.
Create highlight and archive story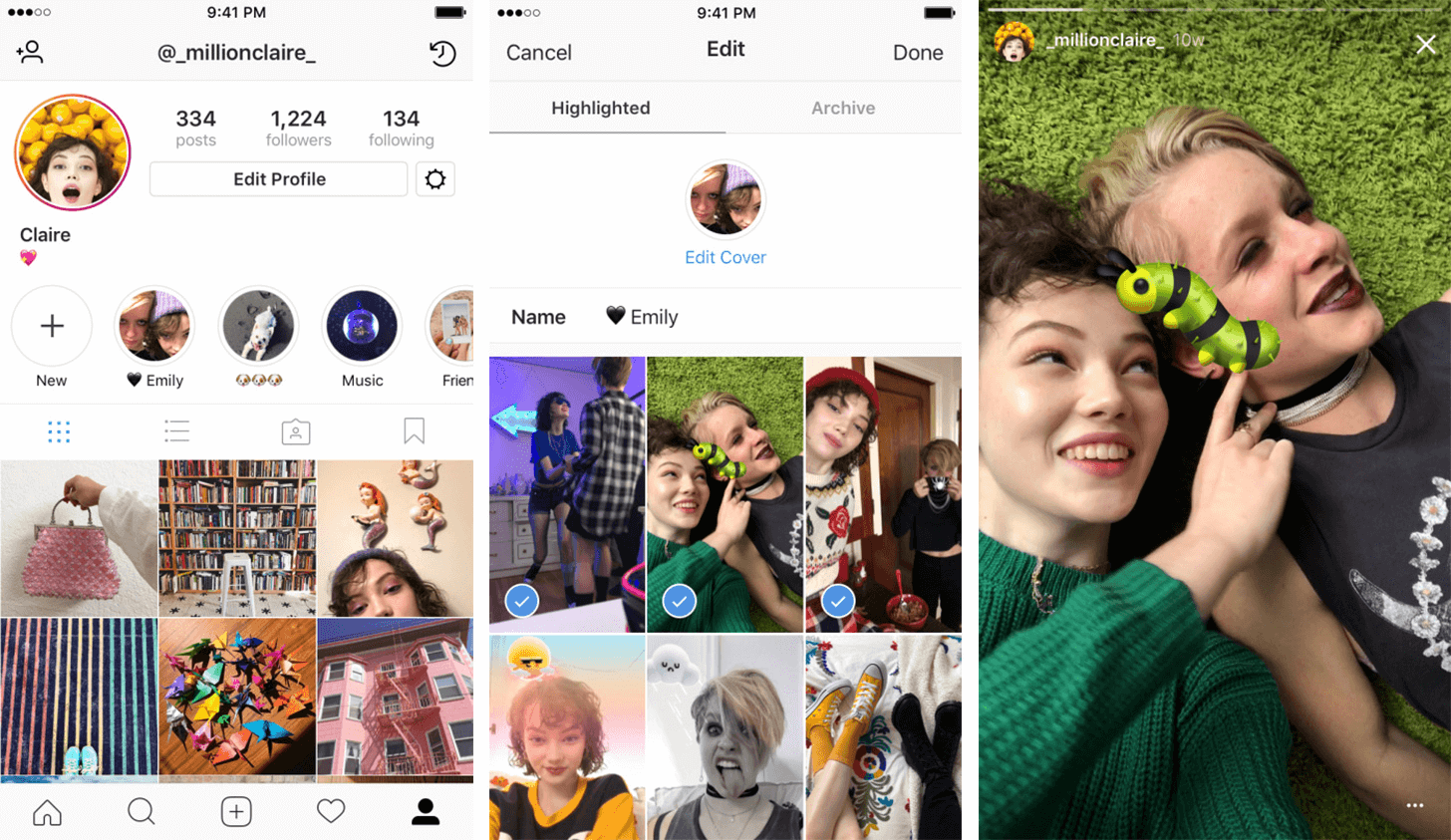 For this, we go to the saved section from the top right of your Instagram page, enter the desired story and highlight it.
And to create a Highlight from your Instagram profile:
Go to the Story Highlight section at the bottom of your Instagram bio. Select the plus sign and create a new highlight.
It automatically redirects to the story archive.
You choose the number of stories you want.
You choose a cover for the Story highlights part
You name the Highlights according to the shares you choose.
Tap Add (iPhone) or Done (Android).
How to add Instagram Highlights covers or icons?
You can change and update Instagram highlights images and titles.
Choose a highlight you want to change.
Scroll down it
You can make the desired changes using the 'Edit cover' and 'Edit title' from the section that will appear in front of you

The Instagram story highlights icons you choose should match the stories you share. If so, it will be convenient for both you and your audience. They will be able to understand what you share in your highlight by looking at the picture.

Along with the Instagram story highlights cover, the name to be chosen is also important. You can give different titles both according to the content and using your creativity.

Especially business pages on Instagram should pay attention to Instagram story highlights. Here are some highlights ideas for you.
About: Write information about yourself. Share your daily life or interesting events with them so that people can get to know you.
Locations or highlights per location: This section is mostly for brand owners. In which they mark their location using these highlights. Personal accounts can share their locations and interesting places, countries, and cities they have visited.
Customer reviews or posts: People's reviews act as a navigator for other people. Therefore, especially business owners should use these highlights.
FAQs: Make a FAQ about the topics people are most interested in and want to know about you and highlight them.
Product/service features: What is your product and what does it serve? What is the main feature that distinguishes it from others? Answer questions like these clearly in the product section.
If you have a business on Instagram, highlights like this should be on your Instagram profile. We present to you other additional highlights ideas according to the examples.
Instagram Story Highlights examples
Product display
In the highlights section, you can group the type of your products and their related features individually. For example, the Mercedes-Benz brand shared each of its products with a different highlight by adding Instagram story highlight icons with their logos.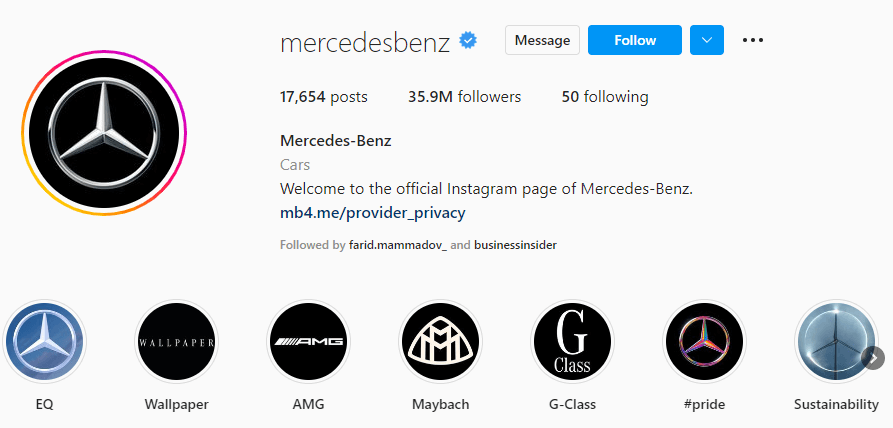 Wallpapers
One idea that will be interesting to everyone is to distribute wallpaper. What you share will be interesting to your audience and they can use it. The wallpapers that Slack shares are just great!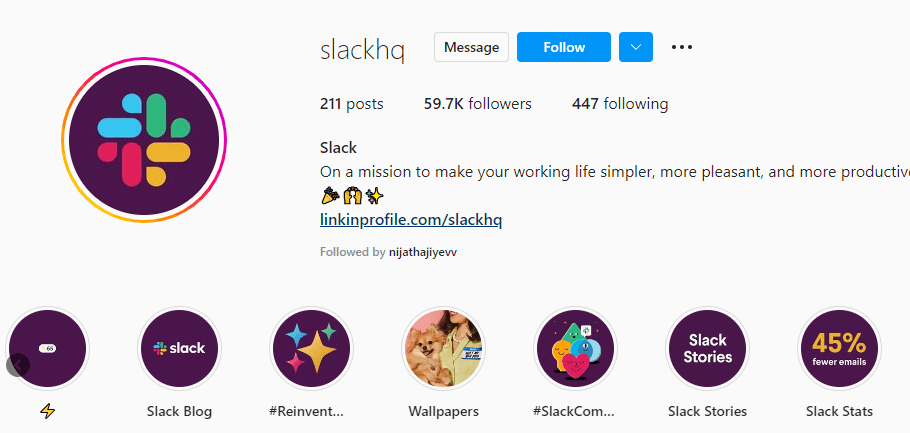 Content Marketing
You can easily share the posts and blogs you share on your site on your Instagram account. Thus, your engagement will increase. You can look at Trelloapp and get inspired.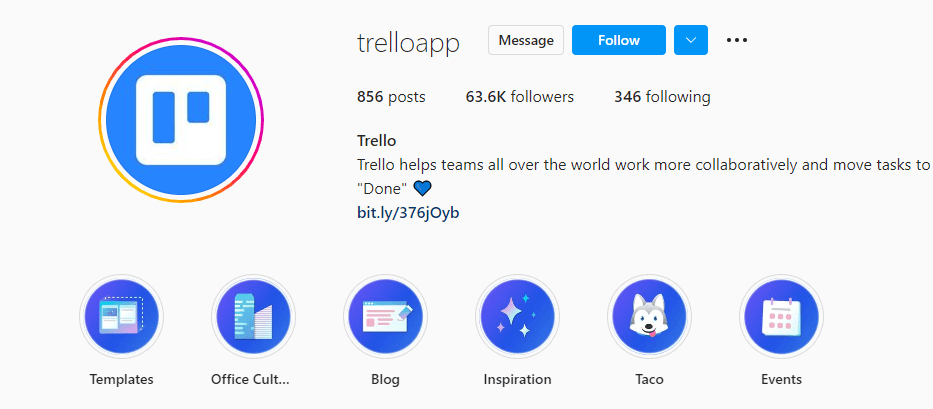 Employees
The major backbone of any business is its employees. Therefore, it is necessary to share them regularly and keep them in front.
Customer feedbacks
You can see many pages that make customer reviews a separate highlight. This is necessary because other viewers may be more interested in you after seeing their reviews. For example, the dess.chees page shares the opinions of its inspired followers.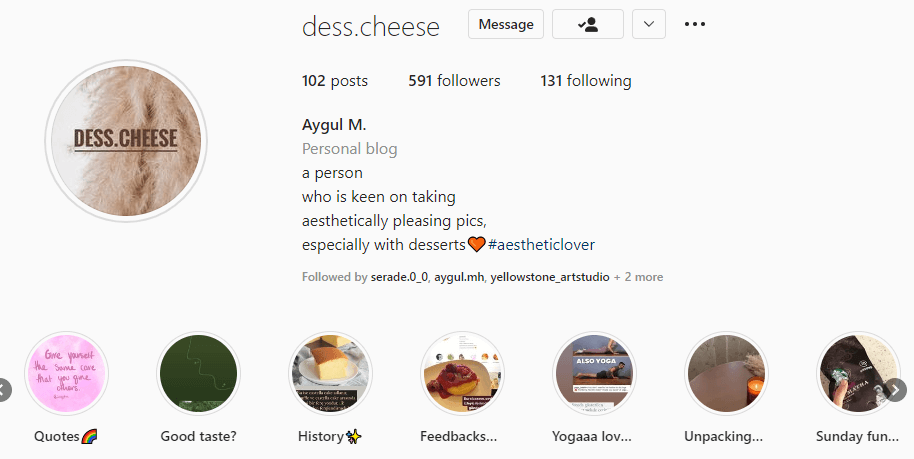 Quiz
Whether you have a personal account or a business account, you can highlight quizzes. Thus, everyone will be able to see quizzes containing interesting and useful information indefinitely. You can get to know and enjoy Disney's interesting and fun quizzes.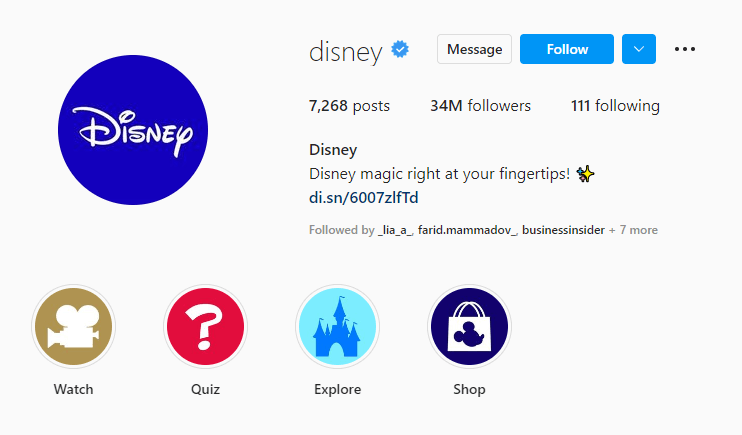 Conclusion
Instagram story highlights have a crucial impact on organically increasing engagement on Instagram. This is one of the things you can't simply ignore as a business and content creator.

Want to create your own Instagram story highlights? Here's how. First, open the Stories highlight you want to edit. Then, tap on the three lines in the top left corner of the screen.

From there, select "New Story." You can then add photos and videos from your camera roll or take new ones. Once you have selected all of your content, give your story a title and save it. That's it! Your new Highlights Story is now live on your profile page. To learn other features of Instagram, you can go to our site and learn.