Instagram is one of the most popular social media platforms with its various features. Sharing posts and stories on Instagram is exciting and equally important for everyone. Because, in our modern era, people communicate with each other through social media such as Instagram.

When someone wants to stay in touch, they do it by following their Instagram account. For this, Instagram has become a necessary platform for everyone now. People build community on Instagram and thus try to increase their activity here.

Especially Instagram for small businesses is the right choice to right decision to spread awareness at the beginning. Companies can easily advertise on Instagram. Use Instagram influencer marketing and Instagram ads for this they achieve this by making and creating evergreen content on Instagram.

Sharing a post on Instagram takes a lot of your time. For this reason, social media users are constantly looking for the easiest ways to do this. Also, how they want to post on Instagram keeps their time short. You can use two ways for this: scheduling your posts and preparing a social media content calendar. By using the first tips, you can save time and have time to create more unique posts. For this, you can use the social media schedulers.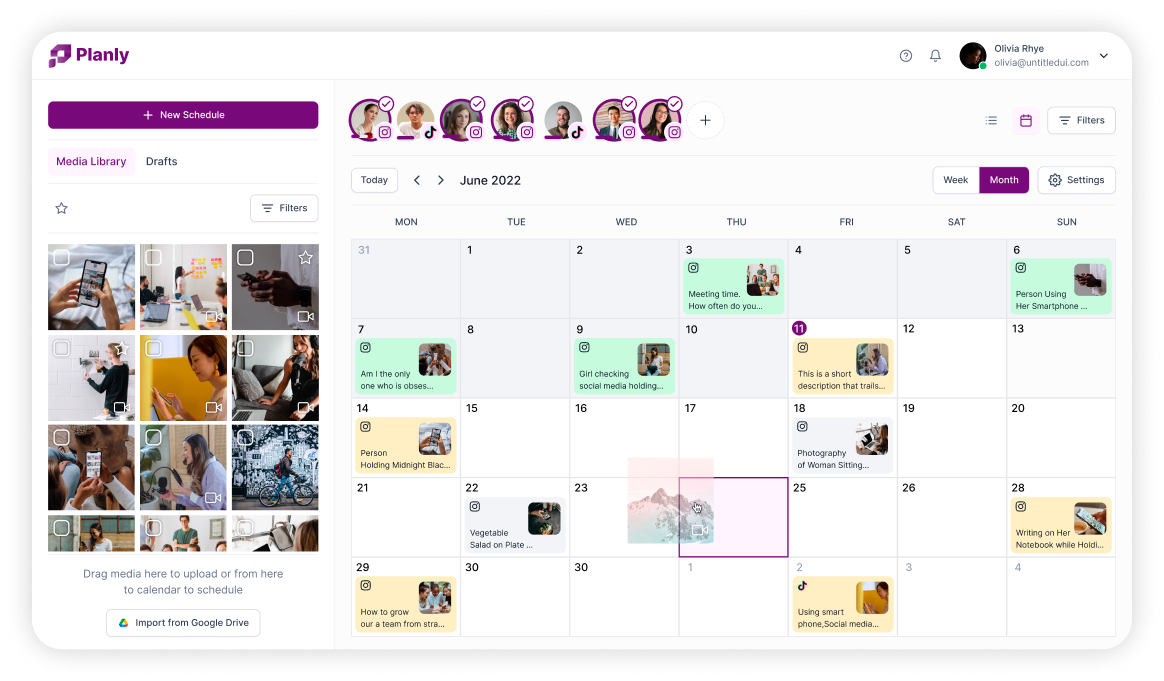 The best social media scheduling tool is Planly. Through Planly, you can create and use an account for just 1$. You can start scheduling by adding your Instagram account to your Planly account. You can also schedule Instagram stories,  Instagram reels, videos, Instagram carousel posts, first comments and pin post on Instagram through Planly. Check out Planly right now.
The second way is to prepare an Instagram content calendar. By doing this, you can plan several days, weeks, and months. Especially if you use Instagram business vs creator accounts, it means that you have to post continuously on Instagram.

Therefore, you should regularly prepare a content calendar for Instagram. In this blog, we share the best Instagram content calendar ideas for you. Thus, we will talk about these ideas and how to prepare a content calendar on Instagram.
WE GONE🚀
How to create an Instagram content calendar?

Creating a content calendar for Instagram can take different amounts of time for you. For example, some users spend only 15 minutes during the week preparing a content calendar.
But some small business on Instagram users needs to think about it. For this, you need to understand the Instagram algorithm so that each post will generate the expected Instagram engagement.
Because according to the Instagram algorithm, you should constantly use Instagram features a lot so that your post appears in the feed of your followers. We have tips for you on how to prepare an Instagram content calendar.
Determine Your Social Media Strategy
Determine your core Instagram marketing strategy so you know what type of posts you should be sharing. For this, you can answer the following questions.
What is the overall purpose of my account?
How often do I want to post a day/week?
How many posts should you share per week and per month?
Who is my audience and what types of topics are they interested in?
What kind of content do I want to post?
Analyze Your Profile
When creating a sample Instagram content calendar, your Instagram account should look professional. For this, you need to start with your Instagram bio first.

Here, your profile picture, username, bio, and Instagram story highlights are taken into account. Here you can create your account according to the contents you will prepare.
Check your posting times
When you share a post, you should share it at a certain time, not when you want it. For this, you need to know the best time to post on Instagram.
These times may vary depending on your time zone. Make sure you learn about your audience first. Because your audience may be in a different time zone than you.
Check Your Engagement
Your Instagram engagement is an important factor for your account. You can use Instagram analytics to do this. In this way, you can define your Instagram growth strategy.
What are free Instagram Content Calendar Templates?
Once you've created your content calendar, you can deploy each of them in different tools. We present you with the tools for the best Instagram editorial calendar.
Hootsuite
A content calendar template can be accessed for free from Hootsuite. The template shows as a Google Sheets document, and the first page has instructions on how to make a copy. The template itself is on the second page.
The first week of the template has stand-ins for posts on Facebook, Twitter, Instagram, and LinkedIn. They offer ideas for different kinds of material as well as areas where you may write copy, include links, and otherwise organize your postings.
Trello
You may use Trello, a board-based list-making tool, as an Instagram content planner. It may be used with lists in a column view, or you can add a "power up" to make your boards into calendars.

On the day you wish them to be published, or the "due date," you can display your cards. If you use Apple products, Trello has drag-and-drop features and can even sync with your iCalendar. Additionally, it's simple to add pictures to your cards so that everything is in one location.
HubSpot
The content calendar document from Hubspot is also available for free download. It combines features from Hootsuite and Trello: It's a spreadsheet that has been styled to resemble a calendar. The file is an Excel sheet with numerous sheets that each provide a distinct type of information.

There is also a monthly calendar summary in addition to separate sheets for each social media platform. Additionally, there is a page that serves as an analysis was selected where you may add new blog entries or other content as you generate them, along with a short overview and any other important details.

Google Sheets
Did you know that you can create your own content calendar for Instagram? Google Sheets can be used to plan and color-coordinate your Instagram posts. To ensure that everything is posted on time, change the post's color to reflect its current status. Expand on this by including a Google Calendar so you can quickly view your content outline.
Instagram content calendar examples
How to fill the Instagram content calendar?
You don't stop by creating a calendar. Then, you need to clearly fill that Instagram post calendar with valuable content. Here are some social media post ideas you can use for your business.
Random holidays
A lot of individuals enjoy celebrating a variety of "unofficial" holidays just for fun. These are simple to include in your Instagram post planner.
Fun at Work Day (Jan 31)
Love Your Pet Day (Feb 20)
Day of Happiness (March 20)
World Book Day (April 23)
Pizza Party Day (May 17)
Social Media Day (June 30)
Get to Know Your Customers Day (July 16)

Posts about business
Behind the Scenes
A Day in the Life
About the Business
The Origin Story
Benefits of Your Product or Service
Testimonials
User-Generated Content on Instagram or Examples
Reviews of Your Product or Service
How-To posts
Introduce Your Executive Team
Promote Your Newest Blog/Video/Podcast
Talk About a New Product

Quotes
"Success is not final; failure is not fatal: It is the courage to continue that counts." – Winston S. Churchill
"Stop chasing the money and start chasing the passion." – Tony Hsieh
"Do one thing every day that scares you." – Anonymous
"The way to get started is to quit talking and begin doing." – Walt Disney
"Fall seven times and stand up eight." – Japanese Proverb
Bottom Line
Thus, we gave you tips on how to write a content calendar on Instagram. By using tips like these, you can have the number of audiences you are targeting on Instagram.
To create an Instagram content calendar, you also need to understand what types of content your audience is most interested in. In this way, both your likes on Instagram and your followers will increase.