Instagram analytics shows the metrics on how you understand and measure the performance of your posts and accounts. Also referred to as Instagram insights, Instagram analytics helps us measure the energy and budget we are investing in the platform all the time and know if it is really worth it.
We know that measuring the performance of the actions we carry out on our social networks is increasingly important.
Instagram analytics tracking is how everyone, from micro-influencers to global brands, sees the data they need to determine what their audiences prefer.
Knowing the Instagram business analytics shows us if our social media content calendar is working, which types of posts we should focus on, and which ones we should not; we can also find data that will enrich our strategies.
Instagram is one of the most effective apps, especially to reach a younger audience. It has the ability to generate engagement with the audience; you can use tactics such as influencer marketing and even advertising campaigns.
Using Instagram insights by itself won't help you improve your Instagram marketing. For that, you need organized posting - our recommended Instagram scheduler. Planly will help you with that. With Planly, you can schedule your posts, reels, carousels, and stories without a push notification. Also, you can see all Instagram posts and your audience analytics in one dashboard.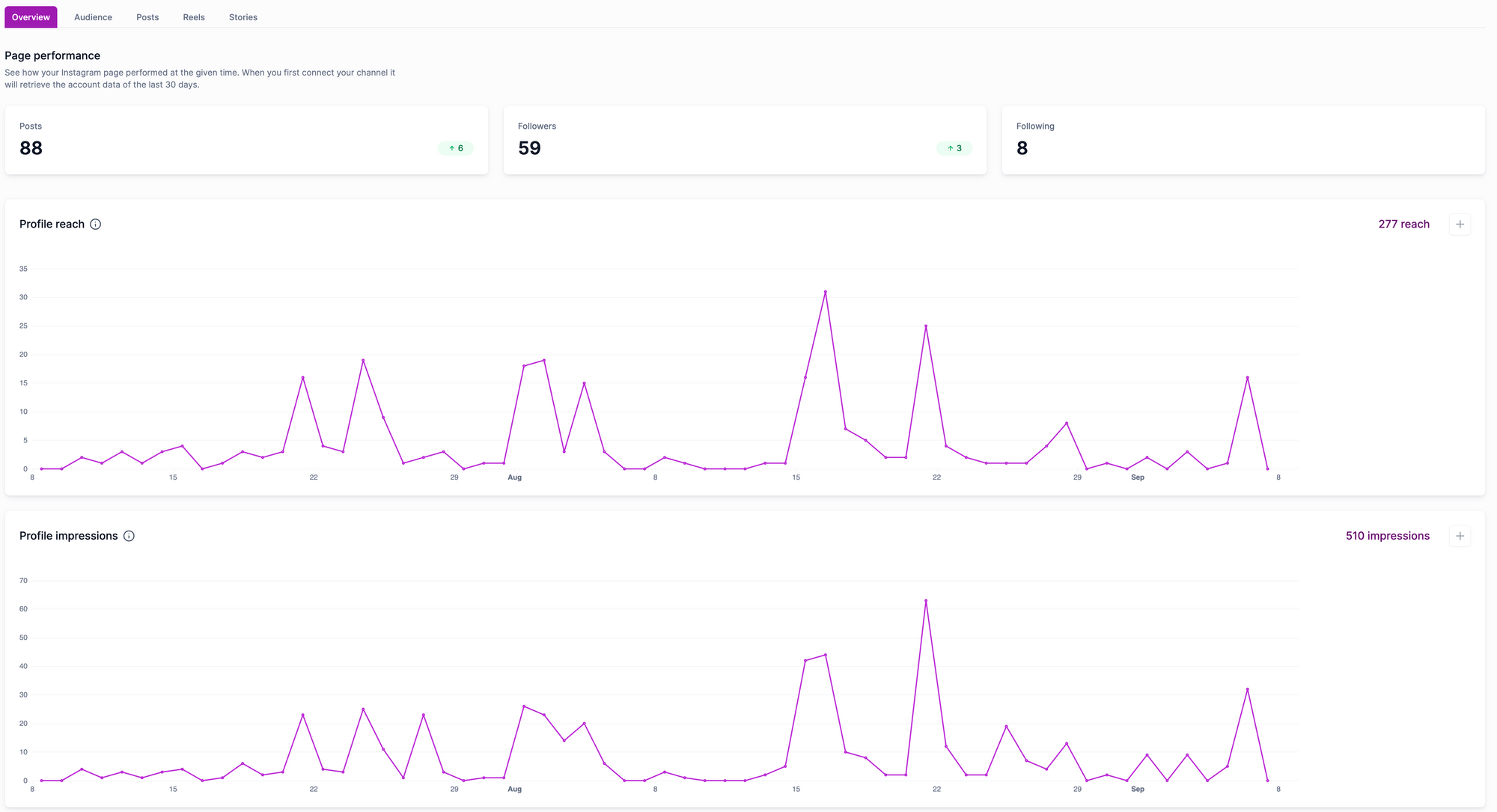 Why use Instagram analytics?
In the big picture, Instagram business analytics tells you whether the chosen Instagram marketing is effective for both Instagram Business accounts and Instagram Creator accounts. By using Instagram insights, you can tell whether you meet your Instagram KPIs or not.
You will discover your audience
One of the most valuable pieces of information analytics offers you is knowing your audience in depth. Of course, it will give you basic data such as gender, age, location, and language, but also some more specific tools will tell you what the interests of your followers are.
Knowing their interests, you can create tribes and speak to them in a very specific way and in a language that they understand and enjoy. There are analytical tools that will even show you what the purchasing preferences of your followers are. All this information together will allow you to create your ideal follower (or followers) and increase followers on Instagram.
You will know which publications are successful and why: Obviously you don't need a tool to know which posts are doing better, but you do need a tool to compare posts over time and determine why some posts have more reach and engagement than others. The right tool will tell you this through basic Instagram engagement analytics (number of likes, comments, and mentions).
Other tools will be able to go further and offer you broader and more specific data, such as comparing time periods, presenting growth charts, and giving you the best time to post on Instagram according to the type of publication and the audience you want to reach. Also helping you discover which it is type of content that is most successful among your followers.
For example, Instagram analytics tells you whether your followers prefer videos or photos, if they react more enthusiastically to Instagram stories than publications, if they like your lives or if they prefer inspirational messages to product photos, and even what kind of filter hooks them more.
You will be able to clearly define social media goals and objectives: Just as Instagram analytics shows you what is working, it also shows you what is not. And you will say "why do I need to know what doesn't work? Well, so you don't keep doing it and modify your content strategy in time.
By knowing what works and what doesn't among your followers, you will be able to define your objectives and goals better and establish a more concrete path to achieve them, since you will be able to attack the problem areas and strengthen what does work directly. In addition, by knowing exactly what the strengths and weaknesses are in your Instagram marketing strategy, you will be able to allocate more resources to specific areas and thus optimize your budget and invest your money wisely.
It will give you specific insight into your promotional posts: If you decided to rely on Instagram Ads to grow your brand account, what better way to use an Instagram analytics tool to find out how effective the advertising campaign was?
The analytics will allow you to know your ad's reach and compare your organic posts and those you promote. In addition, it will tell you if the ROI was what you expected, and based on this information, you can make the best decisions for your brand.
You will be able to plan campaigns
Analytics will help you discover, as we have already said, basic data such as your posts with the highest engagement, the correct Instagram hashtags, the correct time to publish, and the best Instagram influencers for your brand, among other fundamental data. With this information, you will be able to organize successful campaigns that meet objectives. With the correct data, the margin of error is minimal.
How to see your Instagram Insights?
Right now, only professional accounts can view insights on Instagram. In the past, some personal accounts were granted access to Instagram insights.

One of the advantages of using a business account on Instagram is that you will have the opportunity to have integrated access to all the statistics of the platform. In this way, the social network offers its users the opportunity to obtain a little more information about each of their followers and publications, allowing them to have better control at all times.
In this way you will have the opportunity to obtain statistics of all your posts, as well as know how many people have seen your images and videos uploaded to your account, you will also be able to measure the scope of each one of them, the comments, the likes, visits to your profile, among many others.

You will also have the opportunity to know the behavior and growth of your profile, as well as how many people have followed you and have unfollowed you, whether they are men or women, the age of the people, and the number of followers. of the last hours, among many other statistics that you can study thanks to this excellent tool.
How to see Instagram insights on desktop?
If you want to see data about your Instagram performance on a desktop device, you must connect your Instagram Business Profile (or Creator Profile) to a Facebook page. In addition to the same data you see on the mobile app, you'll only see it for the last seven days.

How to see Instagram story analytics?
Similar to the analytics for your Instagram posts and account, your Instagram Stories analytics can be found by tapping the Insights button from the top right corner of your Instagram business profile. And now with Instagram Creator Studio, both businesses and creators can get access to Instagram Stories growth insights, along with the ability to map new and existing content to net follower changes.

To access your Instagram Stories analytics on the Instagram Creator Studio dashboard, Select Content Library and then click Stories. From here, you can sort individual story slides by post status, date, and reach.
How to view insights on Instagram Story?
Instagram statistics can only be viewed from professional accounts. So if you have a personal profile, the first step you should take is to make this change.

To do this, follow these steps:

Go to your profile and click on the three horizontal lines located on the top bar.
Next, select "Settings". A menu will be displayed in which you must choose the "Account" option.

When you are inside said section, scroll down and select "Switch to professional account".
Select a category based on the field of activity of your company. In fact, if you want you can choose not to show this label by unchecking the "Show category label" option.
Accept the conditions and you will have created your company profile.
With a professional account, you will be able to access all the statistics.

Access the statistics through your profile
To do this, go to your profile and select "Insights" and choose the time period - the last 7, 14 or 30 days - of the posts you want to analyze.

In addition, you will be able to see the statistics of publications made in other periods of time by visiting them regularly in your profile.

Or, if you prefer, by accessing the publication archive through the three horizontal stripes located in the top bar of your profile, on the right side, and selecting "Archive".
How to see Instagram hashtag analytics?
As you know, hashtags only have one goal and that is to increase the reach of each of the posts made on the social network, so using them in each of your content will help you improve visibility. Therefore, the best thing you can do is combine the hashtags of your brand, products/service, promotion, and event, so you can increase the reach of your account.

In this way, you must monitor each of the hashtags in order to measure the impacts of each one of them, this will allow you to know which ones are most used by your competitors, such as those that bring the most benefits to your strategy.

Button line
Understanding Instagram business analytics is the first step to improving your existing Instagram strategy. Clearly identifying gaps and developing the right strategies will help you grow your Instagram as a business and content creator as well. Depending on the goal of your Instagram marketing and overall digital marketing strategy, you can focus on certain stats for time and work your way to improve them.