On Instagram, you will see a different number of Instagram ads every day. But you don't click on every one of them, do you? Sometimes, when there is a product or service that you really like, you click on an ad and get information about it.

But still, you are undecided whether to buy the product or not. There are several reasons for this. First, Instagram ads are not created according to the customer's interests. Because Instagram ads should attract enough viewers.

To solve this, we present you the creative Instagram ads examples, according to which you can see and be inspired by the ads of all the features of Instagram.

What makes the best Instagram ads examples?
The main reason why the best Instagram ads are the best is that creatives and Instagram users love them. The best Instagram ads examples have a few things in common that make their Instagram ads more popular and memorable. Followers on Instagram are interested in viewing ads and need more creative Instagram ads for them.
The 5 Ws—who, what, where, when, and why—should be checked off.
Swap commercial images with visual effects.
Grab attention fast, ideally in the first 2-3 seconds.
Keep it Simple.
Use video ads to tell a story.
When creating Instagram ads, use popular music and images.
Pay attention to the needs and preferences of your audience.
Partner with influencers for more targeted and effective visibility.
Use user-generated content (UGC) on Instagram as the basis for your advertising
Create an ad that doesn't look like one.
How good Instagram ads examples look like?
Great Instagram ads examples can take many forms. This should include an initial visual such as a photo, video, reel, stories, or carousel post. Then based on the product, you need to write an Instagram caption according to the visual and then finish with a killer  CTA (Call to action).

The caption is important for Instagram ads. Because every idea you write here should attract the attention of people who follow you or not. For this, you should keep the caption quite short. This is how the initial appearance of Instagram ads examples is.
Best Instagram story ad examples
Making Instagram Story ads interactive with poll stickers is one of their best features. This not only engages your audience but also gives your material a more personal feel, making your ads appear to be regular Stories. We show you great Instagram story name examples.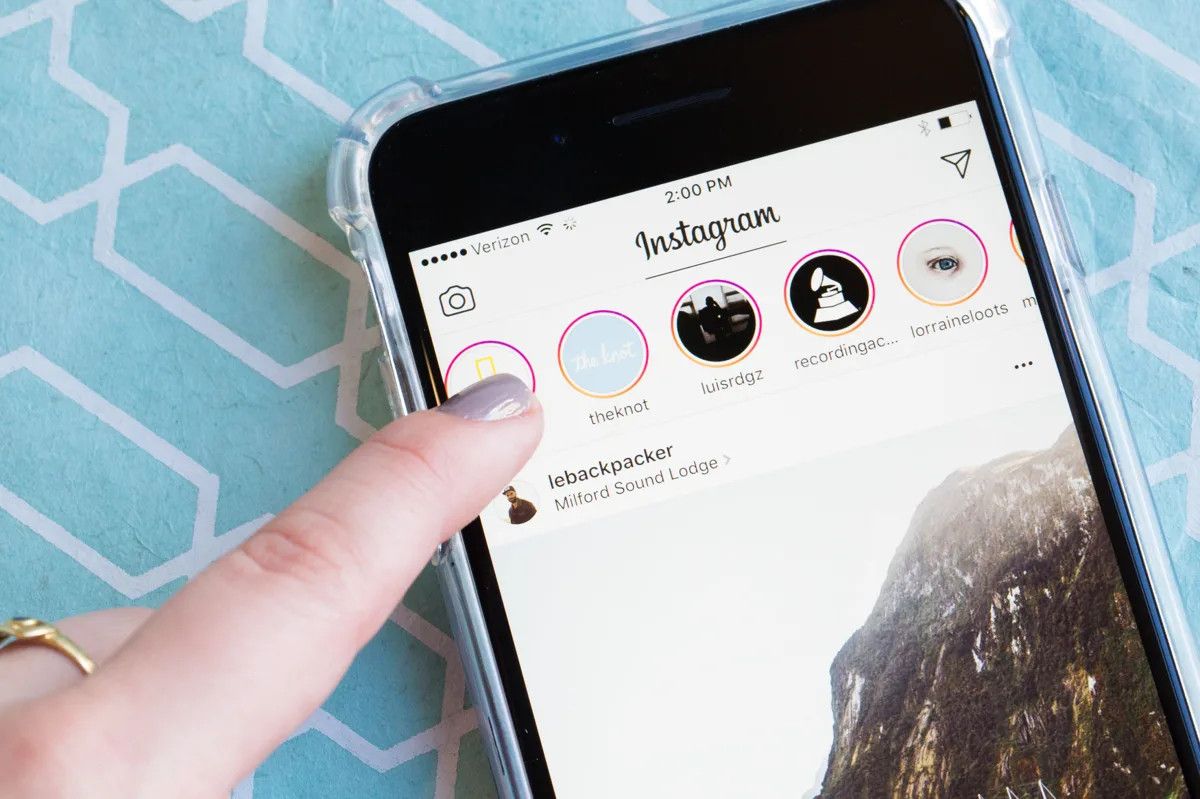 Audible
This Audible Instagram Story static ad sends the user a clear, explicit, and active message. Here, the copy emphasizes "Listen only on Audible," which highlights the exclusivity of their offering rather than being passive like "Listen on Audible." They are very clear about what you need to do next: sign up with Audible.

The ad employs a memorable title, a simple layout, and vibrant colors to grab attention and make its point immediately evident.

Michael Kors
In order to reach a larger audience, Michael Kors, a well-known and award-winning designer brand, ran multiple-story Instagram ads. The Michael Kors watch fell into the wearable technology category, breaking from its regular product line of jewelry, eyeglasses, accessories, and footwear. As a result, it required a specialized and creative marketing effort for tech- and social-savvy consumers.
NUXE
As a result of its success with Facebook ads, NUXE made the decision to create ad content for Instagram Stories in order to increase its year-end sales.

The business created 15-second videos that rapidly attracted people's attention in collaboration with the agency MILKY. They used the captivating stop-motion video method in conjunction with promoting the goods.
AirBnB
Through the static interactive Stories series, they gradually exposed content, enticing the spectator to stick around until the very last slide. Make sure you reward customers who make it all the way to the final story frame, just like Airbnb, by incorporating some sort of CTA to give them a "next step."

Kiehl's
Avocados are known for their healthy qualities and picture-perfect look on Instagram. By developing an eye cream with avocado extract and using fresh avocados as an advertising accessory, Kiehl's aims to take advantage of this.

Due to the calming color scheme and realistic kitchen arrangement, the advertisement also appears to be quite genuine. Users are instructed on how to apply the moisturizing cream to get rid of their dark circles in a very short copy.
Best Instagram carousel ads examples
Nissan
Brands are also keen to use Instagram carousels in their marketing. A number of great Instagram ad examples are Instagram carousel ads. The ad uses two carousels to divide a stunning, high-quality image of the car in motion, giving the impression that it is moving. Simply because you scroll to see the other half of the image, it draws your attention.
Pixar
It is quite interesting to look at these Instagram ads examples. Because a sweet picture makes a good impression on all viewers.

Best Instagram video ads examples
Apple Watch
This Apple Watch ad stands out thanks to its vivid neon colors and amazing slow-motion beginning. Because it adds variance to a clip that viewers often expect to be quite static, implementing a shift in speed like that is a terrific way to grab their attention (due to expectations created by other ads).

The use of the Apple Watch rings as the video's background is another excellent way that Apple succeeds in making the product information simple to understand. The viewer can tell that the rings on the watch are used to measure activity after the movie zooms out to reveal them. This is because exercise served as the background for the film.
Marvel Champions
Marvel Champions uses their Instagram video ad to highlight what their target market wants from the product—beautiful fighting scenes with several characters. The intense duel in the video shows how well the game's images capture movement and vivid colors, as well as the good variety of characters that viewers and their friends may play with online.

The video ad effectively attracts viewers' attention to the action-packed battling that will encourage them to buy the game by excluding extra information that customers could find less interesting, such text about the game.
TechCrunch
Who says slide exhibitions must be monotonous? As demonstrated by Tech Crunch, structuring a video ads like a slideshow will help you convey your message clearly. The Instagram ad's slides. which promotes Tech Crunch's Disrupt SF conference, presents all the necessary information for signing up in a logical order, including how signing up has benefited previous participants, how the conference networking works, and where to sign up online.

Tech Crunch uses lively colors and entertaining animations to keep the content interesting throughout the entire film.
Best Instagram influencer ad examples
Zara
One of the most effective brand ad examples in 2015 comes from the clothing company Zara. It is also one of the most well-known ads since it boosts brand retail, which generated a profit of $2.3 billion in 2015. This company made the decision to increase its social media marketing in 2015 with the aid of Instagram influencers.

Still, Zara has collaborated with the best and most well-known Instagram influencers to highlight their products. So you may gain inspiration by looking at their Instagram profile to see what's fashionable right now.

Adidas
Despite the fact that Adidas is already a well-known brand, it is still one of the best uses of advertising. In order to outperform its rivals, Adidas chose to use Instagram influencers in their digital marketing in 2015.

To increase interaction and motivate users to produce user-generated content, they created an influencer-driven campaign that was targeted at young people. Sales for the sports brand increased by 24.2% between January 2015 and January 2016, according to the advertising diagram for the company.
Dior
Dior's eternal campaign is one of the most inventive advertising examples in the cosmetics sector. This brand partnered with well-known influencer marketing firm Buttermilk. An international influencer marketing firm that specializes in the wellness, food, and beauty industries is called Buttermilk.

The debut of Dior's new foundation, everlasting, with its 67 distinct tones, was revealed. They also aimed to highlight the shade ranges and raise brand recognition.
Glossier
Glossier is the subject of our next popular beauty industry ad. One of the top D2C beauty companies in cosmetics today, Glossier is a Manhattan-based beauty firm with more than 2.8 million Instagram followers and a valuation of around $1 billion. Because of this, Glossier is one of the best instances of cosmetics promotion.
Bottom Line
In this blog, we have listed inspiring Instagram ads for you and explained about them. When creating ads on Instagram, one of the main points you should pay attention to is the interval at which you do it.

Because too many Instagram ads can annoy your followers. For this, after choosing the type of Instagram name you will prepare, you can record it in your Instagram content calendar.
The next stage is the scheduling stage. Social media scheduler Planly will help you here. With Planly, you can easily schedule your social media posts. So Planly will auto-post your posts and share them.