With 1 million monthly active users, TikTok is becoming the fastest-growing social network. The number shows the growing interest among interest users in engaging with the platform. This also means an increasing number of posts shared by each user. The more videos users enter into the platform the more need to understand how to schedule TikTok posts increases.

Why schedule TikTok posts?
According to TikTok statistics, 83% of TikTok users uploaded a video on the Platform. This creates an innate need for TikTokers and TikTok enthusiasts to schedule their TikTok posts. Like with other platforms scheduling TikTok posts help content creators in many ways. Scheduling TikTok posts allows you to reach your audience when they are online. That time may be inconvenient for you due to different reasons. Such as time zone, loads of work, time management, unexpected events, and more.

By building consistency on your content calendar it lets your audience know what to expect from you and when to find that. Overall, knowing how to schedule posts on TikTok will relieve the stress of catching up with every technical detail.

How to schedule TikTok posts on the desktop?
Thankfully there are multiple tools that will help you know how to schedule TikTok posts in advance. These include a native TikTok video scheduler and also third-party tools that integrate with your TikTok account. First, let's understand how TikTok's video scheduler works.
In March 2021 TikTok launched its Video Scheduler for Creators and Business accounts. This aimed to help marketers and users to have the highest impact by knowing the best time to post on TikTok.
How to schedule posts with the TikTok Video Scheduler?
Open TikTok on web browsers
Log in to your account on tiktok.com. Click on the Upload button on the top right corner of your feed.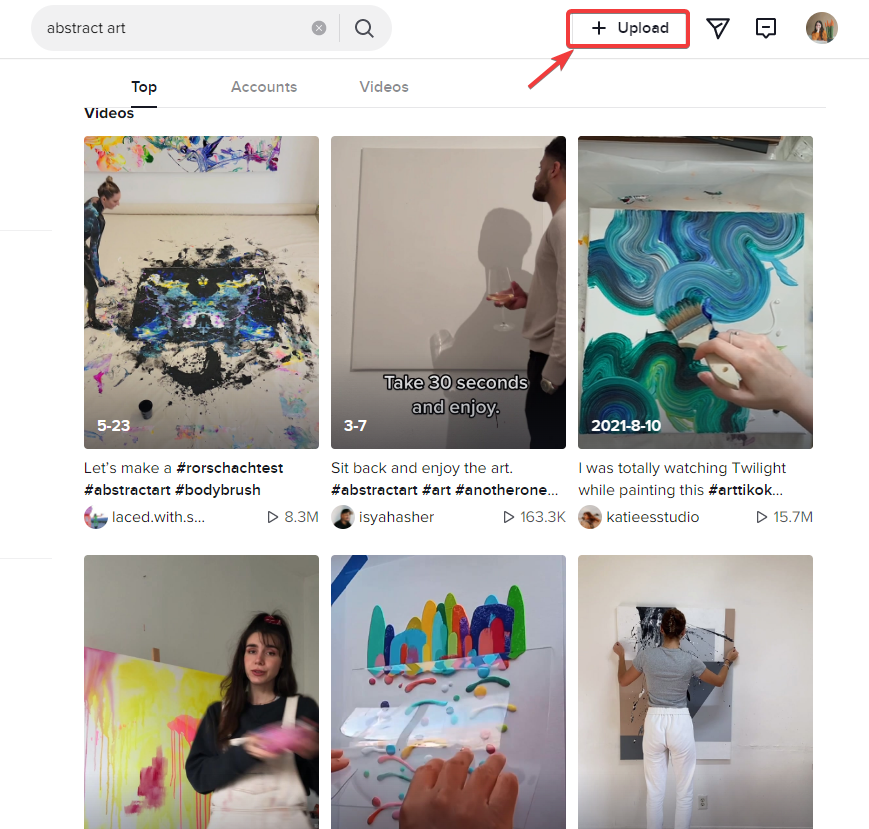 2. Upload and edit your video
Next, you will be direct to the upload video page where you both upload or drag & drop your videos from your computer.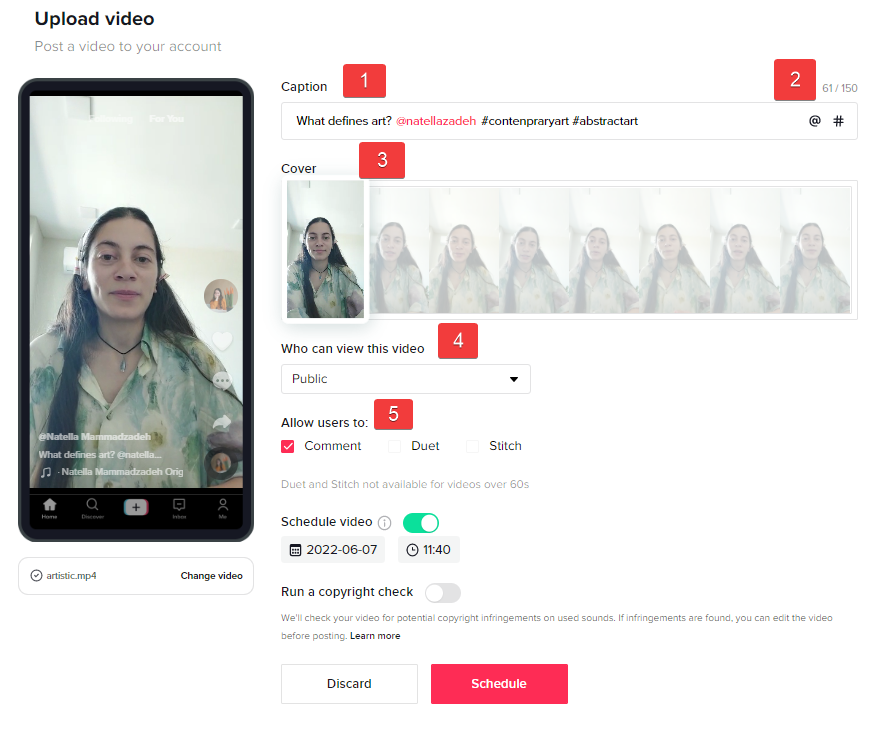 Once you upload the TikTok video, you can:
1. Write a caption
2. Add TikTok hashtags, and tag other users
3. Select the video cover
4. Define the audience of your posts like public, friends, or private,
5. Allow your audience to comment on, duet, or stitch with your video.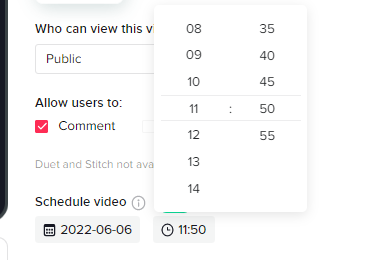 3. Toggle the schedule button
Once you are done with uploading and editing your video toggle the Schedule button to set the time and date for your video to go live.
3. Schedule your post
Once all set, push the schedule button. Your video will be automatically published on the set date and time.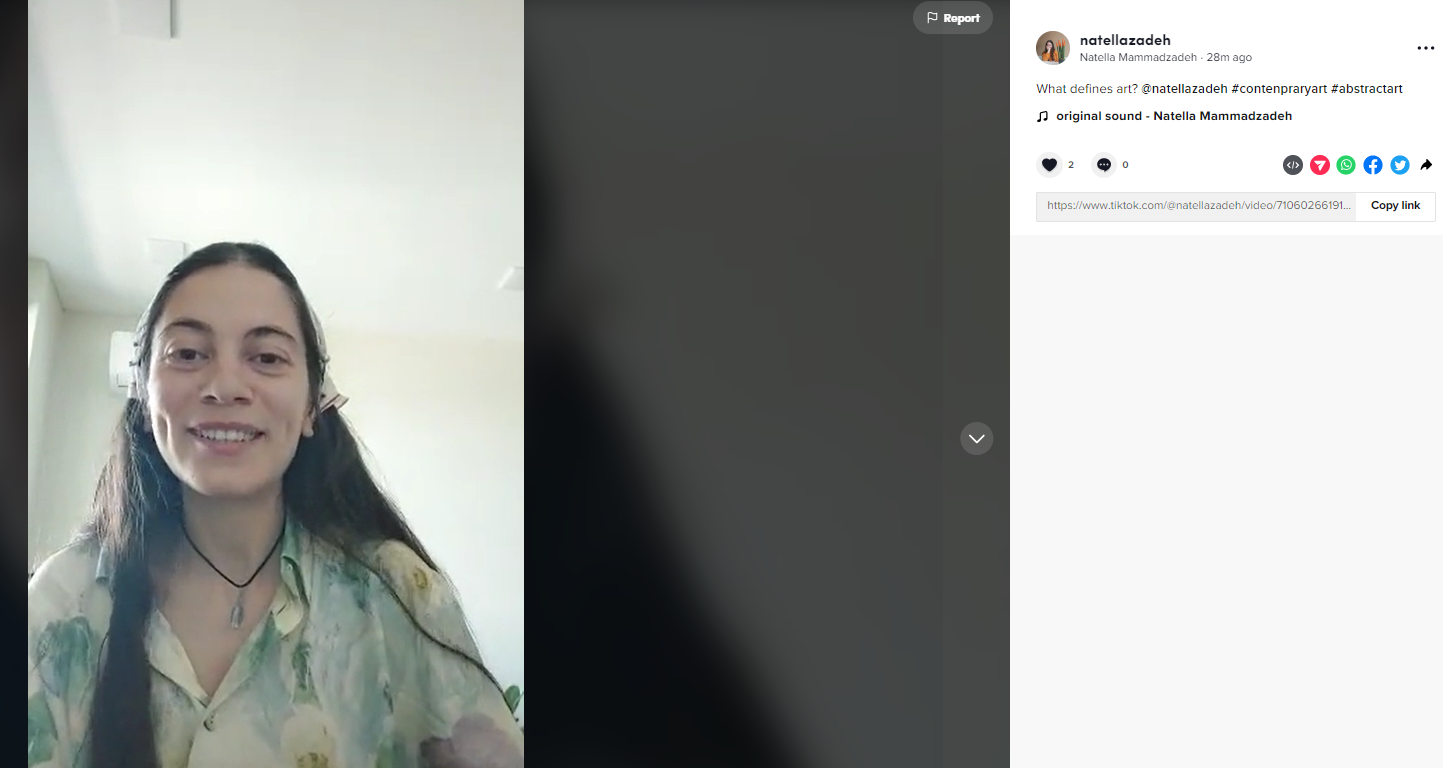 TikTok video scheduler was a big announcement for TikTokers and TikTok marketers where TikTok has a huge place in their marketing. Yet TikTok Video scheduler has very limitations that don't fully support its users.
What are the limitations of TikTok Video Scheduler?
Account type limitation
The first limitation is that it only allows Business and Creator accounts to schedule posts. There are a number of private TikTok accounts with large followings. This does not speak to the interests of all TikTok users.
2. No editing after scheduling
As with TikTok draft version in mobile, video scheduling does not allow you to make any change after scheduling. If you want to change a caption, hashtag, date, or the time you need to re-upload the video.
3. Time limit
You can only schedule posts up to 10 days ahead of time. Which comes very limiting, especially campaigns around big events. You want everything to be ready beforehand but you still need to wait for the time to come.
Yet there are few tools that aim to schedule TikTok posts. But those tools also come with limitations. Those tools work with notifications which defeats the purpose of auto posting TikToks. Which requires you to manually share your previously scheduled TikTok videos.
You upload your video, add a caption, and set a time to schedule your posts. When the time comes, those tools send you push notifications to manually share videos on TikTok. If your purpose with scheduling is also to put your phone away and focus on more important tasks this is not the best solution for you.
We offer the easiest way to schedule your TikTok posts. Planly is a TikTok scheduler for all types of TikTok accounts. Whether you are a Private, Creator, or Business account you can auto post videos on TikTok.
How to schedule TikTok posts with Planly?
Open planly.com on your browser.
Sign in \sign up with Planly
Sign in to your Planly account. If you do not have a Planly account, you can create one there. One of the best things about Planly is that you can register with your Google and TikTok accounts and register with email. Once you signed up, you will be landed on the Calendar page.
Planly offers you two ways to access your TikTok account. The first way is simple and easy. In, as mentioned in the video, you log into your TikTok account on your phone and read the QR Code that Planlyn recorded for you with the QR Code reader there. The Second way is to log in with Extension. In this case, you must log in to your TikTok account on Google and Planly adds your account accordingly.
3. Choose the TikTok account you want to post to
You can add multiple TikTok accounts to your Planly account. Plus, you can also upload to TikTok and other platforms that Planly supports.

4. Upload the video
You have multiple options to upload videos.
Click on the + icon on the date and time of the calendar your video go live. Then, upload the video from your computer.
Drag and drop the video from your computer to the calendar on the date and time you want to post.
Drag and drop from the Media library. The Media Library is cloud storage to keep your scheduled and unused media files. You can add videos to the Media library and then post them once you want to schedule. Here, you can both drag & drop and upload from your computer.
You can also see word counts listed at the bottom right, which alerts you as you type a caption. Because the TikTok character limit is 2200. Up to this number, you can enter as many hashtags, emojis, and words as you like.

Once the video is uploaded, you can write captions to your posts. If you are scheduling to multiple accounts, you can customize the caption for each social account.
5. Set the time and date for The Time zone will default to the country you entered when you registered. You can change this from the Settings>Accounts tab.
5. Here you can ensure that your viewers don't comment on your video or vice versa if you want. For this, Allow just clicks the comment button. Also, if your video is a duet or stitch video, you can give it an allow.
6. Schedule your TikTok postsOnce you all set, push the schedule button. Bingo!. Put your phone away. Your posts will be auto posted to TikTok on the set date and time. You can view your scheduled post on the calendar. Try Planly for 1$ now to schedule your TikToks way ahead of time.
Start scheduling now
Don't lose another minute with push notifications or uploading your TikTok posts one by one. Knowing how to schedule on TikTok will give you a big leg up on your creative process leading to more efficient time management.