Hootsuite is a social media management platform that allows individuals and businesses to manage their social media presence across various platforms such as Facebook, Twitter, Instagram, and LinkedIn from one centralized dashboard.
It offers a range of features, including scheduling posts, monitoring social media activity, analyzing performance, and engaging with audiences. Businesses and organizations of all sizes widely use Hootsuite to streamline their social media management and improve their online presence.
Hootsuite canceled the free plan on March 31st, 2023, in its pricing plan. Many users may be left scrambling to find a suitable alternative for their social media management needs. Fortunately, several options are available in the market, and one of the most promising alternatives is Planly.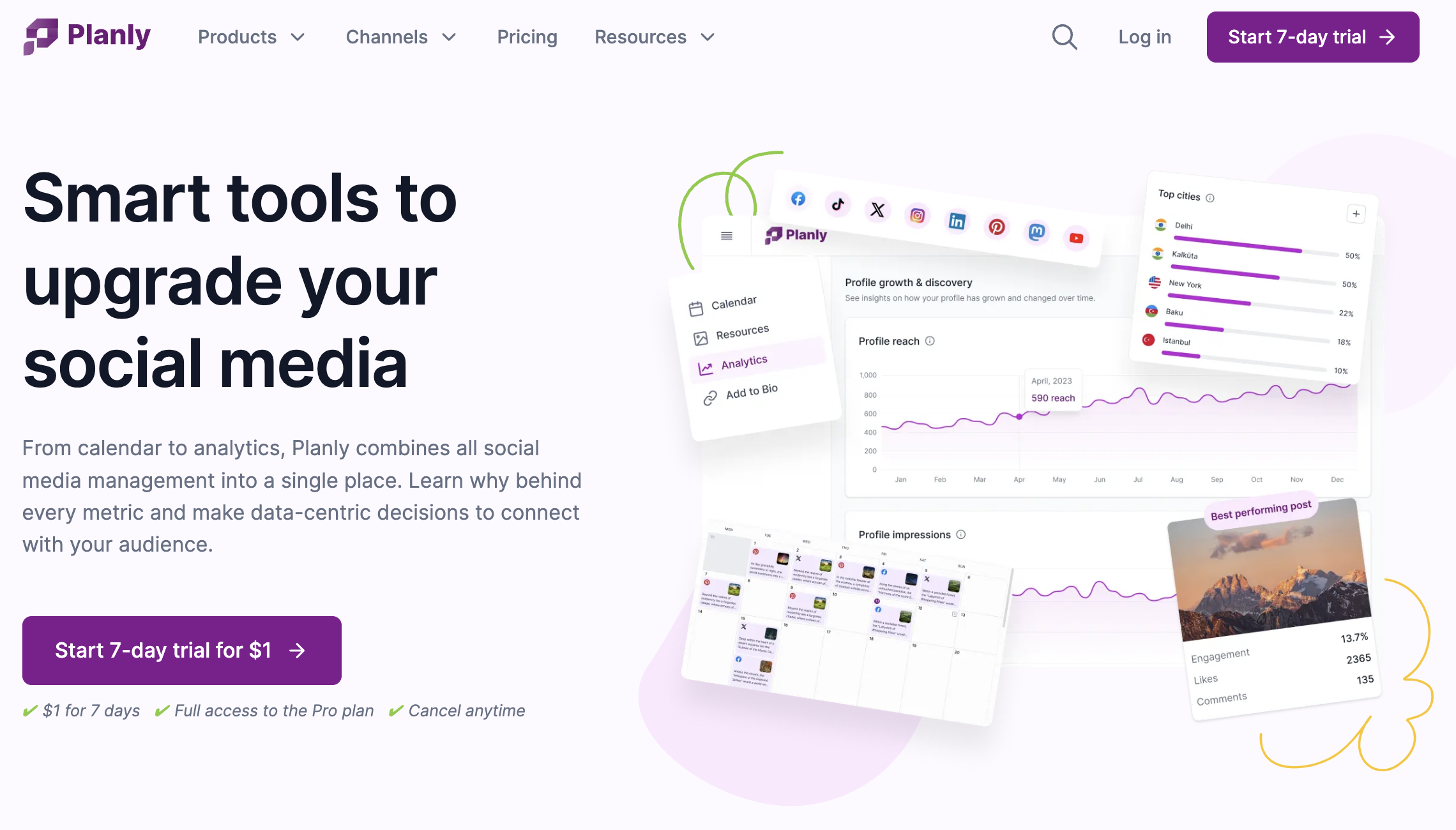 Planly is a social media management tool that offers features similar to Hootsuite, including managing multiple social media accounts and scheduling posts in advance.
Additionally, Planly offers several unique features that set it apart from other social media scheduling tools. These include a visual content calendar, a library to store and reuse content, and team collaboration tools to streamline communication and collaboration among team members.
Why Planly?
If someone asks us why Planly should be used, we can respond that it has a feature that differentiates it from other social media scheduling tools. The user gets no notification when Instagram posts, stories, carousels, and reels are automatically shared. Without push notifications, social media posts are 100% automatically published whenever you want.
You must first sign up for a Planly account and add social media channels before you can plan a post there. You can then upload the image or video you want to download from Planly's unlimited Media Library or by drag and drop.
Summarizing and explaining Planly, we can say that Planly is an indispensable choice for social media managers, entrepreneurs, influencers, and content creators. Because Planly is the candidate to be your friend on social media, let's list the most important features of Planly that will be useful to you.
Instagram, TikTok, Pinterest, Facebook, LinkedIn, Twitter, Mastodon, and YouTube posts scheduled
100% auto-posting, without notifications
Instagram, Twitter, Facebook, LinkedIn  and YouTube first comment
Instagram reels, carousels, and pin post-schedule
Drag & drop calendar planner
Filter your media by their date, media type (photo or video), and category (used or unused) to easily find them.
AI content assistant
Analytics social media profiles, posts, and audiences.
Addto.bio
Store unlimited media files
Team management
API security integrations
Facebook group and page post schedule
LinkedIn group and Business profile post schedule
Link insertion
Editing of images
Have a try plan, 1 dollar in just 7 days.
You can also upload your posts from Dropbox, Unsplash, and Google Drive. So it will be easier to upload your posts to Planly's media library.
Planly Shopify integration
The use of social media by eCommerce businesses is becoming increasingly important, as it helps reach new customers, increase brand awareness, and foster collaborations through organic and paid advertising.
However, managing social media accounts can be time-consuming, particularly for small teams that must also handle sales. Planly is an auto-poster app integrating with Shopify and streamlining social media posting for Shopify owners.
Using the Planly Shopify integration, users can post product images to social media automatically, set post intervals and start dates, copy product URLs to different platforms, add relevant titles and tags, and include product descriptions with just a few clicks.
Connect unlimited Shopify stores to Planly
Automatically display store products to Planly media resources
Auto post-Shopify products to Instagram, TikTok, Facebook, LinkedIn, Pinterest,  and Twitter
Use ready shortcodes to add product URLs, descriptions, tags, IDs,
Set post-interval, start date, and end dates for intervals
Schedule the first comment to Facebook, Instagram, Twitter, and LinkedIn posts
Schedule posts other than your Shopify product images
Organize relevant social channels with team management
Planly pricing
The pricing plans for Planly are competitive and offer flexibility to fit various budgets and needs.
Try Planly- $1/ 7 day (4 users, 8 social channels)- 200 post scheduling (per social channel)
Starter- $15/ month (1 user, 4 social channels)- 100 post scheduling (per social channel)
Pro- $40/ month (4 users, 8 social channels)- 200 post scheduling (per social channel)
Gru- $80/ month (8 users, 16 social channels)- unlimited post scheduling (per social channel)
Time to Planly!
In this blog, we told you about Planly, a Hootsuite alternative. The best social media scheduling tool you can use as a Hootsuite alternative is Planly. Thus, you can familiarize yourself with Planly's features, create a free Planly account, and enter the world of social media.