If you're active on social media but don't have a TikTok account, you're missing out on a lot of fun and opportunities to reach a wide audience.
The marketing benefits of TikTok marketing are undeniable, especially if you want to get your brand in front of a young community and experiment with fresh and creative ideas.
But how do you measure your TikTok success? By TikTok engagement, reach, views, number of followers, or likes and comments?
Since TikTok is a relatively new platform that works differently than all the social channels that marketers have already deciphered, you need to understand TikTok analytics and know what metrics matter on this platform.
Tracking the performance of your TikTok marketing strategy can be challenging, especially if you're new to the platform.
The TikTok metrics you can access from the TikTok analytics app
Just like any other social media platform, the TikTok app has analytics built in that you can access when you have a TikTok business account.
The TikTok analytics dashboard provides important metrics for the following categories: Overview, Content, Followers, and TikTok LIVE.
Let's take them one by one.
Overview of TikTok KPIs
Under the Overview tab, you'll have access to more general TikTok analytics for the last seven, 28, and 60 days, or you can choose a custom date range.
Here are the TikTok KPIs you can see in the Overview tab:
Video views metrics - the number of video views for the selected period.
Profile Views - The number of times your profile was viewed during the selected period.
Likes - the number of likes your video received during the selected period.
Comments - the number of comments your video received during the selected period.
Shares - the number of shares your videos received during the selected period.
Followers - The total number of users who follow your TikTok account.
Content - The number of videos you have shared in the selected period.
LIVE is the number of live broadcasts you have posted during the selected period.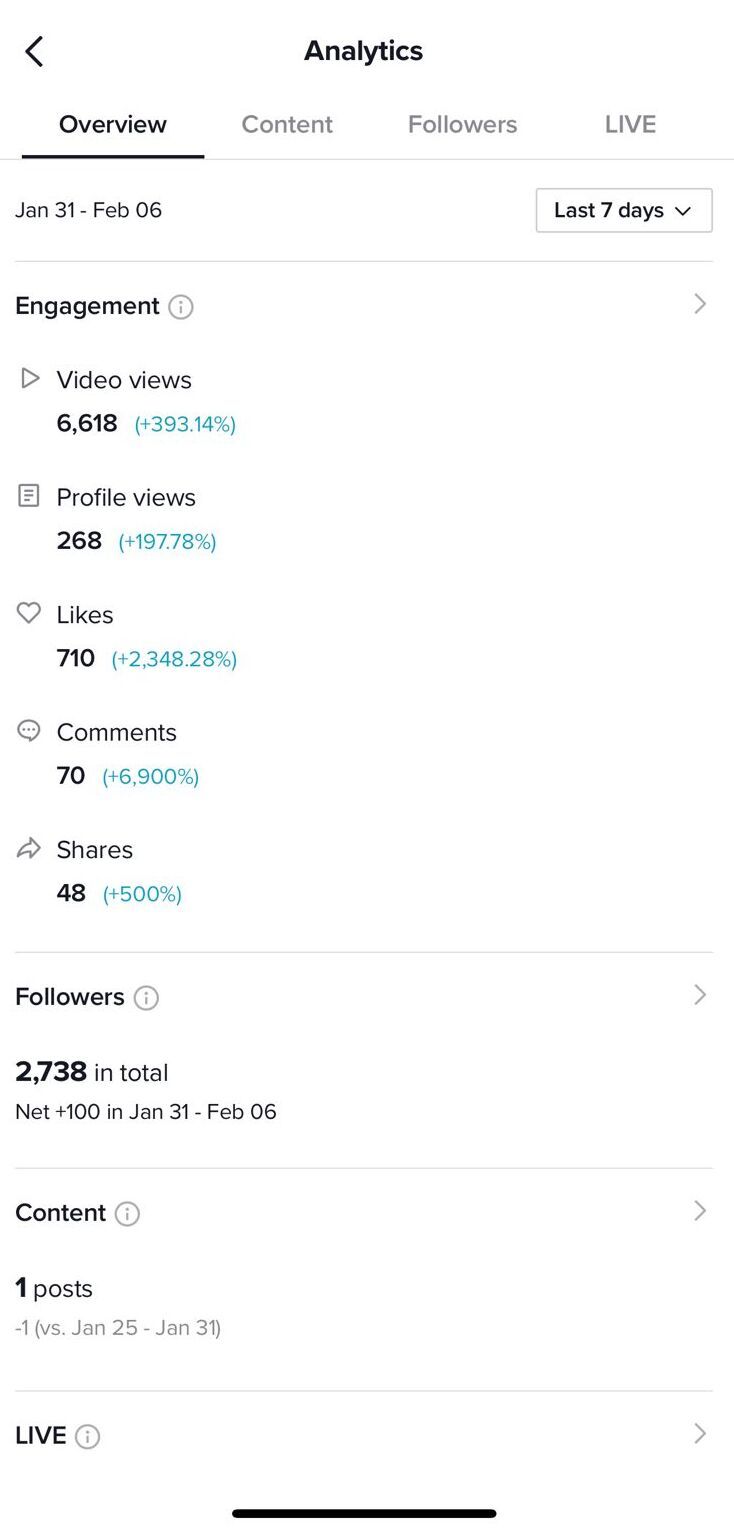 Content Metrics
The second tab available in Analytics offers a deeper understanding of the performance of your video content.
Here are the TikTok KPIs you can access from the Content tab:
Video Posts - Here you can see your posts from the last seven days, from newest to oldest.
Popular Videos - Here you can see the nine most popular videos with the fastest growth in views over the past seven days.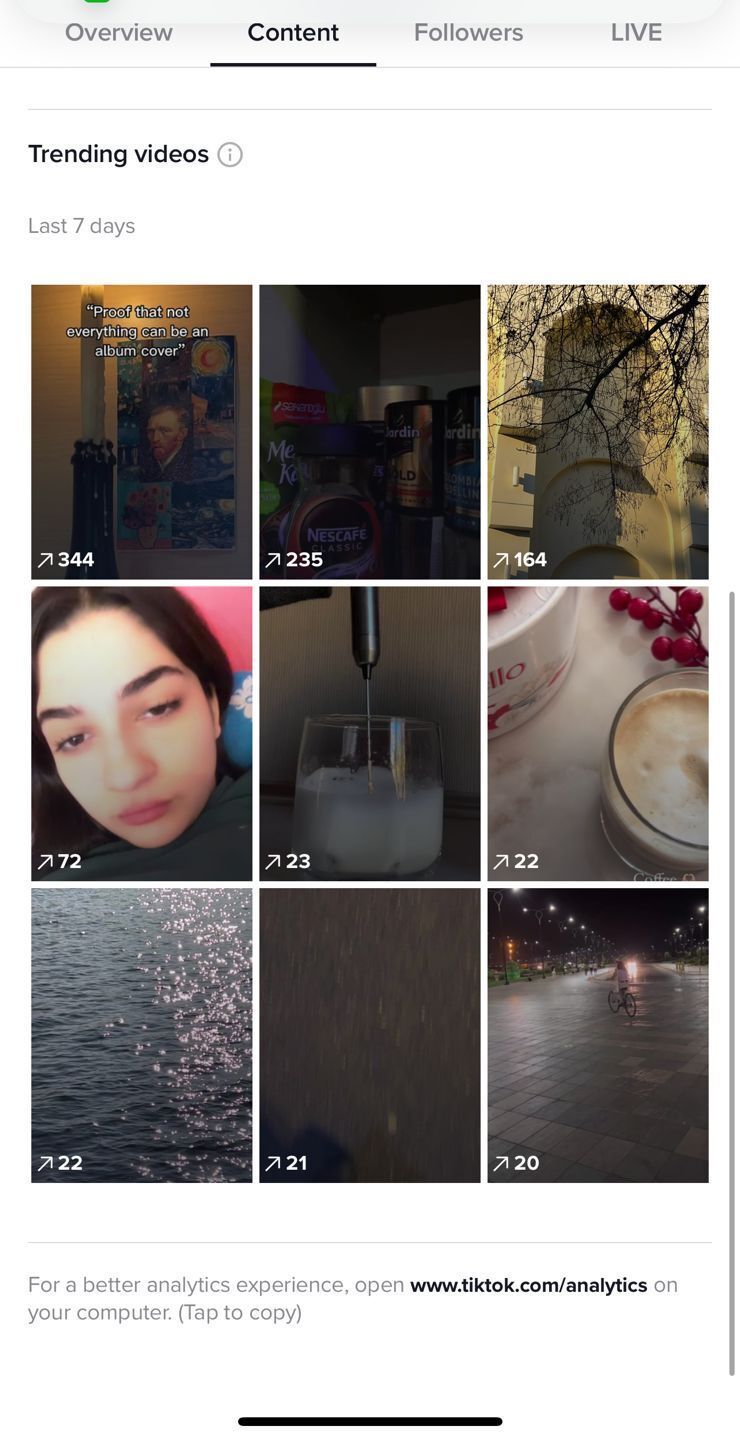 Subscriber metrics
This analytics tab displays the metrics of your followers, including their gender or location. These TikTok metrics are critical because you can customize your content to suit their preferences by accessing them.
Here are the TikTok metrics you can see in the Followers tab:
Total Followers - The total number of users following your account, including any changes that have occurred during the selected period.
Gender - This metric shows the distribution of your followers by gender.
Top Territories - This metric shows where your followers are from, ranked by country.
Follower activity - Here you will find information about when your TikTok followers are most active on TikTok.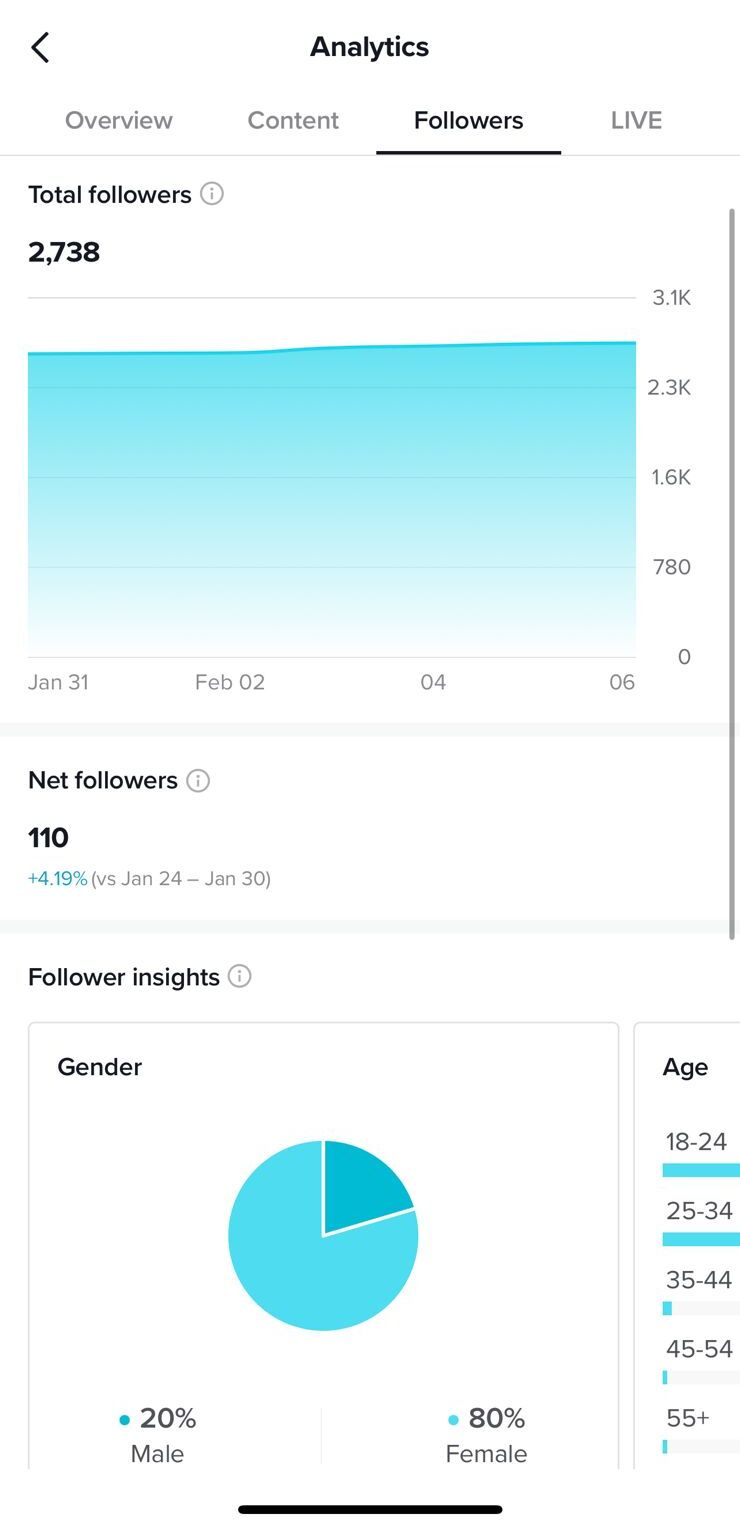 LIVE indicators
The last tab provided by analytics is the LIVE tab, which offers information about the LIVE videos you've posted in the previous seven or 28 days.
Here are the TikTok metrics you can access from the LIVE tab:
Total Views is the total number of users who watched your videos live during the selected period.
Total time is the total time you spent hosting live streams during the selected period.
New Subscribers - The total number of new subscribers you received from a live video during the selected period.
Max Views - Users who viewed your live video the most at one time during the selected period.
Unique Viewers - The number of users who viewed your live video at least once. This metric helps to estimate the real audience because the viewer is only counted once, no matter how many times they watch the video.
Diamonds - This TikTok metric shows you how many diamonds you've earned during your live streams. Diamonds are TikTok's virtual currency for creators that users can send to creators. These virtual gifts can be exchanged for real money.
Other TikTok Metrics to Consider
While the native app offers many TikTok metrics for assessing your performance, many other important TikTok KPIs can provide you with a detailed overview.
These metrics are provided by TikTok automation tools.
You can measure the success of your TikTok account and track all meaningful metrics in one dashboard.
Let's take a look!
Engagement rate
Engagement rate is probably one of the most popular social media KPIs among social media managers. This TikTok metric is extremely important to measure if you want to measure how users interact with your content.
TikTok analytics defines engagement as the sum of video views, profile views, likes, comments, and shares.
The TikTok engagement rate is calculated as the sum of a post's likes, comments, and shares divided by the video views over a given period. The result is then multiplied by 100.
In addition to average engagement, third-party TikTok tools also provide average engagement per post, and average engagement per profile, you can also see the evolution of your engagement over a selected date range.
Also, our 2023 Social Media Industry Benchmarking Study found that TikTok is the most engaging social media platform right now with an average engagement rate of 5.96%, so that's another reason to start your journey with this platform and keep an eye on engagement rates.
Another app you can use to improve your social media profiles is Planly. Planly is a social media scheduler for content creators and businesses. It lets you have full automation and an advanced interface, store your media.
Hashtag performance
TikTok hashtags are a key element of any successful TikTok marketing strategy.
You can create issues and trends around certain hashtags, and users can search for content by entering hashtags of interest to them.
You can track the performance of your hashtag on TikTok by looking at several metrics.
Hashtag views is a TikTok metric that shows how many times a post with a given hashtag has been viewed.
You can access this TikTok KPI by searching for a hashtag in the search bar.
You'll see the hashtag's total views, related hashtags, and top videos that use that hashtag.
With Socialinsider's TikTok analytics feature, you can track the most used and most used hashtags by average engagement.
Subscriber Growth
This TikTok metric speaks for itself, but it's still one of the most important ones to track if your goal is to increase brand awareness.
Subscriber Growth is a metric that measures the net change in the number of subscribers in a selected date range.
You can see your growth rate in the followers tab of TikTok analytics.
Best TikTok Postsfollower's
If you want your TikTok marketing efforts to be worth it, you need to know your top-performing posts.
By identifying your most popular TikTok posts, you'll know what type of content resonates with your audience, making it easier to create successful content in the future.
TikTok provides fundamental insights into your top-performing content, but only for the last 7 days.
The best time to post on TikTok
When is the best time to post on TikTok? To know a detailed answer to this question, check out other What is the best time to post on TikTok blog.
If you want to make your presence on TikTok visible, you need to ask yourself when is the best time to post on to get more views on TikTok, increasing your chances of getting as many users interested in your content as possible.
According to Influencer Marketing Hub, these are the best EST hours for posting content on TikTok:
Monday: 6:00, 10:00, 22:00
Tuesday: 2:00, 4:00, *9:00
Wednesday: 7:00, 8:00, 23:00
Thursday: 9:00, *12:00, 19:00
Friday: *5:00, 13:00, 15:00
Saturday: 11:00, 19:00, 20:00
Sunday: 7:00, 8:00, 16:00
💡
Times marked with * provide a particularly high level of engagement.
However, while this is a good understanding, it may be too general. The best time to post for one brand may be the worst for another.
Final Thoughts
Here it is! Meaningful TikTok KPIs to track, what they mean and where to find them.
Now that you know how to access TikTok and what to do with that information, you're on your way to building a working TikTok content calendar!
And remember: TikTok is a creative platform, so being creative and experimenting with content is just as important as keeping track of the right TikTok KPIs.