Creating content is no easy job. It goes through crazy brainstorming sessions, switching between ideas, and repeating the steps again... until today. We integrated ChatGPT technology to help you remove the tedious part of creating content and make it great. Vamos!
Welcome Planly's AI Content Assistant 🤗
We said big things are coming to Planly. Here we are with AI Content Assistant. We are thrilled to introduce Planly's AI Content Assistant. It is developed to help all social media content creators to generate post ideas, and re-purpose existing content, thus growing your social followings with content.
So, we made it available for all free and premium users to feel the power of high-tech in content creation without leaving Planly.
Despite being young in the market, we are always in search and development of the advanced technologies that will help our users. Since AI and ChatGPT took the world by storm, we have been looking for enabling such solutions in Planly.
How AI and creative writing can work together?
As a professional coming from a Content Writing background, I have always been skeptical about paraphrasing, and correcting tools, as if they defeat the purpose of creativity. Yet, as a Content Writer, I also find myself struggling to come up with ideas when running errands, facing completely new topics, having tight deadlines, and more.
Endless Googling doesn't actually help when in you are short on time. Thankfully, AI has the power to connect with like-minded audiences via relevant content, in less time.
For the past couple of months, from content creation to analyzing big data, AI entered our work and daily lives without asking. As innovative developers, we wanted to help you benefit from this technology without leaving Planly.
On the flip side, as creative developers, we were thinking about the possible creativity concerns attached to generative AI technologies. Yet, as solutions providers, we stroke balance with AI Content Assistant.
As the name suggests, it is an Assistant, not a Writer. We thoroughly believe that the role of Content Writers is not replaceable. But we do believe in the perfect collaboration of human-machine technology working alongside for a shared goal.
This will help businesses and creative people to efficiently generate fruitful ideas in less time with their unique flavors.
How Planly's AI Content Assistant can help me?
As I said earlier, AI Content Assistant is for all social media users. Within a few seconds, it generates scroll-stopping, trendy content ideas in seconds. Also, it saves you a ton of research and time without leaving Planly.
From idea generation to publishing a post, you can do everything in Planly. The type of areas you can use Planly's AI Content Assistant are:
Generate social media post ideas
Rerphase your post
Rewrite original posts for different platforms
Brainstorm ideas for a new campaign
Catch the latest trends
Summarise your blog post by adding its link
What do you need to know before using AI Content Assistant?
We spend our time on making AI Content Assistant the easiest and most accessible for you. On a technical level, you do not need any support to use AI Content Assistant.
However, you need to follow important guides to make the most out of AI. You can enter your prompt and hit that Generate button as many times as you want. But when you have a clear idea of why you need to ask AI and likewise, give AI a clear prompt you will get relevant results in less time and effort. Plus, you will also save your AI credits.  
1. Define why you need AI in content creation
Before jumping to enter your prompt, take a second to realize why you ask AI. Is it because you do not know the answer or is it because AI will give more complex answers than you can tell?  
Yes, it is a fun game to ask AI random questions and see how "smart" its answers are. Yet the purpose of using AI is to simplify our daily, sometimes mundane tasks that can be automated. In content creation, AI has the power to list endless ideas and samples with few words.
Just like asking questions to humans, make sure you know why you ask AI before asking it.
2. Know what you are asking
And, just like talking to people, you need to be clear on what you are asking AI. do you just say "a social media post" or do you narrow down your question like "LinkedIn post about transitioning to remote work as a new mom"?
Artificial Intelligence uses machine learning languages that learn from past data. In this case, it is your prompt (Prompt is the description of a task that you ask AI to accomplish).  perceives and infers the information. You need to customize and add as many details as possible to get relevant results.  
Try and test different types of prompts to see what works for you. I will give  how you can do this in Planly in a minute.
How to use Planly's AI Content Assistant to schedule posts?
1. Register at Planly and connect your social channels
If you have not registered at Planly social media scheduler, no worries. Just sign up at Planly and connect your social channels.
add media to your account. You can upload media to Media Library from your device, Google Drive, Unsplah, and Dropbox, or drag & drop from your device.
2. Select a channel to schedule
At this point, I am convinced that you are already using Planly. Choose media you want to add or just jlick on your desired time in your calendar to schedule a post.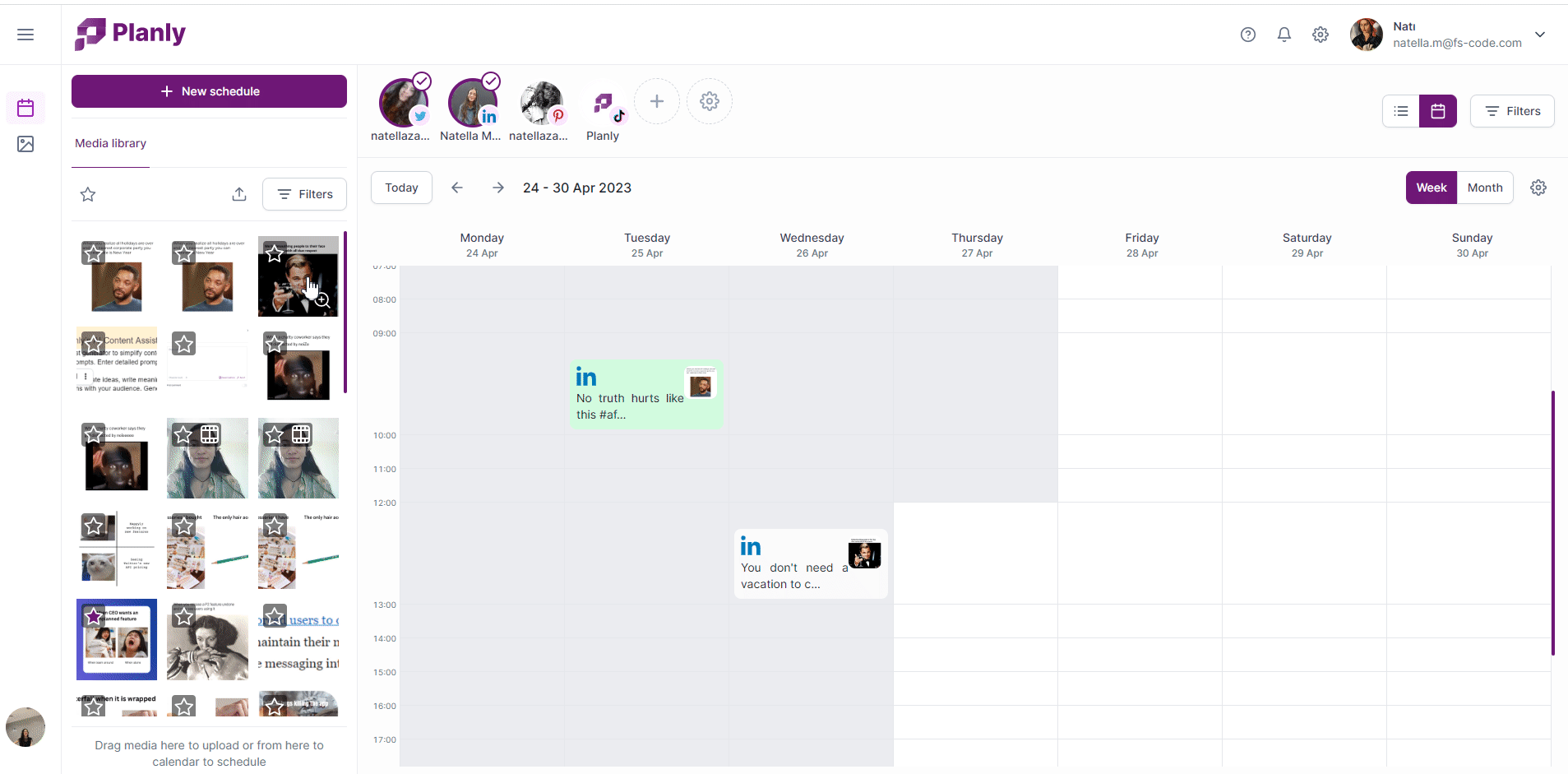 3. Click the Ask AI button
To use AI Content Assistant, click on the Ask AI in your schedule post field.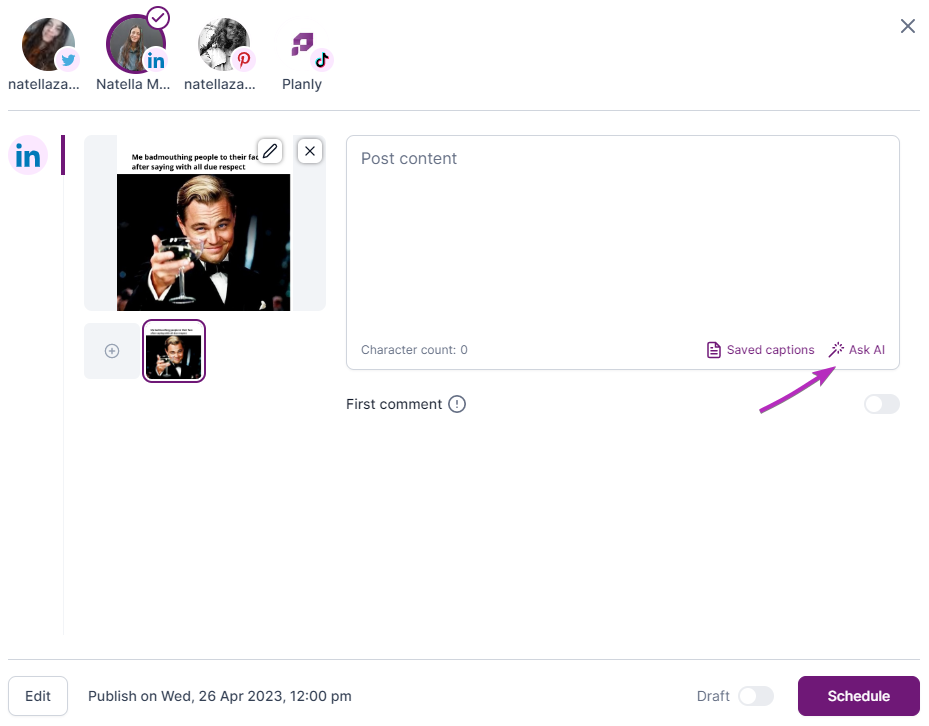 4. Enter your prompt

Once you click the Ask AI, you will be displayed with extended screen where you can enter your prompt and see the results.
At the top of the screen, there is an input text field where you can write your prompt. You need to enter at least 3 words to enable the Generate button. You can specify the type of post, and social media platform, or describe the visual in the media to ask AI.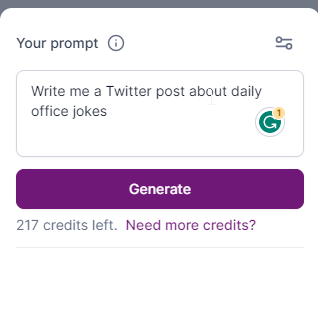 5. Adjsut your prompt
At the right-top of the prompt screen, there is an adjust icon. When you click on that icon, it will show you the list of parameters you can choose to customize your prompt before hitting the Generate button.  
There are list of tones that will help you to craft the results. You can pick only one of your preferred tones for each prompt.
Please note this is the first launch of the AI Content Assistant feature. We may add or remove some kind of tones in the future. Your feedback will be our biggest help in deciding the effectiveness of AI.  
After you pick your preferred tone, you can choose to add emojis and hashtags to spice up the content. In the end, you need to define two crucial parameters: the Word count and the Post count.
By default, Planly's AI Content Assistant will generate 1 post with about 33 words. You can change this to your liking each time you enter a new prompt. The word count AI will generate can be slightly different than what you entered. This is the average number of words that AI will generate in mind (well, in the machine, to be clear 🤖).
💡
🤓 Please keep in mind that, the number of posts you ask AI to generate affects your credits. If you enter 4 in the post count field, it will use 4 of your AI credits.
When you are done with adjusting your prompt, click on the Adjust icon at the top and hit the Generate button (finally, huh?!)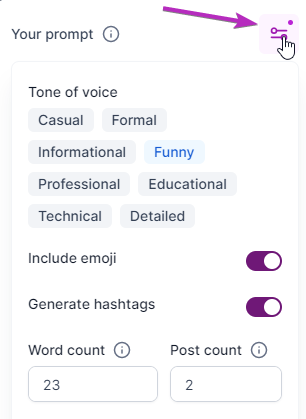 6. Insert results into the post-schedule field
After you finish asking AI, it will list down the number of posts you asked for. Here you have few options:
Like & Dislike the results. These results will be stored and analyzed in our database to improve the efficiency of AI Content Assistant. At the moment, you will not be able to see the results you liked or disliked after you close the AI Content Assistant feature.
Save results. Save ideas is another feature that we released together with AI Content Assistant. This will help you to reserve your favorite ideas for the future. You can save the same result even if you insert the result to the schedule.
The purpose of the Saved ideas feature is to help you write, store, and save your ideas, whether the ideas are the product of your brainstorm or AI. You can always go back to tweak the results and create posts.
Insert the result into the post-schedule field. When you click on your favorite result, it will be inserted into the post-schedule text area. You can schedule posts immediately or add or remove some parts before scheduling.
7. Close or Close AI Content Assistant
When you pick your favorite result, and schedule a post, you can click on the Close button at the bottom to switch the post schedule field.
When you click the Clear button, it will delete your prompt and all of the previous results AI gave you.
Or, if you want to continue using AI, go on with your prompts.
And, voila!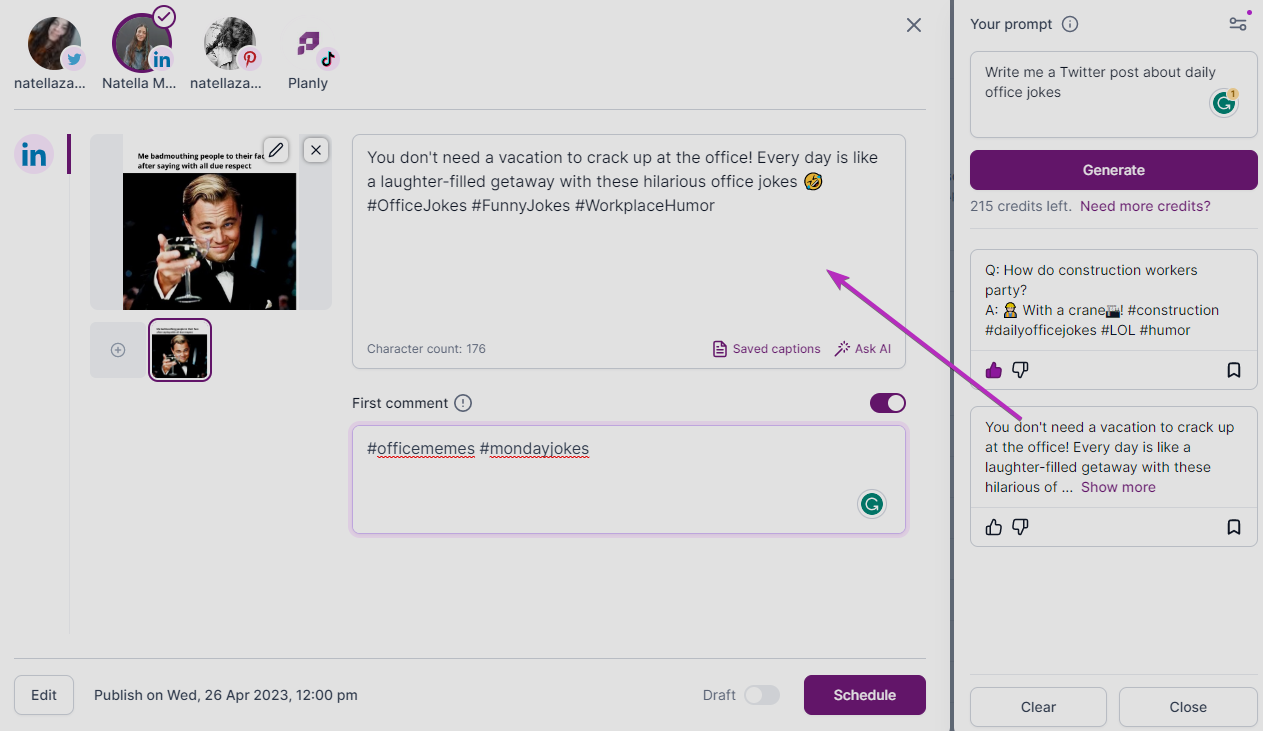 What's next?
We are excited to see you using Planly's AI Content Assistant. How you use AI Assistant and how effective it is for your content creation will help us further modify this feature and bring new functionalities.  
You can help us a lot when using AI Content Assistant by hitting likes & dislikes for the given AI results. We collect and analyze your feedback to improve the feature and bring more optimized options in the future. Thus we can also make changes to pricing and AI credits as well. So, stay with us to get üind of every change we do for you.
We can't wait to see how you'll use Buffer's AI Assistant, but we should make it clear that the product is still in Open Beta. It's not the finished article.
This means you should expect to see significant improvements to the feature over the coming weeks and months. And you'll see updates to the pricing and credit limits.