With an advertising audience of over 1.16 billion, Instagram offers a huge reach for brands. And the potential marketing reach on Instagram has grown significantly this year - it increased by 76 million people in the last quarter alone.
90% of Instagram users follow at least one business. And it's not just consumer goods. Over 36% of B2B decision makers use Instagram for B2B when exploring new products or services.
This article will dive into details of Instagram marketing tips that will help spice up your Instagram marketing strategy, whether you're new or already a seasoned professional.
Why is Instagram good for marketing?
Instagram is the perfect channel to reach a huge audience. More than 1 billion people visit social network every month. On average, users spend 53 minutes a day on Instagram, making it one of the most visited social networks after Facebook.
Instagram helps you connect with customers and also convert leads. People like to communicate with brands through this social network. Approximately 90% of users follow at least one company on Instagram.
Instagram also helps to increase sales. According to a 2019 Facebook study, 65% of people surveyed visited a brand's website or app after seeing it on Instagram. At the same time, 46% of respondents bought the company's products online or offline.
Access to a large audience that is actively engaging with brands and ready to buy is a major benefit of Instagram marketing.
How to create an Instagram marketing strategy for sales?
To develop an effective strategy and choose the right social media tools, you need to follow several sequential steps.
Analysis of the target audience and competitors
Understand who your customers are. Determine the sex ratio, age, geography, interests, status and other parameters. For analysis, both your own audience and subscribers of competitors are suitable.
Find out what interests people and what prevents them from making a purchase. Study the decision-making scenarios at which stage a person enters the account, and at which stage he goes to pay for the goods. Understanding general and specific objections and predicting behavior will help you develop your content strategy and sales funnel.
With the help of competitor analysis, you can understand what content and how often to post, which advertising creatives and offers work and which do not - and thereby create and strengthen your strategy. Choose 5-10 most successful competitors in your niche and analyze their strengths and weaknesses:
standard offers, products that are emphasized, unique services;
Instagram ads formats, creatives, ad design;
offers and additional benefits to attract customers;
the traffic path where subscribers are led: to the site, to direct, to other social networks and instant messengers;
the number of subscribers, reach, engagement, and other indicators - the information will help you understand which numbers to focus on;
format of work with the audience, tone of voice.
Collect the data in a table and draw conclusions - what to focus on, what to borrow, and what Instagram mistakes not to make and create the best Instagram marketing strategies.
Goal setting
One of the first steps in developing an Instagram marketing strategy is to set a Social media goals. Why do you need a profile on social networks, why do you attract subscribers and what do you want from them?
The goal should include measurable outcomes, such as a clear number of subscribers, and a specific time frame.
Goal examples:
Increasing sales. The goal should have specific wording, for example: in the first half of 2023, increase the number of transactions by 20%. Depending on the niche, you can use a simple sales funnel or a complex but necessary warm-up: reputation posts, publications that remove objections, and other types of content.
Increasing LTV (lifetime value). This is an indicator of profit for the time of work with the client. An Instagram account engages users in continuous interaction with the brand, through it you can attract new potential customers and motivate old ones to make repeat sales. For this, high-quality engaging, and selling posts are suitable.
Increasing engagement. Instagram engagement is stimulated by contests, interactions, and other activities. You can read more in our article " Reaching the audience in social networks: a guide ".
Reputation improvement. In order to build trust with the audience on Instagram, use image content, and broadcast certain values ​​that are close to your subscribers.
Creating a sales funnel and content strategy
The scheme of working with traffic depends on the specific task and its specifics. There are 3 stages in the basic sales funnel:
attracting and engaging subscribers;
warming up the audience;
sale.
At the acquisition stage, users belong to the cold traffic segment - they do not yet know about the brand and are not ready to buy. To bring them to the next stage of the funnel, they use sweepstakes, subscription bonuses, and contests.
At the warm-up stage, users are warm traffic. This means that subscribers have already been in contact with the brand, seen Instagram ads, and subscribed to competitors. To move them further down the funnel, you need to remove objections and motivate them to buy. You can do this with the help of answers to questions and reputation content.
Hot audience - users who are ready to buy. This is not the end of customer service. At this stage, they can be offered additional products, make personal offers, and provide special conditions. For example, you can use mailing lists with product reminders.
How to execute Instagram marketing strategies?
1. USE A BUSINESS ACCOUNT
Just in case you missed the section above and are planning to dive into the rest of Instagram marketing tips using a personal account, here's why you should reconsider.
A business account gives you access to features that you cannot use with a personal account, including:
Instagram Insights
Instagram Ads
Instagram Shopping
Primary and secondary mailboxes
Contact information and a call to action button on your profile.
Instagram Creator account has its own set of benefits for Instagram influencers and content creators. But for most marketers, a business account is the way to go. Go back to the beginning of this post and transfer your account if you haven't already.
2. CLEARLY DEFINE YOUR GOALS
All social platforms are tools. But you won't be able to use these tools effectively unless you set a clear social media goals. Where you know exactly what you're trying to create.
Instagram marketing can mean different things to different marketers. You want:
Create an online presence for your business.
Increase brand awareness?
Get new clients?
Establish your brand as an industry leader.
Sell ​​products directly from the app?
You may even want to combine several different results. But if you don't know where you want to take your Instagram strategy, you're unlikely to get there.
3. KNOW YOUR AUDIENCE
A little background research can help you figure out who is best to target when you're thinking about how to market on Instagram. For example, an analysis of Instagram demographics reveals the following:
The most active Instagram users are between the ages of 18 and 29.
The United States is Instagram's largest market.
More city dwellers use Instagram than their suburban peers.
But that doesn't mean you should only use Instagram to try and reach urban Americans in their 20s. Instead, you need to define your target market so that you can create content that speaks directly to that audience.
This will also be critical when it comes time to choose the targeting options for your Instagram ads.
4. OPTIMIZE YOUR PROFILE
In just 150 characters, an Instagram bio should make a great first impression, convey your brand personality, and tell people why they should follow your Instagram account.
This is a lot for a small space.
Luckily, you have a few more fields on your Instagram profile to show who your brand is and make it easier for people to find you. These include:
Your name: 30 characters, included in the search.
Your Username: This is also your nickname. Up to 30 characters are included in the search.
Your website: a URL that you can change as often as you like
Category: A business characteristic that tells people about what you do without using biographical symbols.
Contact Information: Tell people where to find you.
Call to Action Buttons: Give Instagram users the ability to interact with you right from your profile page.
A part of optimization is also continuous content. To achieve that, you might find it useful to use a social planner app such as Planly. It's a great tool to organize and schedule your content. You can schedule you posts, videos, stories, feed post to story, carousels, and reels from Planly. Best part is you can try Planly for just 1$.
Inside Vancouver does a good job using all the profile fields.
Source:  @Inside_Vancouver  on Instagram
5. CHOOSE THE RIGHT PROFILE PHOTO
For most brands, your Instagram profile photo should be your logo. This helps build trust and allows visitors to see who you are at a glance.
Your Instagram profile photo is displayed at 110px x 110px, cropped to a 110px circle. However, it is stored at 320 by 320 pixels, so you should upload a file of this size to make sure it looks good if Instagram changes how profile photos are displayed.
If your logo is square, you'll need to zoom out to make sure it's displayed completely within the circle: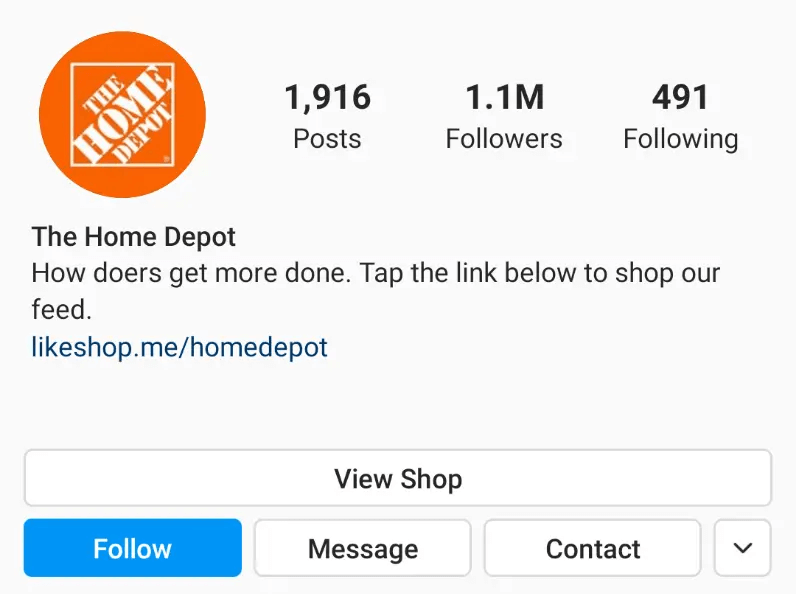 Source:  The Home Depot  on Instagram
6. CREATE VISUALLY APPEALING CONTENT
Instagram is a visual medium, so your posts have to look great. You don't need professional photography equipment, but your photos and videos should be clear, well-lit, well-composed, and at least in focus.
If you are using images other than photos, such as infographics or animations, make sure they are crisp, clear, easy to read, and eye-catching.
More importantly, visual content must be compelling. Great photos are great, but if they don't tell a story or inspire viewers, they won't attract followers.
Don't know what to post? Here are some business Instagram post ideas:
Behind the Scenes Posts: Give followers a glimpse of your office, storefront, or manufacturing process.
Quotes and text images: Play with text to create visually interesting content without the need for photos.
Sharing and User Generated Content on Instagram: User generated content is inherently authentic and persuasive.
Educational posts: Teaching followers how to achieve a goal is the most compelling thing you can think of.
Video: The maximum length of a video post on Instagram is 60 seconds, but with IGTV you can make it much longer.
Instagram Reels: For more on this multi-cut video format, see Tip 17.
Beauty brand Glow Recipe uses IGTV videos to showcase different skin types using their products. They post previews of longer videos in the newsfeed so subscribers always know when a new guide is ready to watch.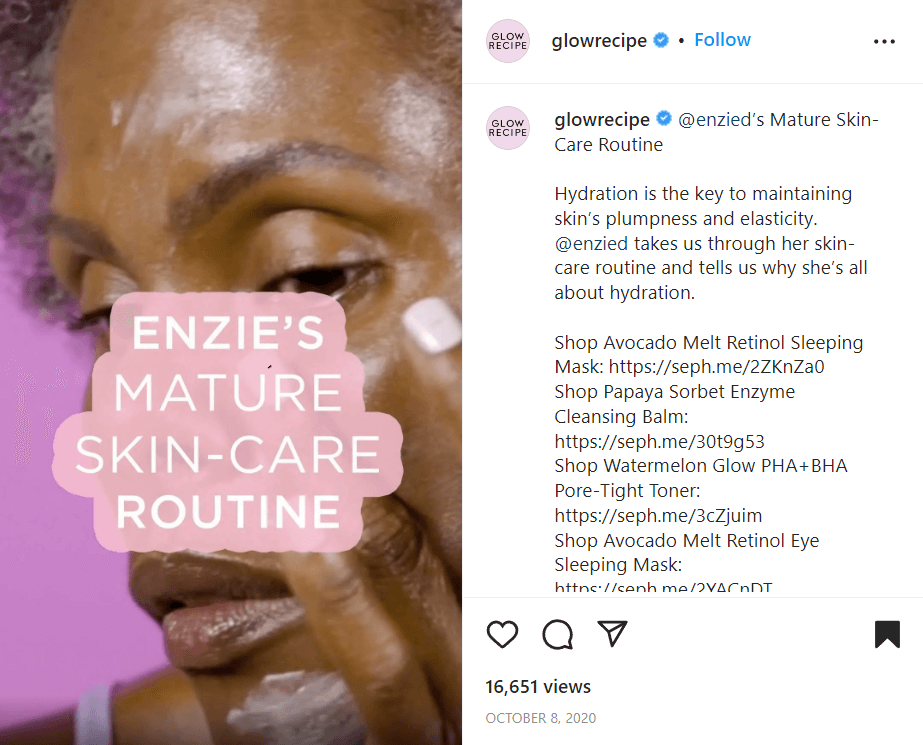 Source: Glow Recipe on Instagram
Remember that compelling content can expand your reach if people are inspired to share your newsfeed posts in their Instagram Stories. So when thinking about how to promote your business on Instagram, focus on creating content that is worth sharing, not just likes.
7. CREATE YOUR BRAND IMAGE ON INSTAGRAM
Once you decide what type of content to post, you need to decide what it will look like. Color influences purchasing decisions and brand awareness.
The look and feel of your Instagram should be consistent across all your posts, which will help followers easily recognize your content in their Instagram feeds. For this, you can also get the help of an Instagram influencer marketing strategy.
A great example of this is the @themindfulmaison Instagram account. Photos have a consistent color scheme, look and feel.
Source:  @themindfulmaison  on Instagram
If you find an author on Instagram whose look you really like, it's worth checking to see if they sell their own presets. The creator of @themindfulmaison does just that.
8. WRITE GREAT CAPTIONS
True, we just said that Instagram is a visual medium. But that doesn't mean you can ignore signatures. The voice of your brand is just as important as its appearance. Like your visuals, it should be consistent across posts.
Captions on Instagram can be up to 2,200 characters long, so you can use them for anything from a quick note to a detailed story. At the same time, only the first two lines of text are displayed in the news feed without additional clicks.
Since people tend to scan signatures rather than read them carefully, you want to fit all the important information into those first two lines.
We recommend the following Instagram caption lengths:
Organic posts: 138-150 characters
Instagram ads: 125 characters
If you have something to say, speak up. But make sure the extra text is worth it.
National Geographic is a classic example of long-form content on Instagram. If you can match their level of storytelling, don't be afraid to make long content.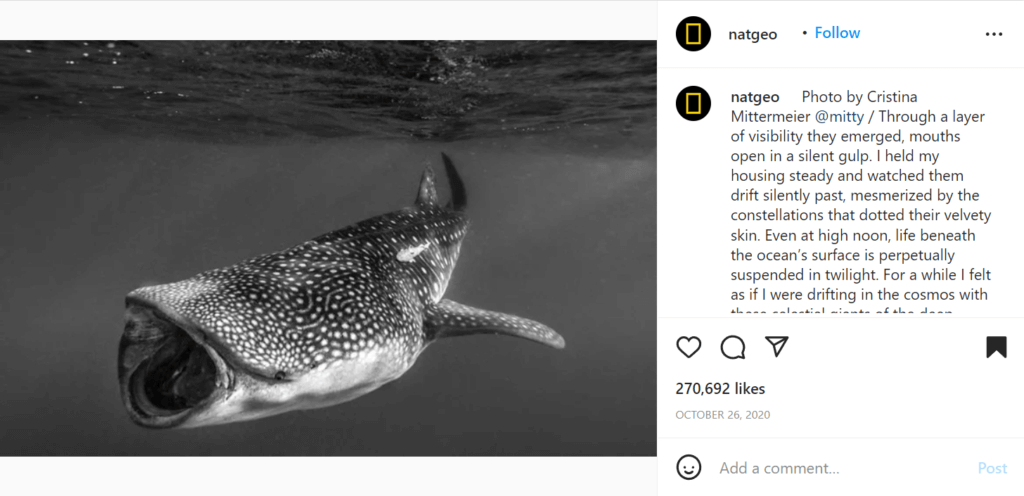 Source: National Geographic on Instagram
Bottom line
When done correctly Instagram marketing strategy can bring impressive results. It is able to significantly increase brand awareness, followers on Instagram, customer loyalty, and the number of sales. For more about Instagram strategies and tips, keep following our blog.