TikTok Stories, one of the recent features of the short video app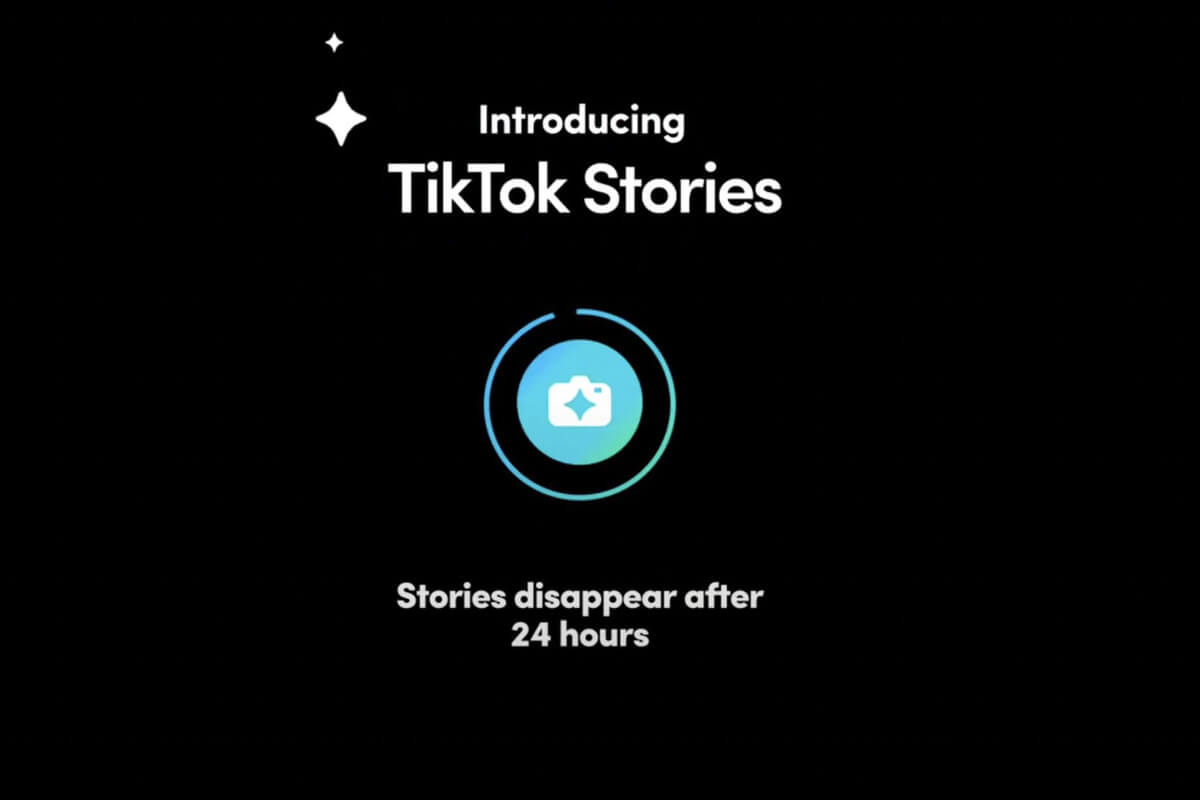 This new function presents a new model for the application, which until now had been maintained with permanent content on its platform. Now the TikTok Stories have begun their expansion since some users already had the function active in its beta phase.
What is TikTok stories?
Like Instagram Stories, TikTok Stories last for 24 hours before they are automatically deleted, and can be viewed directly on a user's profile by clicking on their profile picture.
Some users have reported that TikTok Stories will also appear on the "For You" page, and like on other platforms, you will be able to see how many people have viewed your story.
Difference between TikTok Stories and Instagram Stories
Many features of TikTok are similar to Instagram, which make us compare TikTok vs Instagram in stories as well. Unlike Instagram, they will remain anonymous, that is, you will be able to see how many users but not who.
In addition, users who prefer can like a story and leave a public comment. Another difference against Instagram stories whose comments go directly to the private message tray. In this article, you will find out how to create TikTok stories and other features of TikTik stories.
How TikTok Stories work?
To post to TikTok Stories, click the "post" button on the bottom navigation bar in the app. Now you must select the "quick camera" mode that allows you to post a photo or video in your story. Of course, if you already have them active on your profile.
Story creation options on TikTok are the same as regular videos on the app, so you'll be able to use filters and respond to comments.
How to Create Stories on TikTok?
If you already have this feature enabled, there are two ways to access it to create your TikTok stories:
From your profile, you will see a "+" on your profile picture. Click there and the TikTok editor will open so you can start recording or select content from your gallery.
From the "+" that appears in the bottom menu, which you use to create the content on TikTok. You will see that a function called "fast" appears.
What tools do TikTok stories have?
If you access the stories you will see that there are different tools that you can use, which are very similar to the ones that you can use in your TikTok videos.
At the top, in the middle, there is the option to add sound to your stories (it can also be added after recording the story).
At the bottom you will find:
Effects , where you can select the effect you want to use on your TikTok stories.
Record button , with the option of photo or video so you can select whether to take a screenshot or start recording.
Upload , where you can choose an image or video from your gallery to upload as TikTok story.


On the side you will see:
Rotate, to flip the camera, so you can use the front or back camera of your device.
Speed ​​, to choose at what speed you want it to be recorded.
Filters, to make image retouches in lighting, shadows, saturation, etc.
Beautify to apply an effect that "enhances" the look of your face with makeup.
Timer, to set a duration and record directly without you having to press the record button.
Once you have recorded a video, other options appear in the side menu:
Text, to add texts that appear and disappear.
Stickers include hashtags, mentions, images, polls, questions, stickers, or emoticons.
The effect is to add visual effects to your stories.
Fragment adjustment, to adjust the different fragments that you have recorded if you have done it with the timer.
Privacy settings, to select who can see the story and whether or not to allow comments.
Noise reduction, to improve audio quality.
Voice effects, to add effects to your voice.
Voice over, to record the voice on top of the video you have selected.
Once you have it recorded and edited, you will see that two buttons appear below. You must select the "post in the story" and you will be able to see the progression from your profile picture.
How to get more views on TikTok stories?
Just like getting more views on TikTok videos, the frequency of posting is important for more views on TikTok stories. In addition to using various TikTok features, you also need to build a strong presence to grab more eyeballs to your stories.
Sharing content at the exact time user is active might not also match your timing. Using a scheduler app would help to organize your feed and be on top of your TikTok content calendar.
Planly is one of the best TikTok scheduler for automatically posting TikTok videos. You can increase your TikTok engagement by using Planly.
TikTok Stories Features
To understand a little more about this TikTok functionality, we have put together some characteristics to know how TikTok stories work.
This will help you to compare this format with the stories on Instagram, Facebook, etc.
✅ The duration of the stories
Like with the rest of social networks, the content you upload to stories lasts 24 hours on the platform.
The content is removed when that time goes by, and neither your followers nor TikTok users can see it.
✅ Editing possibilities
With TikTok stories, you personalize the content with the tools provided by the platform: for now, you can add stickers, text, music from the library, as well as effects or filters.
✅ The type of content
Short videos are the main format on TikTok. You can share images on your stories, although it is not the main type of content.
Also, you can share videos and images in vertical format.
✅ Where you can see it
If you are a regular TikTok user, you already know how the app works: you will find the content ready to watch and enjoy as soon as you enter.
You will find the stories in the left sidebar of the application. Similar to Instagram but vertically.
✅ How to interact
Unlike Instagram or Facebook, which allows you to reply to stories as a private message, on TikTok, the responses will be like a regular post. In other words, it will be public.
You can interact with the story, reply publicly, like comments and follow other accounts from the comment wall.
This is how TikTok stories work, prepare your strategy to share content in story format on the platform.
How to delete TikTok stories?
After creating and posting a new story on TikTok, you might not like it for some reason. So, you want to remove them from your account. To delete a story on TikTok, follow these steps.
Step 1: Launch the TikTok App
Launch the TikTok app on your device.
Step 2. Press and hold the camera icon.
Tap the camera icon in the top left corner of the home screen,
Step 3: Click on your story
Click on the "Your Story" icon and it will start playing.
Step 4: Click on the three horizontal dots
Now click on the three horizontal dots to the right of the story you want to delete.
Step 5: Click on the "Delete" icon
Now you can click on the "Delete" icon to remove a specific story from your TikTok account.
Worth to share TikTok stories?
To sum it up, the main difference between stories on TikTok and other platforms is that the user can publicly comment on TikTok stories. Like Facebook and Instagram, they are not private and you can view them secretly, with replies sent to private messages. In addition, it will show his comment on the story itself and views along with an additional tab.