Ever since the first date, TikTok has been utilizing user experience.
TikTok updates March 2023
Refresh your For You Page
The recent TikTok UI update lets users refresh their For You Page to start a new experience with TikTok. The Refresh option gives users to restart their TikTok For You page as if they signed up for the platform.
It happens as suers get bored with their initial interests or don't like the recommendations nay more. The Refresh options allows users to cancel all the previous recommendations and tame TikTok's algorithm.
This For You Page refresh shouldn't be confused with the app's pull-down refresh options. As this feature only refreshes your For You feed and surface new content based on the new interaction in the app.  
TikTok updates February 2023
Dedicated video feeds
TikTok added new "Sports," "Fashion," "Gaming," and "Food" feeds to the TikTok home page. Dedicated video feeds show each category without having to search for it specifically.  
TikTok makes it easier for users to find what exactly they are looking for. The current TikTok For You page is disorganized as you can discover completely different types of video content while scrolling down.
With new TikTok video feeds, users can easily look through dedicated feeds in Fashion, Food, Sports, and Gaming feeds.
Updating Promoted TikTok posts
With the newest TikTok updates, the platform adds 4 new options to TikTok ads. The new TikTok updates enable brands to boost their posts via a simplified process.
Previously, TikTok ads could be used for video views, website visits, and TikTok follows. The new TikTok updates allow brands to set promote goals for wider areas of purpose:
Promote goal to drive traffic to TikTok page instead of driving traffic to a website.
Promote goal to get more messages with direct interaction with followers
Promote goal to boost interaction of TikTok Content Creators' with whom they have TikTok brand collaborations. TikTok Creators can also use Promote for others goal to amplify the content, creators, or brands they support.  
Promote location goals to target a specific location. This helps businesses, especially small businesses, target a specific location they are operating at.    
TikTok updates January 2023
As we moved to 2023, TikTok also heads its development to expand its application areas among users.
Major update to TikTok DM
One of the biggest updates TikTok makes in 2023 is expanding TikTok DM that looks much like Instagram DM. New TikTok DM update will allow users to send and receive messages outside of their TikTok followings and followers.
Previously, users could only send messages to their TikTok friends. TikTok DM choices now are friends, suggested friends, mutual followers, people you've sent messages to, or no one. This gives more flexibility and control on engaging with other users on the platform.
If you choose suggested friends, now you can receive messages from recommended friends, including phone contacts and synced Facebook friends.
If you choose mutual friends, that means you will only receive messages from users that you follow and they follow you back as well.
TikTok updates November 2022
Post to view
TikTok is full of beans nowadays. After the launch of TikTok Now feature on September, TikTok now takes a step forward to drive more users around it. Now, to view the TikTok Now posts of other users, you have to post TikTok Now first.  
The feature is very similar to the BeReal which TikTok Now feature idea is originally linked to. In BeReal, you have to post your BeReal first to see your friends' posts. Considering that BeReal entered the market with its unique features, it was acceptable for users. Since TikTok copied it from other platform, users are not quite happy with such restrictions.
TikTok Shop
After entering a completion with Google over the search, TikTok is now hunting for e-commerce platforms. TikTok just launched the in-app TikTok Shop feature. Now, users can shop and pay for goods within TikTok. TikTok Shop feature was previously available Asian countries and UK, and now expanded to US as well.
Although this feature is on the test status and works only with invites to select businesses, we can expect the availability for all businesses after positive results.
Notifying creators upon favorites
TikTok made an update that notifies TikTok Creator Accounts will be notified when someone favorites their video. Previously, creators could only see the number of favorites. But now, they will be able to know the users who favorited their videos.
This is similar to the profile views feature TikTok launched this summer. The profile view feature lets users see who viewed their profiles. Although the new visible favoring options seem interesting to creators, it might increase the number of passive engagers who may not like the idea of being visible.
TikTok updates October 2022
Multi-guest TikTok Live
Starting from October 17, 2022, TikTok extends TikTok Live features to help content creators to better engage with their audience. Till now, users can stream TikTok Live with only 2 people. Now, TikTok increases the number of guests in Lives to 5 people.
TikTok is expected to launch comment filters and live moderators that will give more options to streamers and provide more safety during the streams.
TikTok updates September 2022
Increased TikTok video post character limit to 2,200 in September 23. Allowing users to explain their videos more effectively with post descriptions. Apart from helping TikTok content creators, it is TikTok's attempt to become a search engine.
Nearby feed, comment search capacity, and increased captions on TikTok advance the capacity of TikTok to become the next search engine.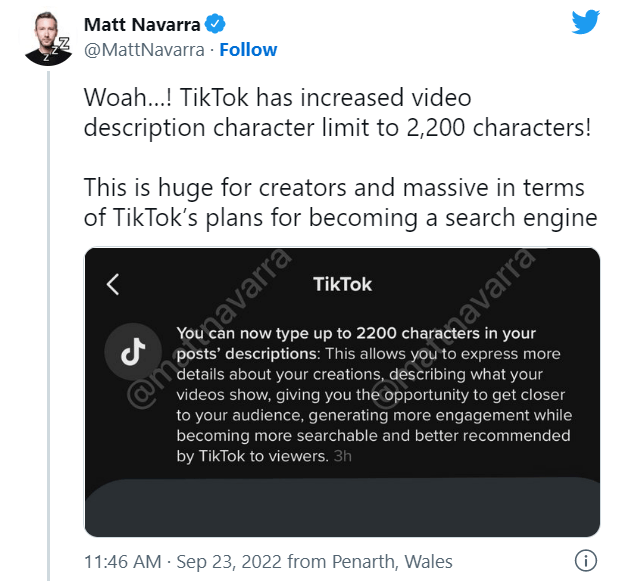 TikTok dislike button
On September 2022, TikTok announced that they are testing TikTok dislike button in the comments. From the start of 2022, TikTok began to test how users can differentiate irrelevant comments in posts. TikTok comment dislike button aims to improve user experience in TikTok posts by appreciating genuine and relevant comments.
This will help to build a strong community on TikTok where content creators and their followers can enjoy authentic and related content. It is also an alternative for reporting comments that don't violate TikTok community guidelines but is still irrelevant and inappropriate for the post.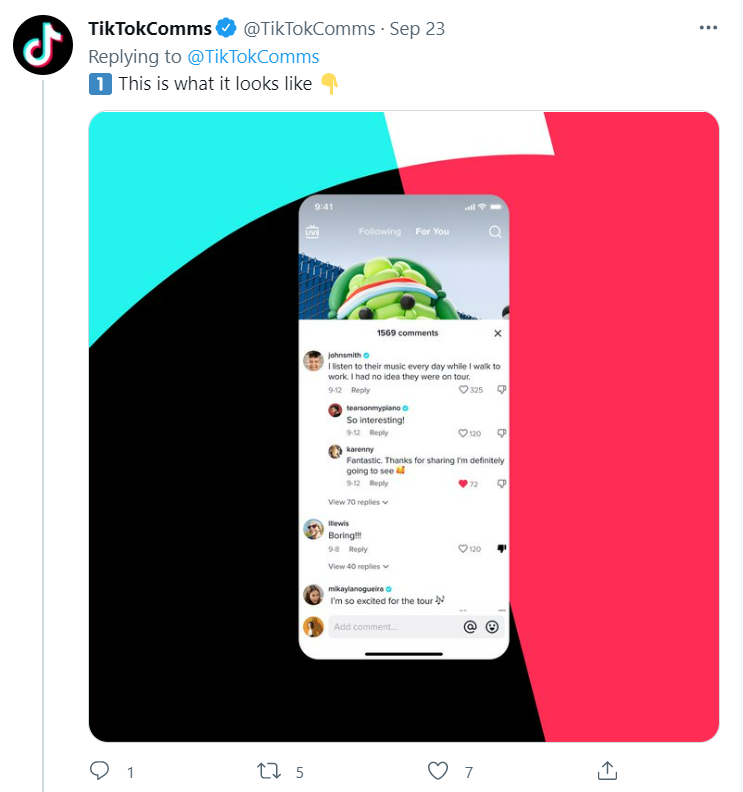 TikTok Now
On September 15, TikTok announced its new TikTok Now feature. After the immense popularity of BeReal app among young users, Instagram, and now, TikTok is launching a lookalike feature.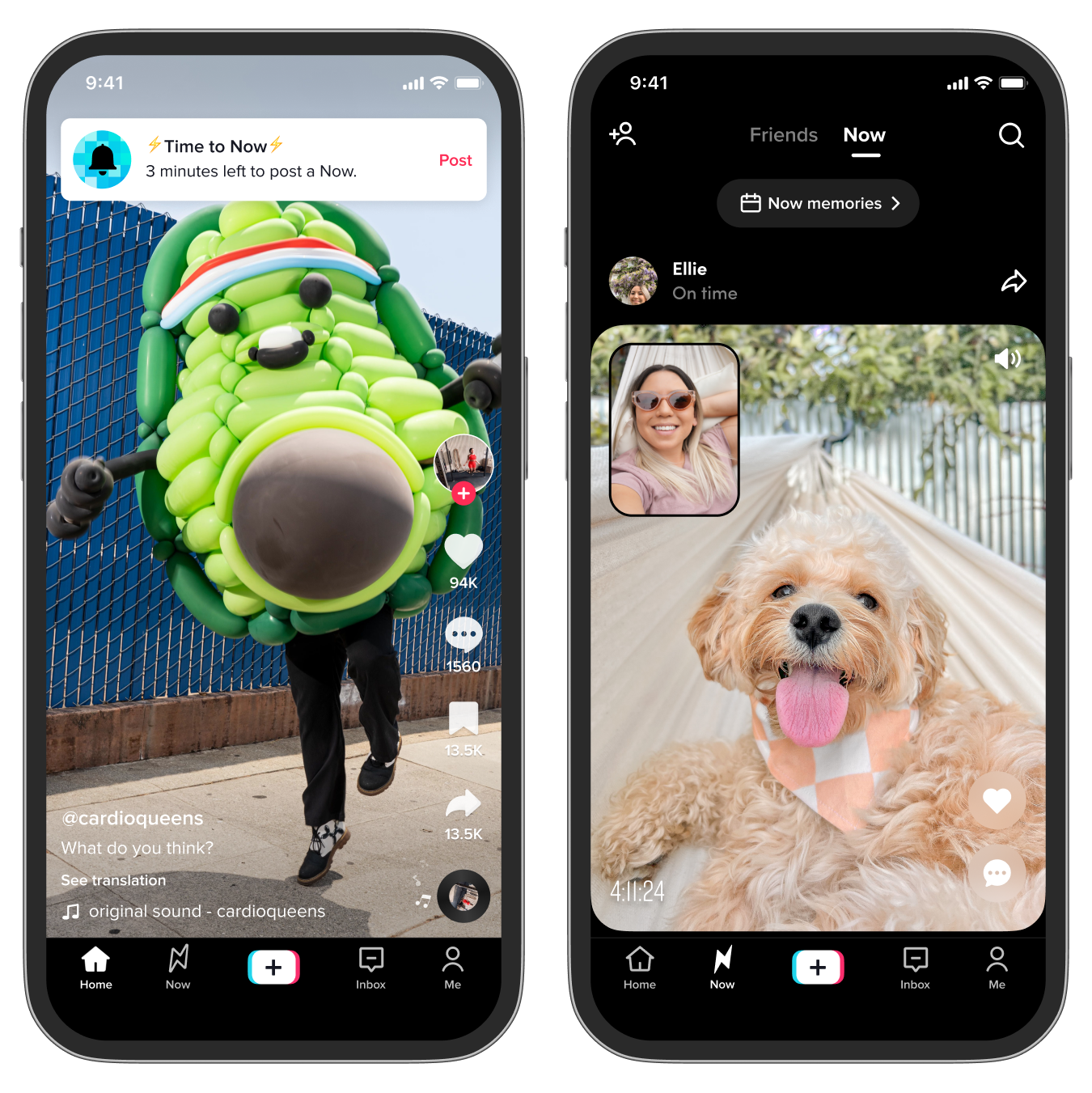 TikTok Now looks exactly similar to BeReal where users can post images from front and back cameras at the same time. The difference between TikTok Now and BeReal is that you can share photo and videos. Similar to Bereal, TikTok sends daily promts to ignite users to capture 10-second TikTok now videos from front and back cameras and share them with their community.  
Another difference between TikTok and BeReal is that, it gives 3 minutes to prepare posts instead of 2 minutes.
To protect young users, TikTok put several limitations on TikTok Now:
The accounts of users under the age of 16 will be private by default
Users under 18 won't be able to share their posts on the TikTok Explore feed
Users between 13 and 15 will have to comment option only for Friends.  
TikTok updates August 2022
Tokenizing TikTok engagement
TikTok approved Vybe creator rewards platform to connect to TikTok API. The cryptocurrency app will allow users to tokenize their TikTok engagement. Users can transfer their likes and comments into their Algorand wallets or convert them into other assets.
This partnership prognosis a new way of revenue generation for TikTok content creators. It is interesting to see how exactly the partnership will provide a new source of revenue and value for TikTok content creators.
Nearby Feed
On August 24, TikTok announced their testing of new Nearby feed in Southeast Asia. The current testers can view the Nearby feed alongside the For You and Following pages.
The new features gives users ability to add geolocation tags to make the testing more insightful. Yet it is possible that the design and certain elements of the Nearby feed might change in the final launch.  
Revamping its recommendation algorithm that is used in For You page, the platform is strengthening TikTok algorithm to display more relevant content based on geolocation of users.
As with the Comment Search Capability feature testing, TikTok is shaking other search engines, mainly Google Map and Trip Advisor today.
Coupling the Shopping Ads, Search Capability, Nearby Feed TikTok, the purpose of TikTok fall into place. Over exceeding its social media success, TikTok is cutting into search engine markets with more personalized and dynamic features onboard.
We expect these changes will have a profound impact on existing search engines, SEO capabilities, Ads features, and overall product roadmap.
Shopping Ads
On August 17, TikTok announced that they are launching TikTok shopping ads to make TikTok marketing easier for brands. The platform is currently testing 3 formats of Shopping ads: Video Shopping Ads, Catalog Listing Ads, and Live Shopping Ads.
With smart targeting and optimized ad delivery, TikTok Shopping Ads provide dynamic experiences for users to purchase goods on TikTok. The new Shopping Ads allow advertisers to highlight one or more products in-feed video ads and make their products more discoverable.
The ads will also direct to a landing page to determine the purchase intent of users.  TikTok is looking to phase out some of existing ads like Dynamic Showcase and Collection ads after 2022.  While the new Catalog Listing Ads will expand the For You Page allowing marketers to increase the reach of Shopping ads.
Also, Live Shopping ads let advertisers direct users from FYP to their Live Shopping Events. This way users can get more information about the products and brands can easily put their products in front of interested users.
TikTok Shopping Ads are smart and functional enough to compete with Instagram Shopping.  
AI green screen
One of the biggest updates TikTok launched in August is the text-to-image layout. TikTok uses AI generator to create background images relevant to the given keywords.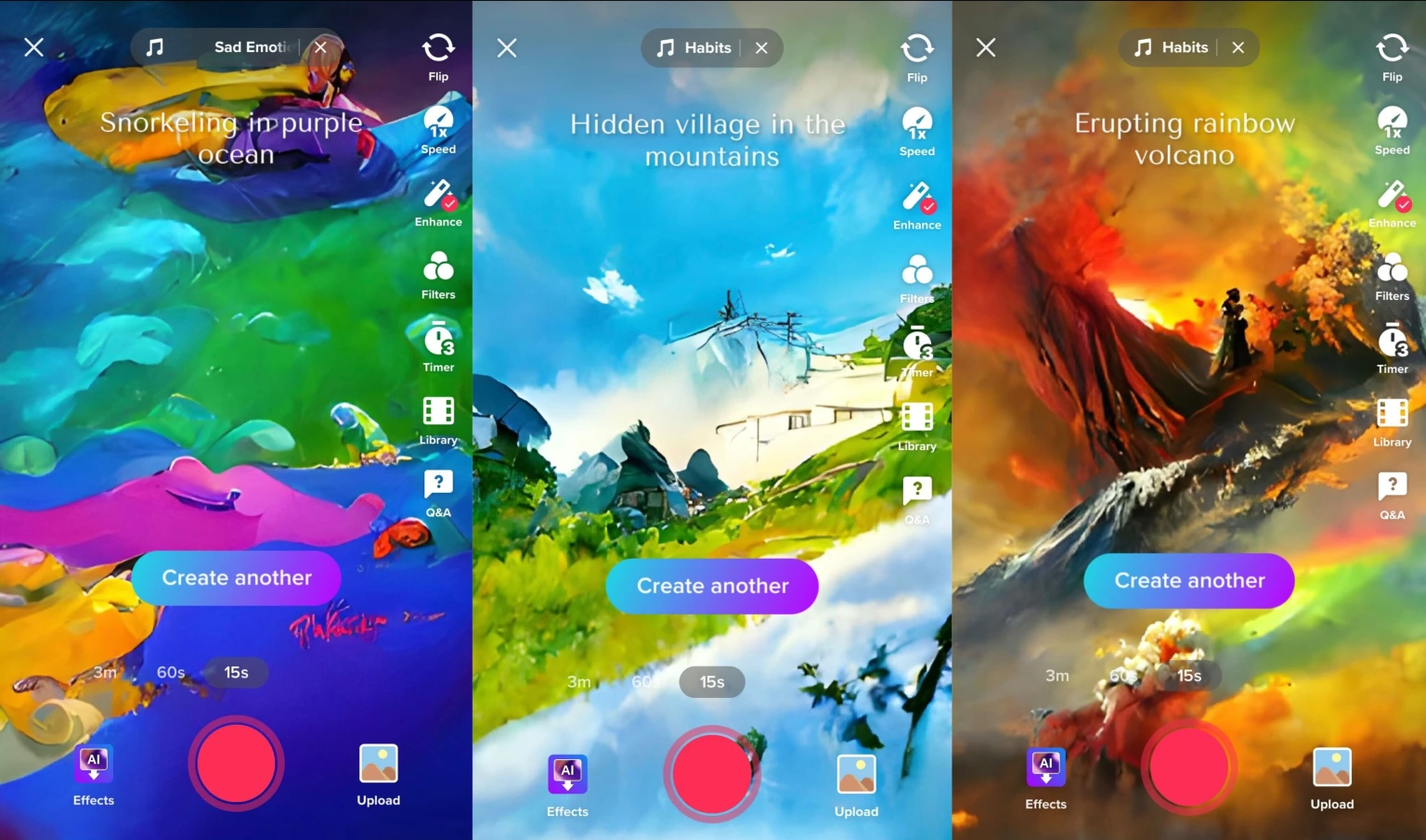 source: TechCrunch
The new feature can be accessed via the TikTok's video camera to add background images to videos. The launch of new feature can be related to the rising popularity of text-to-image AI generators. But the difference between TikTok text-to-image and popular tools is that TikTok display blurry and abstract type of background.
It is logical that TikTok intentionally goes with some unreal imagery to appeal to the community guides. Too much accuracy may lead to the misuse of the new feature.  Background images like nudity or violance can be uncontrollable and costly for the platform to deal with.
Search capability testing
TikTok is expanding its search capabilities into the comments section. According to TechCrunch, the platform is testing the comments search features with a small group.
How TikTok comment search works?
The new feature highlights the keywords in the comments and links to the search results for the highlighted keyword. TikTok's existing search feature is already a powerful place to look for relevant sources. Seems like TikTok now expands to be the next search engine just like Google or Pinterest.  
We can say that Google is feeling the pressure of new competitor. Google's response to TikTok's shift to search feature was that they are also improving their visual search filters to keep users in Google. Prabhakar Raghavan, the vice president of Google's Knowledge & Information organization mentioned that Gen Z prefers TikTok and Instagram for quick search over Google Search and Maps.
Most viewed videos give the younger generation for trust and accessibility rather than scrolling through long written content. While this puts TikTok in favor of Gen Z, the platform still has to assure the quality of its search results. Viral videos do not make the source more credible for users.
About this ad
TikTok introduced About this ad feature to provide a better user experience and strengthen ads transparency. This gives users more insights into how their data is used to bring relevant TikTok ads to their feed.
About this ad feature outlines all the targeting elements that TikTok uses to display each ad. TikTok's recent ad changes show how the platform is utilizing its ad tracking practices for users similar to other social media platforms.
Pilot-testing mini-games
TikTok is starting pilot-testing mini-games onto the app. At the beginning of 2022, TikTok mentioned its plans about pushing into gaming. Currently, the platform is bringing HTML5 games to TikTok via third-party game developers and studios.
TikTok first started testing these features with Zynga in the November of 2021. The first mini-games will be seen when uploading a video to TikTok. On the final screen where users can add hashtags, descriptions, or link back to other experiences via third-party integration. Users can link back to Whisk's recipes, Rotten Tomatoes, or mini-games.
Initial testing aims to determine how the gaming community reacts to these changes. None of the partnered ads are monetized through in-app purchases or ads.    
---
TikTok updates July 2022
TikTok auto-captions
TikTok is preparing to roll out autogenerated captions feature and translation tools. Previously, users had to rely on the content creators to turn on the video captions. Where now users can enable captions themselves.
The updates were made in collaboration with the captioning advocacy group the Deaf Collective to make TikTok more accessible to the hard-of-hearing community. This will help users with hearing issues, those who prefer written content, and people in noisy environments to easily catch the content.
TikTok is also adding the first translation tools for captions, descriptions, and stickers. Users will be able to translate video captions, descriptions, and text stickers to their preferred languages.  
Translation opens new gates for TikTokers to enter global communities and interact with viewers. Translation tools will initially support English, Portuguese, German, Indonesian, Italian, Korean, Mandarin, Spanish, and Turkish languages, with more to come.
All these TikTok updates aim to enhance users' satisfaction with hearing issues and also support the spread of global content more easily.  
Adult-only Live streaming
According to TechCrunch, TikTok is testing restricted Live streaming. With the new setting, users are can restrict the Live audience to users of 18 years of age and above.
In the given screenshot, users who have access to the new feature can navigate to their settings and toggle the Mature themes to enable the adult-only Live streaming.
TikTok limit for the age of users is 13. When this tested feature becomes available to all, adult users will have more control over their accounts. Yet, TikTok will notify users that videos with the 18+ tag will also be removed if they violate TikTok community guidelines.
The purpose of this update is to protect the younger community and call the users to be cautious of their behavior on the platform.
TikTok was working on this feature based on the requests of content creators. Their desire to reach a specific older audience or post content that might seem boring to younger users was the target of TikTok for a few months.
Instagram is also testing restricted Live streaming. Unlike TikTok, Instagram's latest update is to broadcast live with close friends and selected audiences despite their age.
Updates say that we are likely to see more Instagram vs TikTok comparisons.
Customized Content Feed
Customizing the content experience of its users is the number one priority for TikTok so far. This includes mature content for the safety of younger users and optimizing the app experience for adult users. TikTok has a built-in For You tab that allows users to receive content similar to their preferences. By clicking on the "not interested" button, users automatically skip receiving content from the creators.
To extend this feature, TikTok is testing a new feature that users can automatically filter out content with words or hashtags they don't want to receive in their TikTok feed.
Maturity score
As a continuation of the customized content feed, TikTok is also testing content for mature levels. Suppose the shared content is detected as more mature or complex themes that can be freighting for younger users. In that case, TikTok will the maturity score will be allocated to the content to prevent it from reaching out to users under 18.
---
TikTok updates June 2022
Plus to provide value to individual users, TikTok constantly updates the platforms for marketers and brands. These increase the TikTok marketing potential driving more brands to join and inhabit the platform.
TikTok dedicated shop feed
One of the greatest updates TikTok is lunching for brands so farç is a dedicated shop feed. According to TechCrunch, the shop feed will act as a hub for products shopped on TikTok. The feature is currently tested in Indonesia right now.
This will enable creators and merchants to showcase and sell their products directly on TikTok. According to the screenshot by Watchful.ai, the Shop feed will appear next to Following and For You tabs. The Shop feed has different categories like beauty, footwear, or electronics where users can easily find products. Also, the TikTok shop has some perks such as free shipping on selected items.
There are also orders, messages, payment, address, and vouchers tabs in the shop tab where users can keep track of their orders and payments.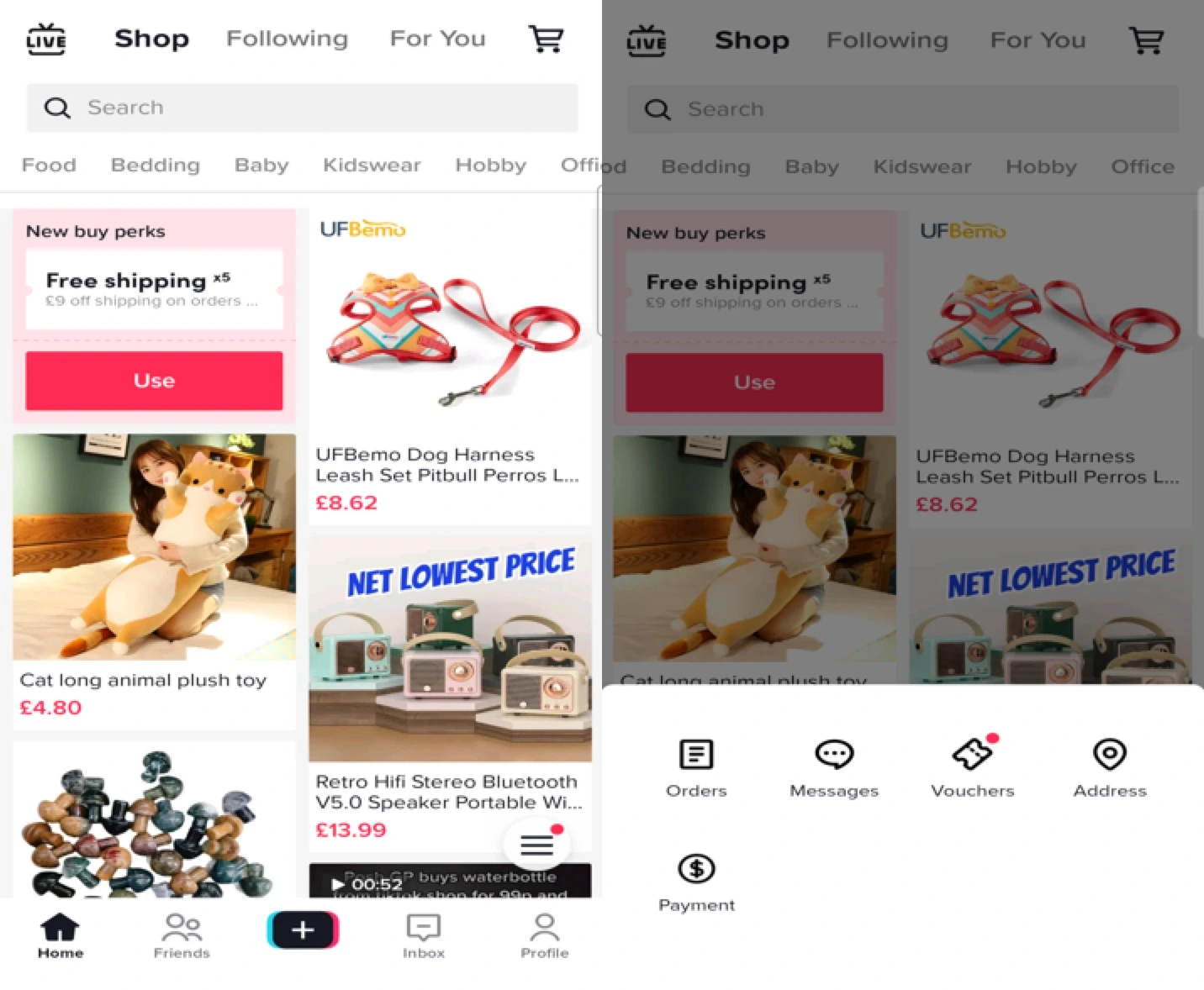 Attribution Manager Tool
On June 23, 2022, TikTok launched TikTok Attribution Managers. Attribution is an action users take after seeing or clicking an ad over a certain period of time. Marketers use attribution to understand user behavior and its impact on the effectiveness of the campaign over a given period.
 The new TikTok Attribution Manager enables marketers to open customizable attribution windows on TikTok Ads Manager. TikTok Attribution Manager enables marketers to select a specific time period to measure the success of the campaign.
Based on the goals and advertising goals, advertisers are given to the following time range to measure the success of their ads.
Click-through (CTA): 1, 7, 14, 28 days
View-through (VTA): off, 1 and 7 day
Within Attribution Manager, TikTok Pixel and Web Event API default to 7-day click and 1-day view. This means, by default, users have 7 days to convert for ad clicks and 24 hours to convert for ad view from the time when an ad is viewed.
You can find the Attribution Manager under the Asset menu on TikTok Ads Manager.
So, what does this mean for marketers?
Well, this means your TikTok ads will be more meaningful in terms of measuring and customization. You can set different attribution windows for the different ads campaigns and see the effectiveness for different time periods. It gives you as a marketer more flexibility to design and track your campaigns and be on top of metrics.
Different product requires different customer journey to react. Retail products take less time to convert than more complex products such as training courses, hotel reservations, etc.
It is now vital that you can measure you set the right view and click-through days according to the purpose of the campaign and the type of products you are advertising.